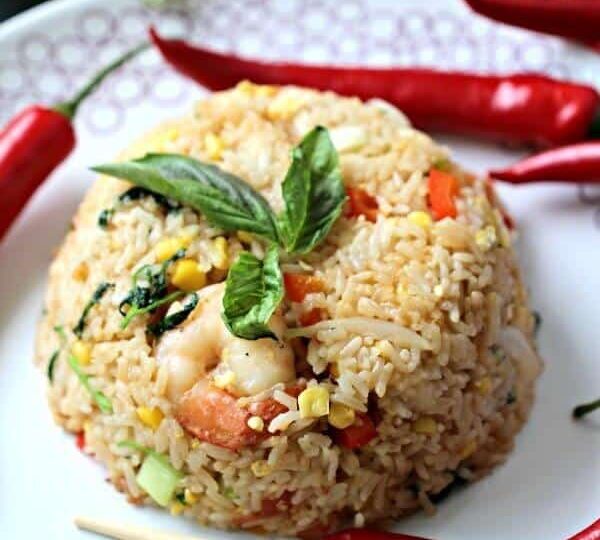 Thai Fried Rice with Shrimp
Thai Fried Rice with Shrimp is quick, easy and flavorful. It is made with shrimp, bell pepper, corn and chili peppers for some heat, and perfect weeknight meal.
We love making easy and delicious Asian dishes such as our famous Instant Pot Orange Chicken, Instant Pot Mongolian Chicken and Instant Pot Beef and Broccoli.
Thai Fried Rice with Shrimp
As adamant Thai fired rice lovers, me and my husband often make it at home. I can't take credit on this one, my man is doing all the work, or should I say cooking of this dish. This time around he put a spin on our Thai fried rice with shrimp. He added lots of fresh and hot chili peppers for some heat, and fresh basil for aroma. And look at that presentation, that pile of delicious and flavorful fried rice with large whole shrimps.
This definitely is an easy meal, the rice is cooked a day ahead, and kept in the fridge overnight to add some chewiness and crunchiness. Also, leftover rice is perfect for this recipe. If you have the rice on hand, it takes you 15 minutes to finish this dish and enjoy a delicious and beautiful dinner on a week night.
Why You'll Enjoy This Thai Fried Rice with Shrimp:
Firstly, it is easy to make and it takes only around 25 minutes!
Also, It's cheaper and healthier alternative to restaurant meal.
In addition, the dish is packed with amazing flavors and lean protein.
It is perfect for busy weeknights and also for entertaining guests.
Similarly, you will have delicious leftovers that can be stored in the fridge, in an airtight container for 3-4 days.
Can I substitute chicken for shrimp for this dish?
Yes, chicken, pork or beef are a great alternatives for shrimp in many recipes including this one. The cooking time will also vary best on the cut that you choose.