Chili Peppers Shrimp Thai Fried Rice
This post may contain affiliate links. Please read my disclosure policy.
Quick, easy and flavorful thai fried rice made with shrimp, bell pepper, corn and chili peppers for some heat. Perfect weeknight meal.
Hello, so how is everyone doing on this Wednesday? What are we talking about today? Lets see, something that we all probably have in common, I guess what I want to say is that no matter where we live we all usually have that little asian gem in the neighborhood that makes the best pad thai, red curry or thai fried rice. The place that is on speed dial, or when we secretly hope to be out of salt or rice so we can just order from them.

We have something like that close to our house, and that place is dangerous, they make the best fired rice, it tastes fresh, rich, delicious, not mushy, but also not dry, they are able to find the balance between all the flavors and serve it in huge containers, filled to the brick, I make it my mission to empty them in my stomach.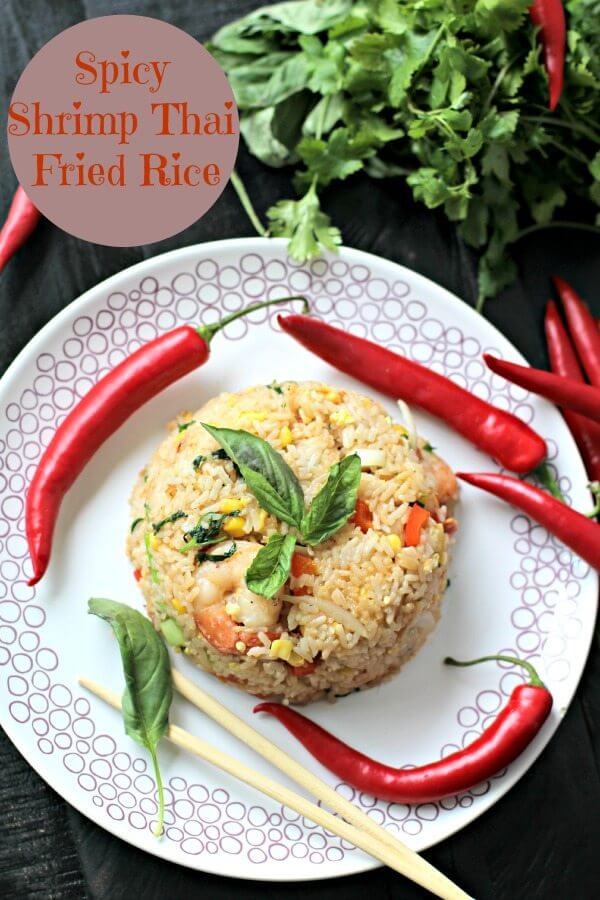 But what if you could cook an even better meal in the comfort of your home, with natural ingredients that you love? And actually get a better meal than the one you would ordered?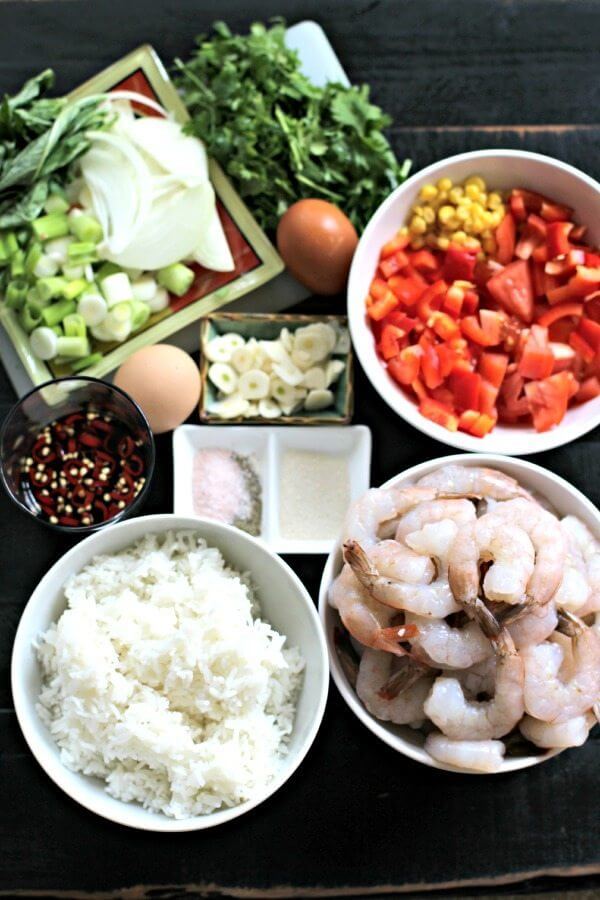 As adamant thai fired rice lovers, me and my husband often make it at home, at I can't take credit on this one, my man is doing all the work, or should I say cooking of this dish, and we have an agreement, he makes this amazing thai fried rice , but I clean the dishes. I think its a good deal, considering how delicious this meal is.

MY LATEST VIDEOS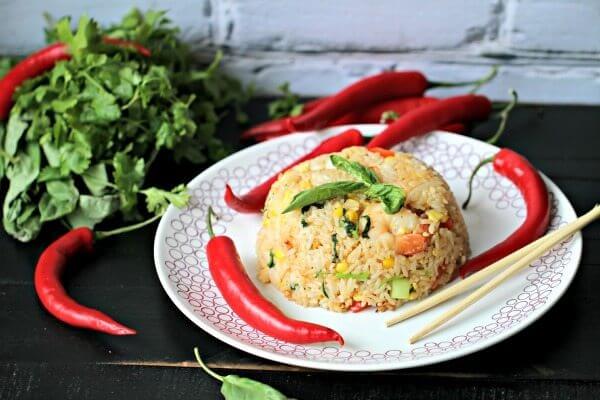 This time around he put a spin on our thai fried rice with shrimp, and added lots of fresh and hot chili peppers for some heat, and fresh basil for aroma. And look at that presentation, that pile of delicious and flavorful fried rice with large whole shrimps.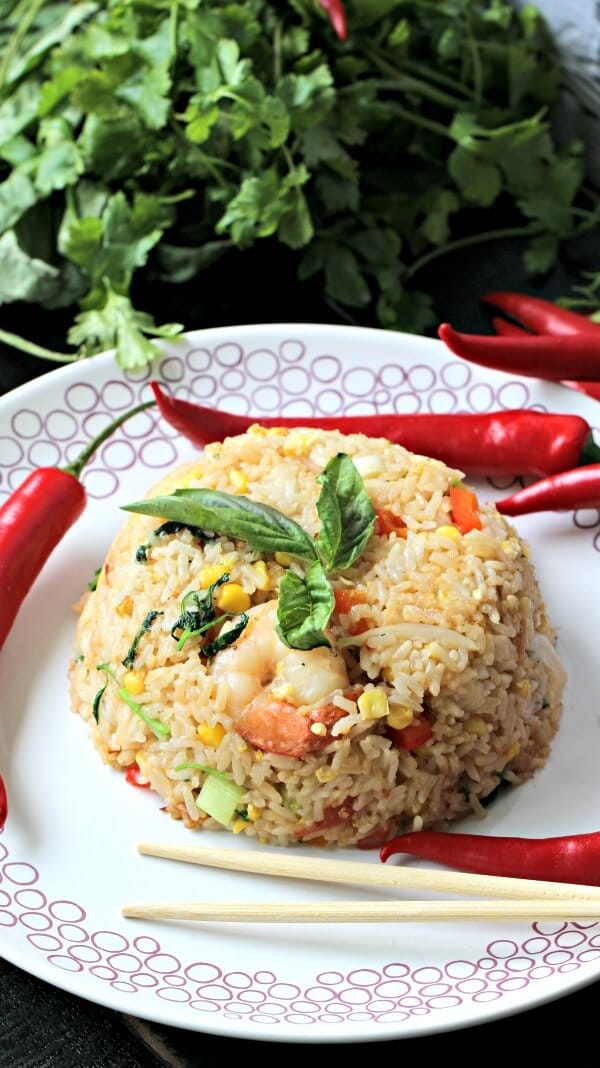 This definitely is an easy meal, the rice is cooked a day ahead, and kept in the fridge overnight to add some chewiness and crunchiness, so leftover rice is perfect for this recipe. If you have the rice on hand, it takes you 15 minutes to finish this dish and enjoy a delicious and beautiful dinner on a week night, who doesn't love that?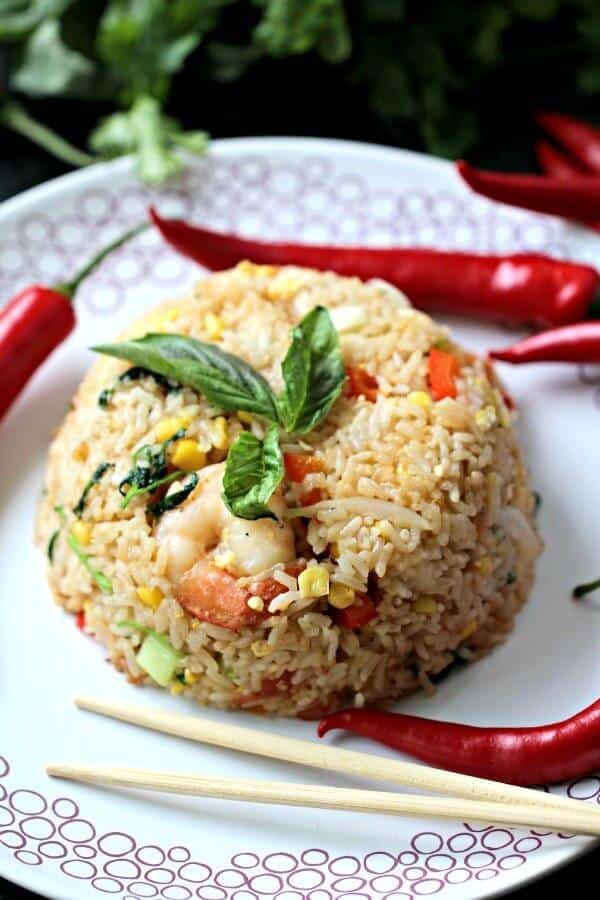 All you need is to thaw the shrimp, and did I mention that you cook everything in one wok, so remember when I said that I have to clean the dishes, its a sweet deal that I get since I have to clean one dish!

Thai Fried Rice with Shrimp and Chili Peppers
Quick, easy and flavorful thai fried rice made with shrimp and chili peppers for some heat. Perfect weeknight meal.
Author:
Katalina Kastravet
Ingredients
Fried Rice with Shrimp
2 cups of cooked rice cooled (or day old rice works well too)
1 lb shrimp, head peeled, but tail on
¼ of a big white onion, chopped
8 cloves garlic, minced
1 egg
½ tablespoon soy sauce
Pinch of sugar (optional)
2 tablespoon of oil for frying
5 chilies, chopped
3 tablespoons of fish sauce
½ of a lime
1 bunch of green onion, chopped
1 red bell pepper, chopped
½ cup yellow corn
½ cup fresh basil
Instructions
"Stir fry sauce" ingredients together in a cup (soy sauce, fish sauce, lime juice and sugar) until sugar dissolves. Set aside.
Heat a wok or large frying pan over medium-high heat. Drizzle with 1-2 tablespoons oil, then add 2 minced garlic cloves and chili. Stir-fry 30 seconds to release the fragrance, then add shrimp and stir-fry until shrimp turns pink about 2-3 minutes.
Add onion, chopped bell pepper, corn and remaining garlic and continue stir-frying 1-2 more minutes.
Add rice and drizzle the stir-fry sauce over. Use a large flat utensil to perform a scooping motion to fry the rice another 2-3 minutes, or until sauce is well distributed.
Push rice aside to clear a space in the middle of your pan. Add 1 teaspoons of oil, then crack in the egg. Quickly scramble egg, gradually combining it with surrounding rice.
Remove from heat, stir in the green onion and basil. Taste-test the dish for salt balance and adjust. At this point you can add 2-4 teaspoons more fish sauce, to adjust the flavor as needed.
Serve immediately and ENJOY!
Peas and Peonies, LLC. owns the copyright on all images and text and does not allow for its original recipes and pictures to be reproduced anywhere other than at this site unless authorization is given. If you enjoyed the recipe and would like to publish it on your own site, please re-write it in your own words, and link back to my site and recipe page. Copying and/or pasting full recipes to social media or personal blogs is strictly prohibited. Sharing this recipe is very much appreciated and encouraged. Read my disclosure and privacy policy. This post may contain affiliate links.