Thai Fried Rice with Shrimp
Thai Fried Rice with Shrimp is quick, easy and flavorful. It is made with shrimp, bell pepper, corn and chili peppers for some heat, and perfect weeknight meal.
We love making easy and delicious Asian dishes such as our famous Instant Pot Orange Chicken, Instant Pot Mongolian Chicken and Instant Pot Beef and Broccoli.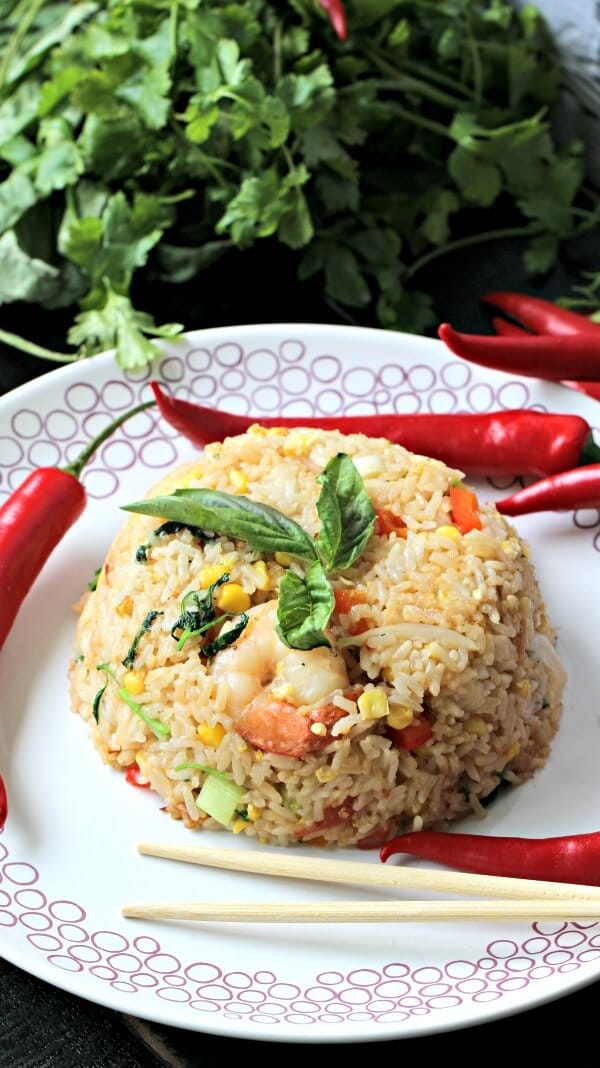 Thai Fried Rice with Shrimp
As adamant Thai fired rice lovers, me and my husband often make it at home. I can't take credit on this one, my man is doing all the work, or should I say cooking of this dish. This time around he put a spin on our Thai fried rice with shrimp. He added lots of fresh and hot chili peppers for some heat, and fresh basil for aroma. And look at that presentation, that pile of delicious and flavorful fried rice with large whole shrimps.
This definitely is an easy meal, the rice is cooked a day ahead, and kept in the fridge overnight to add some chewiness and crunchiness. Also, leftover rice is perfect for this recipe. If you have the rice on hand, it takes you 15 minutes to finish this dish and enjoy a delicious and beautiful dinner on a week night.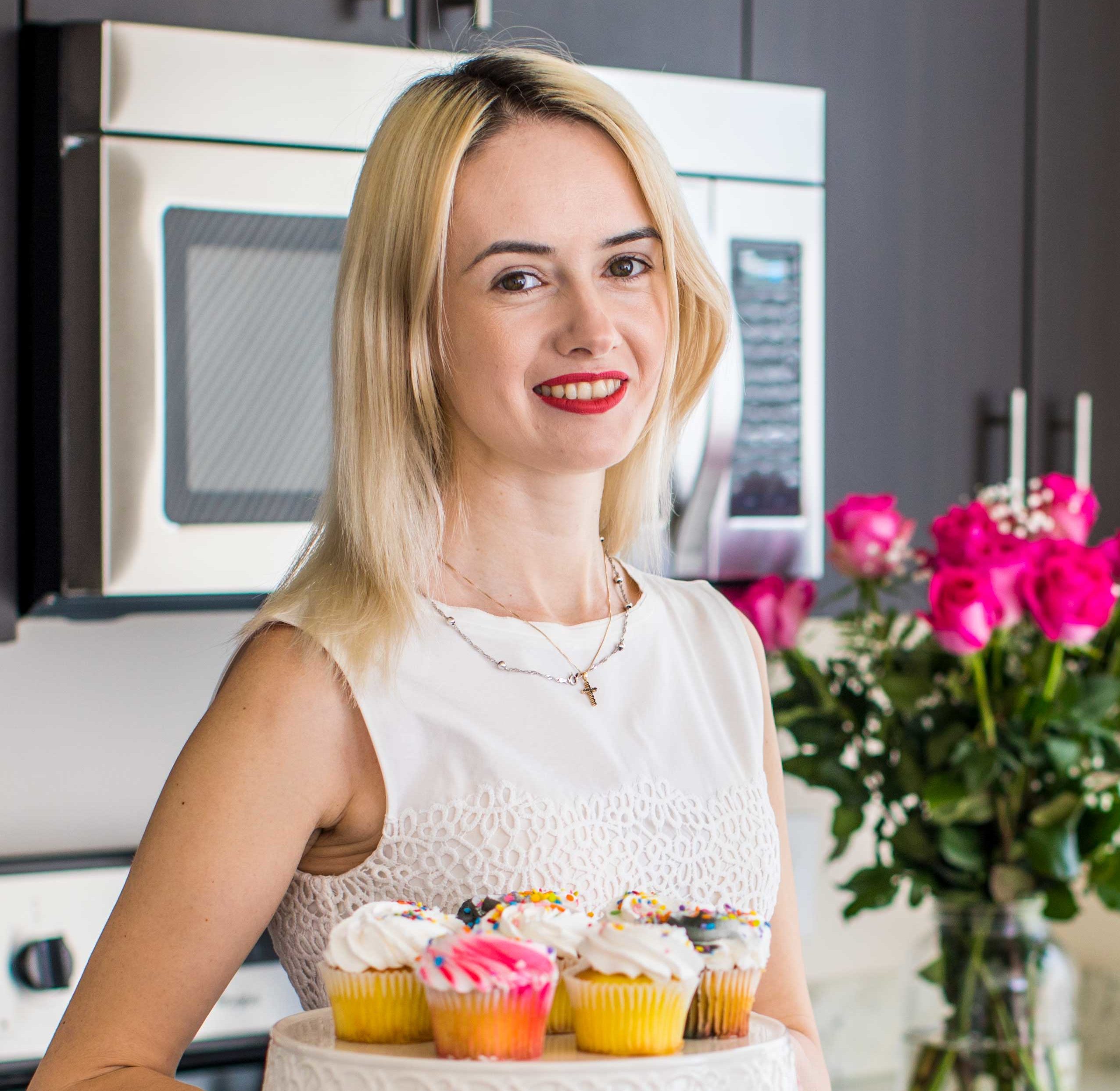 Follow us on Pinterest for more delicious recipes!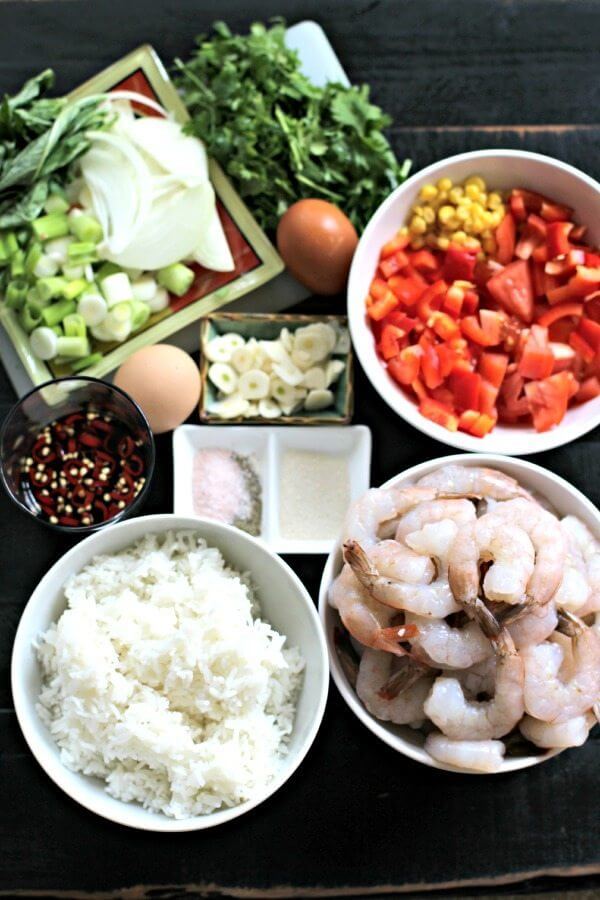 Why You'll Enjoy This Thai Fried Rice with Shrimp:
Firstly, it is easy to make and it takes only around 25 minutes!
Also, It's cheaper and healthier alternative to restaurant meal.
In addition, the dish is packed with amazing flavors and lean protein.
It is perfect for busy weeknights and also for entertaining guests.
Similarly, you will have delicious leftovers that can be stored in the fridge, in an airtight container for 3-4 days.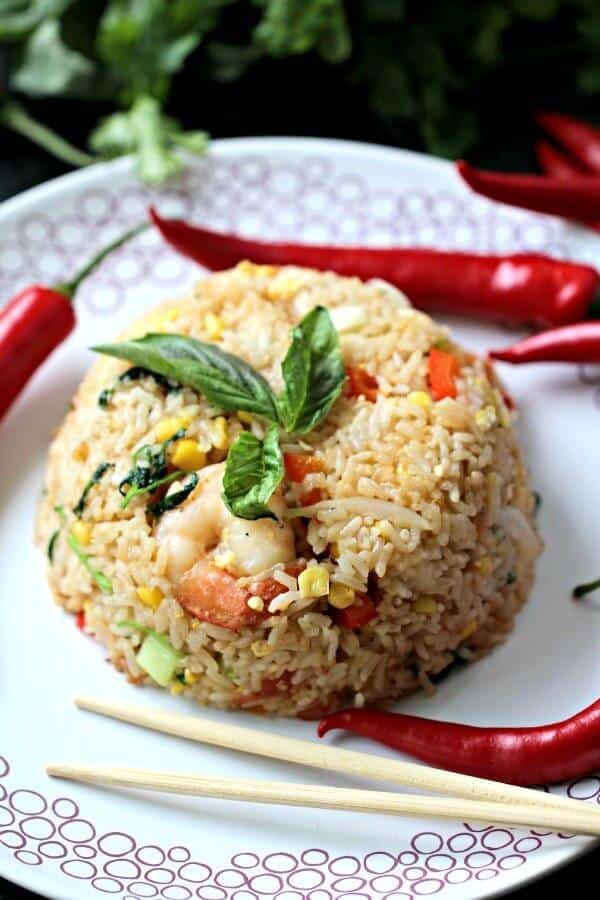 Can I substitute chicken for shrimp for this dish?
Yes, chicken, pork or beef are a great alternatives for shrimp in many recipes including this one. The cooking time will also vary best on the cut that you choose.
Save Recipe
Thai Fried Rice with Shrimp
Author: Catalina Castravet
Serves: 5 servings
Prep time:

15

minutes
Cook time:

10

minutes
Total time:

25

mins
Ingredients
2 cups cooked rice cooled (or day old rice works well too)
1 lb shrimp (head peeled, but tail on)
1/4 white onion (chopped)
8 cloves garlic (minced)
1 egg
1/2 tablespoon soy sauce
Pinch sugar (optional)
2 tablespoon oil for frying
5 chilies (chopped)
3 tablespoons fish sauce
1/2 lime
1 bunch of green onion (chopped)
1 red bell pepper (chopped)
1/2 cup yellow corn
1/2 cup fresh basil
Instructions
"Stir fry sauce" ingredients together in a cup (soy sauce, fish sauce, lime juice and sugar) until sugar dissolves. Set aside.
Heat a wok or large frying pan over medium-high heat. Drizzle with 1-2 tablespoons oil, then add 2 minced garlic cloves and chili. Stir-fry 30 seconds to release the fragrance, then add shrimp and stir-fry until shrimp turns pink about 2-3 minutes.
Add onion, chopped bell pepper, corn and remaining garlic and continue stir-frying 1-2 more minutes.
Add rice and drizzle the stir-fry sauce over. Use a large flat utensil to perform a scooping motion to fry the rice another 2-3 minutes, or until sauce is well distributed.
Push rice aside to clear a space in the middle of your pan. Add 1 teaspoons of oil, then crack in the egg. Quickly scramble egg, gradually combining it with surrounding rice.
Remove from heat, stir in the green onion and basil. Taste-test the dish for salt balance and adjust. At this point you can add 2-4 teaspoons more fish sauce, to adjust the flavor as needed.
Serve immediately and ENJOY!
Calories: 295 Carbohydrates: 36 Protein: 24 Fat: 5 Saturated Fat: 0 Cholesterol: 261 Sodium: 1672 Potassium: 399 Fiber: 3 Sugar: 4 Vitamin A: 1350 Vitamin C: 101.6 Calcium: 160 Iron: 3.5
Save Recipe
More recipes you might love