Cold Summer Soup – Russian "Okroshka"
This post may contain affiliate links. Please read my disclosure policy.
A bowl of this creamy goodness, crunchy and delicious cold summer soup is all you need to feel refreshed and recharged this summer!
Happy, Happy Wednesday my friends before sharing this delicious recipe for Cold Summer Soup I wanted to talk about a few happy and sad things. I can't believe that is already middle of the week, and almost end of June, time is flying and my toddler is growing up so quickly, learning so many new words every day. Yesterday he melted my heart by coming into my closet while I was getting ready, grabbing my skirt with his little chubby hands and saying "Mommy Beautiful". These are the moments that make me smile even when so many other things are falling apart.
Family is so important, and I just want to remind everyone today to cheer the people that you love, and also love you. If you got a chance to read my About page, you may remember how much I love my family, that this blog is dedicated to them and that my grandfather has cancer, my heart is breaking to say that he is dying, that he is in pain, and soon I will lose him. I believe that he will be in a better place, healthy and always smiling, so I will just keep praying and cheer every moment I have left with him. It is extra hard for me, because I am so many thousands of miles away, but he knows that he is always in my heart, and all the beautiful and unforgettable memories that we have created, I hold onto them tight and keep playing them in my mind.

In moments like this is when I wish to be closer to my family, to cry and laugh together, so I decided to post a recipe that is very dear to my heart. This is a recipe for Russian cold summer soup, or otherwise called "okroshka". Its a soup that I always ask my mom to make for me, and her version always turns out better, probably love is the extra ingredient that she uses.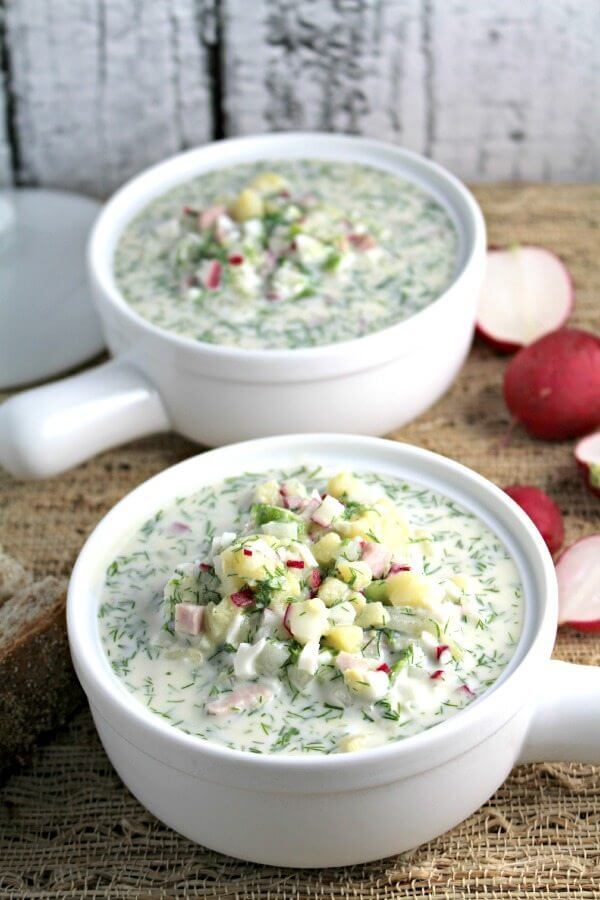 This is the soup that associates with summer, with all the trips I took to my grandparents, all the sunny, beautiful days I spent running around, coming home exhausted and eating a bowl of the most refreshing soup ever.

MY LATEST VIDEOS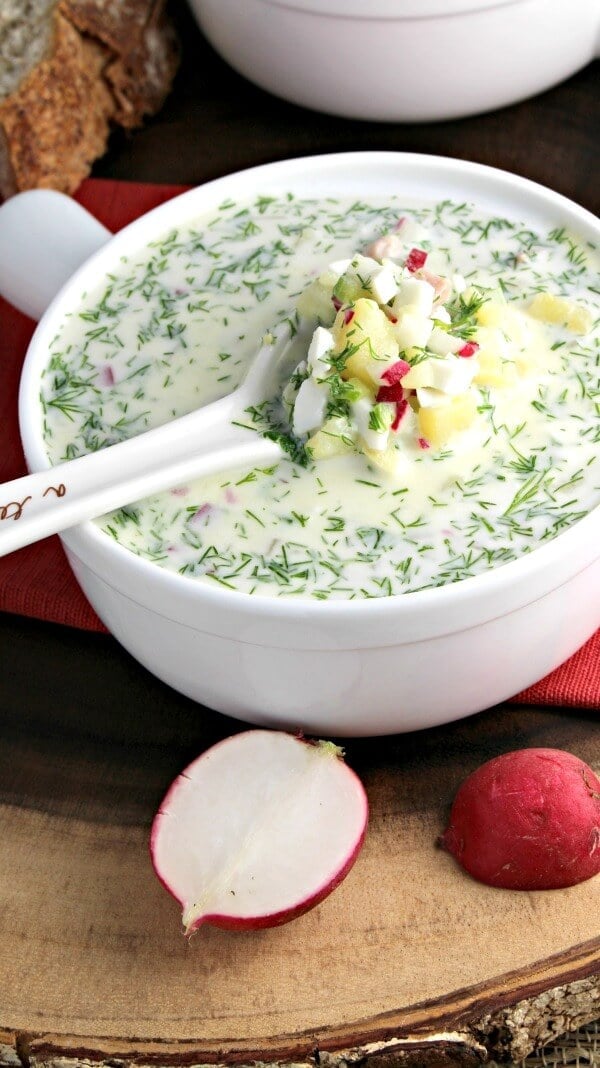 My grandfather is the most positive person I have ever known, so I am trying to put a smile on my face, and act the way he wanted me: taking care of my family, being happy, working hard and doing my best at everything.
This cold summer soup is the type of comfort food you want to reach for during hot summer days, it's cold and tart taste will refresh you right away, the crunchy flavorful summer veggies add so much texture and flavor, that its impossible not to ask for seconds. I usually add some meat to this soup, for extra protein, but many times I make a vegetarian version by skipping the meat, and don't worry, it's equally delicious, so go ahead and give it a try the way you prefer.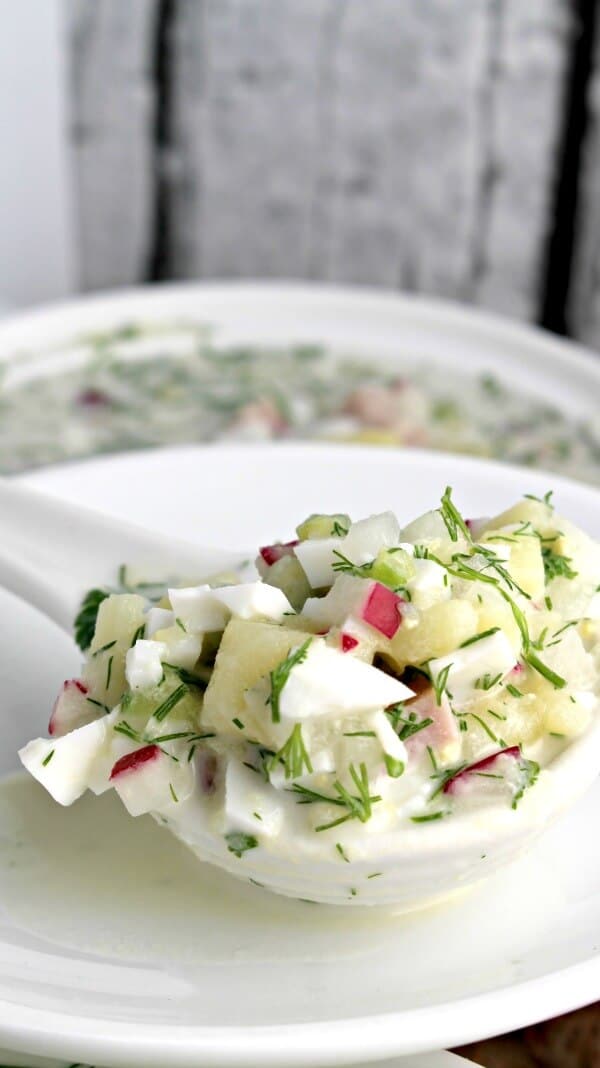 This soup is very filling, from all that load of veggies, creamy from the eggs and sour cream. It definitely has a unique taste, but if you like tart and refreshing soups you must try this. I will go ahead and say that this summer cold soup is so much better than gazpacho. Gazpacho can be a little bland, but this soup is piled up with fresh, beautiful summer veggies that just give it so much flavor. And it requires minimal stove time!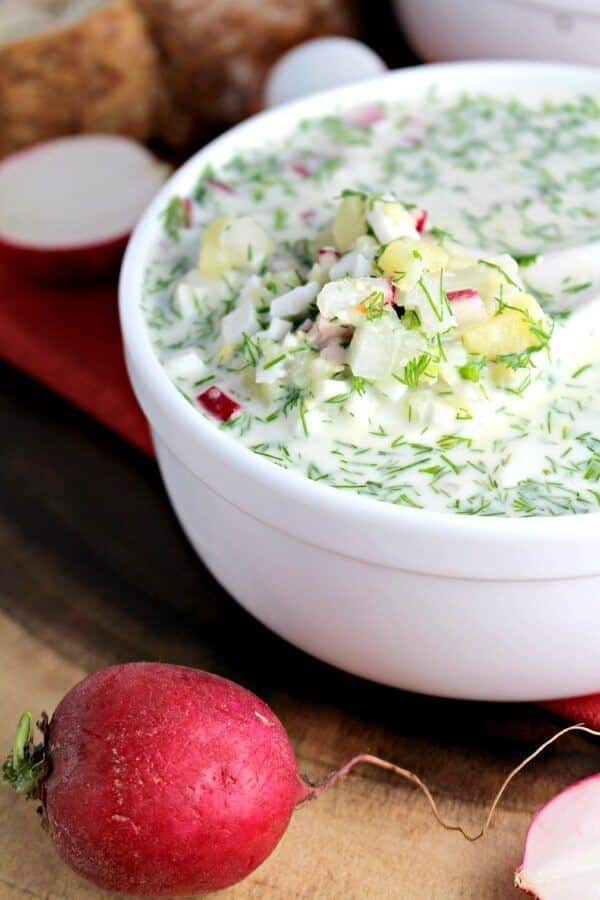 A bowl of this creamy goodness is all you need to feel refreshed and recharged this summer!

Cold Summer Soup or Russian "Okroshka"
A bowl of this creamy goodness, crunchy and delicious cold summer soup is all you need to feel refreshed and recharged this summer!
Author:
Katalina Kastravet
Ingredients
8 cups cold water, boiled and cooled to room tempreture
⅓ cup sour cream
3½ Tbsp Vinegar divided
2½ tsp Salt
½ cup green onion, finely chopped
1 lb. organic ham, diced
4 medium potatoes, peeled and diced into cubes
4 hard-boiled eggs, diced
4 medium cucumbers, diced
6 large radishes, diced
½ cup dill, throughly washed and chopped
Instructions
Place diced potatoes into a medium pot and cover with water. Add 1 Tbsp vinegar and bring to a boil, continue boiling for 10 minutes or until the potatoes are just cooked.
Drain potatoes and carefully rinse with cold water to cool down.
In the meantime, boil the eggs and cool them in ice cold water.
On a cutting board dice the 2 whole eggs and 2 egg whites (set 2 yolks aside), cucumbers, radishes and ham. Chop the dill and green onions and place everything in a large pot.
In a separate large bowl, whisk together sour cream and remaining 2 egg yolks until combined, add the 8 cups of boiled cooled water, remaining 2½ Tbsp of vinegar and 2½ tsp of salt, whisk gently until combined. Pour the mixture into the pot over the rest of the ingredients. Gently stir to combine.
Let the veggies soak all the flavors for 2-3 hours before serving.
The soup must be kept if the refrigerator and served cold.
This is the type of soup that gets better and better the second day!
Peas and Peonies, LLC. owns the copyright on all images and text and does not allow for its original recipes and pictures to be reproduced anywhere other than at this site unless authorization is given. If you enjoyed the recipe and would like to publish it on your own site, please re-write it in your own words, and link back to my site and recipe page. Copying and/or pasting full recipes to social media or personal blogs is strictly prohibited. Sharing this recipe is very much appreciated and encouraged. Read my disclosure and privacy policy. This post may contain affiliate links.