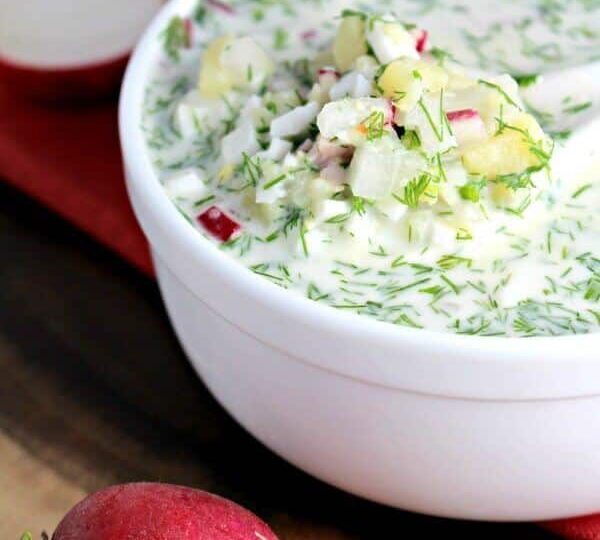 Cold Summer Soup – Russian "Okroshka"
Cold Summer Soup also known as Russian Okroshka, is creamy, crunchy and delicious, and perfect refreshed and recharged soup for the summer.
Making a comfort soup at home can be very enjoyable and rewarding. We have a big list of soup recipes on our blog for you to look at. Among our popular soups are Instant Pot Creamy Tomato Soup, Slow Cooker Corn Chowder with Bacon and Creamy Tortellini Soup.
Cold Summer Soup – Russian Okroshka
This is a recipe for Russian cold summer soup, or otherwise called "okroshka". Its a soup that I always ask my mom to make for me, and her version always turns out better. Probably love is the extra ingredient that she uses. This is the soup that associates with summer, with all the trips I took to my grandparents,. Also, all the sunny, beautiful days I spent running around, coming home exhausted and eating a bowl of the most refreshing soup ever.
This cold summer soup is the type of comfort food you want to reach for during hot summer days. It's cold and tart taste will refresh you right away. In addition, the crunchy flavorful summer veggies add so much texture and flavor, that its impossible not to ask for seconds. I usually add some meat to this soup, for extra protein. However, many times I make a vegetarian version by skipping the meat. Don't worry, it's equally delicious, so go ahead and give it a try the way you prefer.
This soup is very filling, from all that load of veggies, creamy from the eggs and sour cream. It definitely has a unique taste, but if you like tart and refreshing soups you must try this. I will go ahead and say that this summer cold soup is so much better than gazpacho. Gazpacho can be a little bland, but this soup is piled up with fresh, beautiful summer veggies that just give it so much flavor. And it requires minimal stove time!