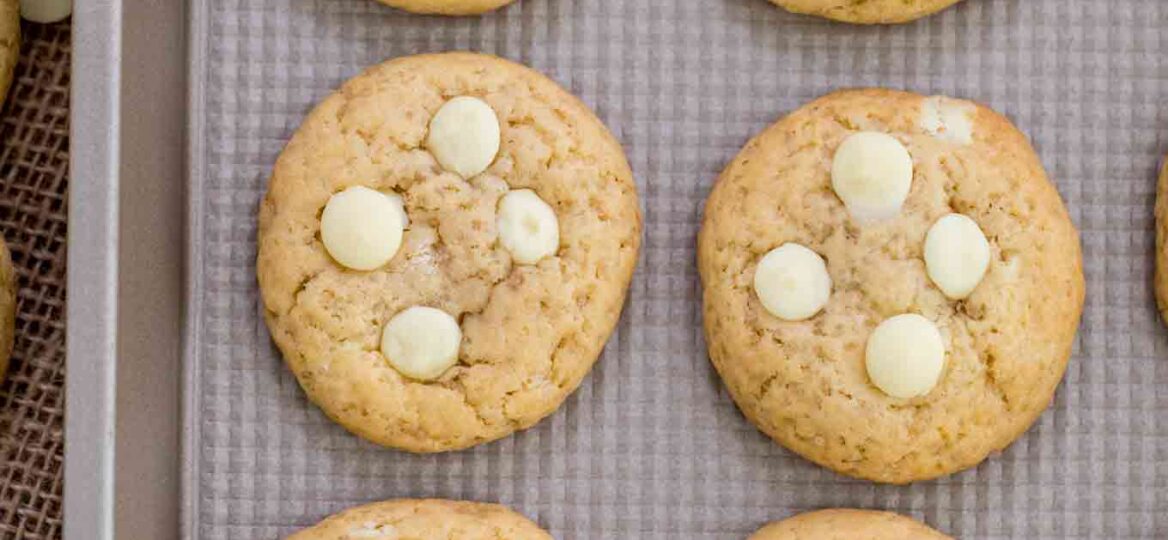 White Chocolate Chip Cookies
White Chocolate Chip Cookies are soft and chewy, filled with sweet white chocolate chips. They are super easy to make and very delicious.
These cookies are our favorite to make, and they are the best treat to have during colder months. We also love mint chocolate chip truffles, m&m cookie bars, and no-bake almond joy rolls.
White Chocolate Chip Cookies
White Chocolate Chip Cookies are simply the best sweet treat you can get. They are charming, loved by everyone, and very easy to make. All you need is a really good dough that produces a buttery, soft, and chewy cookie. Then, load them with white chunks of chocolate, and bake. This recipe will result in buttery and soft cookies, with perfectly crisp edges. You can enjoy them as is to satisfy your sweet tooth, or with a cup of tea or milk on the side.
Also, you can use chips or regular white chocolate, whichever available. If going with chocolate bars, we recommend using larger chunks in them. Once they bake, the chunks melt just nicely, and when you bite, you get a full and rich flavor.
Similarly, you can go with milk or semi-sweet chocolate, just remember there is a bit of difference in sweetness. Also, you can make them in advance because they store really well. Just remember to save some for the kids and pack a few in their bags!
How to make white chocolate chip cookies chewy?
The secret is to start with good quality butter, and since this recipe requires it to be melted, make sure it is NOT hot when combining with the rest of the ingredients.
In our experience, combining them properly results in chewy and soft cookies. Also, butter and chocolate give them a lot more flavor with a soft and chewy texture in the center. Just remember to follow the recipe steps and measures for the best results.
How long do you bake white chocolate chip cookies?
This depends on the size and thickness of them but as a general rule, you want to bake them for about 8-10 minutes at 350 degrees F. Make sure to check on them after the 8-minute mark, as they tend to bake pretty fast, you want to avoid overcooking or burning them.
For large cookies, say about 3 tablespoons in size, the cooking time will increase by a few minutes to about 12-14 minutes in total.
WHAT KIND OF BUTTER is best to use?
Unsalted butter works best here because you are in charge and can control the salt content. Salted butter will work as well, but keep in mind to adjust or eliminate the salt altogether from the ingredient list.
Why did my cookies spread and ended up too thin?
This can be due to a few reasons. Having butter that's too soft or almost melted can cause this problem. Also, not adding quite enough flour will cause them to spread when cooking. If you already started baking and noticed that one tray started to spread too thin, quickly pop the remaining cookie dough in the fridge to firm up. Or next time add 1-3 more tablespoons of flour.
Can you freeze white chocolate chip cookies?
Absolutely! Prior to freezing, ensure they are completely cooled. Also, you can freeze them individually by placing them in an airtight container in layers, separated by parchment, wax, or freezer paper. Freeze for up to 3 months. Best to reheat in the oven or microwave before serving.
Recipe Tips:
To make them uniform and cook evenly, we recommend using a scooper. This will serve two purposes, will cook them evenly and consistently, and also ensure to have the same size.
Also, another secret to them is to remove them from the oven before they are done baking. Because they require a short cooking time, it is best to monitor the time closely and remove them just before they are cooked. This way, they will be soft and chewy.
Additionally, you can use the same recipe and mix up the ingredients, such as peanuts, or dark chocolate.
Line the baking sheets with parchment paper, and be sure to give them enough space and air while baking.
When possible, try not to use a dark pan when baking, as this may cause them to become dark.