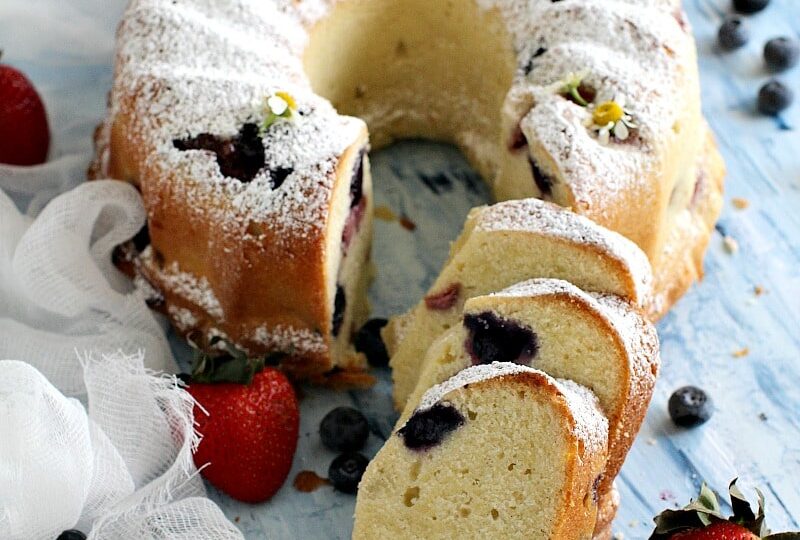 Berry Pound Cake is rich and buttery, made with vanilla bean seeds, and loaded with fresh and seasonal strawberries and blueberries.
Pound Cakes are common on our blog, as we love making them puffy and delicious. Like our popular Pumpkin Pound Cake, Triple Chocolate Pond Cake and Persimmon Pound Cake, this one will be a easy one to enjoy!
Berry Pound Cake
This Very Berry Pound Cake is a slice of summer! Absolutely gorgeous, baked in a bundt cake pan. It is bursting with flavors!This is a delicious classic pound cake, that is rich and buttery. However, I twisted a bit and added vanilla bean seeds for a subtle vanilla flavor. Seasonal, fresh and fragrant strawberries and blueberries are added into the butter, so that every slice of this Very Berry Pound Cake is bursting with juicy berries.
Just look at that amazing crumb! So rich, so buttery, it melts in your mouth! This cake is fabulous on its own, or it can be served with vanilla ice cream. Also, a dollop of whipped cream and raspberry sauce will do just fine.
Why You'll Love This Berry Pound Cake:
Firstly, it's festive and colorful. Also, the cake is perfect for a special occasion or birthday party.
Beautiful colorful mixes, due to addition of berries.
In addition, it's simply delicious, moist and flavorful.
So good that kids and adults will love it equally.
Perfect project to do with the kids, everyone will have so much fun.
Lastly, it's light, and seasonal, so great way to enjoy some berries in a cake.
How Long Will Berry Pound Cake Stay Fresh?
The cake can be stored wrapped in plastic wrap at room temperature for about 4-5 days.
Can You Store and Freeze This Berry Pound Cake?
Absolutely! This cake freezes well. First, cool the cake completely and fully wrap it in plastic wrap, tightly. After that, wrap in aluminum foil. Freeze for up to 2-3 month. Defrost before slicing.
TOOLS/INGREDIENTS I USED TO MAKE THIS CAKE RECIPE:
Silicone Bundt Cake Pan – I like how easy it is to bake using silicone pans. Also, they are non sticks which helps a lot with cake removal.