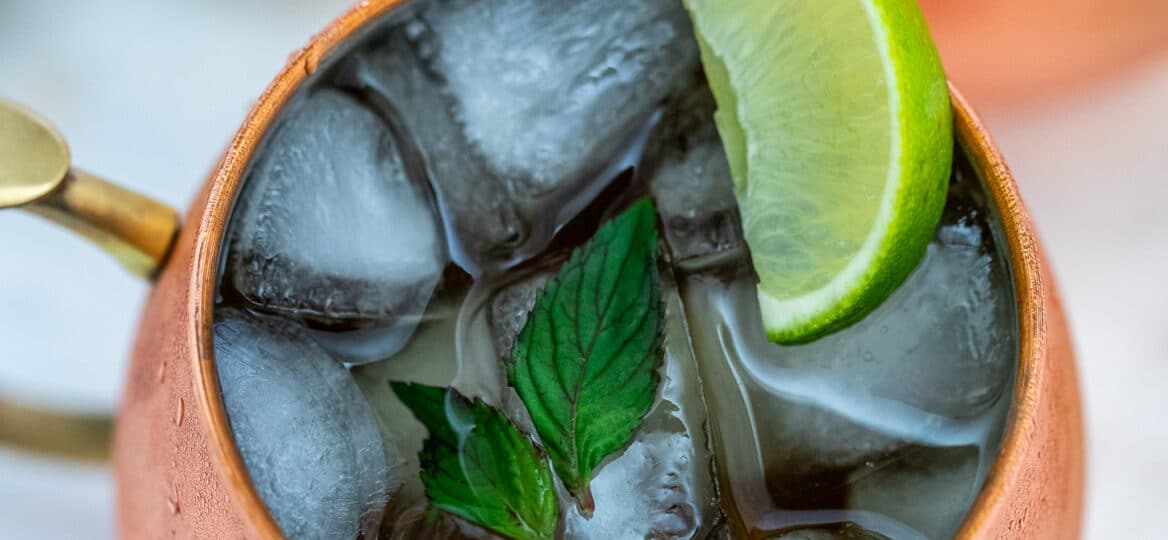 Moscow Mule Recipe [Video]
Moscow Mule is a cocktail that is perfect for any holiday party made with just three ingredients! Refreshing as it is, try it all-year-round even during summer, too!
It is the cocktail season with parties happening left and right to celebrate the holidays. We have shared with you our recipes for Bacon Ranch Cheese Ball, Tuscan Chicken Pinwheels, and Pumpkin Mousse, all of which are perfect party dishes. Now, it is time for the drinks!
Moscow Mule Recipe
Moscow Mule is so easy to make that it takes only three ingredients, and probably under three minutes, to prepare this concoction.
It is delightfully served in a copper mug which makes it even more refreshing to feel that your drink is cold. The metal effectively conveys the coolness of the iced drink inside as you touch it.
The ginger beer in it gives it a strong spicy flavor that perfectly depicts the autumn and winter seasons. And the vodka tastes so good in this drink.
The sourness of the lime juice and the subtle sweetness of the vodka complement the ginger beer nicely. Did you know that this drink made vodka famous?
This is one fun drink that you cannot afford not to have this holiday season. Catch this at our next party!
What is Moscow Mule?
It is an alcoholic drink that is believed to have been invented in 1941. In the Cock 'n' Bull pub, one fateful day, a certain Sophie who hailed from Russia, came in carrying a product of her father's business, the copper mug.
Wanting to sell the mugs in America, she went door to door in search of anyone who could be interested. In a stroke of luck, she walked in on an experiment in trying to make a concoction out of ginger beer and vodka. And the rest is history for the now-famous fizzy concoction served in a copper mug.
What do you need to make it?
All you need is ginger beer, vodka, and fresh lime juice and wedge. Traditionally, the copper mug is the choice of container and so, you will need that, too. Don't forget the ice!
How to make Moscow Mule
This is easy peasy! All you need to do is the following simple steps:
Fill: Put ice cubes in the mug or a glass. Then, pour in the vodka.
Squeeze: Get half a lime and squeeze the juice out. Then, pour in the ginger beer.
Stir: Completely stir everything and garnish with the lime wedges.
Recipe Variation
As for any other cocktail drink, there is a workaround if you lack any of the three ingredients, especially, the vodka. So, if you miss it, then, substitute it with any of the following and so much more:
Bourbon for Kentucky Mule
Tequila for Mexican Mule
Irish whiskey for Irish Mule
Dark rum for Aussie Mule
Can you make it in advance?
Yes, you can make this ahead of time as it is impractical to prepare individual glasses at a large party.
What you want to do is to mix everything but do not add the ginger beer just yet. Then, when ready to serve, just pour in the beer and stir.
Recipe Tips:
The key to making this drink is to keep it cold, placed in a copper mug or not.
Try different brands of ginger beer to see what works for you. Some of your guests may prefer sweet to spicy, so, if possible, you can also ask them to choose the beer that will go into their drink. The same applies to the vodka.
Add a sprig of mint, too, to garnish.
If you cannot find ginger beer, you may opt for a ginger ale but this one is milder in flavor.