Mini Oreo Cheesecakes are the perfect bite-size desserts filled with creamy cheesecake filling and Oreo crust. They are festive and perfect for parties, holidays, Mother's day, or game day!
These are some of the cutes and our most favorite desserts. They are our go-to recipe when we crave a delicious sweet. We also love Oreo cheesecake, chocolate chip cookies, and chocolate cupcakes.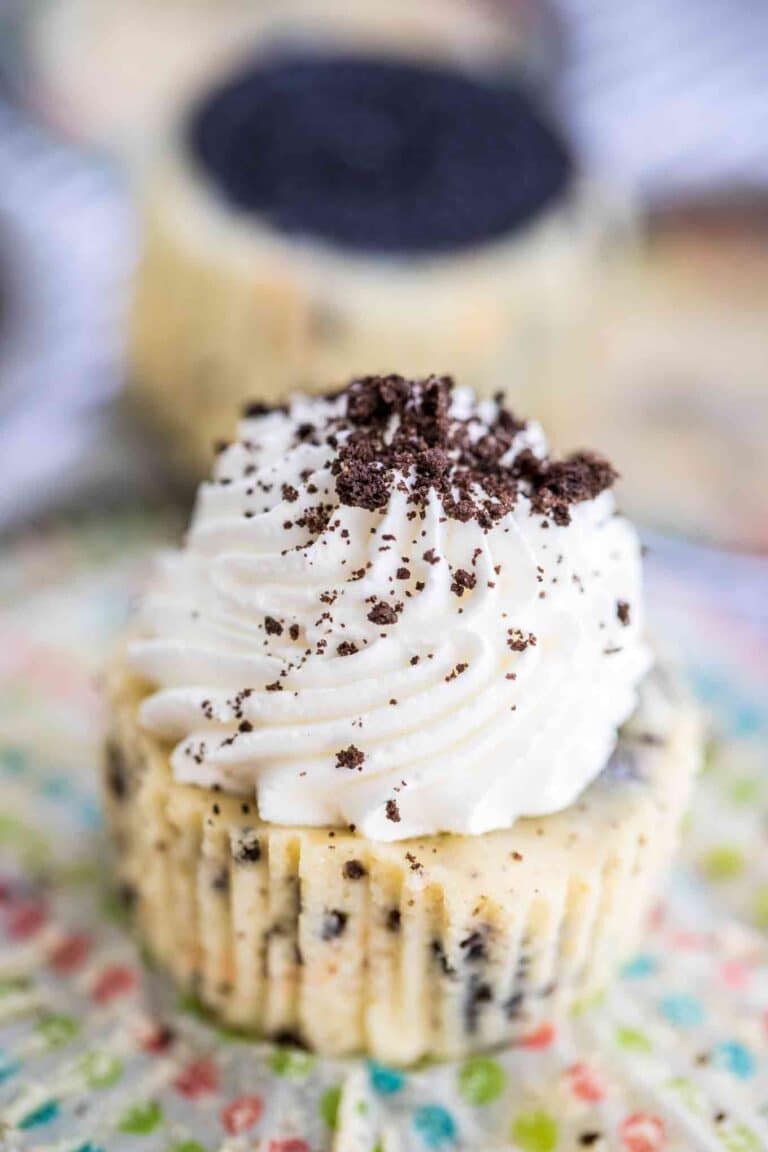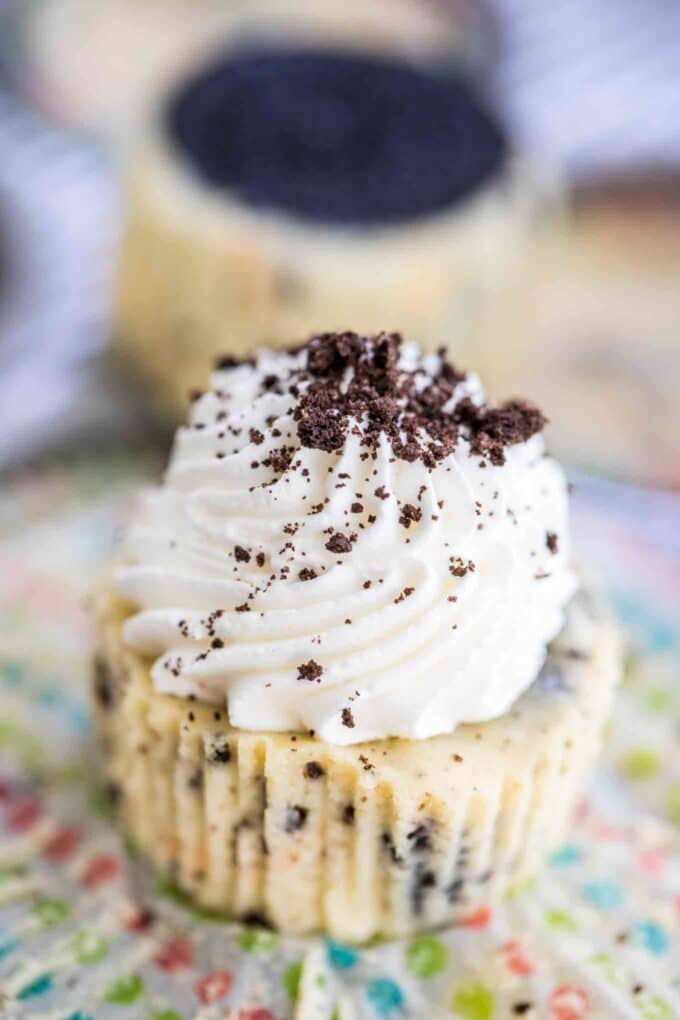 The Best Mini Oreo Cheesecakes
Mini Oreo Cheesecakes are perfect if you want a quick dessert idea to serve up at home. They are so delicious, rich and creamy, that we end up cooking them about once a month. If we have a birthday party, they are the top choice to make. Everyone loves them!
With a thick Oreo crust and cheesecake filling, these are pure perfection. They are easy to make and very delicious, definitely worth every single calorie! This recipe is one of the best and the secret is in how we bake them. We tried many variations of cooking them and decided that baking them in low-temperature oven results in fluffy and light cupcakes.
You can serve them at any time of the year. Similarly, kids love them, and the hidden oreo on the bottom is something they always come back for more!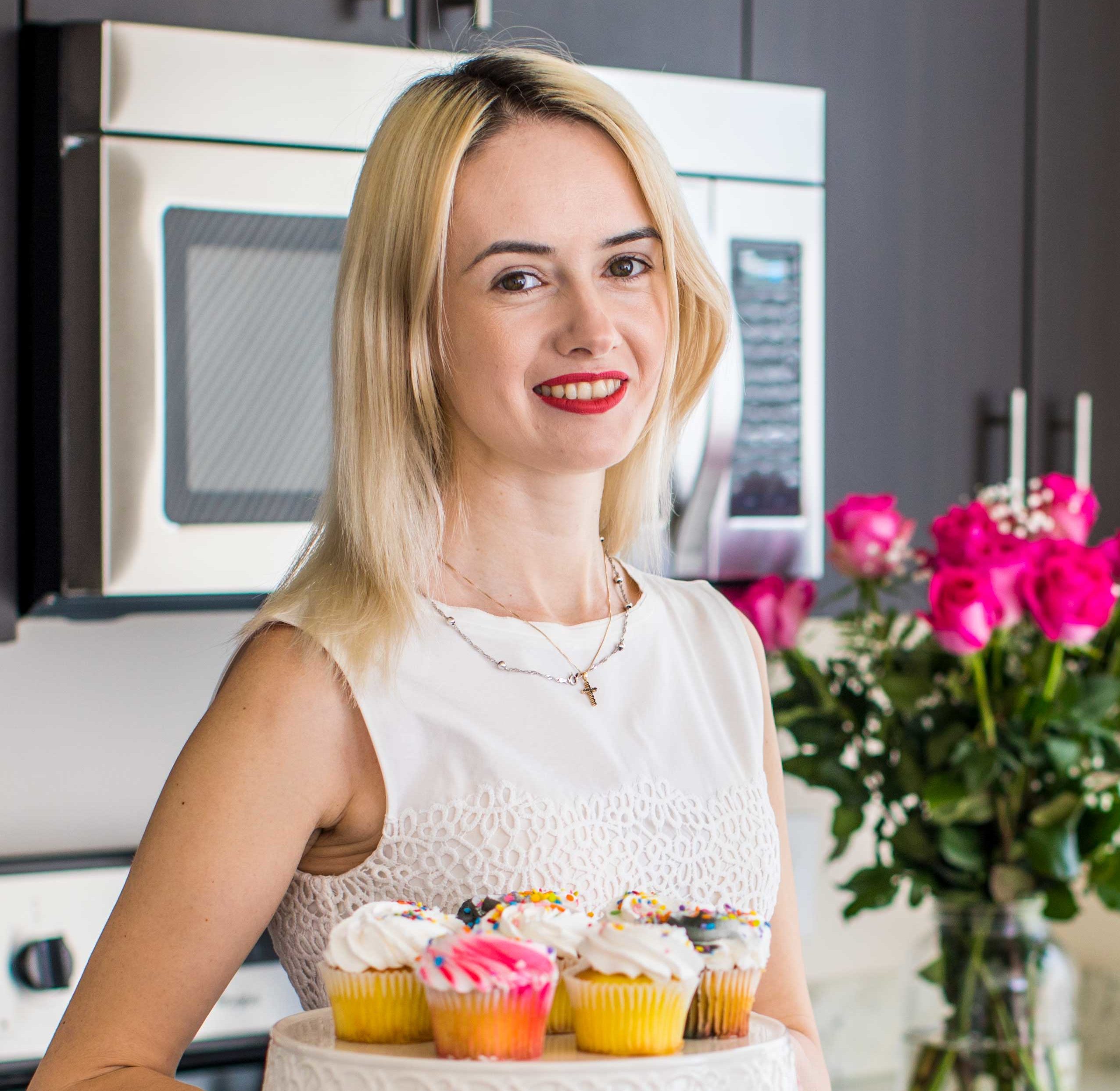 Follow us on Pinterest for more delicious recipes!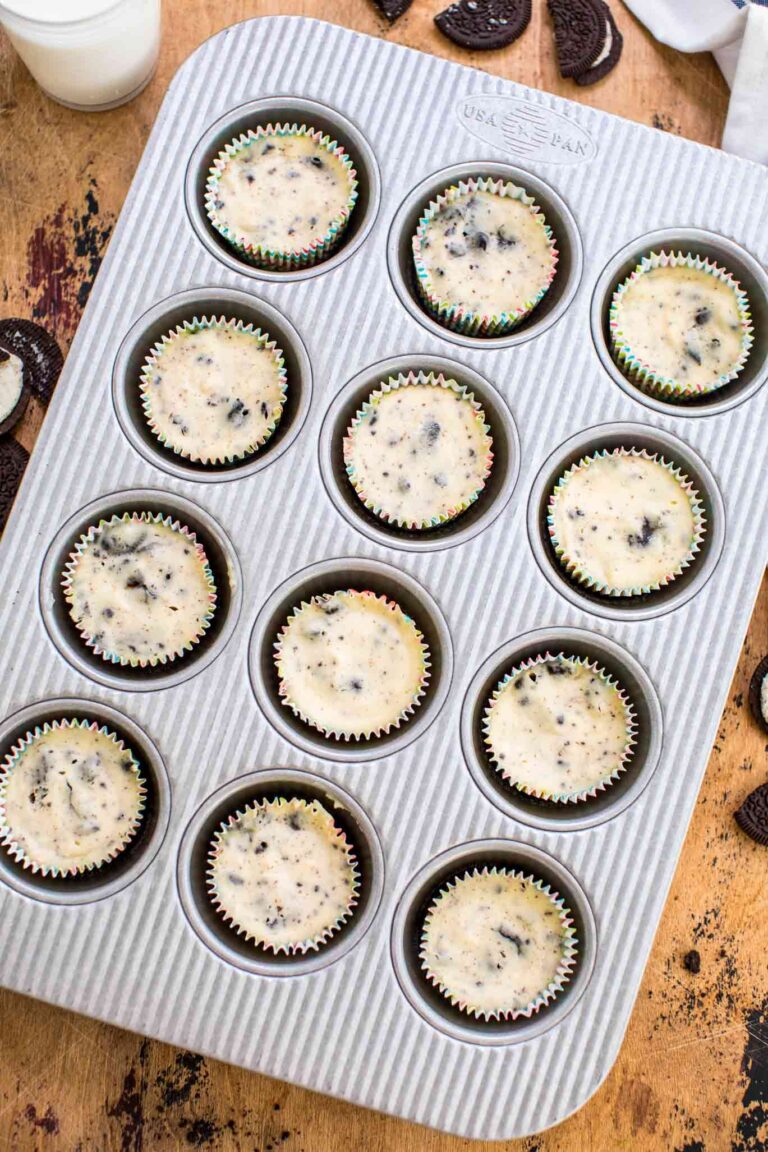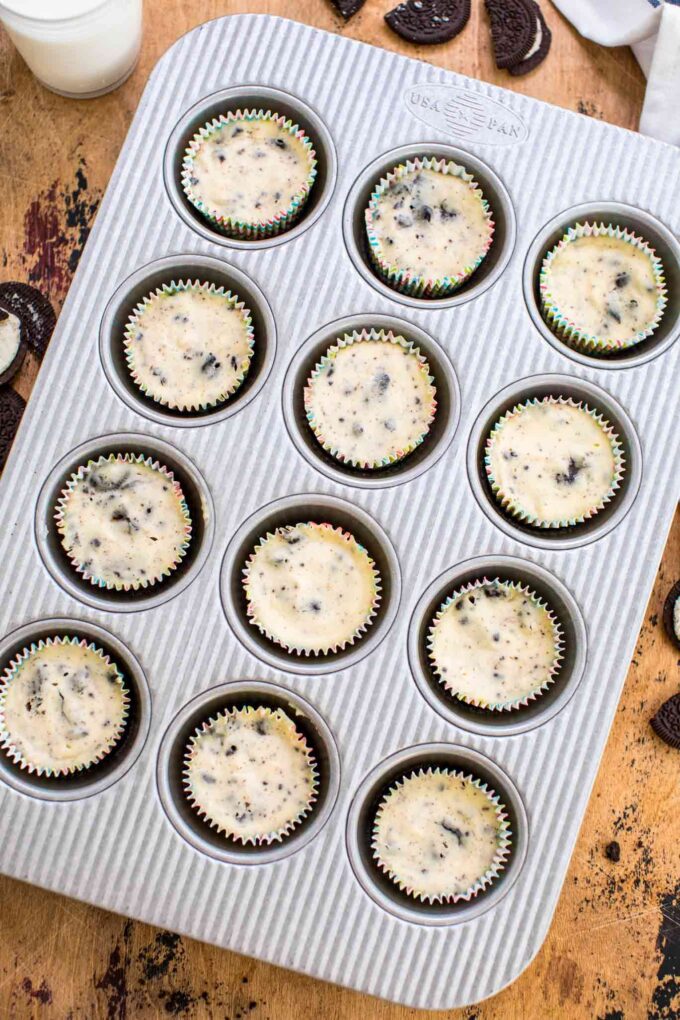 How to make mini oreo cheesecakes?
You'll need a non-stick pan like this one. We love this pan because the size is ideal, and they look so perfect and festive.
To make this recipe, we start by making the homemade Oreo crust. It is very simple to make it, by combining some Oreo crumbs and a little melted butter. Then, press the crust into each cavity of the pan and place it in the oven for baking for about 5 minutes. Also, you could simply use an Oreo for the crust on the bottom of each mini cheesecake, and then just add the filling and then bake them.
For the filling, simply mix the ingredients in a bowl. A tip here would be to beat the ingredients together at a higher speed but not for too long. This is what gives them a fluffy and smooth texture. In addition, you could add some crumbled Oreo pieces in the filling for extra flavor, but this is totally up to you.
Once the filling is ready, spoon it into each cup until they're almost full, and bake for about 20-25 minutes at 300, or 325°F.
Should ingredients be at room temperature?
For this recipe, it is important to make sure that all the ingredients are at room temperature. Having room temperature cream cheese allows it to mixed and it incorporates much better with the other ingredients. Also, if the cream cheese is too cold, it tends to stay lumpy in the batter and does not mix well, which you want to avoid.
Therefore, for best results and smoother texture, ensure that the cream cheese is softened before mixing. A quick tip to get it to room temperature quickly would be to place it in the microwave.
Remove the packaging from it, and microwave it for a quick 15-20 seconds. Doing so will bring the cream cheese quickly to room temperature.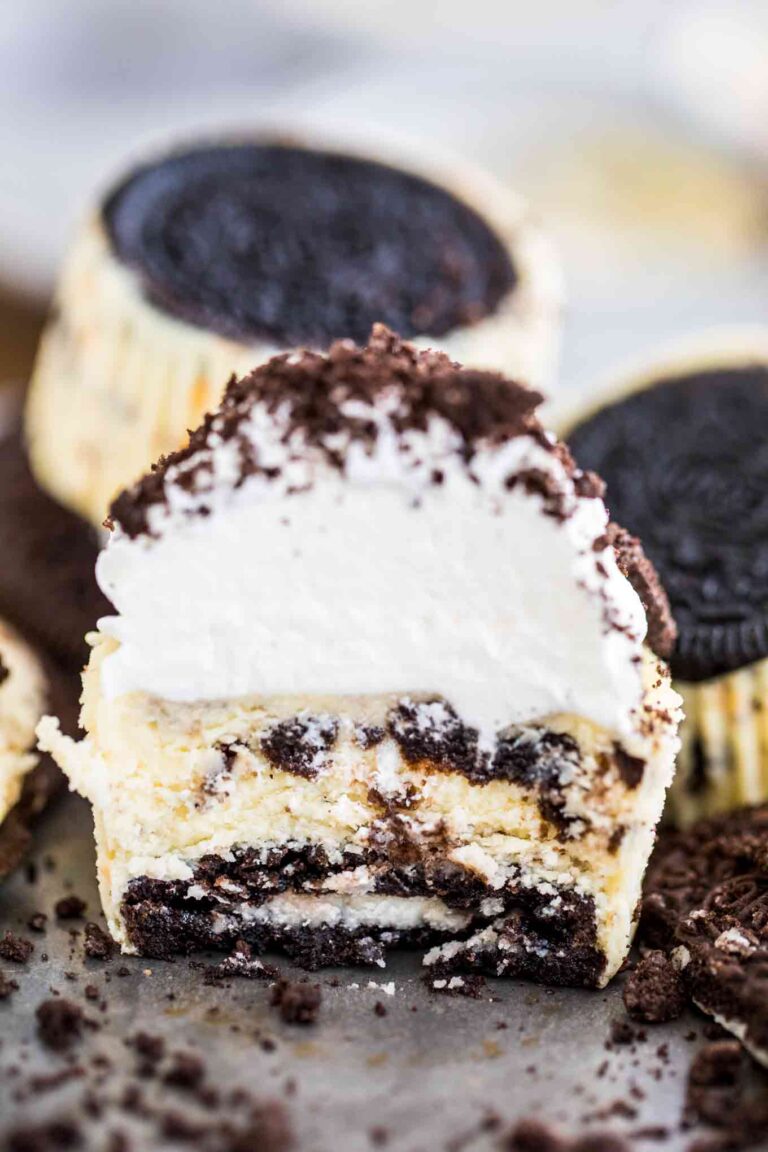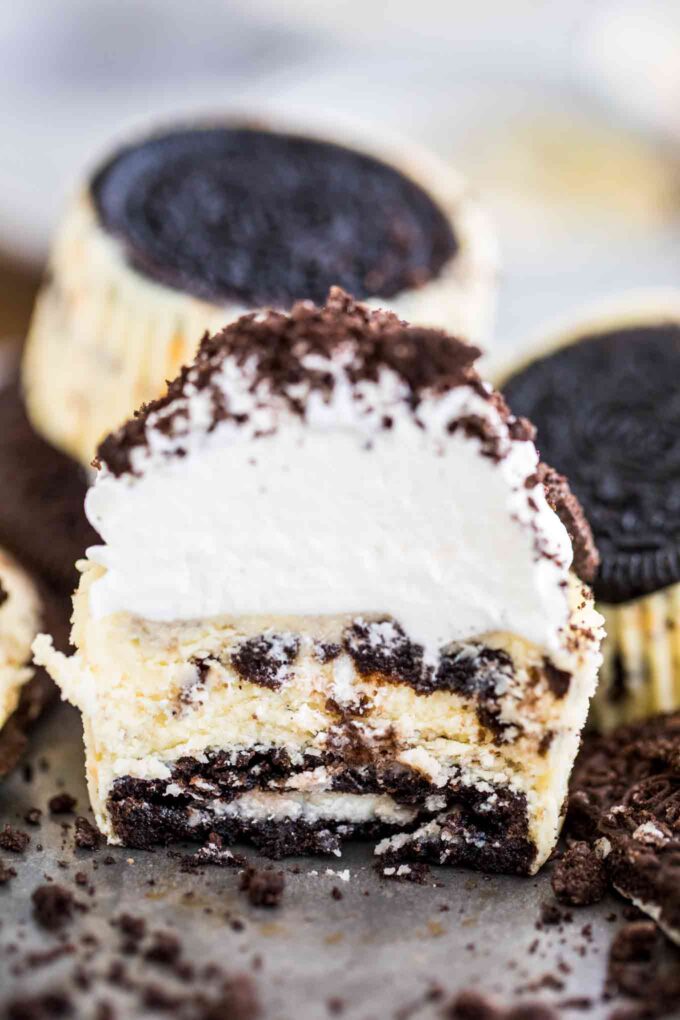 Can I freeze Oreo mini cheesecakes?
Yes, you can! Before freezing, let them fully cool to room temperature. Then, wrap in plastic wrap and after that, in aluminum foil.
You could also use an airtight container or freezer-safe bags. Best to freeze for up to 3 months. When ready to serve, remove them from the freezer and place them in the fridge overnight to thaw.
Recipe Tips and Tricks:
As stated above, bake at a lower temperature than usual. In this case at 300 to 325°F to get a fluffy and smooth texture.
To reduce some calories, use light cream cheese and nonfat sour cream.
Don't overmix the batter, as it will introduce too much air into the mixture. This will result in the cheesecake to rise too quickly in the oven and then fall.
For extra flavor, add some Oreo crust to the batter. Just make to use a food processor to ensure the crumbs are even-sized and not too large.
Once baked, allow the cheesecakes to cool to room temperature for at least 1 hour prior to refrigerating.
Save Recipe
Easy Homemade Mini Oreo Cheesecakes
Author: Catalina Castravet
Serves: 12 servings
Prep time:

15

minutes
Cook time:

30

minutes
Total time:

45

mins
Ingredients
12 Oreos
2 tablespoons butter (melted)
For the cheesecake filling:
16 ounces cream cheese (softened to room temperature)
1/4 cup sour cream (room temperature)
1/2 cup granulated sugar
1 teaspoon vanilla extract
1 large egg (room temperature)
8-10 Oreos (crushed)
Whipped Cream (optional):
2 cups heavy cream (chilled)
1 teaspoon vanilla extract
1/3 cup granulated sugar
6 Oreos (crushed)
Instructions
To make the crust:
Add the Oreos to a blender or food processor and process until you have fine crumbs. Then, transfer into a mixing bowl, and mix the crumbs with melted butter, until evenly combined.

Line a muffin tin with paper cups and press 2 tablespoons of the crust mixture firmly into each tin, bake at 325°F for 5 minutes.

Also, you can simply add 1 Oreo cookie at the bottom of the cupcakes liners, instead of the crust mixture.

Remove from the oven, and set aside to cool.
To make the cheesecake filling:
In a medium bowl, beat cream cheese, gradually adding sugar, vanilla, egg, sour cream, mixing well after each addition.
Then gently fold in the crushed cookies.
Spoon evenly batter into the pan, filling each to almost the top.
Bake at 300°F for about 20-25 minutes, or until the tops of the cheesecakes are set.
Remove from the oven and allow to cool at room temperature for at least 1 hour. Then, cover and transfer to the fridge to chill for another 1-2 hours prior to serving.
Whipped Cream (optional):
Add chilled heavy cream, sugar and vanilla to the bowl of a high-speed electric mixer and beat until stiff peaks form.

Once the mini cheesecakes have cooled, topped with whipped cream and crushed Oreo cookies.

Enjoy!
Calories: 185 Carbohydrates: 19 Protein: 3 Fat: 10 Saturated Fat: 5 Cholesterol: 36 Sodium: 232 Potassium: 116 Fiber: 0 Sugar: 13 Vitamin A: 265 Calcium: 53 Iron: 1.5
Save Recipe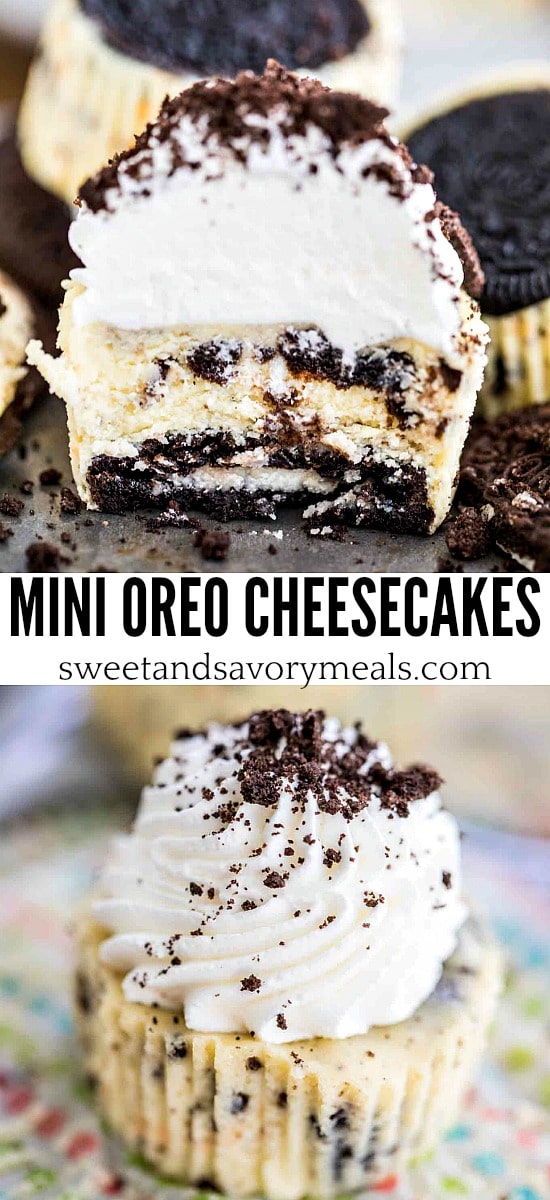 More recipes you might love