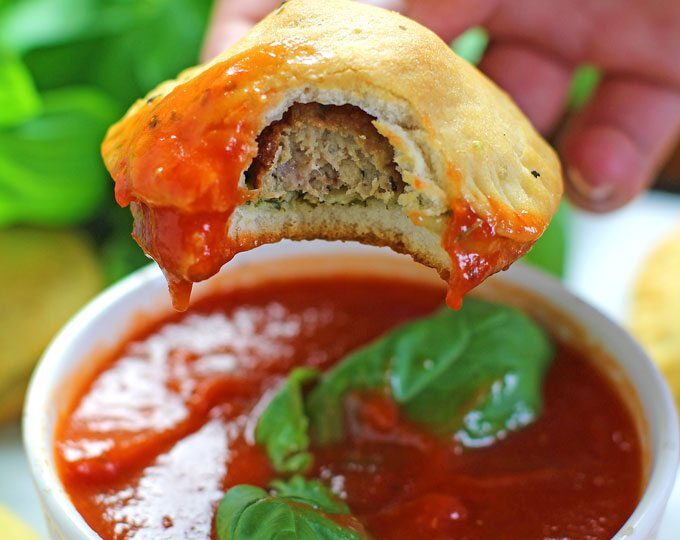 Mini Meatball Pies – 30 Minutes
Mini Meatball Pies are the perfect party appetizer or fun dinner. Incredibly easy to make, these are ready in 30 minutes and perfect for busy families.
I love making fun and easy appetizers, like our popular Bacon Wrapped Shrimp, Crispy Boneless Chicken Wings and Cheese Jalapeno Ham Sliders.
Mini Meatball Pies
Mini Meatball Pies are so tasty and perfect to dip into some marinara or pesto sauce. These savory and hearty pies are very easy to make and you can adjust the flavors to your own preference, I personally like them with pesto and cheese. The Mini Meatball Pies are ready in just 30 minutes and with just a few ingredients. I love making them with my toddler, he enjoys pressing the edges together and after that having some with lots of marinara sauce. I love serving these for parties, they make a great appetizer that everyone enjoys or for a small bites dinner with some salad on the side.
The beauty of this recipe is that you don't have to bake the pie crust, I used refrigerated biscuit dough. Also, you don't have to cook the meatballs, I used cooked packaged meatballs.
Why you will love these Mini Meatball Pies:
You can adjust the flavors as you want.
Incredibly easy to make in 30 minutes.
Can be made in advance and reheated in the microwave before serving.
Can be enjoyed hot or cold.
Great party appetizer.
Pin This Mini Meatball Pies Recipe to your Favorite Board
Mini Meatball Pies Recipe Tips:
I used regular biscuit dough for the crust, the buttermilk ones rise more and they create a larger pie, so I recommend the regular ones.
You can add half a meatball or an entire meatball to a pie, in either case make sure the biscuit dough is well flatten, pressed and rolled. so you will have enough to cover the meatball. Also depends on how large the meatballs are.
The pie filling can vary based on your preference, I like using minced garlic, pesto, and cheese.
Other delicious fillings are, fresh basil, marinara sauce, more cheese, chopped jalapenos.
When adding the pesto (or marinara) on top of the biscuit round, make sure it does not touch the edges, otherwise it will be hard to seal the edges together.
For that golden crust, I brushed the pies with melted butter before baking, and one more time 2/3 into the baking process.
Deliciousness to your inbox
Enjoy weekly hand picked recipes and recommendations