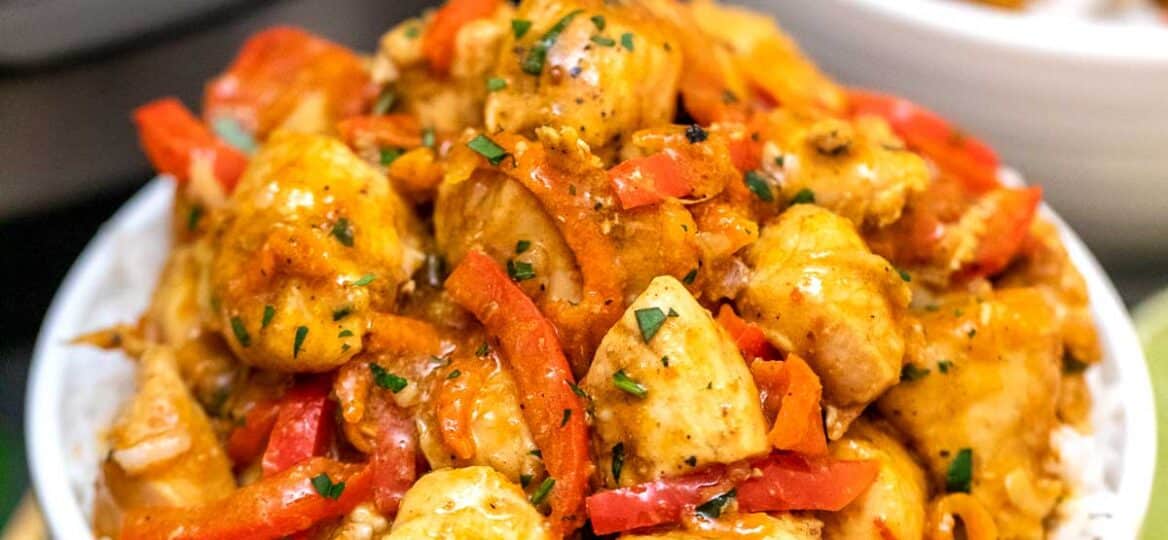 Instant Pot Coconut Curry Chicken
Instant Pot Coconut Curry Chicken is flavorful, perfectly tender, creamy, and spiced, and also packed with healthy ingredients! Let this quick recipe guide you!
This is the kind of recipe that you would want to include in your repertoire. The flavors are exciting and the recipe adds a unique dimension to chicken! Looking for quick dinner options like this one? Check one of my most popular recipes, the famous Instant Pot Orange Chicken!
Pressure Cooker Coconut Curry Chicken
Instant Pot Coconut Curry Chicken is one of those dishes that you can simply not get enough of! Its spiciness is so appetizing because it matches the sweetness and creaminess of the coconut. And all the flavors pair well with the meat.
And the best part of this recipe is that it is quick to prepare. It can be your go-to recipe on your busy weeknights and sudden cravings.
Who says that healthy choices need to be bland? This recipe proves that you could get away with tasty home-cooked meals and still choose to be healthy. The secret lies in the choice of the ingredients! Read more to know about each one.
Instant Pot Coconut Curry Chicken Ingredients:
Coconut: For this recipe, we use the oil and milk from the tropical tree. It lends the dish its creamy goodness and sweetness. You get low carbs and high fat from it and the fat is a good kind. It is rich in medium chain-triglyceride which is a good source of energy. It has been linked to fat loss, too.
Chicken: Among the different kinds of meat, poultry is one of the healthier choices as they have less saturated fat than beef, for example. It is rich in antioxidants and protein, too.
Curries: We will use curry paste and powder for this dish. Combining these two makes a richer flavor profile than choosing just one. Curry is a blend of spices that have anti-inflammatory, anti-cancer, and heart-friendly properties. So, for this dish, know that you are having something healthy yet appetizing, too.
Aromatics: Garlic, ginger, and onions make this dish more savory.
Vegetables: Carrots and red bell peppers add color and make this dish more hearty.
Others: Salt, pepper, other spices, lime, fish sauce, and brown sugar balance out the spiciness and add depth. I would recommend that you try the fish sauce, even if you dislike its pungency because it is that good to add in Asian dishes.
How to make Instant Pot Coconut Curry Chicken
Saute: Using the saute function of the IP, heat some oil and saute the aromatics, the spices, and the curries.
Brown: Add in the meat and cook the meat chunks until slightly brown, add the veggies.
Pressure-cook: Add in the liquid ingredients, the other flavorings, and then, seal and set to pressure-cook.
Release: After the set cooking time, release the pressure.
Serve: Once ready, you can garnish and serve.
Can I use chicken thighs or drumsticks instead?
Yes! These are fatty cuts making them more flavorful than the breasts. You can use any cut of the poultry for this recipe.
How to Store
Refrigerate: Put it in an airtight container, then, refrigerate for up to 4 days. Simply reheat on the stovetop or in the microwave.
Freeze: If you want it to last longer, freeze it. It can last for up to a month. Thaw it first complete before reheating.
Recipe Tips
Another variation of this dish includes putting in whole breasts or thighs to cook in the IP. Then, once done, take out the chicken and shred the meat. Discard the bones and put back the meat.
You can also skip sauteing if you wish and simply put everything to cook in the IP.
Use the Instant Pot to cook the rice that you can serve along with this. See this post on cooking rice in the Instant Pot.
Deliciousness to your inbox
Enjoy weekly hand picked recipes and recommendations