Cookie Dough Millionaire Bars + Lotto Night
This post may contain affiliate links. Please read my disclosure policy.
No Bake Millionaire Bars with a rich layer of cookie dough, topped with a thick caramel and finished with chocolate are the perfect treat on Lotto Night with New Jersey Lottery Holiday Games!
The Cookie Dough Millionaire Bars + Lotto Night post has been sponsored by the New Jersey Lottery. All the opinions as always are my own. Thank you for reading.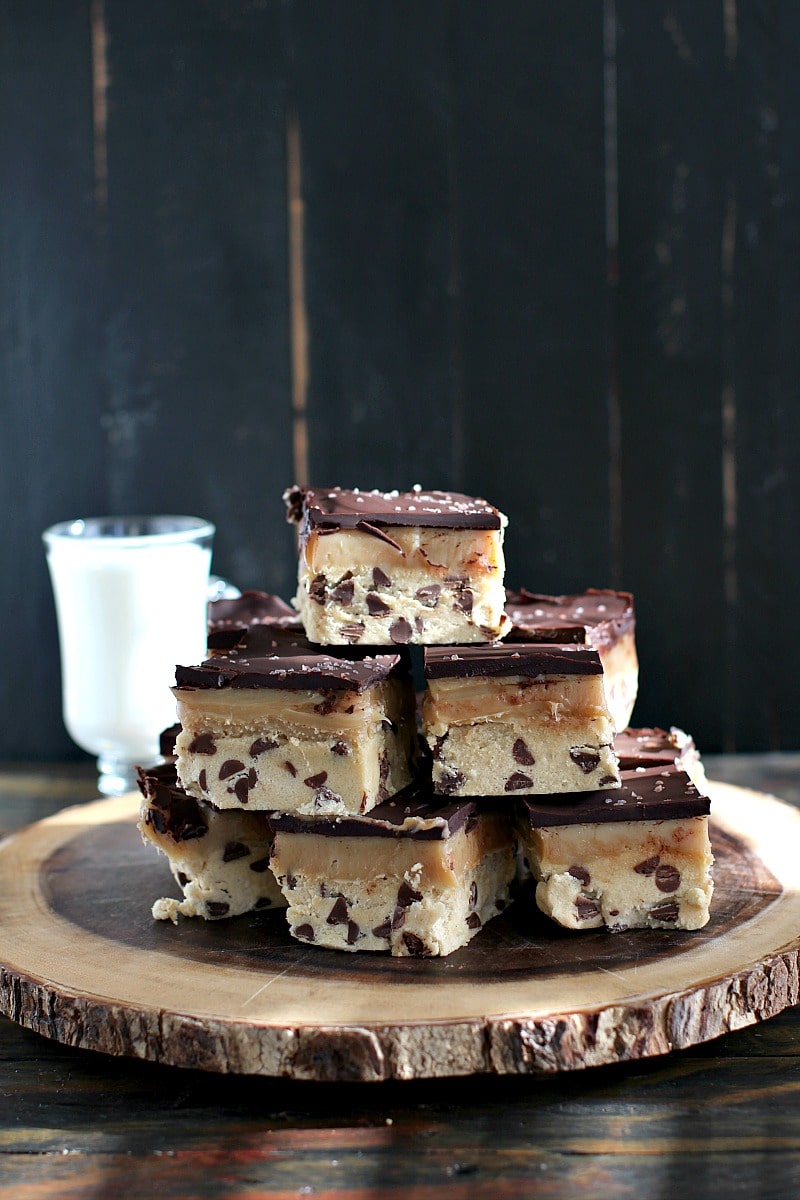 Hi guys, have you ever dreamt of becoming millionaires and what would you do with all the money? I would probably donate a lot and also splurge on way too many shoes! A girl is allowed to dream! Today I am presenting you Millionaire Bars – these No Bake Millionaire Bars are so decadent and delicious that you will feel instantly rich!

We have hosted recently a fun Lotto Night at home and I highly recommend hosting one this holiday season, it's such a fun way to spend a relaxing night with friends and family. I made the Millionaire Bars and New Jersey Lottery Holiday Tickets the centerpiece of the table and had a blast with friends scratching-off the tickets to see who will win more and eventually get the biggest share of cash and Millionaire Bars!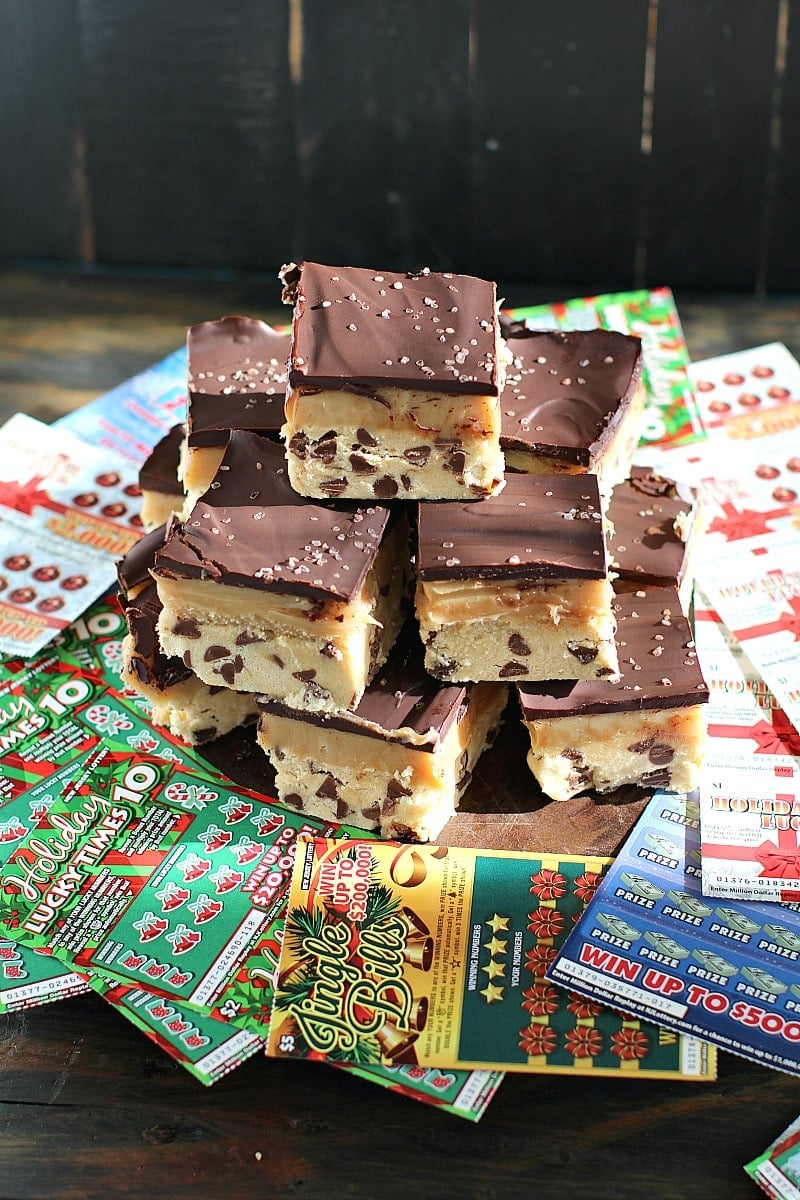 The New Jersey Lottery has four Holiday themed Instant Games available for the Holiday season and they make for the perfect gift, stocking stuffer, party favor or even tree ornament this season! They would be a great gift for anyone  on your list over the age of 18. The tickets are available for purchase at any brick and mortar Lottery retailer. Don't forget that you can enter non-winning Instant tickets into the Million Dollar Replay second chance drawing and they could make you a MILLIONAIRE!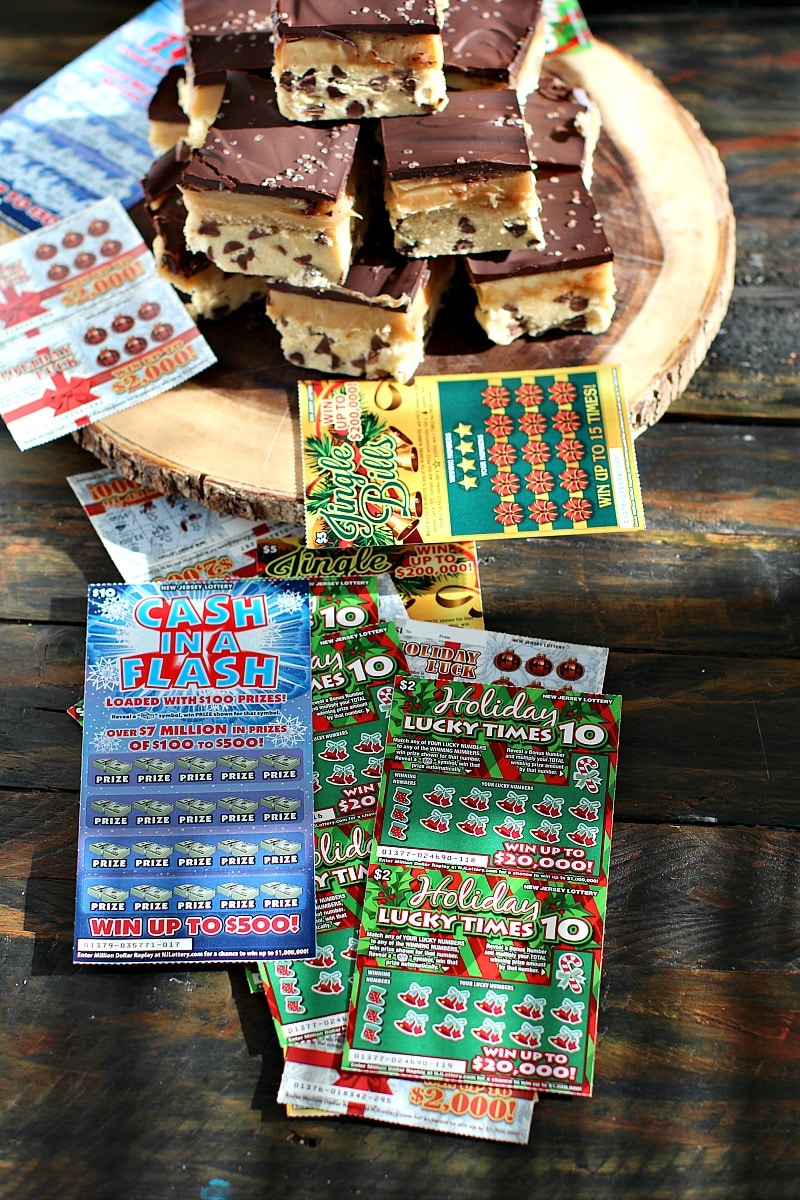 These holiday tickets are festive and have a high win up potential, they come in four options: $1 Holiday Luck, $2 Holiday Luck Times 10, $5 Jingle Bills, and $10 Cash in a Flash! I love the idea of giving them as gifts or stocking stuffers, it makes gift giving so easy, fun, surprising and also most important stress free! For more information on the tickets visit New Jersey Lottery.

MY LATEST VIDEOS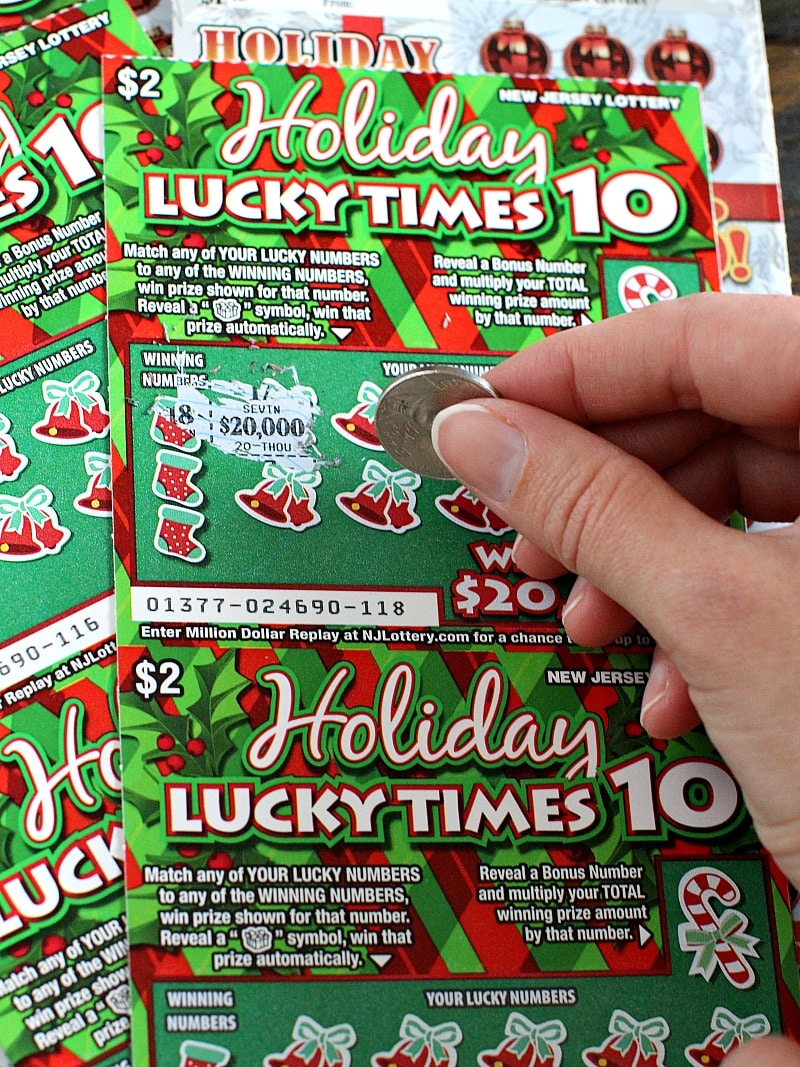 Hosting a Holiday Lotto Night also got 100 times better with No Bake Millionaire Bars that feature a super thick layer of cookie dough, a rich layer of caramel topped with melted chocolate and fancy pink Himalayan sea salt! Talk about an extravagant dessert! But hey, you may win a good amount of money, so you better have a great dessert ready to celebrate!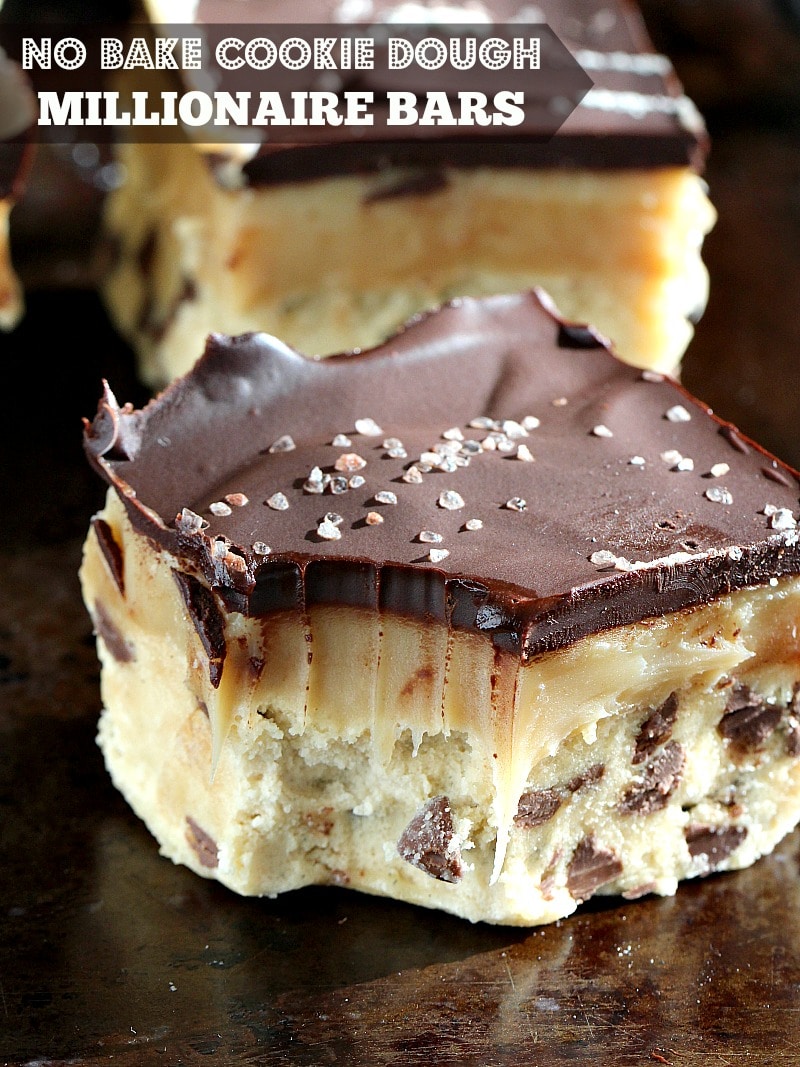 These bars are called Millionaire Bars for a reason! They are incredibly rich and honestly they are worth every single calorie! If you are a cookie dough, caramel, chocolate lover you will fall in love with these!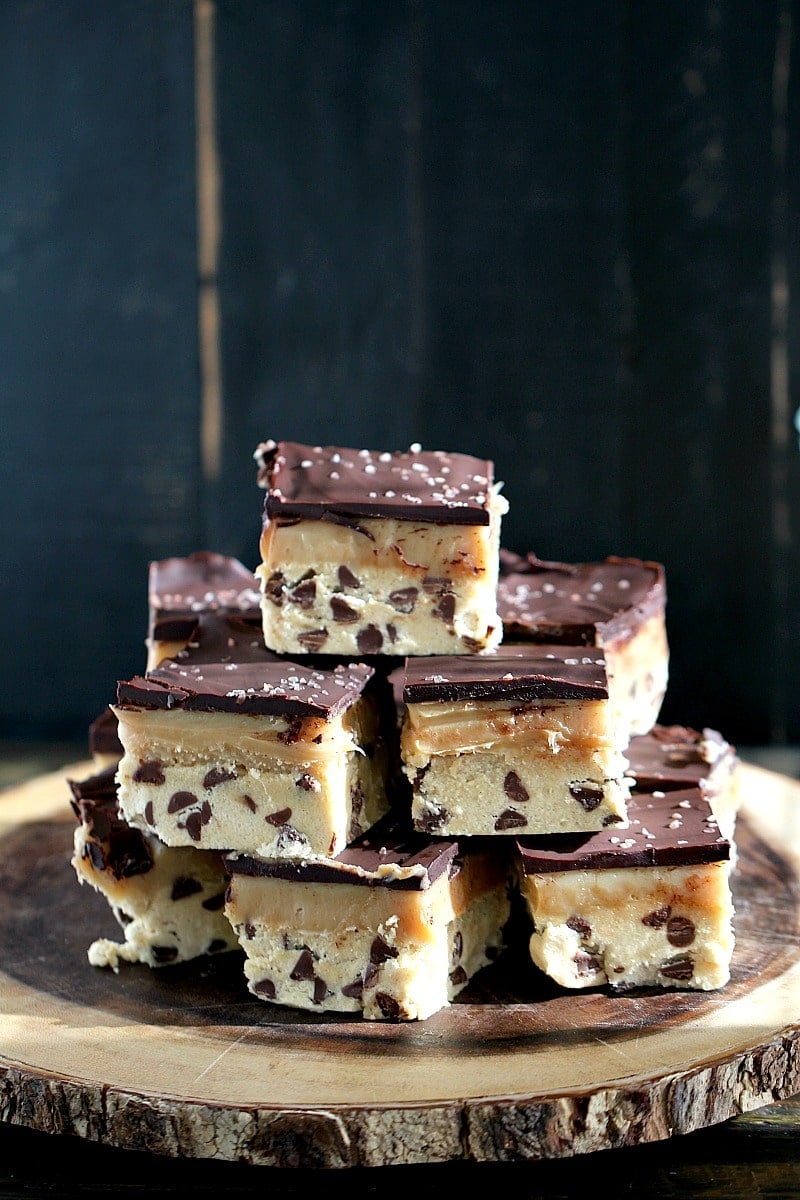 The rules for the Millionaire Bars Lotto Night are pretty simple, basically after making a centerpiece, everyone grabs an equal amount of tickets, the more money you win the more bars you can "buy" from the host, while still keeping the tickets to trade them for the monetary value! Pretty sweet, right?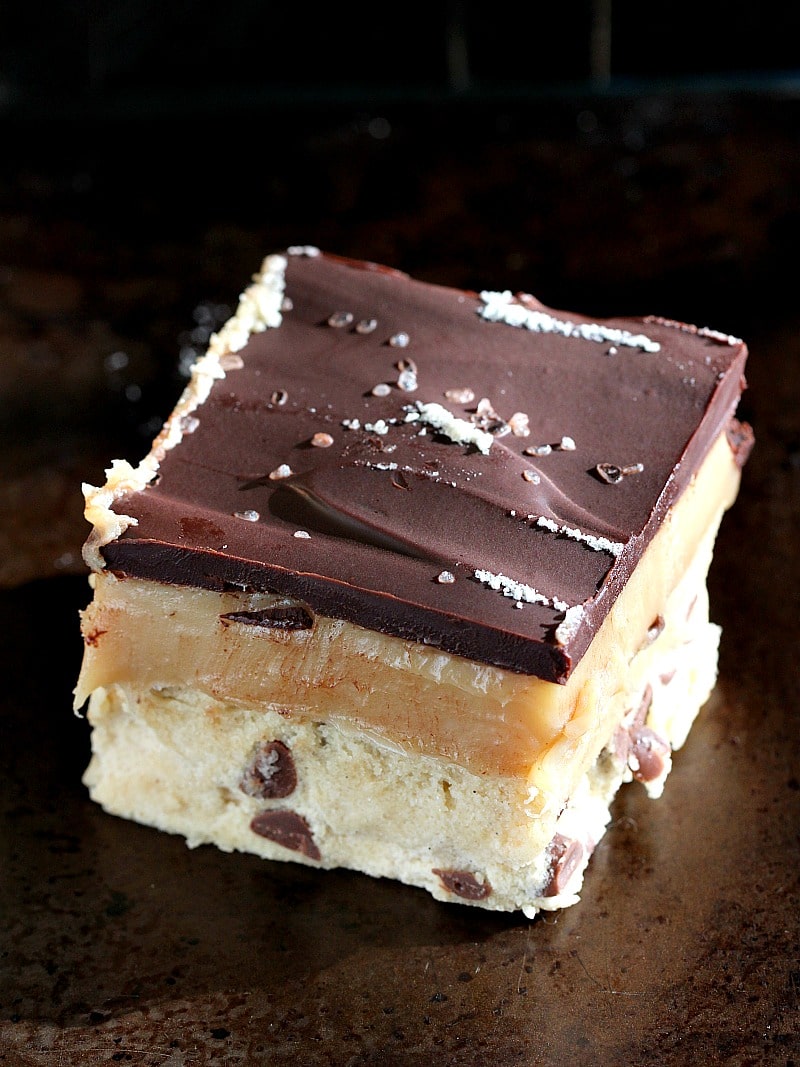 Cookie Dough Millionaire Bars
No Bake Millionaire Bars with a rich layer of cookie dough, topped with a thick caramel and finished with chocolate are the perfect treat on Lotto Night!
Author:
Katalina Kastravet
Ingredients
Cookie Dough Layer:
3 sticks (340 grams) unsalted butter, room temperature
1½ cups white granulated sugar
1½ cusp packed light brown sugar
4 tablespoons cream
½ teaspoon salt
1 tablespoon vanilla bean paste
2 cups all-purpose flour
2 cups chocolate chips
Caramel Layer:
2 (14-oz) can sweetened condensed milk
1 cup dark brown sugar
12 tablespoons unsalted butter
2 tablespoons dark corn syrup
1 tablespoon vanilla paste
½ teaspoon pink Himalayan salt
Chocolate Layer:
12 ounces semi-sweet chocolate, chopped
6 tablespoons heavy cream
Pink Himalayan sea salt
Instructions
Cookie Dough Layer:
Line a 9-inch rectangular pan with waxed paper or parchment paper; the later needs to be sprayed with non stick baking spray. Ensure that the paper overlaps all edges to facilitate removal from the pan.
In the bowl of an electric mixer fitter with the wire whisk, combine butter, both sugars and salt until soft and creamy, beat for about 1 - 2 minutes.
Mix in the cream and vanilla bean paste. Scrape the sides and the bottom of the bowl with a spatula.
Add in the flour and mix in until combined.
Stir in the chocolate chips.
Scoop the cookie dough into the prepared pan into an even layer. Refrigerate for 1 hour.
Caramel Layer:
Add all the ingredients to a medium sauce pan over medium heat.
Whisk until the sugar dissolves, the butter melts and the mixture comes to a boil. Keep whisking constantly, until the caramel becomes thick, about 6 - 8 minutes. A candy thermometer should read 225 degrees F.
Pour the caramel over the cookie dough layer and refrigerate until the caramel is set, about 1 hour.
Chocolate Layer:
Add chocolate and cream to a microwave-safe bowl. Microwave in 25 second intervals, stirring in between, until the chocolate is about 75% melted. Stir until the mixture is smooth and shiny.
Spread the chocolate over the caramel layer and sprinkle with pink Himalayan sea salt.
Refrigerate the bars for at least 1 hour before serving.
Before serving, run a knife thru the sides of the bars, using the paper overhang, lift the bars out of the pan and transfer to a cutting board.
Slice the bars with a sharp knife, wiping the knife with a paper towel between cuts.
Slice into squares and store in the refrigerator until ready to serve.
Enjoy!
You must be 18 or older to buy a lottery ticket. Parents are urged to think twice about gifting lottery tickets to children. The New Jersey Lottery reminds players, it's only a game…remember to play responsibly. If you or someone you know has a gambling problem, call 1800-GAMBLER®.
Peas and Peonies, LLC. owns the copyright on all images and text and does not allow for its original recipes and pictures to be reproduced anywhere other than at this site unless authorization is given. If you enjoyed the recipe and would like to publish it on your own site, please re-write it in your own words, and link back to my site and recipe page. Copying and/or pasting full recipes to social media or personal blogs is strictly prohibited. Sharing this recipe is very much appreciated and encouraged. Read my disclosure and privacy policy. This post may contain affiliate links.