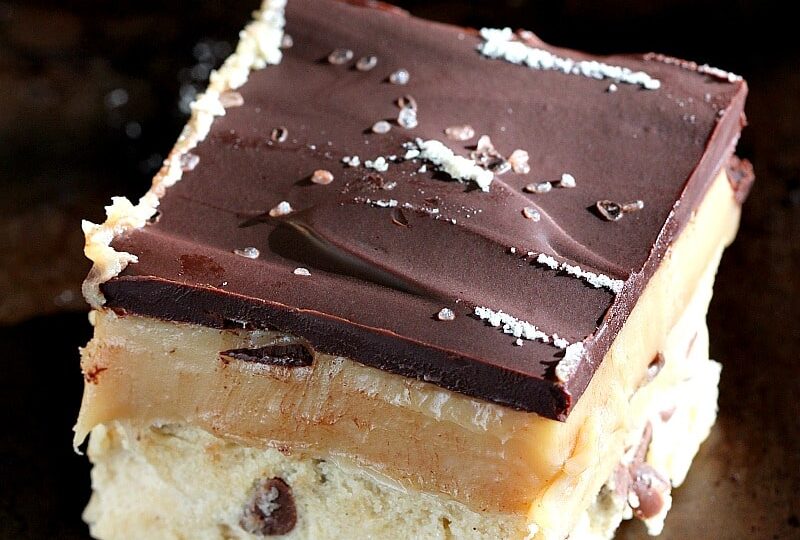 Millionaire Bars are no-bake with a rich layer of cookie dough, topped with thick caramel and finished with chocolate.
Since we love caramel desserts, I try to mix different recipes on our blog. Among our favorite caramel desserts are Brown Butter Dulce de Leche Bars, Salted Caramel Apple Madelaines and Chocolate Caramel Cheesecake.
Easy Millionaire Bars
These No Bake Millionaire Bars are so decadent and delicious that you will feel instantly rich! Firstly, they feature a super thick layer of cookie dough. Secondly, they have a rich layer of caramel. Combining these two is just pure heaven. Then, they are topped with melted chocolate and fancy pink Himalayan sea salt for the perfect finish. Talk about an extravagant dessert, this is sure the one!
These bars are called Millionaire Bars for a reason! They are incredibly rich and honestly, they are worth every single calorie! If you are cookie dough, caramel, a chocolate lover you will fall in love with these! Also, these are perfect for any occasion, such as birthday parties, holidays!
Pin This Millionaire Bars Recipe to your Favorite Board
Why you will love these Millionaire Bars:
Firstly, the bars look fancy and taste even better.
Also, the chocolate and caramel combo is delicious.
Similarly, the addition of salt gives them some sharpness and nice contrast.
These are perfect for a party and special occasion.
Rich, creamy and delicious, they are guaranteed to become a show stopper on the dessert table.
In addition, the bars can be made 1-2 days in advance, so you don't have to worry about cooking them at the last minute.
How Long Will The Bars Stay Fresh?
The bars can be stored wrapped in plastic wrap at room temperature for about 4-5 days. Also, you can store them in the fridge. Simply place them in an airtight container, or wrap in foil, and place in the fridge. Feel free to enjoy them refrigerated for up to 1 week.
How to freeze the Millionaire Bars?
Fully wrap the bars in plastic wrap tightly. Next, wrap in aluminum foil or place it in freezer bags. Freeze for up to 3 months. Defrost before eating.