Chocolate Chip Bagels with Honey Mascarpone
This post may contain affiliate links. Please read my disclosure policy.
Homemade New York style Chocolate Chip Bagels that are sweet, dense and chewy. Crispy on the outside and soft on the inside, these are the most indulgent bagels.
Let's talk about breakfast today. What do you usually have? Do you plan ahead of time, like the night before, or you just rush thru the door with a banana and granola bar? I personally don't like my breakfast to be super savory or heavy. I like something light: a fruit salad, smoothie, acai bowl, a bagel or cake (cake is always welcomed). Sometimes I crave something more savory, like this egg pizza or a pan of homemade fries with eggs. Today I want to talk about Chocolate Chocolate Chip Bagels as if I could, I would eat them for breakfast every single day.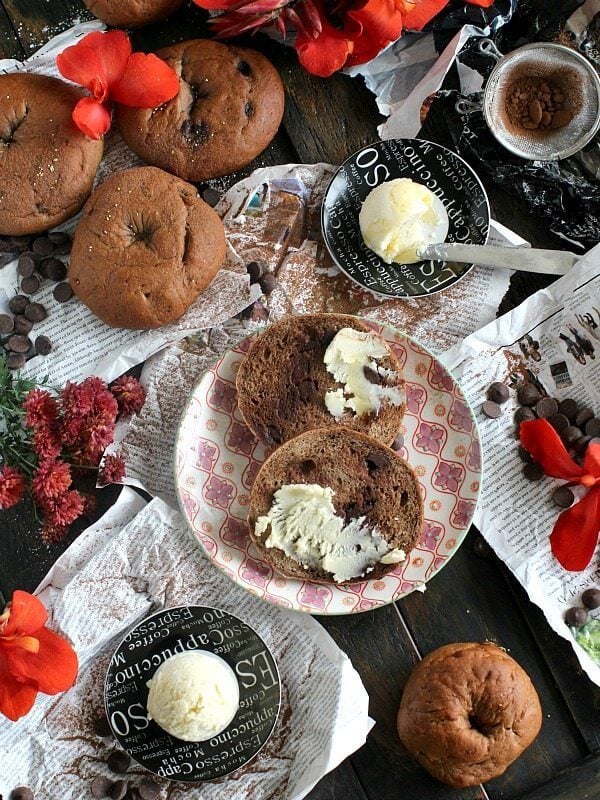 Have you ever made homemade bagels? I am an avid baker, most of the time that I spend in the kitchen is usually developing a new sweet recipe. I love savory food, but my heart leans toward the flour, the sugar and the butter – Amen to that! I baked a lot of cakes, I played with yeast, but never actually made homemade bagels, until the past weekend, when I finally made these Chocolate Chocolate Chip Bagels as my first "bagel experiment". I must say that while the process is lengthy and it involves a few steps, all of them are easy and you know what, the homemade version tastes so much better!

It wasn't hard to decide on a flavor, obviously I couldn't go just with a plain bagel. If you are familiar with my recipes, you know that "plain" is not the word to describe them :). Nothing against a plain bagel, I enjoy them actually quiet a lot, but I figured that if I put all this effort into bagels they better be amazing, so I settled at Chocolate Chocolate Chip Bagels because you know, you can never go wrong with chocolate!

MY LATEST VIDEOS
The Chocolate Chocolate Chip Bagels turned out mouth watering, they were literally perfect. Crispy and shiny on the outside, with a soft and dense center, sweet, with a subtle chocolate flavor from the cacao, and with pieces of delicious chocolate chips thru them. They tasted exactly like my beloved New York style bagels. I followed all the traditional steps, boiled them in honey, for that shiny and sweet finishing. Dipped the bottoms in a little corn meal for some extra texture.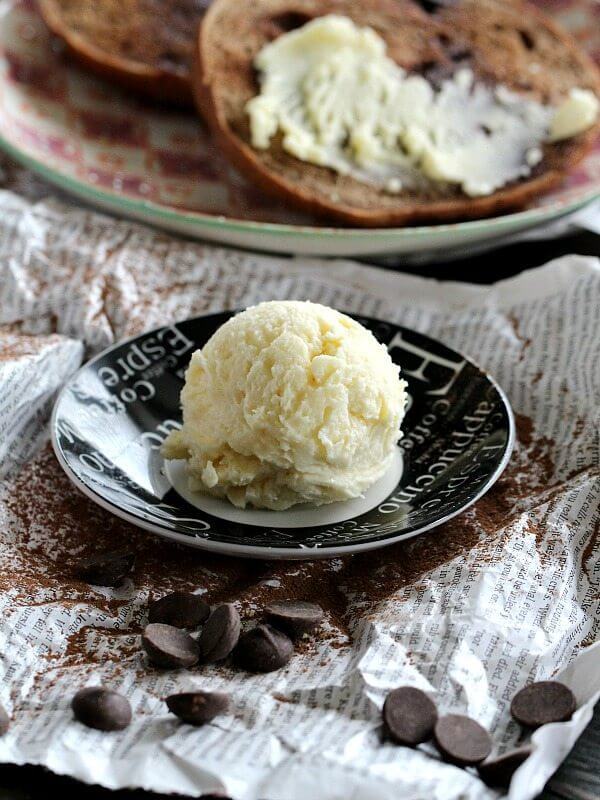 And yes, I have served these Chocolate Chocolate Chip Bagels with some whipped honey mascarpone. OMG this combo was to die for, the super creamy, lightly sweet, fluffy and delicious mascarpone is the perfect topping! When you toast these Chocolate Chocolate Chip Bagels the chocolate melts a bit, and when you top them with the honey mascarpone, the combo is out of this world.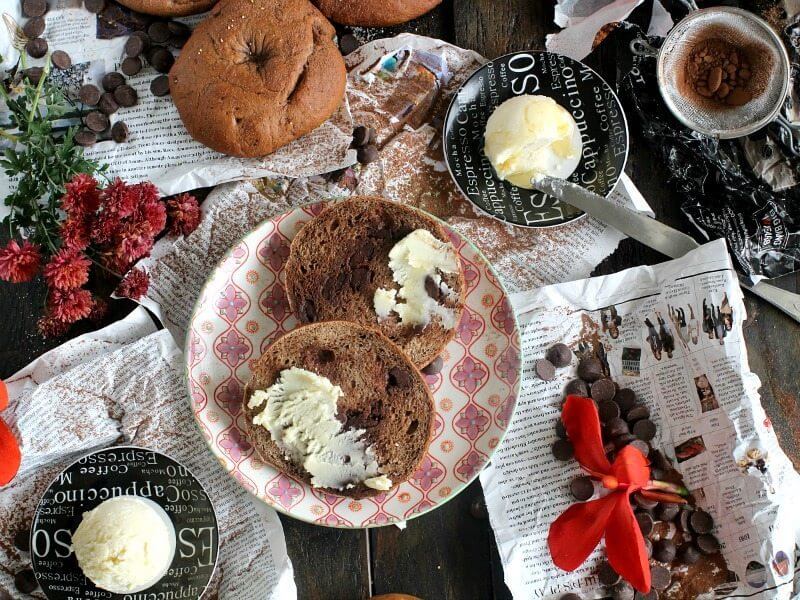 These bagels where gone in seconds, thanks God I got the chance to send one to my flu-sick friend. I am sure that these Chocolate Chocolate Chip Bagels helped her recover. 🙂
By the way, if you use dark chocolate chips and skip the mascarpone spread, these Chocolate Chocolate Chip Bagels are completely vegan!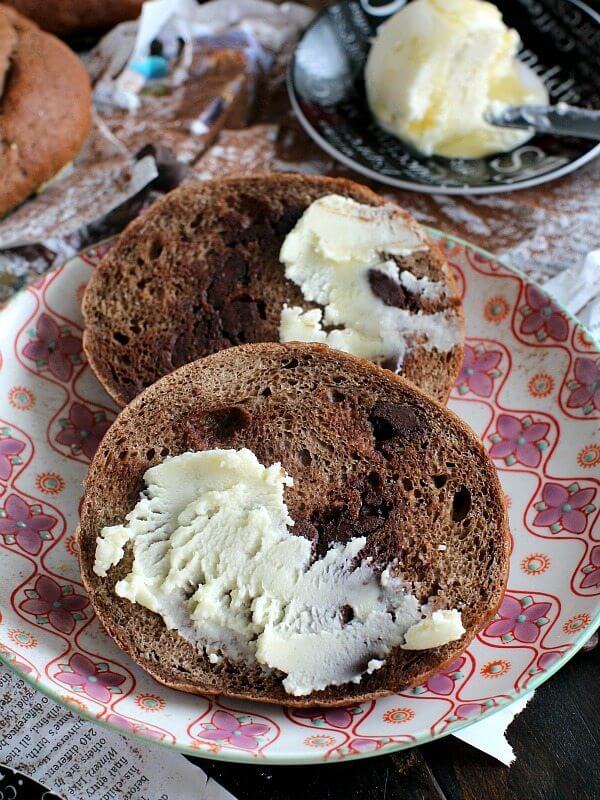 Yeah, with these Chocolate Chocolate Chip Bagels you really can't skip breakfast!

Chocolate Chocolate Chip Bagels with Honey Mascarpone
Homemade New York style Chocolate Chocolate Chip Bagels that are sweet, dense and chewy. Served with creamy whipped Honey Mascarpone on the side. Crispy on the outside and soft on the inside, these are the most indulgent bagels.
Author:
Katalina Kastravet
Ingredients
Chocolate Chocolate Chip Bagels:
1 1⁄2 cups warm water
2 tablespoons active dry yeast (2 packages yeast)
3 tablespoons sugar
1 tablespoon salt
3 tablespoons cocoa powder
4 1⁄2cups bread flour
½ cup dark chocolate chips
1½ tablespoons canola or vegetable oil
2 quarts water, to boil
1 cup honey
½ cup corn meal, on a serving plate
Honey Mascarpone:
8oz mascarpone cheese
3 tablespoons honey
Instructions
Chocolate Chocolate Chip Bagels:
In a large bowl, or in the bowl of an electric mixer place: yeast, sugar and warm water together and let stand for 10 minutes.
In a medium bowl mix 3½ cups of flour with the salt and cocoa powder.
Fit the electric mixer with the hook attachment, add the flour mixture to the yeast mixture and start mixing on the lowest speed.
If the dough is very soft and sticky add the rest of the flour (1 cup). Mix on low speed for about 8 minutes.
Transfer dough to a greased bowl (with 1 tablespoon of oil), cover with plastic wrap and cover the bowl with a towel. Let it rise until doubled in size - preferably 2-3 hours. Make sure you don't place the dough very close to a burning stove, it will make it melt and give it a glue like texture. Place it in a place that is warm enough, like room temperature.
Cover a baking sheet with parchment paper, grease it with the remaining ½ tablespoon of canola oil, or baking spray.
After rising punch down and divide the dough into 6-7 balls for somewhat large bagels.
Take one dough ball, knead the chocolate chips (about 1 tablespoon) into the dough until they are evenly dispersed. Roll each lump of dough into a ball making the top as smooth as possible. Flatten it slightly in your palm and using your fingers poke a hole in the middle. Widen the hole to 1 - 1½ inch as it will close a bit as the bagels rise.
Place the bagel on the greased parchment paper 2 inches one from each other. Repeat with the remaining dough balls. Cover the bagels with a towel and let them rise for 1 hour.
Bring 2 quarts of water to boil, when the water is boiling add the honey and stir.
Pop your pan of bagels into the oven under the broil setting. Broil about 2 minutes on one side, flip the bagels to the other side, and broil for another 2 minutes. Watch the bagels closely, as we are just creating a crust, so they will hold their shape during boiling. Do not let the bagels turn brown.
Reduce oven temperature to 350F.
Remove the bagels from oven and in dependence of how large your pot of boiling water is add 2 or 3 bagels at a time. Boil for 1 minute, and flip on the other side and boil for another minute. Remove bagels from water and place on a cooling wire rack to drain the excess of water. Repeat for the remaining bagels.
Drain for 1-2 minutes, dip the bottom of the bagels into corn meal and transfer the bagels back to the pan. Bake on the middle rack for 20-25 minutes. (20 minutes was enough for my oven). Bagels are done when they are golden brown and shiny.
Remove from oven and serve hot with honey mascarpone.
Honey Mascarpone:
In the bowl of an electric mixer fitted with the wire attachment combine the mascarpone cheese with the honey, whip until fluffy. Do not over mix, or you will curd the mascarpone.
Using an ice cream scoop, scoop the whipped honey mascarpone into individual small plates.
Store in the fridge for up to one week.
Notes
You cannot substitute bread flour with regular, all purpose flour, you must use bread flour in this recipe.
If you are allergic to honey, substitute the 1 cup of honey with ¾ cup of sugar. In the mascarpone spread add 3 tablespoons of powdered sugar instead of honey.
Peas and Peonies, LLC. owns the copyright on all images and text and does not allow for its original recipes and pictures to be reproduced anywhere other than at this site unless authorization is given. If you enjoyed the recipe and would like to publish it on your own site, please re-write it in your own words, and link back to my site and recipe page. Copying and/or pasting full recipes to social media or personal blogs is strictly prohibited. Sharing this recipe is very much appreciated and encouraged. Read my disclosure and privacy policy. This post may contain affiliate links.