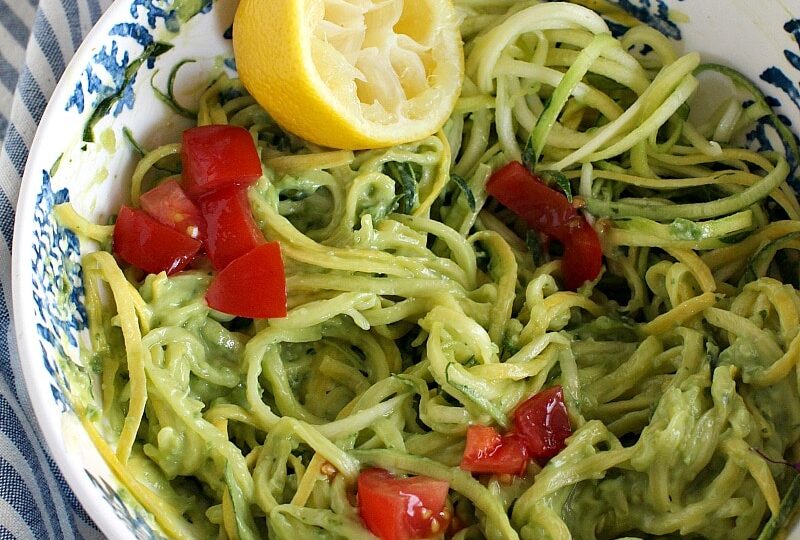 Zucchini Noodles With Avocado Sauce
Zucchini Noodles is an easy dinner made in spicy, creamy avocado sauce topped with lemon, which takes only 20 minutes to make.
Zucchini Noodles
The Zucchini Noodles are light, refreshing and delicious for lunch or dinner. In addition, it will take you only 20 minutes to make. This dish is very easy to make, and also tastes fabulous. The raw zucchini noodles pair perfectly with the spicy avocado sauce made with jalapenos, garlic, lemon zest, lemon juice and basil. Also, I covered the noodles in a spicy and creamy avocado sauce, because, avocado makes everything better. I topped the zucchini noodles pepper and herbs..
This is such a perfect spring dish, I love the bright colors and the light taste, while still satisfying. In addition, it's lower in carbs and loaded with flavors and textures. The zucchini noodles with the spicy, creamy avocado sauce is the perfect solution for a quick and light dinner.
Why You'll Love This Zucchini Noodles
Firstly, it is incredibly easy to make in about 20 minutes.
Furthermore, I made the dish with just a few easy-to-find ingredients. Hence, budget friendly.
Can be enjoyed as an appetizer, main meal or dinner.
In addition, can be made using your veggies.
Perfect alternative for wheat noodles, yet healthier and more nutritious.
How to slice or dice an avocado?
Cut the avocado in half.
Remove the pit – to do that, aim your knife at the pit and whack into it, twist the knife to pull out the pit.
Use your knife's tip to score avocado flesh, making squares, then scoop it out with a spoon.
If you are looking to slice the avocado, use a spoon to loosen skin all the way around, and scoop out the flesh whole. Place flat side down on cutting board and slice using the tip of your knife.
How to make lemon zest
Follow the easy steps below:
Rinse the lemon.
Set your tool over a cutting board. A microplane produces a very fine zest, perfect for baking and cooking. If you don't have a microplane, use the smallest holes on an ordinary grater.
Grate the yellow skin of the lemon only. Grate just enough to get through the yellow skin, this way you can avoid the bitter white pith underneath.
Rotate the lemon and repeat. Once the white pith is exposed, rotate the lemon and zest the next strip of peel. Repeat until most of the peel is removed, or until you have enough zest for your recipe.
Can you freeze the Zucchini Noodles
Yes, the noodles freeze well. First, layer them into an aluminum foil pan. Then, wrap it tightly with plastic wrap, and then wrap it in aluminum foil and freeze for up to 3 month. To reheat add additional sauce on top and place in the oven at 350F for about 20-30 minutes or until hot.
Looking for more Zucchini Recipes, check these out:
Zucchini Noodles
Ingredients
1

medium

yellow zucchini

spiralized

1

medium

green zucchini

spiralized
Avocado Sauce:
2

ripe avocados

2

jalapenos

chopped, seeds removed and discarded

juice of 1 lemon

6-7

fresh basil leaves

chopped

4

garlic cloves

1

teaspoon

lemon zest

salt and pepper
Garnish:
2

cherry tomatoes

chopped

fresh basil leaves
Instructions
Wash and spiralize the zucchinis, distribute equally into 2 medium pasta bowls.

Place all the ingredients for the avocado sauce in a food processor and process until well combined, stop and season with salt and pepper as needed.

Pour the avocado sauce over the zucchini noodles, stir to combine.

Garnish with chopped tomatoes, basil leaves and serve.