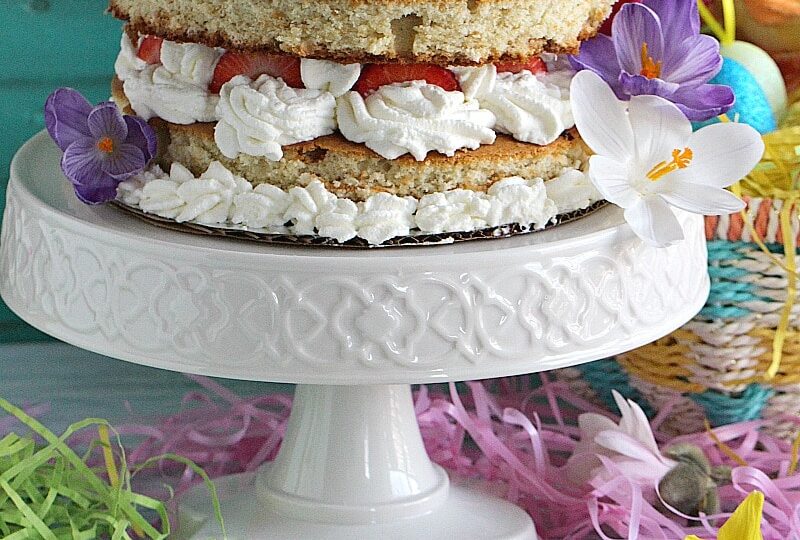 Easter Nest Cake with layers of whipped cream, fresh strawberries and a chocolate buttercream nest.
Holiday desserts are one of my favorite things to cook, starting with a perfect Cinnamon Coffee Cake, up to a Pumpkin Cheesecake and obviously some sweet Apple Cider. These delicious desserts will warm up your soul and tame your sweet tooth, no matter how cold it may be outside.
Easter Nest Cake
This Easter Nest Cake is filled with M&M's White Strawberry Shortcake and Starburst Sweet & Sour Jellybeans. There is no celebration in our house without cake, never ever! This cake is very easy to make, and it's so delicious. Easter M&M's White Strawberry Shortcake were added to the vanilla cake batter, for a mild touch of strawberry flavored chocolate in each bite.
First, the cake layers are topped with fresh whipped cream and fresh strawberries. This give the cake a bright and fruity finish. Fresh, seasonal colors, in neutral or pastel colors are added to the side of the cake. They are a beautiful touch that make the cake even more festive. Lastly, the final layer of this Easter Nest Cake is topped with clouds of whipped cream. Then, it is topped with Starburst Sweet & Sour Jellybeans for a pop of color. Also, I like that they look like tiny eggs. The centerpiece of this Easter Nest Cake is a Chocolate Buttercream Nest that is filled with DOVE Peanut Butter Eggs and extra Starburst Sweet & Sour Jellybeans.
Pin This Easter Nest Cake Recipe to your Favorite Board
Why you will love this Easter Nest Cake
Firstly, it's a gorgeous cake, with beautiful mix of colors.
Also, the cake is very easy to make, and budget friendly.
Perfect for a special occasion, like a baby shower or Easter.
Lastly, it's super fun to make with kids.
Here are a few tips on how to put together a gorgeous Easter Basket:
First, decide on the color pattern that you want. I personally like pastel colors, so I choose items in those colors.
Also, buy a sturdy basket, a lot of baskets are very easy to break, which makes handling them a nightmare. Make sure you choose a basket that will hold all of the items you intend to add to it.
Fill your basket with colored shredded paper. I went for green, yellow and pink – it fills the basket and it will serve as a bed for all the goodies.
If you are good at painting your own eggs, add some to the basket. However, plastic eggs are a great alternative. They come in different colors and sizes, and I like the ones covered in glitter, for a pop of color.
In addition, add your favorite goodies. I went for a sweet theme, because I am a huge fan of all these candies, and just need an extra excuse to have some. I also like that they match my pastel color palette.
Adding fresh or artificial flowers to your basket will add a beautiful touch, and seasonal flowers will look especially nice.
Soft toys, chocolate bunnies make very nice additions as well.