Rosewater Chiffon Cake with Fresh Strawberry Glaze
This post may contain affiliate links. Please read my disclosure policy.
Gorgeous and indulgent, rich rosewater chiffon cake with fresh strawberry glaze perfectly marries the most aromatic summer flavors together.
Hello my friends! Sorry for the lack of posting last week, but I am back today and in true Peas & Peonies fashion I am starting the week with cake. Yes, on this blog Mondays are not for salad, we celebrate the start of the week with something sweet and beautiful. This time I am bringing you Rosewater Chiffon Cake that is covered in the most aromatic strawberry glaze.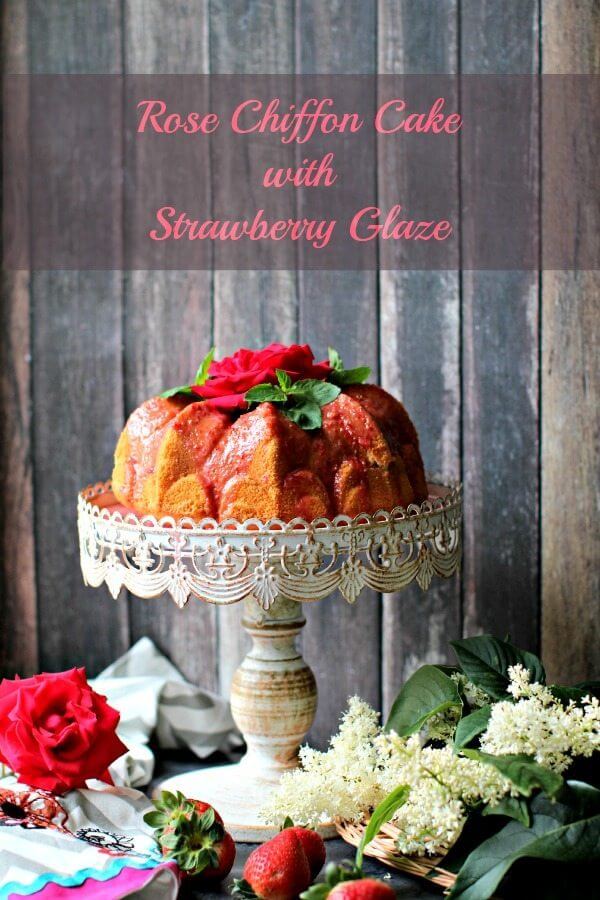 If you can get your hands on some fresh strawberries from the farmers market, you must make this cake. I am going to help you with some step by step photos, so you can see that its really easy, and the result is the most flavorful, rich and fabulous cake. I baked it in a bundt pan for a more festive look, and I must say that I like how it turned out.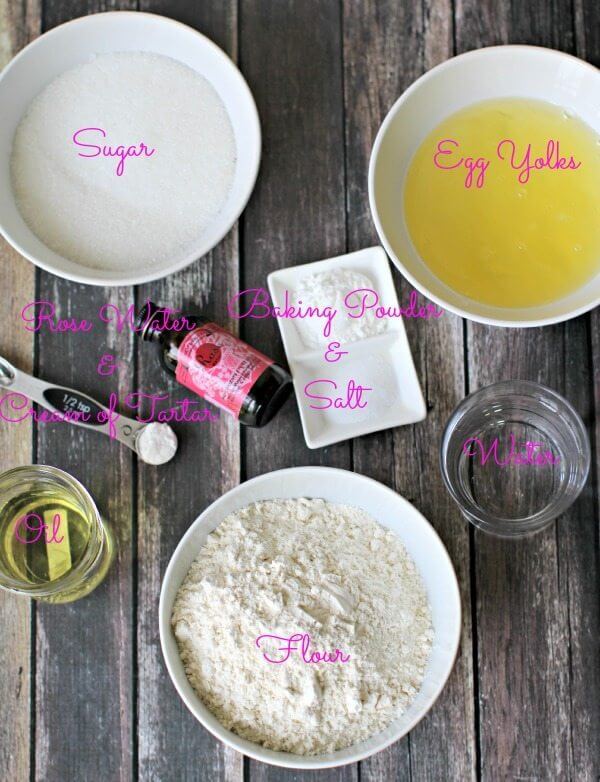 The ingredients are nothing crazy, probably you have them on hand, the once that are a little uncommon are the "cream of tartar" and "rosewater", if you don't bake like me on a regular basis you may need to purchase these two.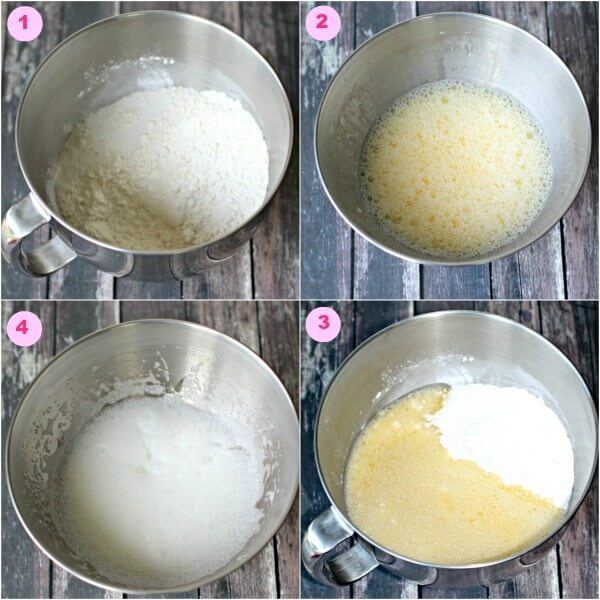 The technique used to make the batter for this cake is almost the same as for any other cakes, you mix the dry ingredients, you beat the egg yolks and add them to the dry ingredients, the only difference is that you must separate the egg whites from egg yolks, and the egg whites are the last ones that are carefully folded into the batter. That one extra step is what makes the texture of this cake so rich and dense, not light, airy and fluffy as other cakes.

MY LATEST VIDEOS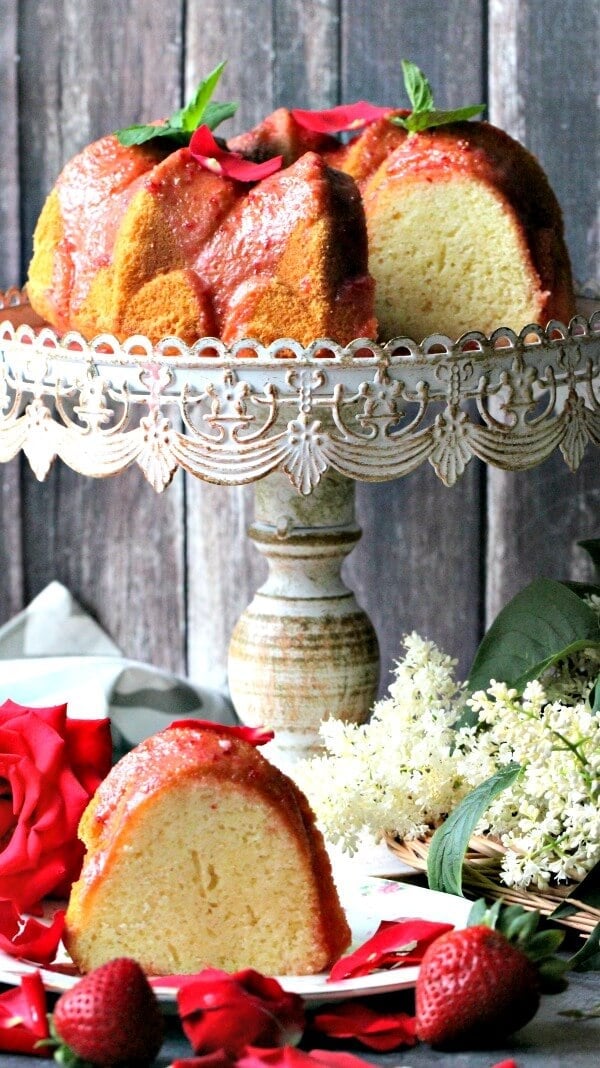 As I said the cake is rich and buttery, and it has a prominent rosewater aroma that is refreshing, sweet and I must say somehow romantic, perfect for those summer nights that you spend with your loved one sipping some tea and sharing slices of this cake.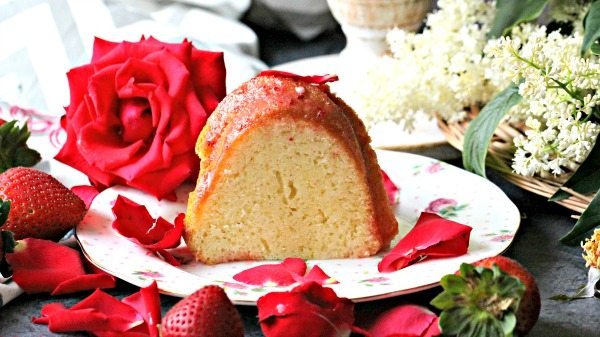 The strawberry glaze is made of fresh strawberries and powdered sugar, and since its not very thick it runs down the cake and creates a strawberry syrup that the bottom of the cake soaks, but never gets soggy. That is the perfect pairing to the rich and decadent rosewater infused cake crumbles, marrying beautifully with the sweetness and freshness of the strawberries.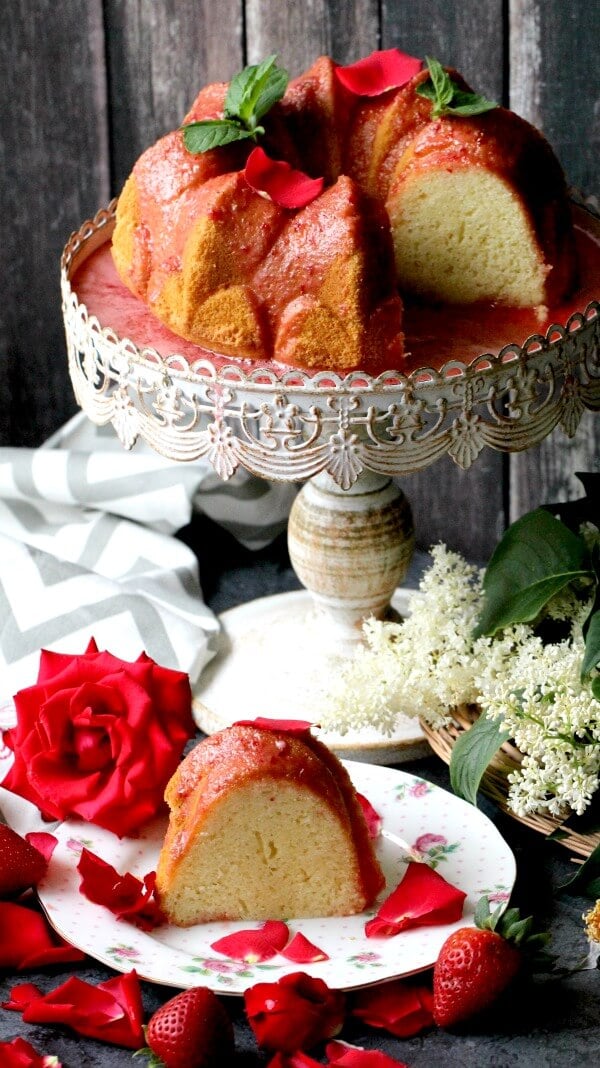 As much as I say that you should always keep dessert to yourself and never share, and as much I would love to devour this cake by myself, this is a dessert that must be celebrated and enjoyed with the people you love. The hot and aromatic summery flavors are combined here, in a sweet and indulgent treat that celebrates summer, family, friendship and love.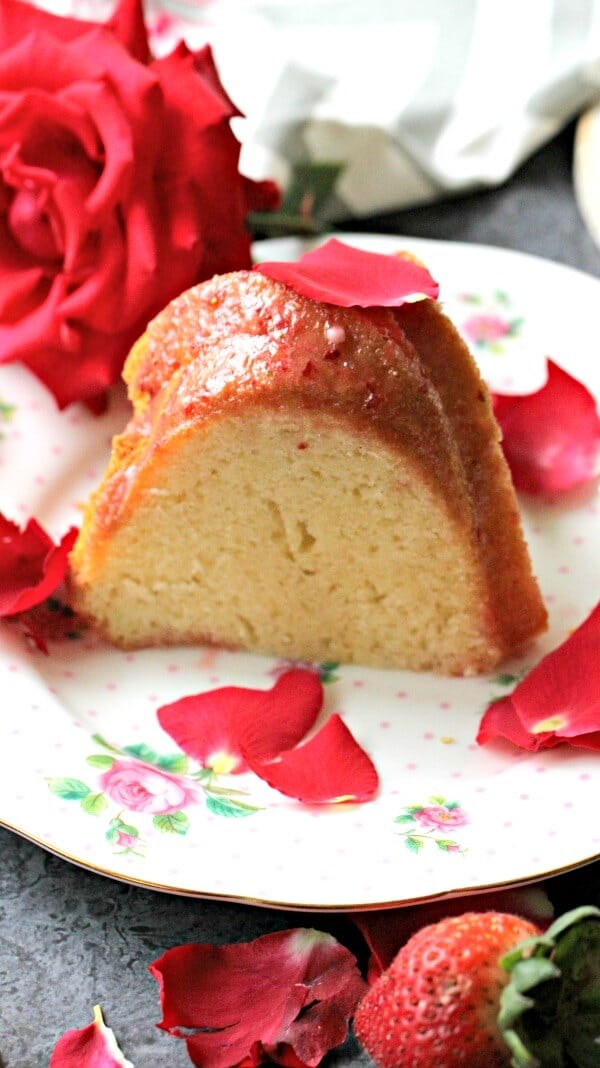 Get your forks and lets enjoy a slice together!

Rosewater Chiffon Cake with Fresh Strawberry Glaze
Gorgeous and indulgent, rich rosewater chiffon cake with fresh strawberry glaze perfectly marries the most aromatic summer flavors together.
Author:
Katalina Kastravet
Ingredients
7 eggs, whites and yolks separated
2 cups all-purpose flour
1½ cups sugar
3 teaspoons baking powder
1 teaspoon salt
¾ cup water
½ cup canola oil
1 tablespoon rosewater
½ teaspoon cream of tartar
Strawberry Glaze:
½ cup fresh strawberries
2 cups confectioners' sugar
Dash salt
Instructions
Preheat oven to 325F.
Place egg whites in a large bowl and let stand at room temperature 30 minutes.
Place oven rack in the middle position. Grease a bundt pan or 10 inch tube pan with a little melted butter or baking spray.
In a large bowl, combine dry ingredients: flour, sugar, baking powder and salt.
In another bowl, using an electric mixer fitted with the wire attachment, whisk the egg yolks, water, oil and rosewater until combined.
Add to dry ingredients and beat until well blended.
Add cream of tartar and egg whites to a clean bowl and with clean beaters, beat on medium speed until stiff peaks form. Using a spatula, carefully and slowly fold half of the whites into batter, then fold in remaining whites.
Gently spoon into the greased pan. Cut through batter with a knife to remove air pockets. Bake 50-55 minutes or until cake springs back when lightly touched or a wood tester comes out clean, with just a few crumbs attached.
Cool completely, about 1 hour, before adding the glaze.
Remove cake to a serving plate that has some high edges to avoid spilling the strawberry syrup.
Strawberry Glaze:
Add the berries to a food processor and blend until completely pureed.
Transfer the strawberry puree to a bowl and add the salt and powdered sugar 1 cup at a time until well combined and the desired thickness of the glaze has been achieved.
Pour the glaze on top of the cake, let it run down the bottom of the cake, the cake will partially absorb the strawberry syrup.
Peas and Peonies, LLC. owns the copyright on all images and text and does not allow for its original recipes and pictures to be reproduced anywhere other than at this site unless authorization is given. If you enjoyed the recipe and would like to publish it on your own site, please re-write it in your own words, and link back to my site and recipe page. Copying and/or pasting full recipes to social media or personal blogs is strictly prohibited. Sharing this recipe is very much appreciated and encouraged. Read my disclosure and privacy policy. This post may contain affiliate links.