Rosewater Chiffon Cake is gorgeous and indulgent, with fresh strawberry glaze which perfectly marries the most aromatic summer flavors together.
We like making easy and tasty Bundt Cakes, like Rainbow Bundt Cake, Lemon Lime Bundt Cake and Bundt Jelly Cake.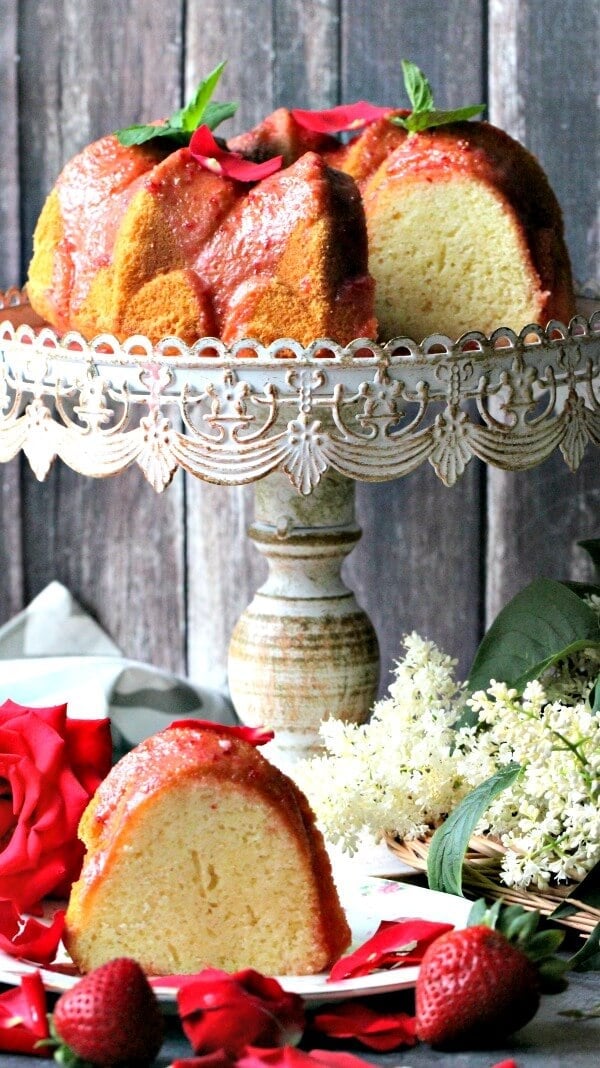 Rosewater Chiffon Cake
This Rosewater Chiffon Cake that is covered in the most aromatic strawberry glaze. If you can get your hands on some fresh strawberries from the farmers market, you must make this cake. I baked it in a bundt pan for a more festive look, and I must say, that I like how it turned out.
The ingredients are nothing crazy, probably you have them on hand. However, the once that are a little uncommon are the "cream of tartar" and "rosewater". Yet, if you don't bake like me on a regular basis, you may need to purchase these two. The technique used to make the batter for this cake is almost the same as for any other cakes. First, you mix the dry ingredients. Then, you beat the egg yolks and add them to the dry ingredients. The only difference is that you must separate the egg whites from egg yolks. Also, the egg whites are the last ones that are carefully folded into the batter. This one extra step is what makes the texture of this cake so rich, dense, and airy.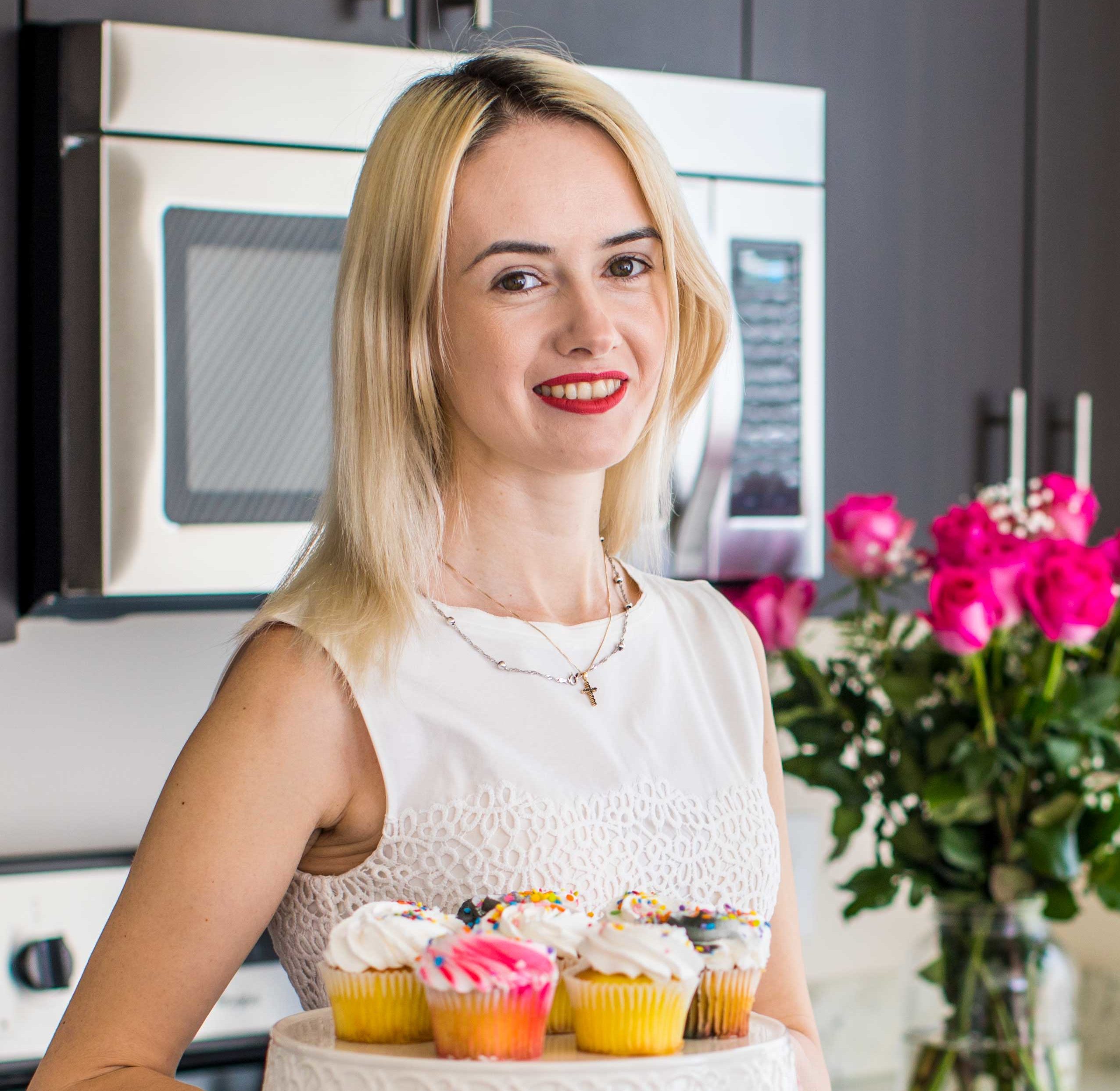 Follow us on Pinterest for more delicious recipes!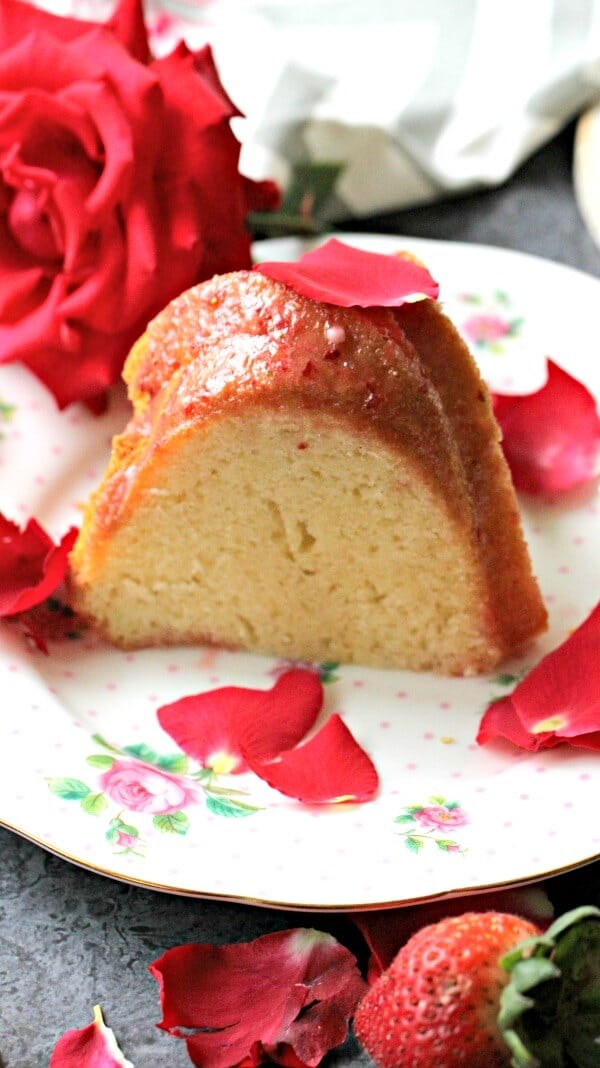 Why you will love this Rosewater Chiffon Cake
As I said, the cake is rich and buttery, and it has a prominent rosewater aroma that is refreshing. In addition, it is sweet and somehow romantic, perfect for those summer nights. The strawberry glaze is made of fresh strawberries and powdered sugar. Also, its not very thick it runs down the cake and creates a strawberry syrup that the bottom of the cake soaks. That is the perfect pairing to the rich and decadent rosewater infused cake crumbles. Marrying beautifully with the sweetness and freshness of the strawberries.
Can you freeze Rosewater Chiffon Cake
Yes, you can! First, cool the cake completely and do not frost. Then, wrap tightly the cake in freezer wrap and add it in batches to freezer bags. The cake can be stored frozen for up to 3 months.
TOOLS/INGREDIENTS USED:
Silicone Bundt Cake Pan – I like how easy it is to bake using silicone pans, they are non sticks which helps a lot with cake removal
Save Recipe
Rosewater Chiffon Cake
Author: Catalina Castravet
Serves: 10 servings
Prep time:

15

minutes
Cook time:

50

minutes
Total time:

1

hr

5

mins
Ingredients
Strawberry Glaze:
Instructions
Strawberry Glaze:
Nutrition information
Calories: 439 Carbohydrates: 72 Protein: 6 Fat: 15 Saturated Fat: 1 Cholesterol: 114 Sodium: 280 Potassium: 259 Fiber: 1 Sugar: 53 Vitamin A: 215 Vitamin C: 4.2 Calcium: 101 Iron: 2.4
Save Recipe
More recipes you might love
Categories: