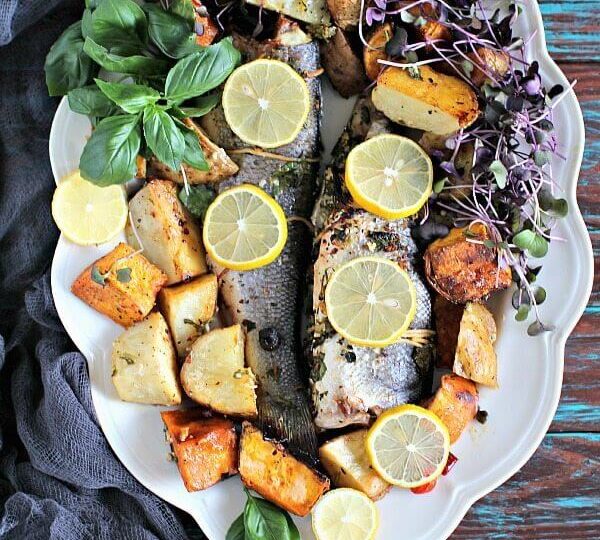 Oven Roasted Whole Branzino
Oven Roasted Whole Branzino recipe makes for an easy and fabulous dinner of tender, juicy fish, on a bed of white and sweet roasted potatoes.
I love making delicious and easy fish dishes, like our popular Oven Roasted Mahi Mahi, Mediterranean Salmon, and Oven Roasted Red Snapper.
Oven Roasted Whole Branzino
Oven Roasted Whole Branzino recipe that has been stuffed with capers, garlic, and mini cherry tomatoes. This is a perfect recipe for a weeknight meal, or when you want a fancy looking dish with minimum effort. We love whole roasted fish in our family, and this Oven Roasted Whole Branzino recipe is a favorite of ours. Firstly, it's so easy to make and it always turns out delicious.
Also, this is a one-pan meal, stuffed fish that sits on a bed of baked white and sweet potatoes. This is a hearty meal, that will leave everyone satisfied.
While you want to cook it for your family or to you impress your guests, it will sure be a success with the fish lovers. This is a healthy meal, that also taste good and will keep you full for hours. Similarly, the capers add a little bitter taste that we love. In addition, the cherry tomatoes get soft and juicy, and the garlic adds such a nice flavor. We loved the combination of sweet and white potatoes. I recommend serving the fish with fresh lemon, microgreens, some fresh basil and an arugula salad on the side.
Why You'll Love This Oven Roasted Whole Branzino:
Firstly, it's very easy to make, and perfect for quick and nutritious weeknight meals.
Also, the meal is packed with lean protein and veggies.
The fish tastes fresh and delicious with minimum prep work involved.
In addition, minimum dishes to clean, you just need two baking pans.
Oven Roasted Branzino Recipe Tips:
To make the cooking process even easier, ask for fish to be cleaned. Also, discard the head and tail when buying it, if you prefer.
When shopping for fresh branzino, make sure it does not have a strong odor. Also, the eyes should be bright and clear, moist skin and shiny scales, to ensure you are getting the freshest fish.
The marinade in this recipe can be used either if you have a whole fish, fish filets or fish steaks.
In addition, marinade the fish a few hours in advance, it will taste a hundred times better.
I prefer to use fresh fish over frozen. However, frozen fish that has been thawed will work as well in this recipe.
Also, using fresh produce is key, fresh lemon juice, grape tomatoes etc, and don't skip the capers!
Lastly, make sure you don't over-bake the fish. You want it juicy not dry, once the meat is white and tender it is ready to serve.
Is it ok to eat the Branzino skin?
Yes, you can and actually the Branzino skin is full of healthy fats! I prefer to keep the skin on the fish when I cook it, as it helps keeping the fish moist while cooking.
What wine pairs well with Branzino?
You could pick from Pinot Grigio or Pinot Noir as these wines have good acidity, which you definitely need to cut through the oiliness of the fish.
TOOLS/INGREDIENTS I USED TO MAKE THE HEALTHY OVEN Branzino:
Oven Roasted Whole Branzino
Ingredients
For the Fish:
4

branzino

cleaned, scaled and gutted

4

tablespoons

capers

8

mini

cherry tomatoes

2

lemons

cup rondelles

8

whole

garlic cloves

1/4

cup

olive oil

salt
For the Potatoes:
1

lb.

white potatoes

washed and cut into cubes (do not peel if organic)

1

lb.

sweet potatoes

washed and cut into cubes (do not peel if organic)

1/4

cup

olive oil

2

garlic cloves

minced

3

bay leaves

salt and pepper
Garnish:
fresh basil

micro greens

lemon rounds
Instructions
Preheat oven to 400F.

Season the fish with salt and rub with olive oil inside and out. Stuff the fish with 1 tablespoon of capers, 2 cherry tomatoes that have been halved, 2 garlic cloves and 2 lemon rounds. Set aside.

In a large bowl mix potatoes with olive oil, minced garlic, salt and pepper to taste. Transfer the potatoes to a large roasting pan and try to spread them into 1 layer. Top with the bay leaves. Roast in the oven for 30 minutes, after flip with a spatula to ensure even browning and roast for another 20 minutes.

Place the fish on top of the potatoes and roast for 20 - 30 minutes or until the fish is a nice golden color, the flesh is done (check with a fork in the middle of the fish) but still juicy.

When ready transfer to a serving plate and garnish with lemon rounds, fresh basil and micro greens.
Deliciousness to your inbox
Enjoy weekly hand picked recipes and recommendations