Whole Roasted Red Snapper with Potatoes – One Pan
Last updated on June 18th, 2021 at 04:07 pm
Whole Roasted Red Snapper with Potatoes in olive oil and lemon juice, is delicious, flavorful and a perfect family meal.
I love making delicious and easy fish dishes, like our popular Oven Roasted Mahi Mahi, Mediterranean Salmon and Oven Roasted Spanish Mackerel.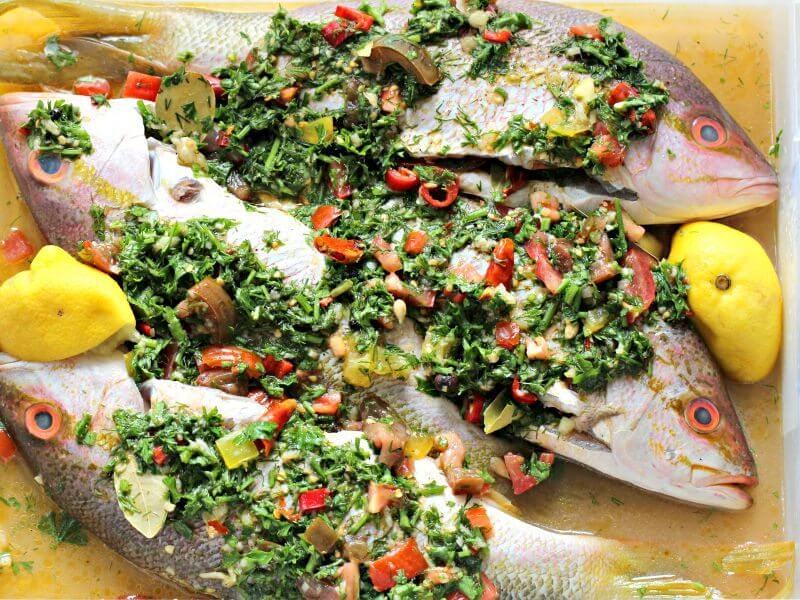 Whole Roasted Red Snapper with Potatoes
Whole Roasted Red Snapper with Potatoes is the type of dinner I recommend for busy families. It is healthy, delicious, full of flavor, and easy to make. Red Snapper is a mild fish, and with this marinade, the dish comes out bold and refreshing, with garlicky and citrusy aroma. The fish is marinated the night before, and left it in the fridge for about 12 hours to absorb all the flavors.
The Red Snapper is rubbed with olive oil, garlic and chili pepper. It is then stuffed with cherry tomatoes, lemon and herbs, which gives the fish an extra rich flavor. The potatoes soak all the marinade form the fish. And since they are popped into the oven first, they get that crispy texture, and golden brown color. This Whole Roasted Red Snapper is flavorful, spicy, zesty, and a perfect dinner for the whole family to enjoy!
How do you choose a good Red Snapper:
When possible, choose wild caught fish, as it taste better and is healthier.
Make sure the Red Snapper has a nice, vibrant color, that it looks fresh and moist.
Smell the fish, and don't be fooled, as fish should NOT smell fishy. That is a red flag and a sign that it's not fresh. Make sure the Red Snapper does not smell somewhat sour or like ammonia, in that case it has gone bad and you need to toss it.
Fresh Red Snapper has a mild aroma, and it should smell similar to the sea.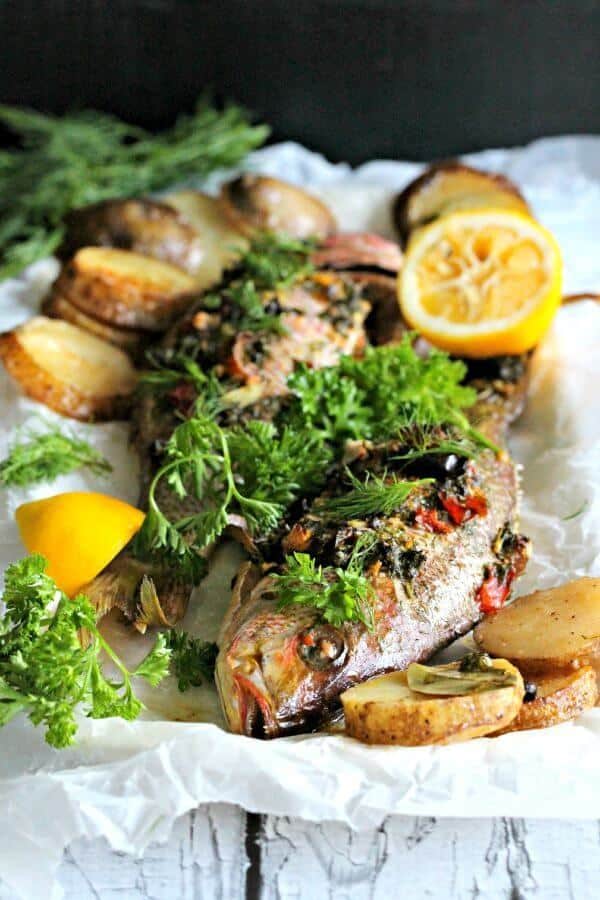 Whole Roasted Red Snapper with Potatoes Recipe Tips:
Get quality fish, as farm raised does not taste the same, plus has additives which you want to avoid.
To save money, you can buy frozen Red Snapper and defrost it. Read the labels carefully and choose wild caught Red Snapper, because it will make a difference it taste.
When cooking Red Snapper, its better to under-cook than overcook. Hence, I like to start checking the fish after the 20 minutes mark.
Potatoes can be substituted with sweet potatoes for healthier dish.
How long can you keep fresh Red Snapper in the fridge?
Red Snapper can be kept for 1 to 2 days in the refrigerator before cooking. That is if you just bought very fresh Red Snapper or if you just defrosted in the fridge frozen Red Snapper.
If you thawed the Red Snapper in the microwave or in cold water, you should cook it immediately.
Is it OK to eat the Red Snapper's skin?
Yes, you can, and actually the Red Snapper's skin is full of healthy fats! I prefer to keep the skin on the Red Snapper when I cook it, as it helps keeping the fish moist while cooking.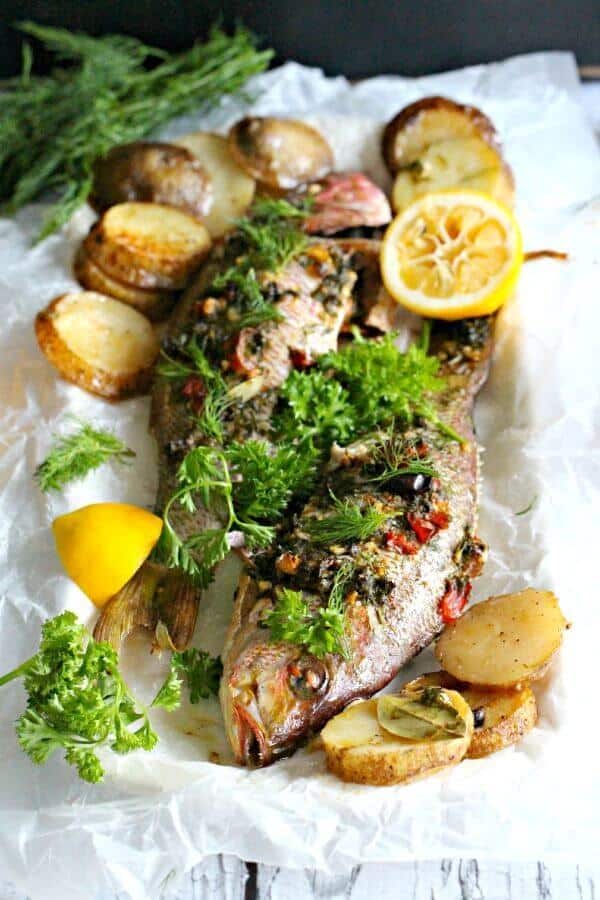 What wine pairs well with Red Snapper?
You could pick from Chardonnay or or Pinot Noir since these wines have good acidity, which you definitely need to cut through the oiliness of the fish.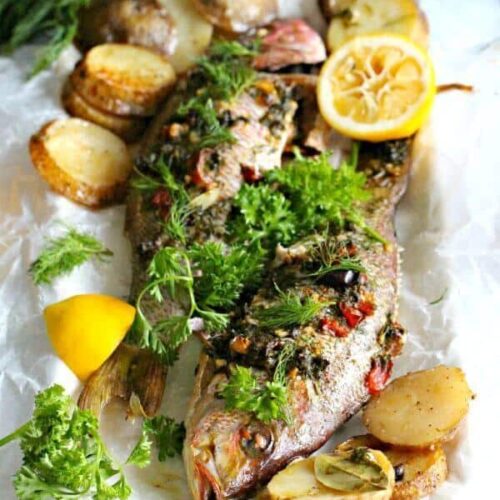 Whole Roasted Red Snapper with Potatoes
Whole Roasted Red Snapper with Potatoes in olive oil and lemon juice,is delicious, flavorful and a perfect family meal.
Save
Share
Print
Pin
Rate
Ingredients
For the Fish:
4

red snappers

(cleaned and scaled)

1/2

cup

chopped curly cilantro

(plus more for garnish)

1/2

cup

chopped dill

1/2

cup

chopped basil

4

rosemary sticks

4

bay leaves

2

tablespoons

minced fresh ginger

2

chili fresh chili peppers

(seeded and chopped)

1

garlic bulb

(cleaned and minced)

2

small heirloom tomatoes or cherry tomatoes

(chopped)

1/2

cup

olive oil plus extra for rubbing the fish

1

meyer lemon

(squeezed)

salt and pepper
For the Potatoes:
2

lbs

potatoes

(washed and cut)

1/4

cup

olive oil

3

whole dry chili peppers

3

bay leaves

salt and pepper
Instructions
For the Fish Marinade:
The night before, chop all of the ingredients as required above. In a small bowl mix all together except tomatoes, rosemary and bay leaves.

Lightly season each fish with salt, rub the fish all over with olive oil, stuff with rosemary, bay leaves and chopped tomatoes and place in a container that can be closed airtight.

Pour the marinade all over the fish, close the container and place in the fridge overnight or for 10-12 hours.
Cooking:
Preheat oven to 400F.

In a large bowl mix potatoes with olive oil, whole dry chili peppers, bay leaves, salt and pepper to taste.

Transfer the potatoes to a large roasting pan and try to spread out into 1 layer. Roast in the oven for 30 minutes, after flip with a spatula to ensure even browning and place the fish on top of the potatoes.

Pour the leftover marinade on top of the fish and roast for 30 minutes or until the fish is a nice golden color, the flesh is done (check with a fork in the middle of the fish) but still juicy.

When ready transfer to individual plates and serve with lemon on the side, garnish with fresh herbs: parsley or basil.
Nutrition
Calories:
697
kcal
|
Carbohydrates:
14
g
|
Protein:
95
g
|
Fat:
26
g
|
Saturated Fat:
4
g
|
Cholesterol:
166
mg
|
Sodium:
302
mg
|
Potassium:
2385
mg
|
Fiber:
2
g
|
Sugar:
0
g
|
Vitamin A:
870
IU
|
Vitamin C:
24.2
mg
|
Calcium:
187
mg
|
Iron:
4.9
mg
More recipes you might love