Whole Roasted Red Snapper with Potatoes – One Pan
This post may contain affiliate links. Please read my disclosure policy.
A healthy dish I recommend to busy families, this one pan whole roasted red snapper with potatoes is easy, flavorful and easy to make.
Man I love when my husband cooks, sometimes he makes some pretty intricate dishes that look from the menu of a 5 star restaurant, and sometimes he puts together these most amazing one pan dinners that are quick, leave almost no dishes to clean, are healthy and delicious, just like this Whole Roasted Red Snapper with potatoes that he made for us to enjoy on a weeknight.

He marinated the fish the night ahead and left it in the fridge for probably 12 hours, until we got home from work the next day. All he had to do is cut some potatoes and turn on the oven. And trust me, even if its hot outside, turn on your fan and air conditioner, because you don't want to miss this scrumptious and delicious meal.
You see that marinade? I am telling you, he comes up with the most amazing flavors, this one has fresh chili peppers, garlic, meyer lemon, bay leaves, curly parsley, dill, fresh basil, olive oil, stuffed with rosemary & mini heirloom tomatoes! This Whole Roasted Red Snapper is the bomb, and this marinade is truly the best! Fresh, spicy, zesty – best flavors ever!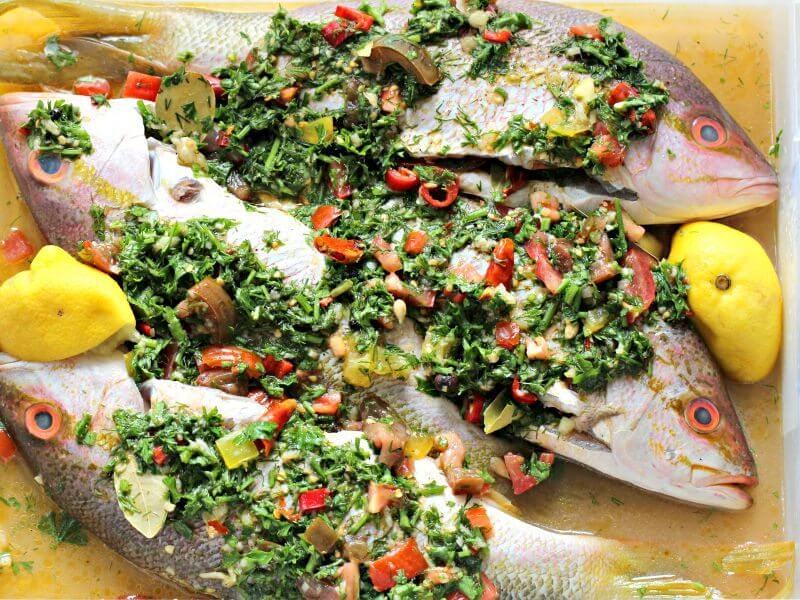 When we got home, he sliced the potatoes, added some salt, black pepper, bay leaves, some dry chili peppers, olive oil and popped them into the oven.

MY LATEST VIDEOS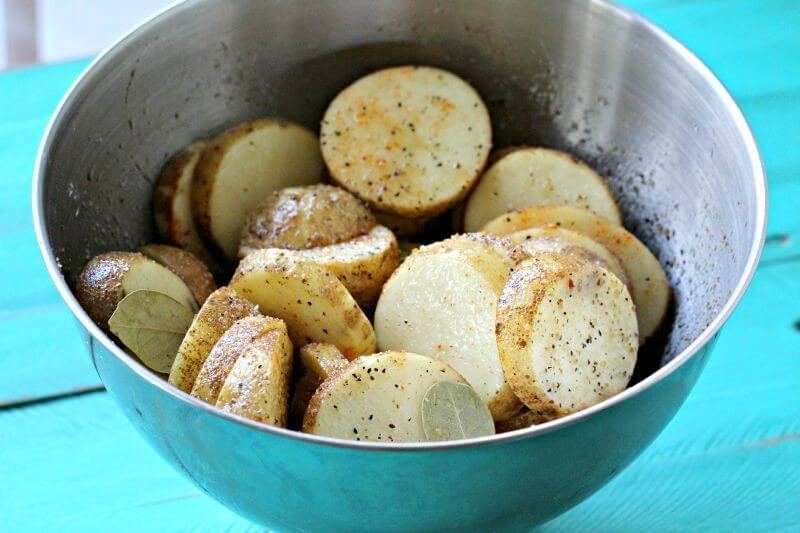 After 30 minutes of baking you add the fish on top of the potatoes.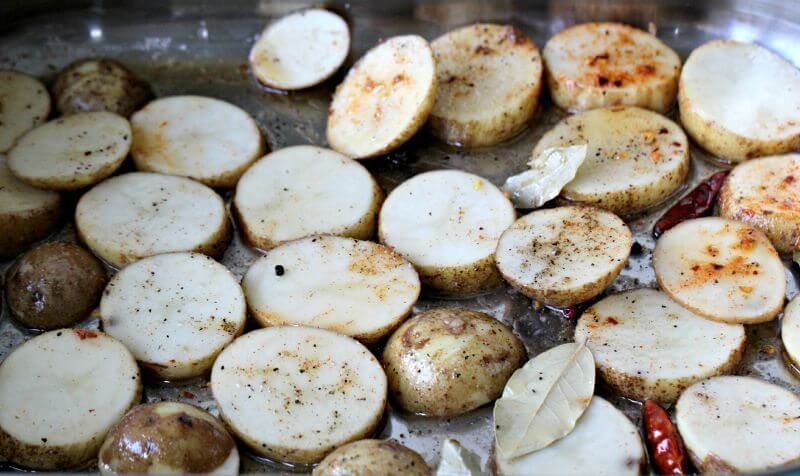 You bake the fish for another 30 minutes, while watching a tv show and relaxing on the coach, when the fish flesh is tender and flaky, but still juicy, the fish is ready, always check with a fork 🙂 you don't want to eat half raw fish :).
Look at this Whole Roasted Red Snapper perfection!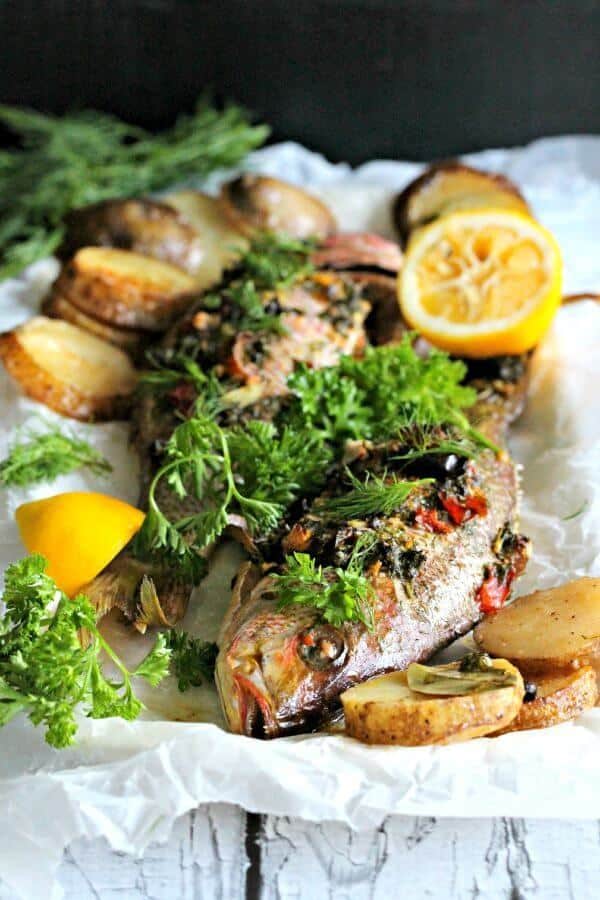 You see in one hour what dinner can you get? It requires almost no effort, most of the work is done the day ahead when marinating the fish, and all you have to do is pop it into the oven and have a healthy, hearty dinner on the table for your family.
We love white potatoes and don't avoid them, but if your diet requires other alternatives, please feel free to substitute them with sweet potatoes or root vegetables. As long as you don't change the marinade, you will have great success. We tried this recipe with roasted sweet potatoes and carrots and it was a big success.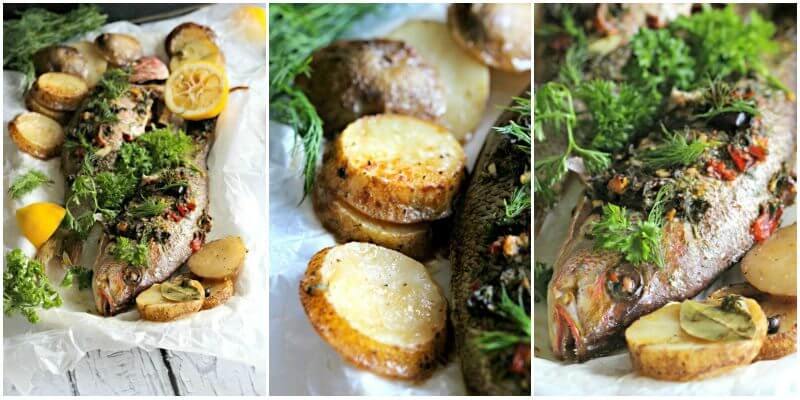 We usually bake 4 fishes, we eat two for dinner and have 2 leftover for he next day, they heat up nicely in the oven, and with some lemon juice they taste fresh and delicious. Fell free to reduce the recipe in half if you have a smaller family.
The potatoes soak all the marinade form the fish, but since they are popped into the oven first, they get that crisp texture, golden brown color and soft middle.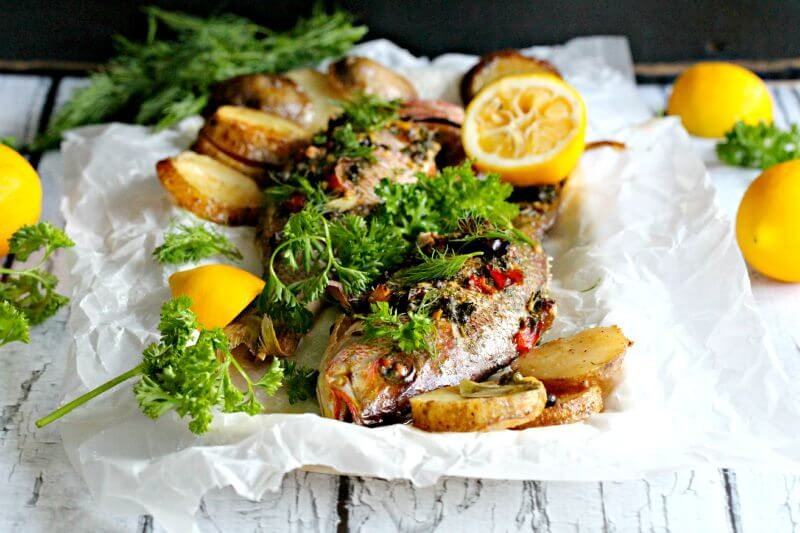 The fish skin gets all crispy and flavorful, a little spicy, the flesh is tender, juicy, aromatic, the rosemary adds such a nice touch, the tomatoes add a lot of juice, so you may want to have some bread on hand to dip into that delicious sauce.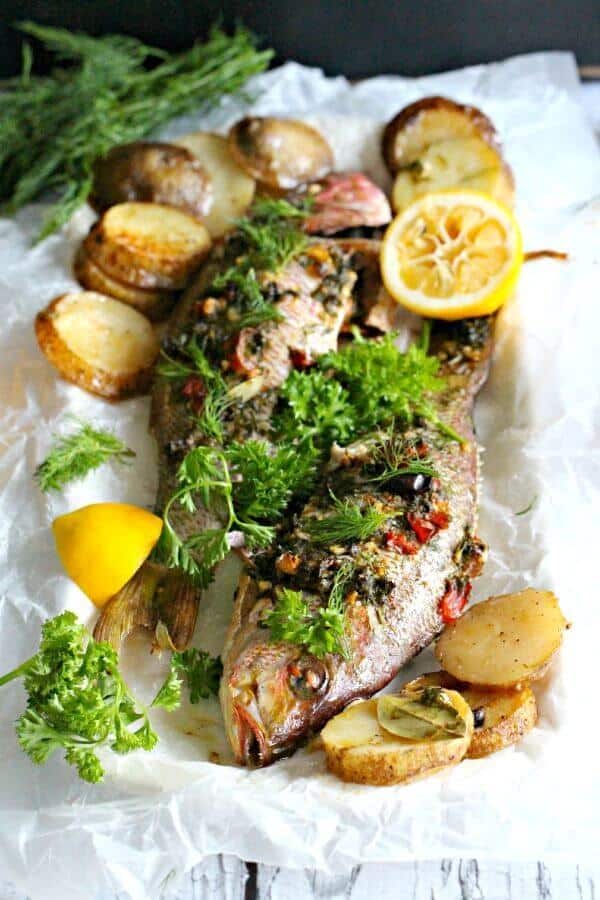 This is the type of dinner I recommend for busy families, that love to eat healthy food, but are looking to cut down the preparation time and effort since we are all so busy with other things. This dish requires no stirring, no sitting by the stove, just pop it in the oven, enjoy it, and let the dishwasher do the dirty work afterwards. A delicious winner in my book!

One Pan Dinner: Whole Roasted Red Snapper with Potatoes
A healthy dish I recommend to busy families, this one pan whole roasted red snapper with potatoes is easy, flavorful and easy to make.
Author:
Katalina Kastravet
Ingredients
For the Fish:
4 red snappers, cleaned and scaled
½ cup chopped curly cilantro, plus more for garnish
½ cup chopped dill
½ cup chopped basil
8 rosemary sticks (2 per fish)
8 bay leaves (2 per fish)
2 tablespoons minced fresh ginger
2 chili fresh chili peppers, seeded and chopped
1 garlic bulb, cleaned and minced
2 small heirloom tomatoes or cherry tomatoes, chopped
½ cup olive oil plus extra for rubbing the fish
1 meyer lemon, squeezed
salt
For the Potatoes:
2 lbs potatoes, washed and cut rondelles (do not peel if organic)
¼ cup olive oil
3 whole dry chili peppers
3 bay leaves
salt
pepper
Instructions
For the Fish Marinade:
The day before, chop all of the ingredients as required above. In a small bowl mix all together except tomatoes, rosemary and bay leaves.
Lightly season each fish with salt, rub the fish all over with olive oil, stuff with rosemary, bay leaves and chopped tomatoes and place in a container that can be closed airtight.
Pour the marinade all over the fish, close the container and place in the fridge overnight or for 12-14 hours.
Cooking:
Preheat oven to 400F.
In a large bowl mix potatoes with olive oil, whole dry chili peppers, bay leaves, salt and pepper to taste.
Transfer the potatoes to a large roasting pan and try to spread out into 1 layer. Roast in the oven for 30 minutes, after flip with a spatula to ensure even browning and place the fish on top of the potatoes.
Pour the leftover marinade on top of the fish and roast for 30 minutes or until the fish is a nice golden color, the flesh is done (check with a fork in the middle of the fish) but still juicy.
When ready transfer to individual plates and serve with lemon on the side, garnish with fresh herbs: parsley or basil.
Notes
The preparation time reflects does not include refrigeration, we have marinated the fish the way in advance and let it sit in the fridge, I am not counting that in the preparation time as its inactive.
Peas and Peonies, LLC. owns the copyright on all images and text and does not allow for its original recipes and pictures to be reproduced anywhere other than at this site unless authorization is given. If you enjoyed the recipe and would like to publish it on your own site, please re-write it in your own words, and link back to my site and recipe page. Copying and/or pasting full recipes to social media or personal blogs is strictly prohibited. Sharing this recipe is very much appreciated and encouraged. Read my disclosure and privacy policy. This post may contain affiliate links.