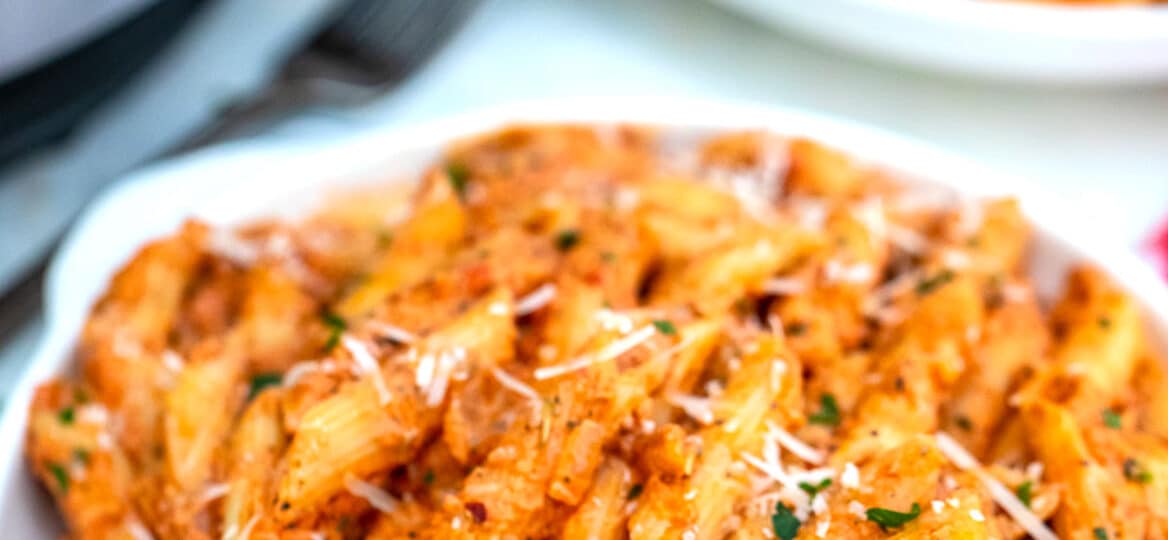 Instant Pot Penne Alla Vodka
Instant Pot Penne Alla Vodka is perfect for a quick lunch or dinner! Extra creamy and flavorful, make this restaurant menu item at home easily using the pressure cooker!
I love Italian dishes and this recipe is just one of the many favorites that I have. Check out my recipes for Italian-inspired dishes like the Chicken Alfredo, Lemon Chicken Piccata, and Pesto Pasta Salad!
Pressure Cooker Penne Alla Vodka Recipe
This Instant Pot Penne Alla Vodka recipe is a one-pot recipe that makes dinner time extra easy. Less mess, less clean up! All you need is the trusty IP that you will use from start to finish.
What I love about Italian dishes is how simple they are put together with a few ingredients and easy steps. But they come out so flavorful and satisfying every time!
This recipe is a perfect example of that and shows how ingenious the Italians are. The vodka sauce used in this dish is extra flavorful, tangy and creamy.
It is said that the alcohol unleashes the flavors in the tomatoes. In this way, unique flavors come out as the alcohol burns off. And since simmering the sauce burns off the alcohol, you will not get intoxicated eating this dish.
What is Penne Alla Vodka?
This is a pasta dish with penne as the traditional type of pasta used and the sauce has vodka. Hence, it is named after these two key ingredients.
It was popular in the 1970s to the 1980s and was a bestseller in discos. No wonder how it became so popular back then. It was just so good!
Why make Penne Alla Vodka in the Instant Pot?
Using the IP halves the time that it is required to make the same dish on the stove. If you use the stove, you will need to simmer the sauce for 10 minutes and this does not include cooking the pasta.
But using the IP will only need less than 5 minutes of pressure-cooking including the pasta. Or, even if you cook it for 6 minutes, it would still be a lot faster!
How to make Instant Pot Penne Alla Vodka
Saute: Use the saute function of your IP to cook the diced onions in butter. Add the garlic and the seasonings, too.
Add the rest: Add in the water, tomatoes, vodka, and the pasta.
Pressure-cook: Set the IP to manual and cook for about 4 to 5 minutes then, proceed with a quick pressure release.
Add dairy: Stir in the cream and cheese.
Serve: Mix everything, garnish, and serve.
What type of pasta is best to use for this recipe?
Even when penne is the traditional and popular choice, you may opt for other types of pasta. Short ones are ideal like rigatoni, ziti, rotini, and even macaroni. As long as you use the dry and instant kind for this recipe, it does not matter if you use another kind.
Can I add something else to it?
Yes! This is a vegetarian kind of pasta dish. If you want to add protein, feel free to add in the following:
meatballs
bacon
mushroom
shrimp
chicken breast strips
prosciutto
pancetta
How to Store
Refrigerate: Store this dish in airtight containers in the fridge for about 4 or 5 days.
Freeze: Frozen, it can stay good for up to 2 or 3 months. Put it in freezer bags.
Recipe Tips
If you use the black pepper vodka, then, you may cut back on the red chili peppers.
In deciding for the cooking time, halve the cooking time indicated in the package of the pasta.
Serve it with your favorite bread, greens, and some roasted veggies.
Garnish it with parsley or spinach as alternatives.
Deliciousness to your inbox
Enjoy weekly hand picked recipes and recommendations