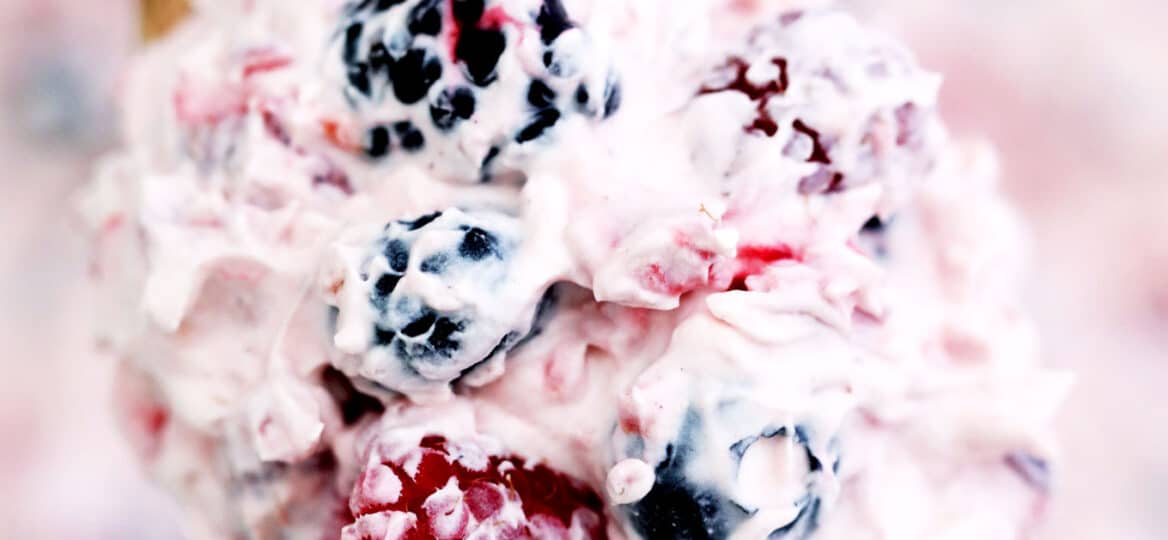 Berry Cheesecake Salad [video]
Berry Cheesecake Salad is a quick solution to your cheesecake cravings! Made with fresh berries and sweet creamy dressing, this will surely be a hit at parties!
Looking for creamy desserts or side dishes? Look no further. Check out my recipes for Creamy Cucumber Salad, Creamy Grape Salad, and Ambrosia Salad.
Berry Cheesecake Salad
Berry Cheesecake Salad is a combination of two of my favorites: cheesecake and fruits! It has the sourness of berries that are complemented well with a creamy dressing.
I like cheesecake but baking is something that I try to avoid doing during summer. The heat from it just fills the kitchen and it can be uncomfortable at times.
Baking also needs close monitoring which I do not always have time for. Or, sometimes, I already have something cooking in the oven that I cannot use it anymore. Lucky me, I have this backup recipe!
This recipe has everything that I enjoy in a cheesecake – a nice combination of sweetness and tartness that is perfect with berries!
The fruits included in this recipe are blackberries, blueberries, and raspberries. The yogurt in it is strawberry-flavored, so you don't miss the strawberry taste.
The different berry varieties make this dish colorful that will fit any occasion – be it a potluck or the 4th of July, you name it!
These fruits are packed with antioxidants, fiber, and nutrients, especially, vitamin C! So, not only are they delicious and colorful, but they are extremely healthful, too. It is just another reason why you should make this dessert.
What is a cheesecake salad?
Simply put, it is a kind of salad wherein the dressing is a cheesecake filling. The fruits in this recipe are coated with a mixture of whipped topping, cream cheese, pudding mix, vanilla extract, and yogurt.
What do you need to make a berry cheesecake salad:
Here is the breakdown of what you need:
Berries: blackberries, blueberries, raspberries
Dressing: whipped topping, cream cheese, pudding mix, vanilla extract, and strawberry yogurt
How do you make a cheesecake salad:
Dressing: In a bowl, combine the dressing ingredients and mix well. Cover and refrigerate for at least an hour.
Prep the fruits: Wash the pieces thoroughly and then, pat them dry. You can spread them out on a baking sheet.
Combine and serve: Once ready to serve, take the dressing out of the fridge. Then, fold in the berries until each piece is coated well. Serve immediately.
Can you make berry cheesecake salad in advance?
You can prepare the dressing and the fruits in advance but separately. Do not combine them yet as the berries may get watery and ruin the whole salad.
So, when it is time to serve, you can simply fold in the berries.
Recipe Variations:
The same dressing can be prepared for a variety of mixed fruits. Here are some suggestions:
Strawberry and banana: an epic combination to just about everything
Strawberry and lemon: refreshing summer flavors
Kiwi, orange, banana, and grapes: lends a tropical vibe
How to serve it?
Serve this dessert with some graham crackers to complement the whole dish.
Just remember that it is best to fold in the fruits in the dressing at the last minute and keep the fruits drained from their juices.
The excess water will ruin the dressing and the surface may get slippery and render the dressing unable to coat the fruit bits.
Recipe Tips:
Fresh fruits are more expensive the frozen ones most of the time. However, I still recommend that you refrain from using that frozen kind for when they thaw, they introduce water making the dessert runny.
You can add marshmallows, crushed graham, or walnuts as toppings.
To avoid lumps in the dressing, the cream cheese must be at room temperature. Let it sit on the counter early to achieve the right temperature.