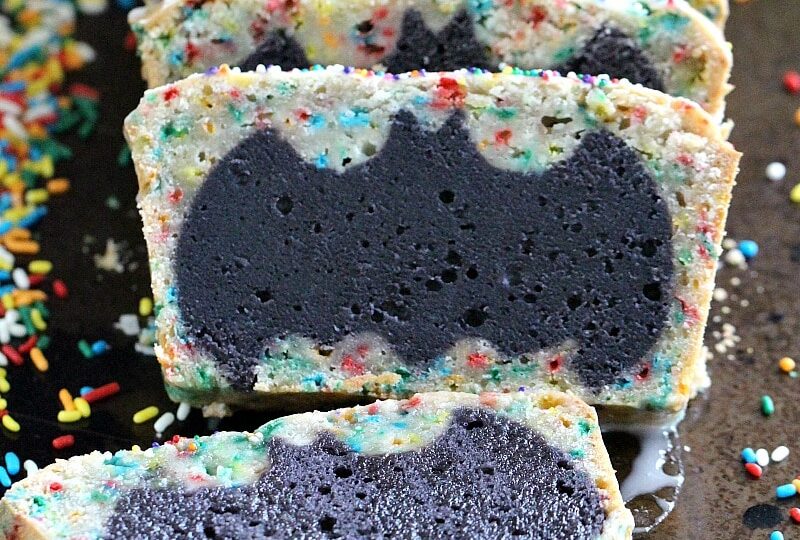 Vegan Batman Cake with Sprinkles
Vegan Batman Cake is soft and flavorful, and perfect for play dates and for kids to enjoy.
This cake is the brother version of the original Batman Cake, but vegan. Since the original version was such a hit, and based on many requests, I decided to go ahead and provide a vegan version of it.
Vegan Batman Cake
This Batman Cake is the perfect cake for kids birthday party or special events. The kids will love this cake, since the Batman logo is embroiled in the cake, and it just looks very cool. This is actually the second Batman Cake I made. Since I have received so many requests for a Vegan version of it, I decided today would be the most appropriate day to share my Vegan Batman Cake with all of you. I couldn't resist the sprinkles, so I decided to add some. They bring joy and happiness, can we all agree on that?
I absolutely hate a dry cake, so this Vegan Batman Cake is dense and moist. It will be loved by kids and adults, with it's soft texture and sweet taste. The sprinkles make it very festive. However, you can certainly skip them, if not in the sprinkles mood. This Vegan Batman Cake is also super easy to make, no crazy ingredients are needed. Same batter is used for the Batman Shapes, just food coloring is added. If you want to keep it on the natural side you can add a little cacao powder, but the Batman shapes will be brown in that case.
Pin This Vegan Batman Cake Recipe to your Favorite Board
Why you will love this Vegan Batman Cake?
It is very easy to make with limited ingredients.
The cake will be a hit with kids and adults alike.
Cool project to have with kids.
Easily transportable.
Can be made 1-2 days in advance, so you don't have to bother making it the last minute.
Vegan Batman Cake Recipe Tips:
If you are having trouble cutting the Batman shapes, I recommend putting the black cake in the freezer for 30-40 minutes so it hardens. Also spraying the cookie cutter with baking spray will help as well.
Let it cool in the pan for 10-15 minutes before transferring to a wire rack to cool completely.
You can play with the flavors, and substitute banana with other fruits.
The cake can be made using a different shape or color as well.
How Long Will Vegan Batman Cake Stay Fresh?
The Batman Cake can be stored wrapped in plastic wrap at room temperature for about 3-4 days.
Can You Store and Freeze Vegan Batman Cake?
Absolutely! Cool the cake completely and fully wrap it in plastic wrap, tightly. After that wrap in aluminum foil. Freeze for up to 2-3 month. Defrost before slicing.
Tools/Ingredients that I used to make the Batman Cake:
Loaf Pan – love this pan, it cleans so well and it's very durable.
Batman Cookie Cutter – this is a fun one, it can be used to make Batman cookies, cut into fondant or even make Batman toast.
Gel Food Coloring – I like having a range of colors on hand for when I bake something fun.
Deliciousness to your inbox
Enjoy weekly hand picked recipes and recommendations