Prosecco Tiramisu – Gluten Free, No Bake
This post may contain affiliate links. Please read my disclosure policy.
A no bake, gluten free, creamy and festive Prosecco Tiramisu made with bubbly prosecco for a gorgeous and easy, show stopper dessert.
I promised you yesterday an amazing dessert, and here I am very excited to share this Prosecco Tiramisu with you. These creamy, delicious and festive bowls are the perfect way to end a good meal.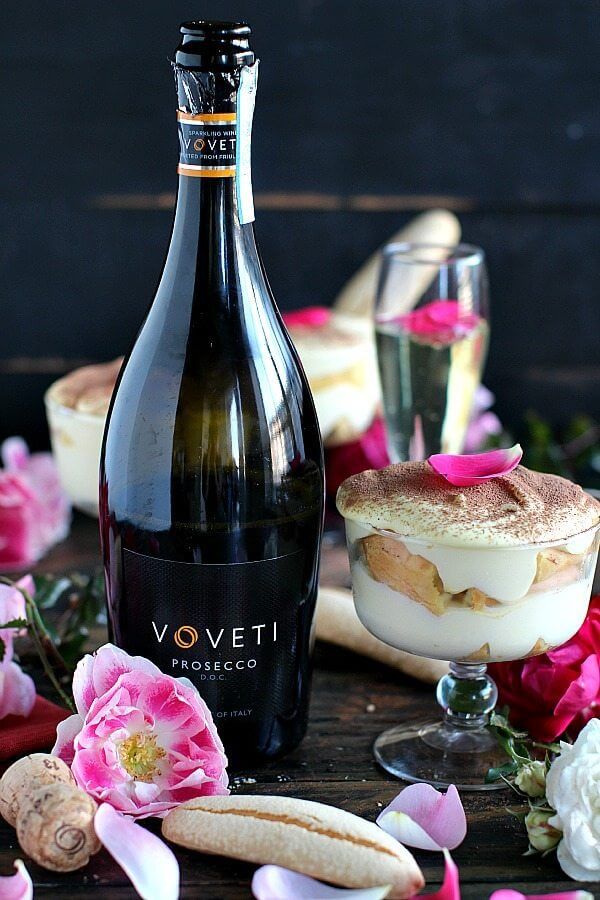 We love to have friends over, for a football game night, or to just enjoy some appetizers and dinner. Working full-time and getting home after five usually means that I have to put together something quick, but yet it has to be delicious, as we love good food. For appetizers we keep it simple, I usually bake some brie and top it with pistachios, raspberries and a drizzle of honey, served with a quality prosecco like VOVETI Prosecco makes an easy appetizer fancy and fabulous.
This time I decided to not only enjoy our sparkling wine with the appetizer, but to serve it for dessert too. I made this very simple and time saving Prosecco Tiramisu served in individual bowls restaurant style. A luxurious no bake dessert, that can be recreated with ease and is ready in 30 minutes.

This no bake dessert turned out so festive and good-looking and may I say that it actually tastes better than it looks! What I love about it the most is how it can be made in advance. You can make it one day ahead of your event and just serve it the next day. Delicious simplicity at its best. I substituted the classic espresso with prosecco, so using a good one is key.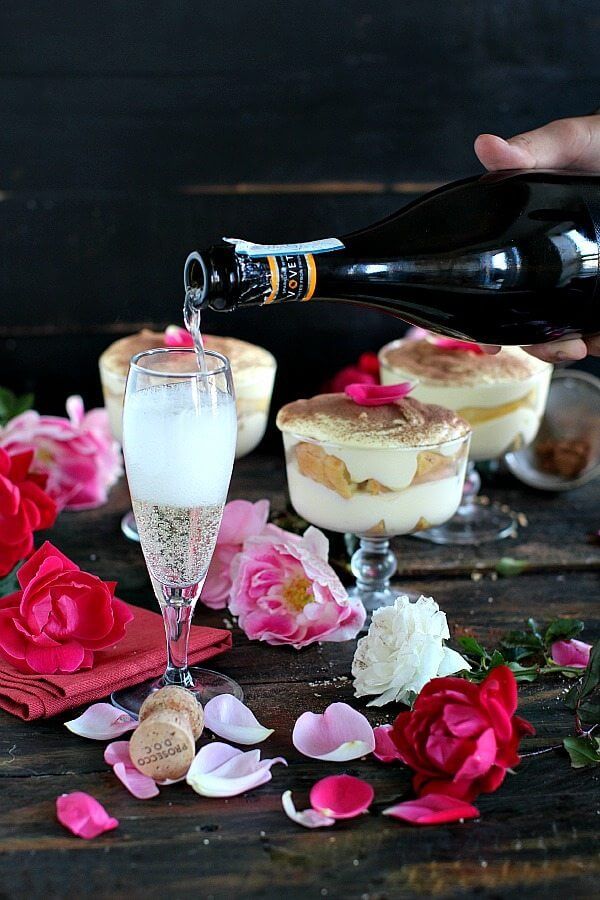 VOVETI is a collaborative effort between the Collavini family and the Ferrer family, each family brings 4 generations of sparkling wine expertise to the table creating a high quality, craft prosecco by only producing 15,000 cases annually. The beauty of this Prosecco Tiramisu is that the gluten free lady fingers absorb all the delicious flavors of the prosecco. That combined with the smooth and rich mascarpone cream, creates an unbelievably good combo.

MY LATEST VIDEOS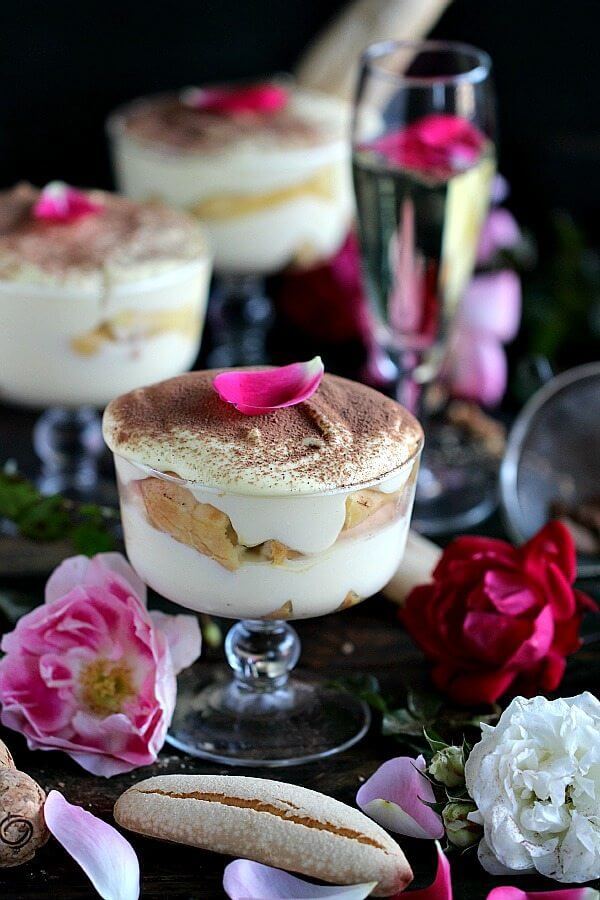 Entertaining and hosting dinner parties or friends gathering must be fun for the hostess too, and with a creative appetizer, an easy dinner that can be done by your slow cooker, and these No Bake Sparkling Prosecco Tiramisu glasses you are set for a beautiful party, minus the long hours in the kitchen.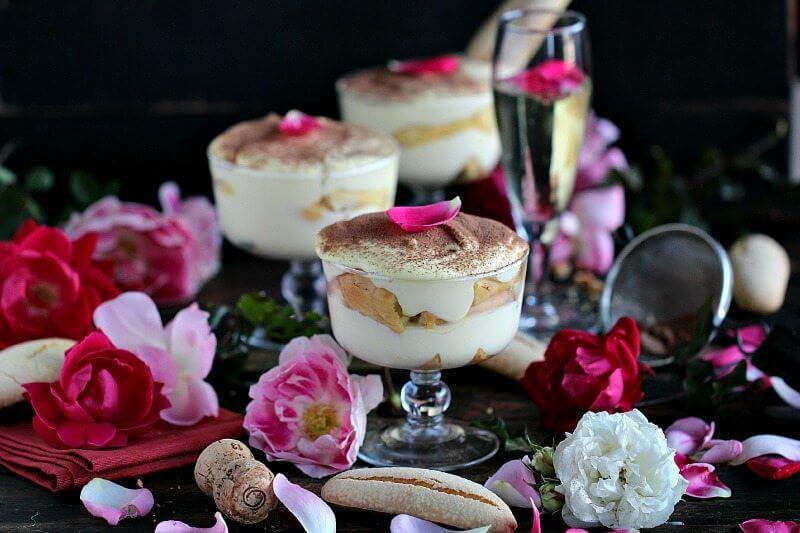 For a romantic date night top the Prosecco Tiramisu cups with some rose petals and you are looking at a dramatic and gorgeous dessert. Also, how cute would these be for New Year's Eve? Pop some VOVETI Prosecco and also have it in your dessert, for a sparkly and lucky year!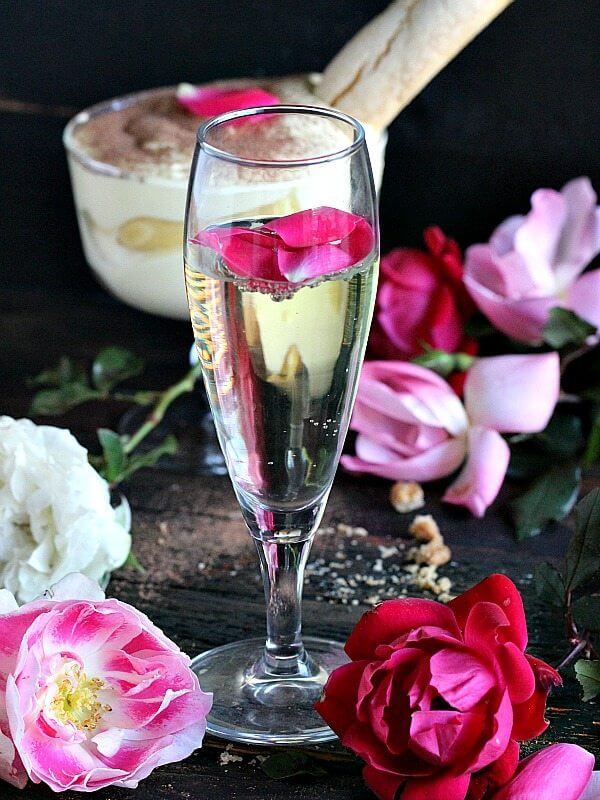 I used gluten free lady fingers in this dessert, but you can use regular once if you want. I just love the texture more of the gluten free version. They are denser, so they can absorb more prosecco goodness.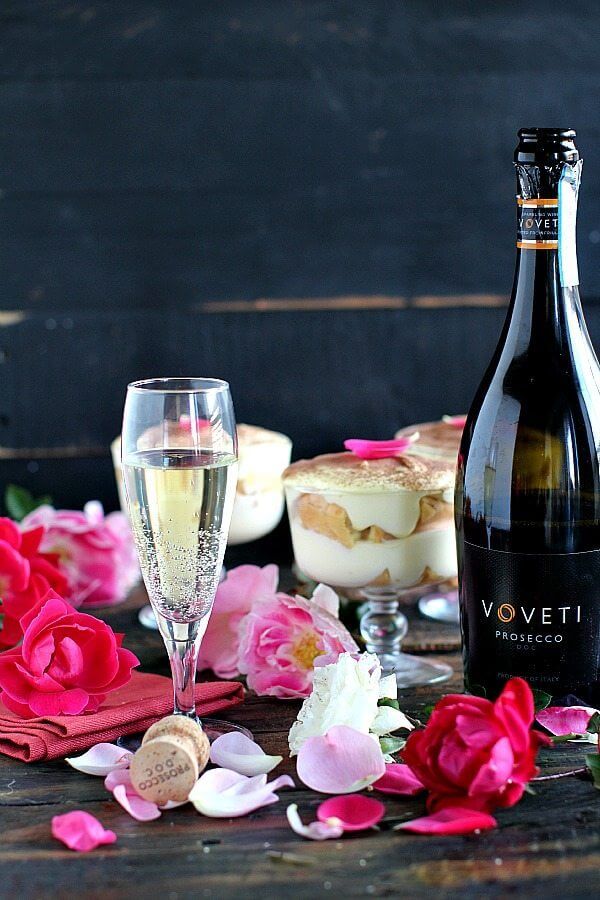 Find the recipe for the Prosecco Tiramisu below!

Prosecco Tiramisu
A no bake, gluten free, creamy and festive Prosecco Tiramisu made with bubbly prosecco for a gorgeous and easy, show stopper dessert.
Author:
Katalina Kastravet
Ingredients
1½ cups VOVETI Prosecco
20 gluten free savoiardi biscuits (fine sponge fingers, ladyfinger)
4 egg yolks, organic
½ lb. mascarpone cheese
¾ cups heavy cream
1 cups powdered sugar
1 tablespoons granulated sugar
1 vanilla bean, seeds only
Instructions
Lay the Savoiardi sponge biscuits on the bottom of a baking pan and pour the prosecco on top of them, distribute the liquid evenly.
I like my sponge fingers to be moist and soft, if using gluten free biscuits, let them rest for a 10-15 minutes to soak all the prosecco. If using regular lady fingers, they will soak the prosecco quicker, so keep an eye on them.
Tamp down gently, making sure the biscuits are soaked all over, flip on the other side mid soaking.
Mascarpone Cream:
In the bowl of an electric mixer fitted with the whisk attachment, mix together the heavy cream and granulated sugar until stiff peaks form. Transfer to a bowl and refrigerate until ready to use.
In the bowl of an electric mixer fitted with the whisk attachment (or just a large bowl if using a hand mixer) whisk the egg yolks, sugar and vanilla bean seeds until light and creamy. Pause a few times, to scrape the sides of the bowl, and continue mixing until well combined. Add the powdered sugar, whisk until well combined. Whisk in the mascarpone cheese and mix on medium speed until fully incorporated.
Once all the mascarpone cheese has been incorporated, remove the whipped cream from the fridge and using a spatula, gently fold it into the mascarpone mixture.
Assembling:
We are using 2 biscuits per layer. Break the savoiardi biscuits in two and press two of them on the bottom of ice cream bowls to create the first layer. Top with a few spoons of mascarpone cream. Repeat until the glasses are full, 2 layers of biscuits and 2 layers of cream.
Top with dusted cocoa, fresh mint leaves or rose petals before serving.
Serve chilled.
Peas and Peonies, LLC. owns the copyright on all images and text and does not allow for its original recipes and pictures to be reproduced anywhere other than at this site unless authorization is given. If you enjoyed the recipe and would like to publish it on your own site, please re-write it in your own words, and link back to my site and recipe page. Copying and/or pasting full recipes to social media or personal blogs is strictly prohibited. Sharing this recipe is very much appreciated and encouraged. Read my disclosure and privacy policy. This post may contain affiliate links.