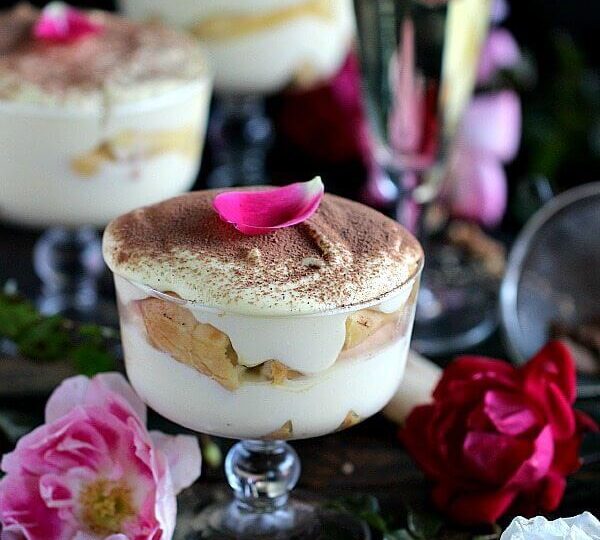 Prosecco Tiramisu – Gluten Free, No Bake
Prosecco Tiramisu is a no bake, gluten free, creamy and festive, made with bubbly Prosecco for a gorgeous and easy, show stopper dessert.
Tiramisu is not something new on our site. In the past, we made the delicious and most amazing No Bake Tiramisu Cake, followed by Tiramisu Trifles, and now we present you with these amazing Prosecco Tiramisu Bowls.
Prosecco Tiramisu
I am very excited to share this Prosecco Tiramisu with you. These creamy, delicious and festive bowls are the perfect way to end a good meal.
This time I decided to not only enjoy our sparkling wine with the appetizer, but to serve it for dessert too. I made these very simple and time saving Prosecco Tiramisu served in individual bowls, restaurant style. A luxurious no bake dessert, that can be recreated with ease and is ready in 30 minutes.
This No Bake Prosecco Tiramisu turned out so festive and good-looking, and it actually tastes better than it looks! What I love about it the most is how it can be made in advance. You can make it one day ahead of your event and just serve it the next day. Delicious simplicity at its best. I substituted the classic espresso with Prosecco.
Pin This Prosecco Tiramisu Recipe to your Favorite Board
Why You'll Love These Prosecco Tiramisu Bowls:
Firstly, they are puffy, pretty and delicious, and are a show stopper dessert.
Also, the bowls presentation is a perfect alternative to the traditional Tiramisu Cheesecake.
Easy to find ingredients and minimum prep work is needed.
Perfect for brunch parties and for bigger crowds.
Lastly, they can be made 1 day in advance, so you don't have to worry about a last minute dessert.
Prosecco Tiramisu Recipe Tips:
The mascarpone and cream cheese should be at room temperature.
Don't replace the mascarpone with cream cheese, because the mascarpone has a richer and creamier texture. In addition, it is originally used in Tiramisu cakes. Hence, using mascarpone will make a huge difference here.
Don't over mix or whisk the cheeses on high speed. The mascarpone tends to separate if over mixed, so best to mix on medium speed.
The heavy whipping cream should be very cold, straight from the fridge. It would be good to chill the mixing bowl for 10 minutes, before whipping the cream.
Lady finger will soak the prosecco quickly, so keep an eye on them.
Can you freeze Prosecco Tiramisu?
Freezing these Prosecco Tiramisu is not recommended, as the cream wouldn't freeze well, and upon defrosting it will become watery.
Deliciousness to your inbox
Enjoy weekly hand picked recipes and recommendations