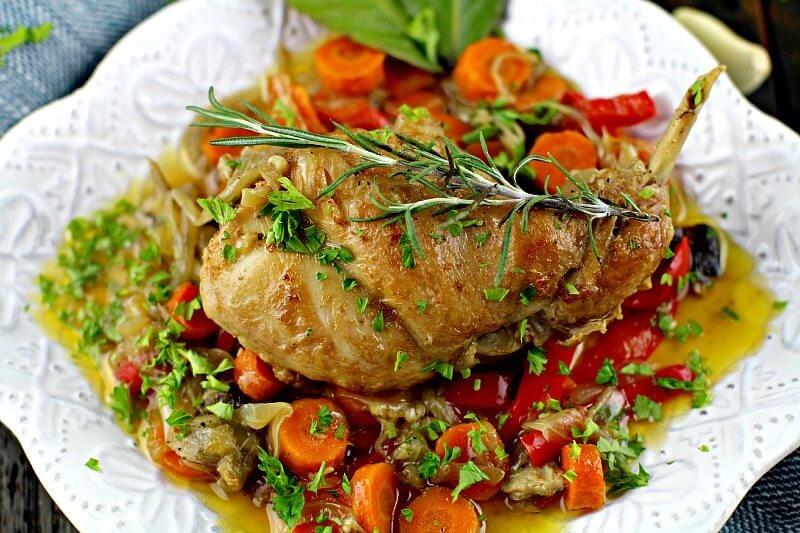 Rabbit and Vegetable Bake
Rabbit and Vegetable Bake is succulent, healthy and very flavorful. This meal is perfect for special celebrations or holidays, as if looks beautiful and tastes delicious.
I love a good dinner recipe that is easy to make during a busy weeknight. This Rabbit and Vegetable Bake fits perfectly for that. My other favorite dinner meals are Instant Pot Spaghetti Sauce and Instant Pot Tuscan Chicken.
Rabbit and Vegetable Bake
Rabbit meat is more common in Eastern Europe, since I moved to the states I found it very difficult to find it. This rabbit and vegetable bake is a traditional meal in our family and I wanted very much to recreate it for my husband. Finally the Whole Foods near us started carrying rabbit meat, and I couldn't wait to get some.
This rabbit and vegetable bake is truly great. I learned the recipe from my mom and its the only way I cook rabbit. It turns out delicious all the time. Also, the rabbit meat gets very soft and tender. The bake is done in layers of sautéed veggies and browned rabbit. This way the rabbit meat gets a chance to absorb the juices from the vegetables by being baked into that flavorful natural veggie sauce.
The secret to very tender rabbit meat is to keep the raw meat in cold water for 24 hours or at least for 12. This will make such a huge difference in the texture of the rabbit. In addition, I always add a lot of minced garlic to the rabbit and vegetable bake for some extra savory flavor.
Why You Will Love this Rabbit and Vegetable Bake
Firstly, it's very easy to make, with minimum ingredients and dishes to clean.
Also, a hearty and delicious meal, that looks good to be served on weekends, or for a special dinner occasion.
In addition, the meal is packed with protein.
Healthier alternative to pork or beef meat, because rabbit is a much leaner meat.
Leftovers are delicious.
Can I substitute lamb for rabbit?
Yes. Lamb is a great alternative for rabbit in many recipes including this one. If you are going to use lamb, I would recommend using lamb chops. The cooking time for lamb might also vary a bit.
WHAT WINES PAIR WELL WITH Rabbit and Vegetable bake?
A nice, fruity red wine such as Zinfandel or Syrah will pair nicely with the flavors in this rabbit dish.
If you're looking for a white option, Riesling or Pinot Grigio are always great matches for bold, somewhat spicy dishes.
Can you freeze Rabbit and Vegetable bake?
Yes. First, let the sauce cool completely before freezing. Then, transfer into freezer-safe containers or heavy-duty freezer bags and add the rabbit. Label with the date, and freeze for up to 3-4 months, or longer if you use a deep freezer.