Rabbit and Vegetable Bake
This post may contain affiliate links. Please read my disclosure policy.
This rabbit and vegetable bake is succulent, healthy and very flavorful. This meal is perfect for special celebrations or holidays, as if looks beautiful and tastes delicious.
I am keeping my word on the Savory Wednesday's promise on Peas & Peonies and I am sharing with you today one of my all time favorite dishes: rabbit and vegetable bake that is healthy, flavorful and loaded with delicious veggies.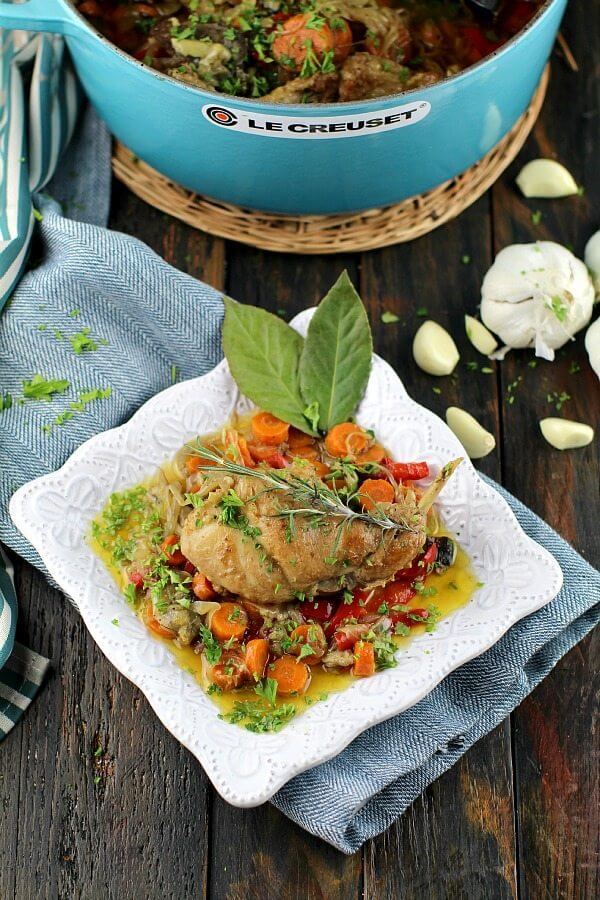 Rabbit meat is more common in Eastern Europe, since I moved to the states I found it very difficult to find it. This rabbit and vegetable bake is a traditional meal in our family and I wanted very much to recreate it for my husband. Finally the Whole Foods near us started carrying rabbit meat and I couldn't wait to get some to make my all time favorite rabbit and vegetable bake in my brand new Le Creuset dutch oven. Yes, I finally bit the bullet and got one and so far I am in love with it. In the short time that I own it we already used it for the rabbit and vegetable bake and a few times my husband made pork ribs and potatoes.

This rabbit and vegetable bake is truly great, I learned the recipe from my mom and its the only way I cook rabbit. It turns out delicious all the time, the rabbit meat gets very soft and tender. The bake is done in layers of sautéed veggies and browned rabbit, this way the rabbit meat gets a chance to absorb the juices from the vegetables by being baked into that flavorful natural veggie sauce.

MY LATEST VIDEOS
The secret to very tender rabbit meat, is to keep the raw meat in cold water for 24 hours or at least for 12. This will make such a huge difference in the texture of the rabbit. Rubbery and tough rabbit meat is no bueno, we want it to be tender and easy to swallow 🙂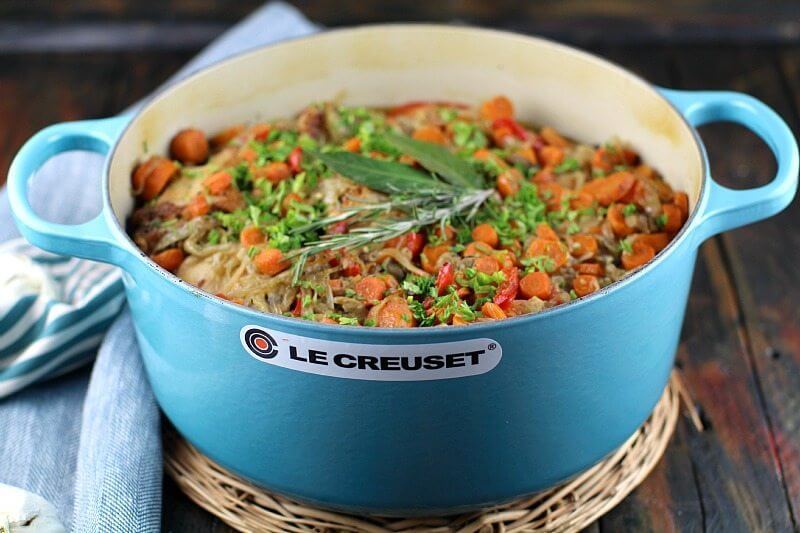 I always make my rabbit and vegetable bake with lots of carrots, they add just the right amount of sweetness to this gorgeous dish. Caramelized sweet onions, sweet bell peppers and some mushrooms are added to the mix as well.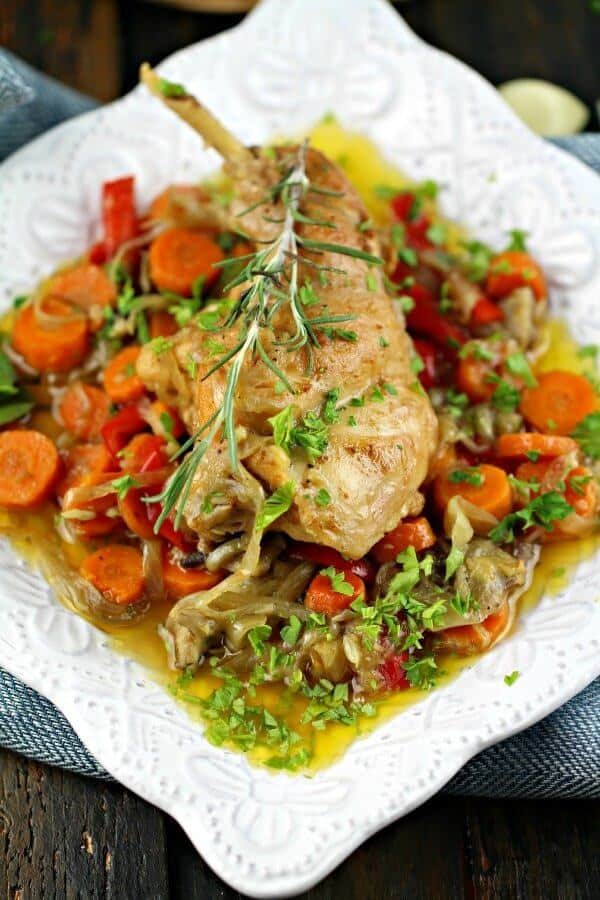 This rabbit and vegetable bake is my husband's favorite dish and we already have plans to recreate it for Christmas. What I also like about it is that you can make a huge batch, that will feed a lot of people, and technically the only active work you do is chop the veggies, sauté them and brown the meat. After that your dutch oven is responsible to cook the rabbit and vegetable bake to pure perfection.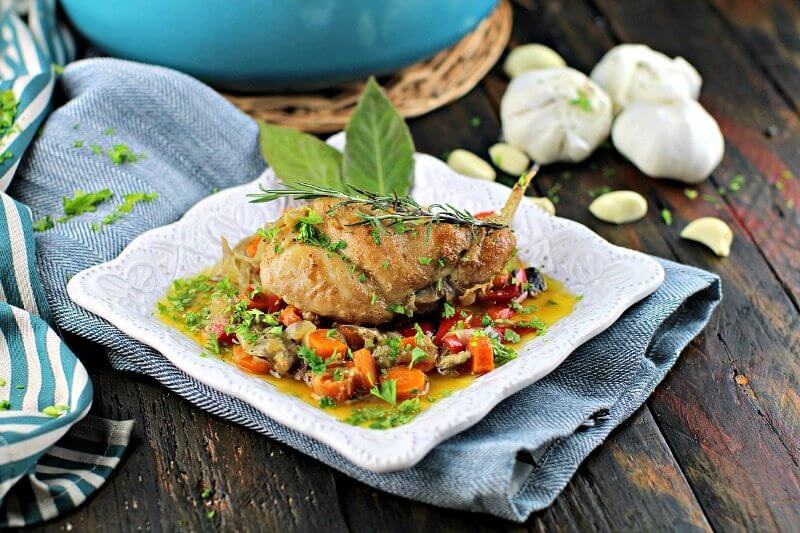 I always add a lot of minced garlic to the rabbit and vegetable bake for some extra savory flavor, and do you see all that sauce? You need a good crusty bread to dip into it, because its so good, you will lick your plate clean!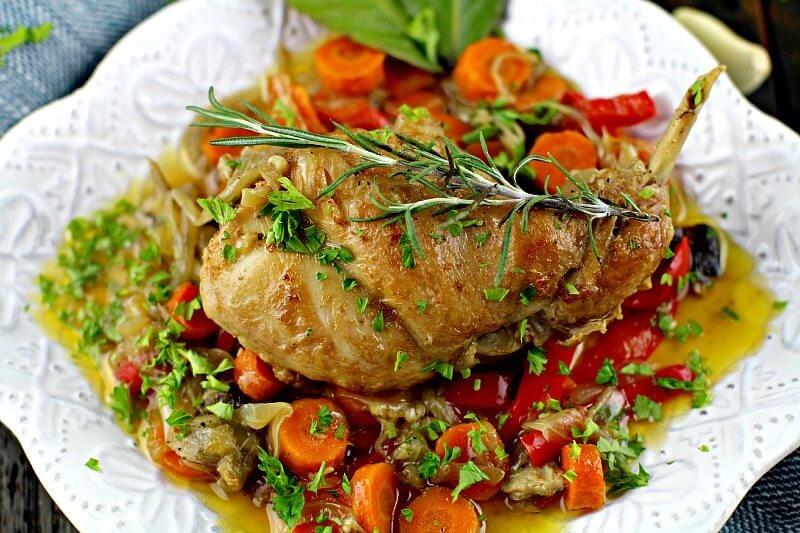 I highly recommend this rabbit and vegetable bake since its such a healthy, flavorful and easy dish. It looks festive and it tastes delicious! If you can't find rabbit meat at your local store try Whole Foods or a butcher place!

rabbit and vegetable bake
This rabbit and vegetable bake is succulent, healthy and very flavorful. The rabbit meat is a nice change from the usual poultry or beef. This meal is perfect for special celebrations or holidays, as if looks beautiful and tastes delicious.
Author:
Katalina Kastravet
Ingredients
2 medium rabbits, cut up (ask your butcher to cut it)
6-7 large carrots, chopped into rounds
3 large sweet onions, halved and sliced
1 sweet bell pepper, halved and sliced
7 oz mushrooms (porcini or baby portobello)
10 garlic cloves, peeled and minced
10 garlic cloves, whole
10 fresh or dry bay leaves
5 fresh rosemary springs
3 tablespoons all purpose flour
3 tablespoons salt + more
3 tablespoons black pepper
1 cup white wine
3-4 cups water, boiled and warm
1 cup of oil + more
fresh herbs: chopped parsley
Instructions
For this recipe you need a 10 quart baking dish or preferably a dutch oven, best results will be achieved when using a dutch oven.
One day before, rinse well the rabbit meat under cold water, place the cut up rabbit in a large pot and cover with cold water. Place it in the fridge. In the morning, discard the water, rinse the rabbit and refill the pot with cold water again, add the rabbit and let it sit in the water until ready to start dinner. Preferably the meat must stay in the water for 24 hours, or a minimum of 12 hours.
Prepare your working station by covering a part of your counter in paper towels, remove the cut up rabbit pieces from the water and place on paper towels to drain. Cover in paper towels as well, we need the rabbit dry. If needed replace the paper towels with dry ones, to absorb the remaining excess of water. Let the rabbit sit covered in paper towels for 30 minutes. Discard the paper towels, and once the rabbit is dry transfer it to a large pot.
In the meantime, while the rabbit is being drained of excess water, start on the veggie sauté.
Add ½ cup of oil to a large skillet over medium heat, when the oil is hot add the sliced onions and cook for 7 minutes, until the onions start to look translucent and golden, add the chopped carrots, cook for another 8-10 minutes, stirring as needed. Add the chopped bell pepper, the minced garlic and mushrooms, plus salt and pepper as needed. Cook for another 5-7 minutes and turn off the heat.
Mix 3 tablespoons of salt, 3 tablespoons of pepper and 3 tablespoons of flour and add them to the rabbit, shake and mix well, for the rabbit to be covered in the flour, salt pepper mix.
Place a large skillet over medium - high heat and add ½ cup of canola oil, when the oil is hot add the rabbit pieces in one layer to the skillet and cook on each side for 5-7 minutes, until golden brown. Transfer to a dish and repeat with the rest of the rabbit. Add oil to the skillet as needed.
Once the rabbit has been browned and the veggies sautéed preheat oven to 350F.
Now you have to layer the rabbit bake in the dutch oven. First bottom layer is a layer of browned rabbit meat, top with a layer of sautéed veggies, 5 garlic cloves and 5 bay leaves. Another layer of rabbit, veggies, 5 garlic cloves and 5 bay leaves.
Pour 1 cup of wine into the dutch oven over the rabbit and veggies, and 3 cups of water. Now, make sure the bake is not covered in liquid, only use water as much as needed, the water should stay 1 inch down from the top layer. Place 3 rosemary strings on top, cover with the lid and transfer to the heated oven.
Bake for 1 hour and 20 minutes. Remove from oven, discard the rosemary strings, decorate with fresh chopped herbs, and the remaining fresh rosemary strings.
Serve and enjoy!
Peas and Peonies, LLC. owns the copyright on all images and text and does not allow for its original recipes and pictures to be reproduced anywhere other than at this site unless authorization is given. If you enjoyed the recipe and would like to publish it on your own site, please re-write it in your own words, and link back to my site and recipe page. Copying and/or pasting full recipes to social media or personal blogs is strictly prohibited. Sharing this recipe is very much appreciated and encouraged. Read my disclosure and privacy policy. This post may contain affiliate links.