Baileys Chocolate Brown Butter Cookies
This post may contain affiliate links. Please read my disclosure policy.
Chocolate Brown Butter Cookies have a caramel undertone, are stuffed with chocolate chips and topped with a Chocolate Cherry Baileys Icing and sea salt.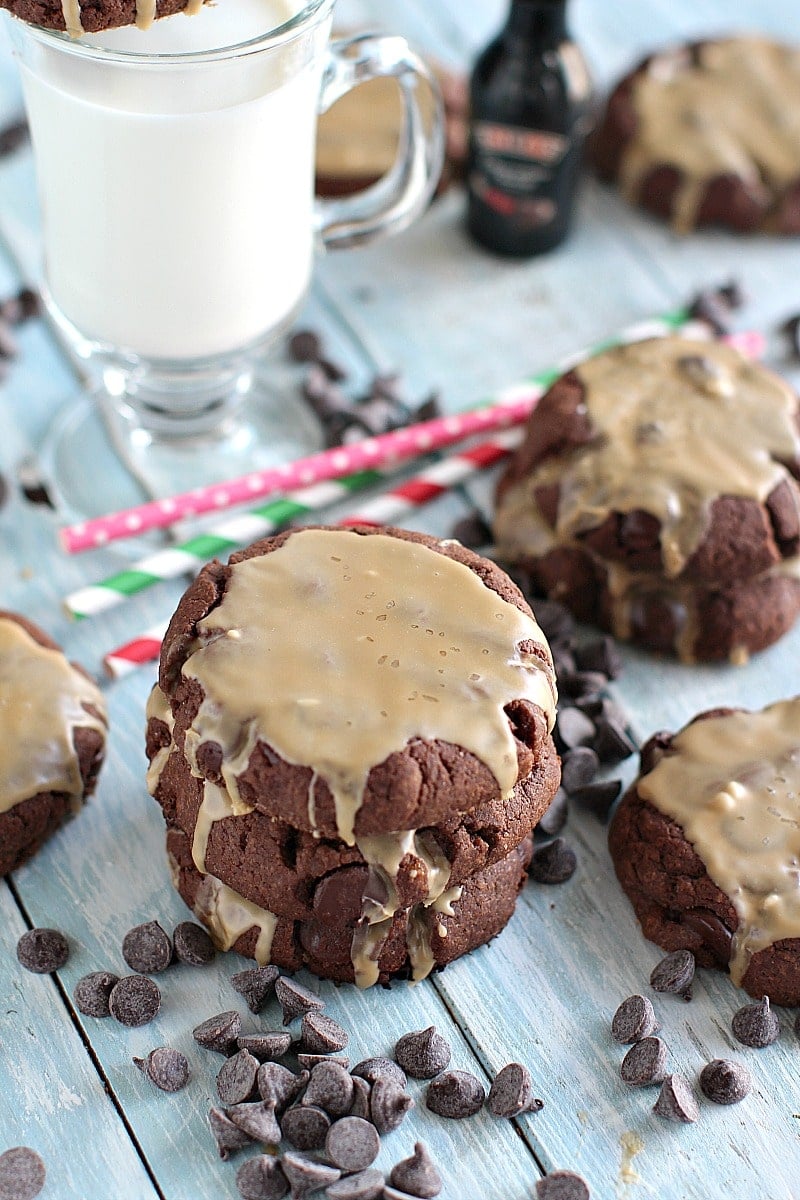 There is nothing better than the smell of fresh cookies in the oven, and that smell is even better when you bake Chocolate Brown Butter Cookies loaded with chocolate chips. Really, there is probably no better way to start a Sunday morning.

Well, as you can see my weekend went well, I woke up yesterday and right after I brushed my teeth and planted a few kisses on my toddler's cheek I started working on these Chocolate Brown Butter Cookies right away. These are some of the easiest cookies you will ever make, and also some of the most delicious. Gotta love when easy and delicious is in the description of a recipe.
You know why these Chocolate Brown Butter Cookies are the easiest ever? Well, first because you don't have to worry about getting the butter to room temperature. How many times did you intend to bake cookies only to be bummed by waiting forever for that butter to be just right?! No need for that here, for these Chocolate Brown Butter Cookies we melt the butter, until its actually brown, hence the brown butter name.

MY LATEST VIDEOS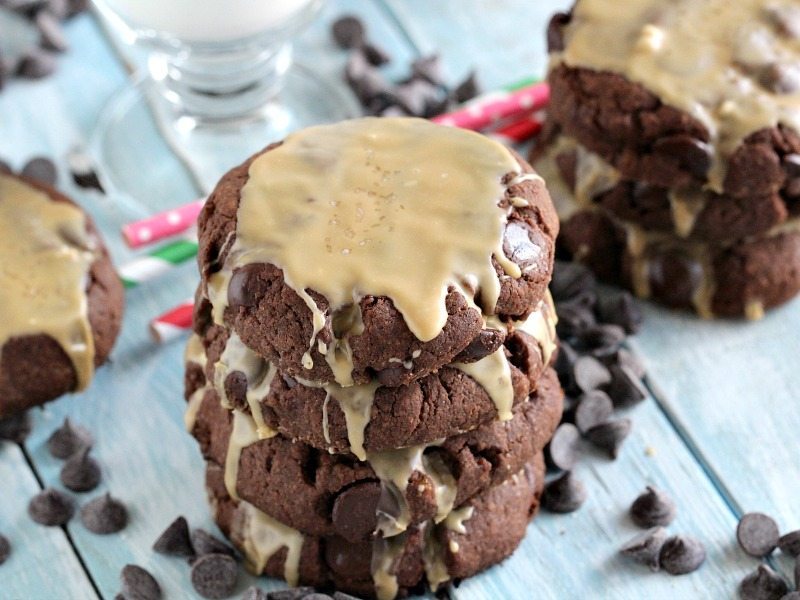 You know what else is amazing about brown butter, well the fact that when its combined with the sugars it smells totally like caramel, so your cookies will have that magnificent caramel undertone. Combine that with chocolate and chocolate chips and you can totally see how these cookies are out of this world.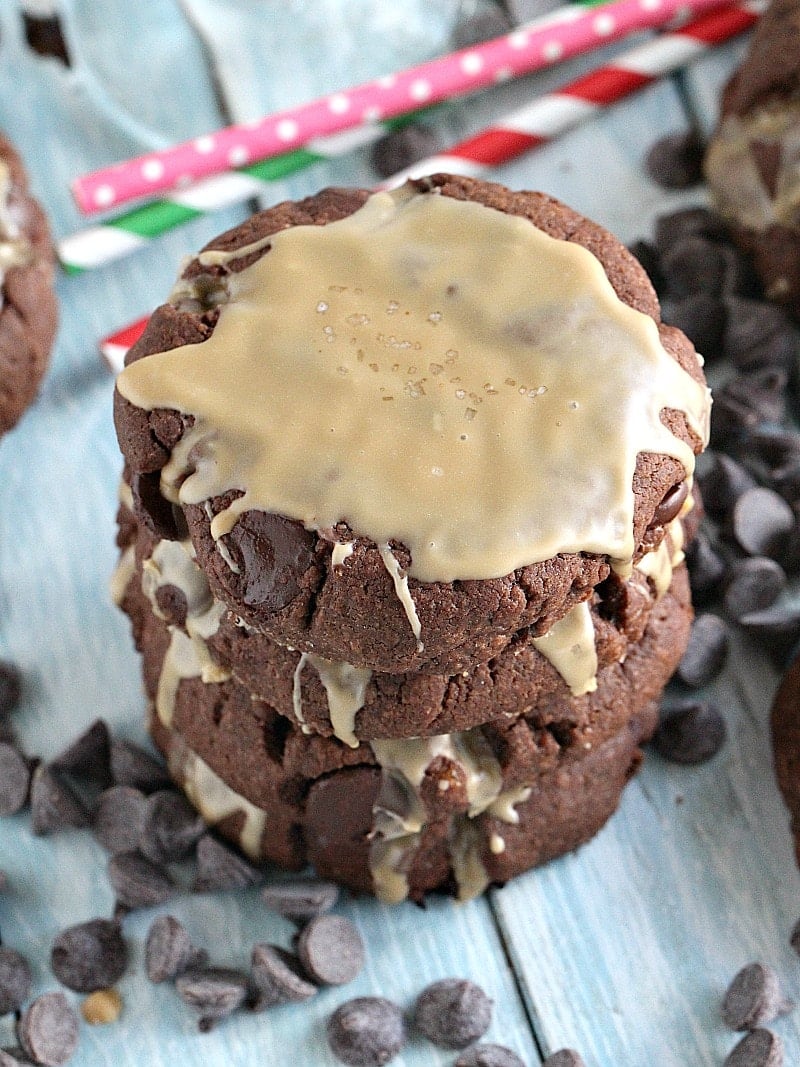 Reason number two why these Chocolate Brown Butter Cookies are so easy to make is that you don't need a mixer! Yes, thats right, no whisk cleaning, no high speed whisking! All you need is a large bowl, a spatula and a skillet to melt that butter.
So, start to finish it will take you only 30 minutes, yes, you read it right in 30 minutes you can enjoy these Chocolate Brown Butter Cookies and taste their chocolaty glory. BUT, if you are anything like me, you won't settle for just chocolate cookies, but you will actually take the time to wait for the cookies to cool and you will top them with the most amazing Chocolate Cherry Baileys Icing.
Believe me, there is NOTHING better than Chocolate Brown Butter Cookies packed with Chocolate Chips and topped with Chocolate Cherry Baileys Icing.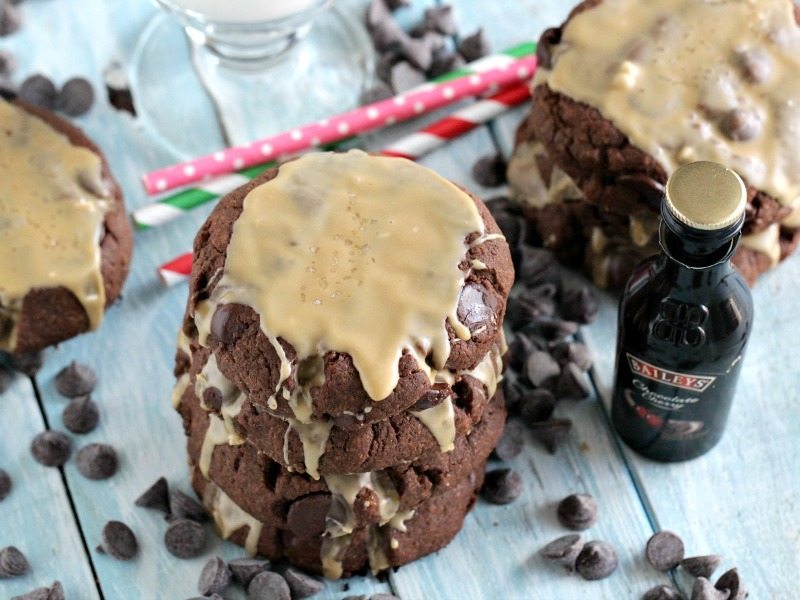 That Chocolate Cherry Baileys Icing is a breeze to make, just a cup of confectioner's sugar and 4 tablespoon of Irish Cream Baileys, you can totally choose whatever flavor you like, I just love the taste of the Chocolate Cherry Baileys on these cookies. Chocolate and cherry always go hand in hand. I even topped them with sea salt for the ultimate fancy cookie experience.
These cookies would be perfect for a St. Patrick's Day celebration, or just as a treat to have on hand.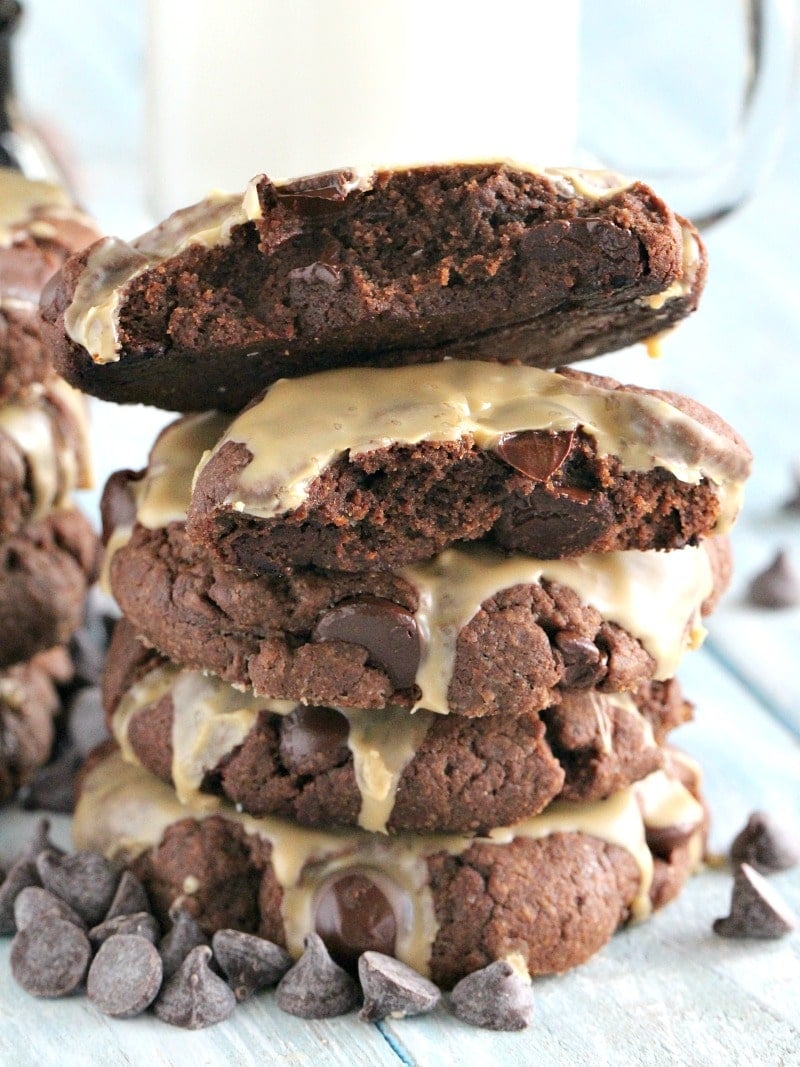 Do yourself a favor and bake these Chocolate Brown Butter Cookies ASAP!

Baileys Chocolate Brown Butter Cookies
Chocolate Brown Butter Cookies have a caramel undertone, are stuffed with chocolate chips and topped with a Chocolate Cherry Baileys Icing and sea salt.
Author:
Katalina Kastravet
Ingredients
Cookies:
1¾ cups all purpose flour
1 teaspoon salt
½ teaspoon baking soda
½ cup unsweetened dark cocoa powder
15 tablespoons/ 212 grams unsalted butter, chopped
½ cup white sugar
1 cup light or dark brown sugar
1 teaspoon vanilla extract
1 large egg
1 large egg yolk
1 cup chocolate chips
Icing:
1 cup confectioner's sugar, sifted
4 tablespoons Baileys
sea salt - optional
Instructions
Preheat oven to 375F.
Line two baking sheets with parchment paper and set aside.
In a medium bowl whisk together dry ingredients: flour, salt, cocoa powder and baking soda, set aside.
Add white and brown sugar, plus vanilla to a large bowl and set aside.
In a medium skillet set over medium high heat, melt butter for 2 minutes, stir and swirl it around the pan, allowing it to brown. Keep the butter moving so it doesn't burn. Brown it for about 3 minutes, until it has a dark golden brown color.
Remove the pan from the heat and pour the butter over the sugars, using a whisk start mixing them well for about 1 minute. Add the egg and whisk until well combined, add the egg yolk and whisk for about 30 seconds to 1 minute, until fully combined. The mixture must be smooth and shiny.
Add the flour mixture and using a spatula stir until just combined, about 1 minute. Gently stir in chocolate chips. The batter will be soft and very shiny.
Use about 4 tablespoons of batter to form a cookie ball, flatten it into you hand and place cookies 2 inches apart on the prepared baking sheets. Bake for 10-12 minutes, mid baking switch the sheet trays in the oven: the upper one goes to the bottom, and the bottom one is moved up. The cookies are done when set around the edges, but puffy in the middle. Mine were perfectly baked in 12 minutes.
Allow cookies to cool on the pan for 1 to 2 minutes, then transfer to a wire rack to cool completely.
Icing:
Mix powdered sugar with Baileys 1 tablespoon at a time, until pourable - spreadable (mixture will thicken slightly as it sets).
Using a spoon, pour the mixture over the cookies, garnish with sea salt.
Peas and Peonies, LLC. owns the copyright on all images and text and does not allow for its original recipes and pictures to be reproduced anywhere other than at this site unless authorization is given. If you enjoyed the recipe and would like to publish it on your own site, please re-write it in your own words, and link back to my site and recipe page. Copying and/or pasting full recipes to social media or personal blogs is strictly prohibited. Sharing this recipe is very much appreciated and encouraged. Read my disclosure and privacy policy. This post may contain affiliate links.