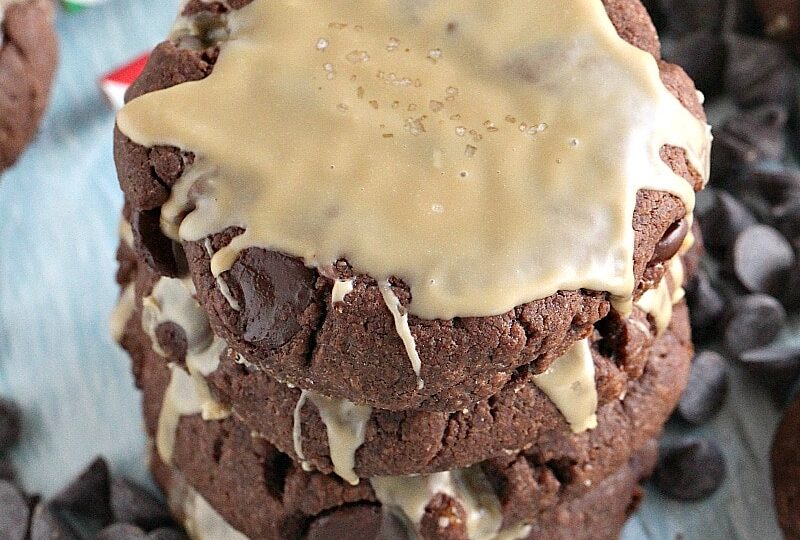 Baileys Chocolate Brown Butter Cookies
Chocolate Brown Butter Cookies have a caramel undertone, are stuffed with chocolate chips, and topped with a chocolate cherry Baileys icing and sea salt.
I am in love with Baileys, and making easy and delicious Baileys desserts is somewhat of a quest for me. After making Chocolate Baileys Poke Cake and Chocolate Cherry Baileys Cookies, I decided to indulge you with these easy and delicious cookies.
Baileys Chocolate Brown Butter Cookies
There is nothing better than the smell of fresh cookies in the oven, and that smell is even better when you bake Chocolate Brown Butter Cookies loaded with chocolate chips. Really, there is probably no better way to start a Sunday morning. These are some of the easiest cookies you will ever make, and also some of the most delicious. Gotta love it when easy and delicious is in the description of a recipe.
The Chocolate Brown Butter Cookies have a magnificent caramel undertone. Combine that with chocolate and chocolate chips and you can totally see how these cookies are out of this world. Also, they are easy to make, and you don't need a mixer!
All you need is a large bowl, a spatula, and a skillet to melt that butter. So, from start to finish, it will take you only 30 minutes to produce these delicious Chocolate Brown Butter Cookies.
Why you will love these Chocolate Cherry Brown Butter Cookies?
They are a breeze to make, with minimum ingredients.
The Baileys and chocolate combo is to die for.
Can be made 1 or 2 days in advance so you don't have to worry about a last-minute dessert.
Can be the perfect treat for St. Patrick's Day celebration.
How long will Chocolate Butter Cookies stay fresh?
The Cookies can be stored wrapped in plastic wrap at room temperature for about 5-7 days.
CAN YOU STORE AND FREEZE them?
Absolutely! Cool the cookies completely and fully wrap them in plastic wrap, tightly. After that wrap in aluminum foil. Freeze for up to 2-3 months. Defrost before serving.
Deliciousness to your inbox
Enjoy weekly hand picked recipes and recommendations