Chocolate Cherry Baileys Cookies with Walnuts
This post may contain affiliate links. Please read my disclosure policy.
Scrumptious and aromatic chocolate cherry baileys cookies are loaded with walnuts, very chocolaty, dense, soft and with the most amazing cherry flavor.
I have been on a chocolate kick lately, first with these Chocolate Truffle Cookies and after that I brought you Cognac Caramel Brownies, now I have another to die for dessert: Chocolate Cherry Baileys Cookies, if those four words don't sound like happiness and love to you in cookie form, than you probably never experienced true happiness and love.

These are some to die for cookies, moist, scrumptious, chocolaty and nutty! I love everything about them, rich and irresistible.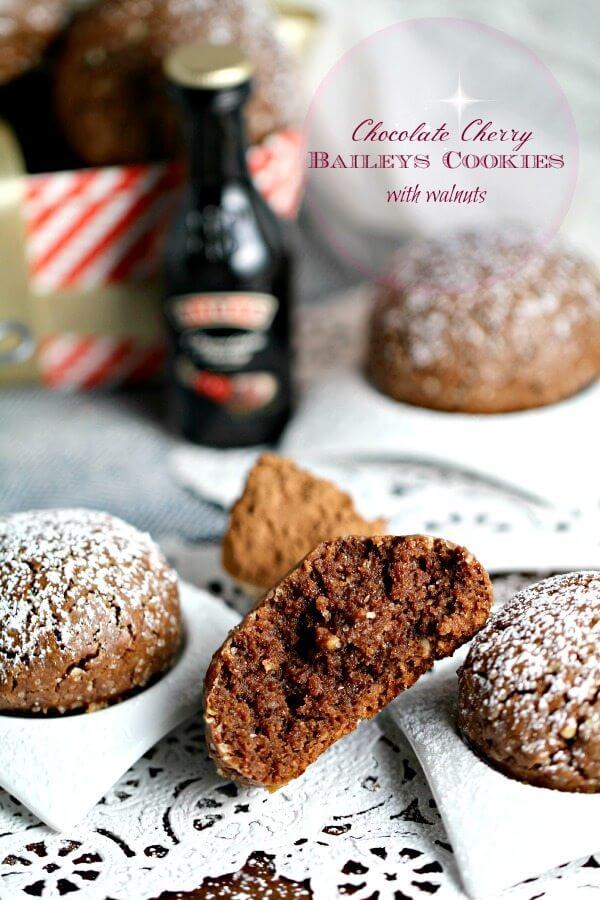 I think these cookies are insanely good, and if you never added booze to your dessert you must definitely try it as its amazing, the flavor from the Chocolate Cherry Baileys is like a holiday bottled, baked and placed on your counter to enjoy. These cookies are so fragrant and aromatic that I ended up starring at them and smelling them for a few minutes without even blinking. Weird I know, but you have to try them to understand my deep feelings for these babes.
I baked them as a welcome back dessert for my father and father in law who recently came to visit us, and they loved them so much. The texture is great, these are dense, a little crumbly cookies, loaded with chocolate flavor, the finely chopped nuts are like beautiful specs of gold and definitely add some level of well, obvious nuttiness, and work in harmony with the chocolate and cherry flavors.

MY LATEST VIDEOS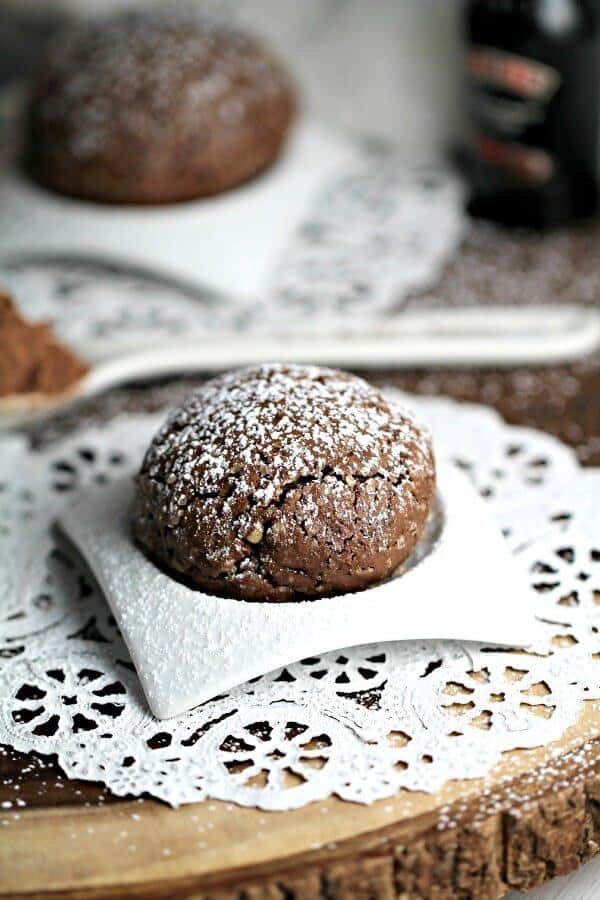 The chocolate cherry baileys is what takes these cookies over the top, with a great maraschino cherry flavor, a sweetness and softness that only an isrish cream liqueur can add to a dessert.
I also loved using turbinado sugar in this recipe, first I think its so much more flavorful, and I liked how it never fully melted, you can see the crystals on top of the cookies even after baking them, in my opinion this is one of the reasons my cookies are not flat, but maintained a nice rounded body, and since this is high quality sugar its very nice to feel it melting in your mouth with each bite.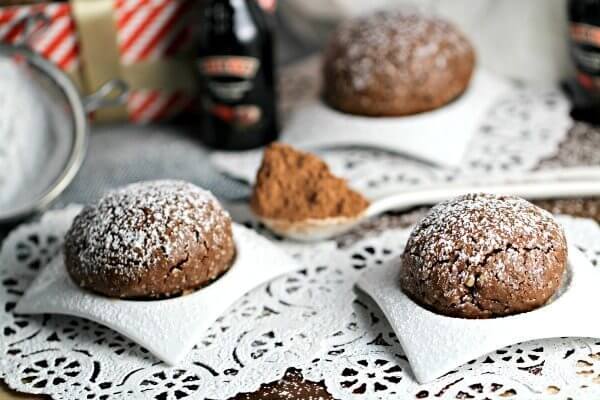 I topped the cookies with some powdered sugar to make them a little more festive, its totally optional, but I love it. Now, if you love baileys and dessert with booze, you should definitely try these cookies, it will make your life so much better, they bring happiness and joy.

Chocolate Cherry Baileys Cookies with Walnuts
Scrumptious and aromatic chocolate cherry baileys cookies are loaded with walnuts, very chocolaty, dense, soft and with the most amazing cherry flavor.
Author:
Katalina Kastravet
Ingredients
2 cups all-purpose flour
½ teaspoons baking soda
¼ cup dark cocoa powder
¼ teaspoon sea salt
1 stick (1/2 cup) of unsalted butter, melted and cooled
1½ cup turbinado raw sugar
1 egg + 1 egg yolk, at room temperature
¼ cup Chocolate Cherry Baileys Irish Cream
1 cup walnuts, measure then grind
Optional: ½ cup powdered sugar
Instructions
In a medium bowl, mix flour, cocoa, salt and baking soda in a bowl and set aside.
In the bowl of an electric mixer beat melted butter and sugar until combined. Add the egg, egg yolk, baileys and stir until mixed.
Replace the wire attachement with the paddle attachement and gradually add flour and mix until a dough forms. Add grinded walnuts and give it a final easy mix. Refrigerate dough for 30 minutes before baking.
Preheat oven to 325 degrees F.
Remove dough from the fridge and roll into golfball sized balls. Set on a non-stick baking sheet with 2 inches between each. Bake for 12-14 minutes or until the edges are set and the middles are still soft. Let cool completely then top with powdered sugar.
Peas and Peonies, LLC. owns the copyright on all images and text and does not allow for its original recipes and pictures to be reproduced anywhere other than at this site unless authorization is given. If you enjoyed the recipe and would like to publish it on your own site, please re-write it in your own words, and link back to my site and recipe page. Copying and/or pasting full recipes to social media or personal blogs is strictly prohibited. Sharing this recipe is very much appreciated and encouraged. Read my disclosure and privacy policy. This post may contain affiliate links.