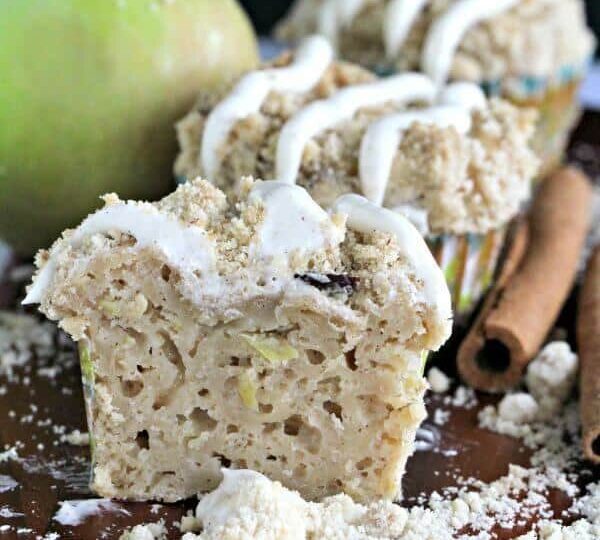 Apple Bacon Muffins
Apple Bacon Muffins are topped with a bacon streusel and cinnamon cream cheese frosting. The muffins are very easy to make, soft, and perfect for fall season.
Muffins are a specialty in our kitchen, and we love making them puffy and delicious like Ube Purple Muffins, Cranberry Orange Muffins and Chocolate Chip Ricotta Muffins.
Apple Bacon Muffins
These Apple Bacon Muffins are my first official "fall recipe" and they must make an appearance in your kitchen. They pack the best fall flavors, green apples and cinnamon, and lots of cinnamon. But at the same time, they won't piss off any people who can't really let go of summer, as these apple bacon muffins don't involve any pumpkin.
I decided that I want something scrumptious and delicious, something that is not too complicated or time consuming. Hence, these apple bacon muffins meet all those requirements. They are moist, not too sweet, soft, with a tad sticky crumble. You can spot grated pieces of green apple thru them, that add a nice pop of color and great texture.
I didn't use any butter in these apple bacon muffins, since the apples provide enough moisture. Now, let me introduce you to that bacon streusel crumble! Also, I didn't put bacon in the muffins, I cooked a few stripes, and crumbled them. The, I mixed the pieces into a delicious cinnamon buttery streusel, that I put on top of the muffins. The bacon flavor is nor overpowering, its very subtle, and the bacon pieces add a nice touch. Also, a little saltines and chewiness combined with all the sweetness and cinnamon flavor. I found it very nice to have this balance of sweet and savory. If you would love to have a more pronounced bacon flavor feel, free to add some cooked pieces to the muffin batter.
Why you will love these Apple Bacon Muffins:
Firstly, they are rich and moist, and are a show stopper dessert.
Also, easy to find ingredients and minimum prep work and dishes to clean.
Perfect for brunch parties and for bigger crowds.
Similarly, they are perfect fall dessert, since it incorporates the apples and bacon.
Easy to transport if you have to take it to a brunch party.
In addition, its a great ways to use in season apples.
Can be made 1 or 2 days in advance so you don't have to worry about a last minute dessert.
How long will the Apple Bacon Muffins stay fresh?
The muffins can be stored wrapped in plastic wrap at room temperature for about 4-5 days.
Can you freeze the Apple Bacon Muffins?
Absolutely! First, cool the muffins completely and fully wrap it in plastic wrap, tightly. After that, wrap in aluminum foil. Freeze for up to 2 months. Defrost before slicing.
TOOLS/INGREDIENTS I USED TO MAKE THESE Apple Bacon Muffins:
Regular Muffin Pan – I use this pan to bake muffins and regular size cupcakes, I had it for many years and absolutely love it.
Deliciousness to your inbox
Enjoy weekly hand picked recipes and recommendations