Apple Bacon Muffins with Cinnamon Frosting
This post may contain affiliate links. Please read my disclosure policy.
Cinnamon loaded apple bacon muffins are topped with a bacon streusel and cinnamon cream cheese frosting make for a perfect transition into fall.
Do I have something so good and delicious for you today!!! These apple bacon muffins are my first official "fall recipe" and they must make an appearance in your kitchen. They pack the best fall flavors, green apples and cinnamon – lots of cinnamon. But at the same time, they won't piss off any people who can't really let go of summer as these apple bacon muffins don't involve any pumpkin 🙂 yet….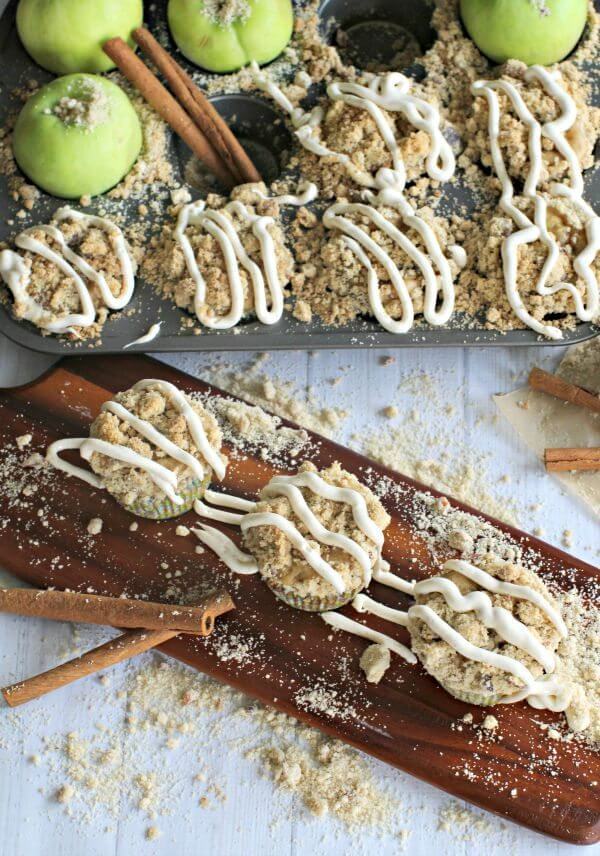 Over the weekend I wanted to bake something with all the apples that I had on hand. My husband went to Canada a few weeks ago and on their way back to US they stopped by an orchard and picked some fresh green apples. I decided that I want something scrumptious and delicious, something that is not too complicated or time consuming, and these apple bacon muffins meet all those requirements. They are moist, not too sweet, soft, with a tad sticky crumble. You can spot grated pieces of green apple thru them that add a nice pop of color and great texture.

I didn't use any butter in these apple bacon muffins, since the apples provide enough moisture. Now, let me introduce you to that bacon streusel crumble! I didn't put bacon in the muffins, I cooked a few stripes, crumbled them and mixed the pieces into a delicious cinnamon buttery streusel that I put on top of the muffins. The bacon flavor is nor overpowering, its very subtle, and the bacon pieces add a nice touch, a little saltines and chewiness combined with all the sweetness and cinnamon flavor. I found it very nice to have this balance of sweet and savory. If you would love to have a more pronounced bacon flavor feel free to add some cooked pieces to the muffin batter.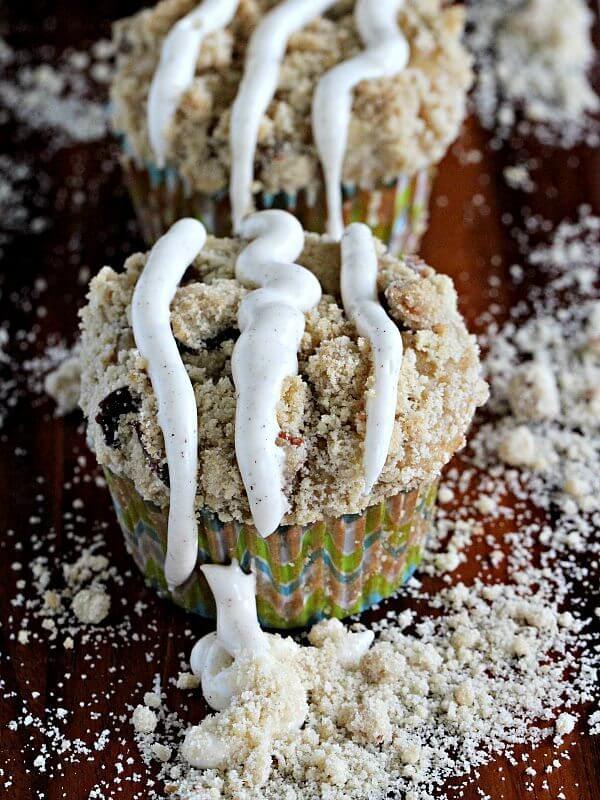 Like these apple bacon muffins didn't have enough good things going on, I made a cinnamon cream cheese frosting and drizzled it over the bacon streusel topping. I am so glad I did that, the cream cheese frosting has a more prominent cinnamon flavor, that makes this such a perfect fall treat, its creaminess combines so well with all those bacon streusel crumbles. It's definitely a nice addition to these apple bacon muffins.

MY LATEST VIDEOS
To give you a better view, look at the below picture, the frosting, the bacon streusel, so buttery, sweet and delicious, aren't these apple bacon muffins irresistible?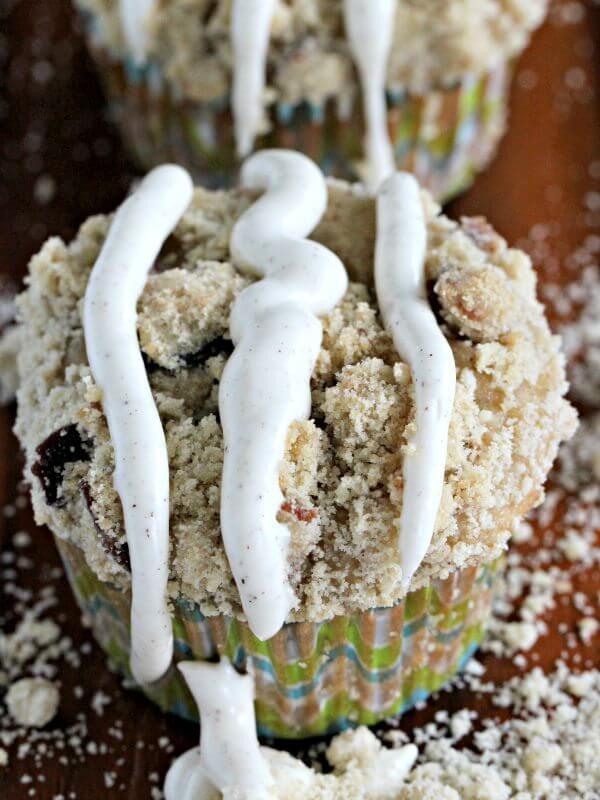 I had one right from the oven, and its softness and beautiful flavors make these apple bacon muffins a must try, and you will also put to some good use those apples!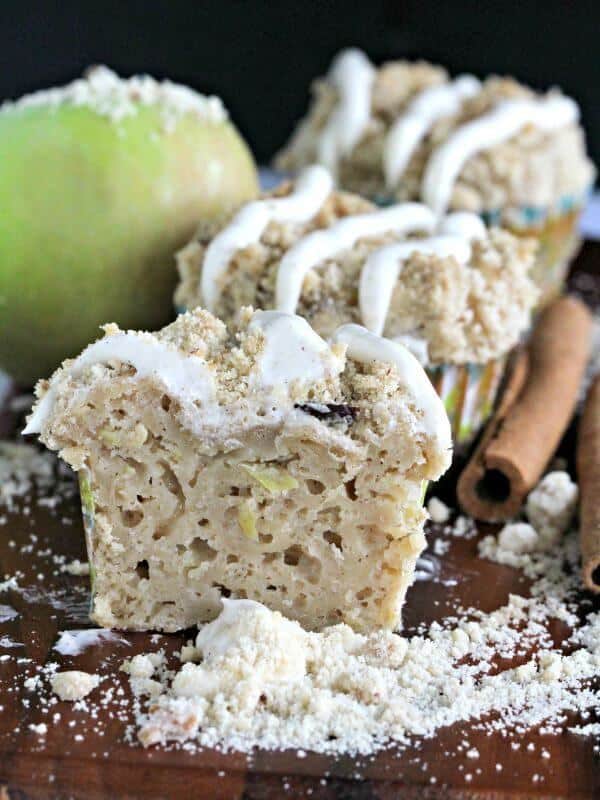 Too bad I don't have any left, but I know for sure that with my next batch of apples I will make again these apple bacon muffins and will top them once again with that cinnamon cream cheese frosting!

Apple Bacon Muffins with Cinnamon Frosting
Cinnamon loaded apple bacon muffins are topped with a bacon streusel and cinnamon cream cheese frosting make for a perfect transition into fall.
Author:
Katalina Kastravet
Ingredients
Apple Muffins:
2 cups all purpose flour
2 teaspoon baking powder
¾ teaspoon salt
¼ teaspoon baking soda
2 green apples, grated
1 cup sugar
2 eggs
1 teaspoon cinnamon
1 cup whole fat plain yogurt
cooking spray
Bacon Streusel:
5 bacon stripes, cooked and crumbled
3 tablespoons unsalted butter
¾ cups all-purpose flour
½ cup light brown sugar
2 teaspoons ground cinnamon
¼ teaspoon salt
Cinnamon Cream Cheese Frosting:
4 ounces cream cheese, room temperature
1 cup powdered sugar
¼ cup (1/2 stick) unsalted butter, room temperature
1 teaspoon cinnamon
Instructions
Apple Muffins:
Preheat oven to 350 degrees.
Place paper cups in a muffin tin and spray them a little with cooking spray.
In a medium bowl combine together the dry ingredients: flour, baking powder, baking soda, salt and cinnamon. Set aside.
In a large mixing bowl (using a hand mixer or electric mixer fitted with the wire attachment) whisk together sugar and eggs until light and fluffy, add the yogurt and dry ingredients, mix until combined.
Squeeze the water from the apples and fold them into the batter using a spatula.
Pour the batter into the baking muffin tins layered with paper cups.
For the Bacon Streusel:
First cook the bacon stripes, cover a baking pan with parchment paper, lay them on the paper and cook at 350F for 10-15 minutes or until crispy. Remove from oven and crumble.
In a sauce pan over medium heat melt the butter, once the butter is melted remove from heat and add the rest of the ingredients, including the bacon pieces. Mix with a fork until combined.
Top the muffins with the bacon streusel topping.
Bake for 25-30 minutes or until a wooded cake tester inserted in the center of the muffin comes out clean.
Remove from oven and transfer muffins to cool on a cooling rack. Wait for the muffins to cool completely before topping with frosting.
Cinnamon Cream Cheese Frosting:
In the bowl of an electric mixer cream together butter, cream cheese, sugar and cinnamon until light and fluffy. Drizzle over the apple bacon muffins.
Enjoy!
Peas and Peonies, LLC. owns the copyright on all images and text and does not allow for its original recipes and pictures to be reproduced anywhere other than at this site unless authorization is given. If you enjoyed the recipe and would like to publish it on your own site, please re-write it in your own words, and link back to my site and recipe page. Copying and/or pasting full recipes to social media or personal blogs is strictly prohibited. Sharing this recipe is very much appreciated and encouraged. Read my disclosure and privacy policy. This post may contain affiliate links.