Roasted Spaghetti Squash [Video]
Roasted Spaghetti Squash is an easy vegan and healthy meal that takes a little less than an hour to be ready. Roast this delicious vegetable and have the perfect healthy and versatile side dish or use in the main course meal. Watch step by step recipe video below.
Squash is enjoyable in so many different dishes, some other dishes that I made with squash are Brown Sugar Spaghetti Squash, Butternut Squash Trifle and Squash Stuffed Pinwheels. We like eating and making this incredibly easy and delicious vegetarian dish.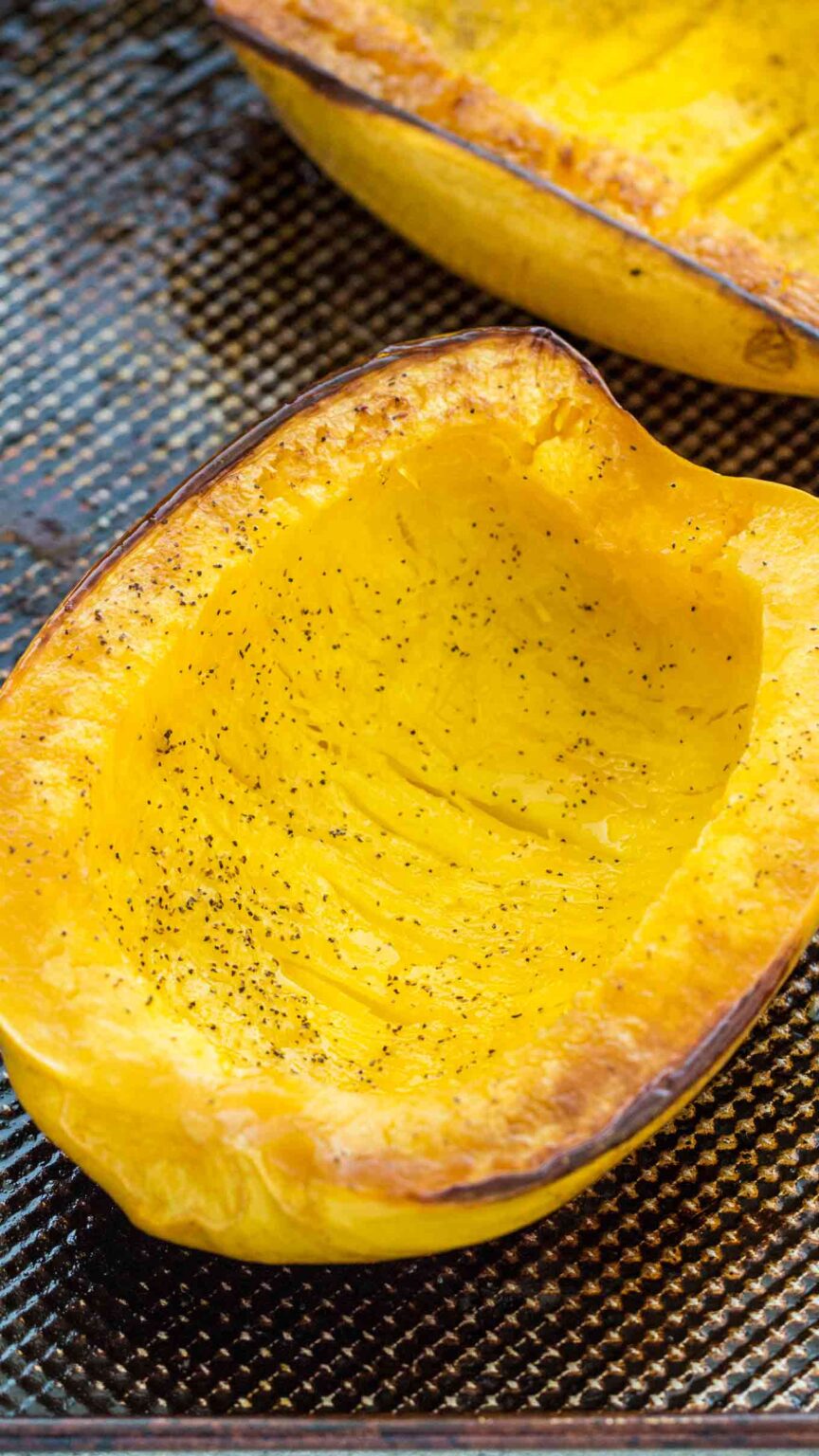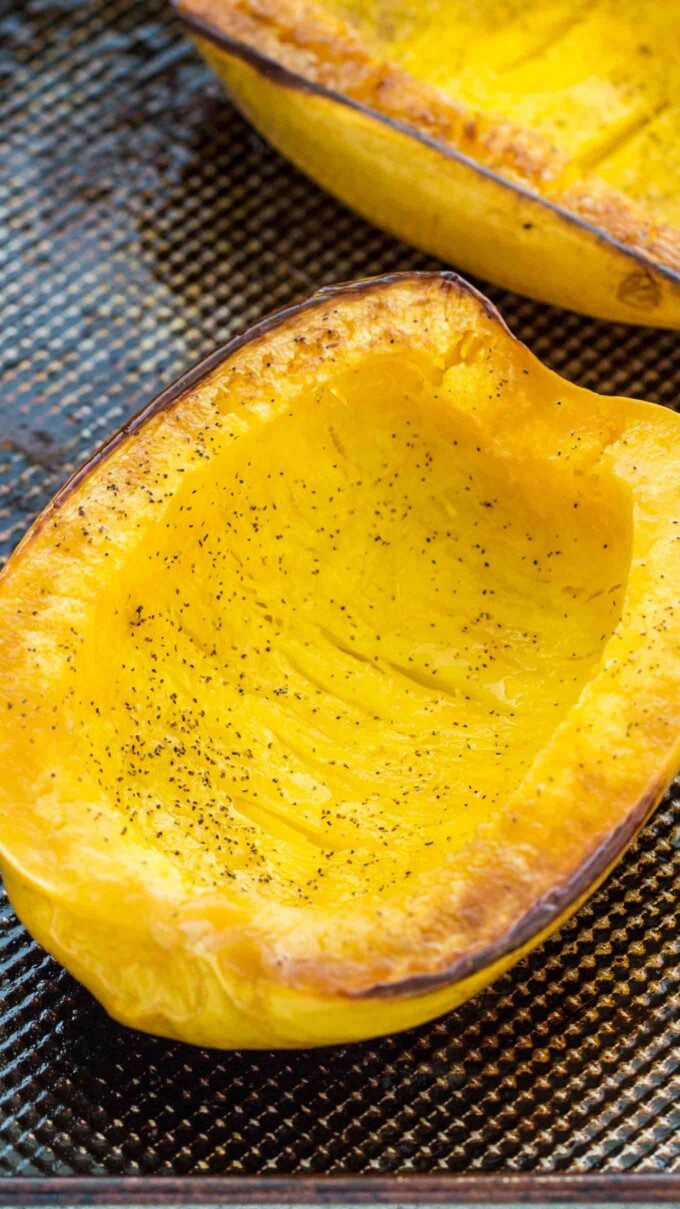 Easy Roasted Spaghetti Squash
Roasted Spaghetti Squash is just what I look forward to eating when I am watching my calories or just prefer something on the lighter side. This tasty veggie is also a great alternative to normal noodles. Similarly, this is a great gluten-free option and it tastes pretty much better than regular noodles, minus the flour.
I also love the simplicity of the spaghetti squash. All you need is a little olive oil and a dash of salt and pepper and everything will taste fantastic. Not only is this veggie great for eating, but it's also great for storing too. Put it in the freezer and it will be good as new when you take it out and re-roast it in the oven.
While pretty easy to make, the only utensils you need to complete it is a knife, fork, and a baking sheet. Use a fork to add texture and make it look like actual noodles! After you try this recipe, you won't even want to go back to eating "normal" noodles.
Do you roast spaghetti squash up or down?
It has become more apparent that it is better to roast the spaghetti squash with the cut side down. In order to do so, take the squash and cut it in half and remove the seeds. After you brush it generously with olive oil, salt, and pepper, place it cut sides down, and roast until the squash is tender.
Placing it cut side down, will help caramelize the edges and make them extra delicious.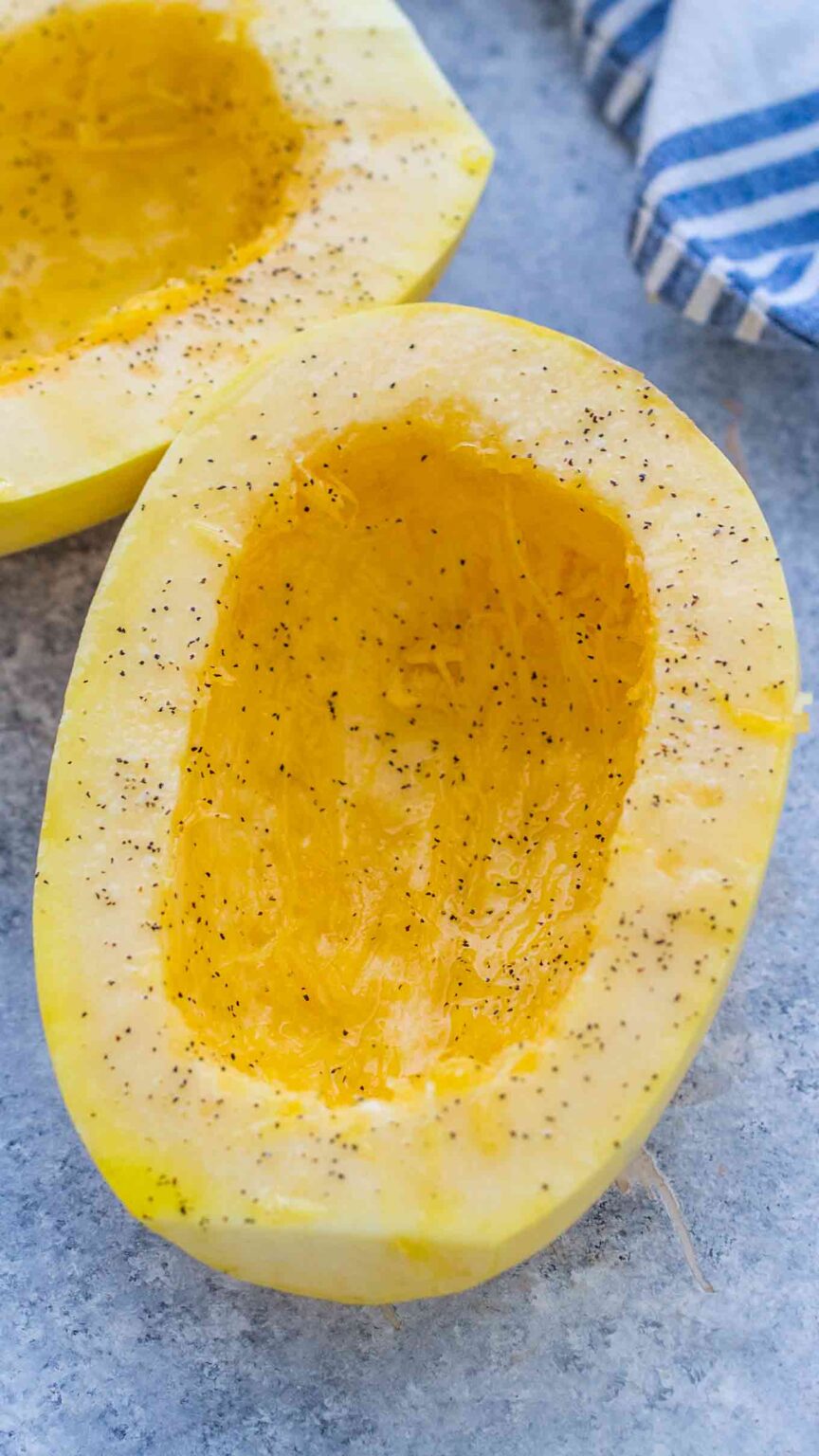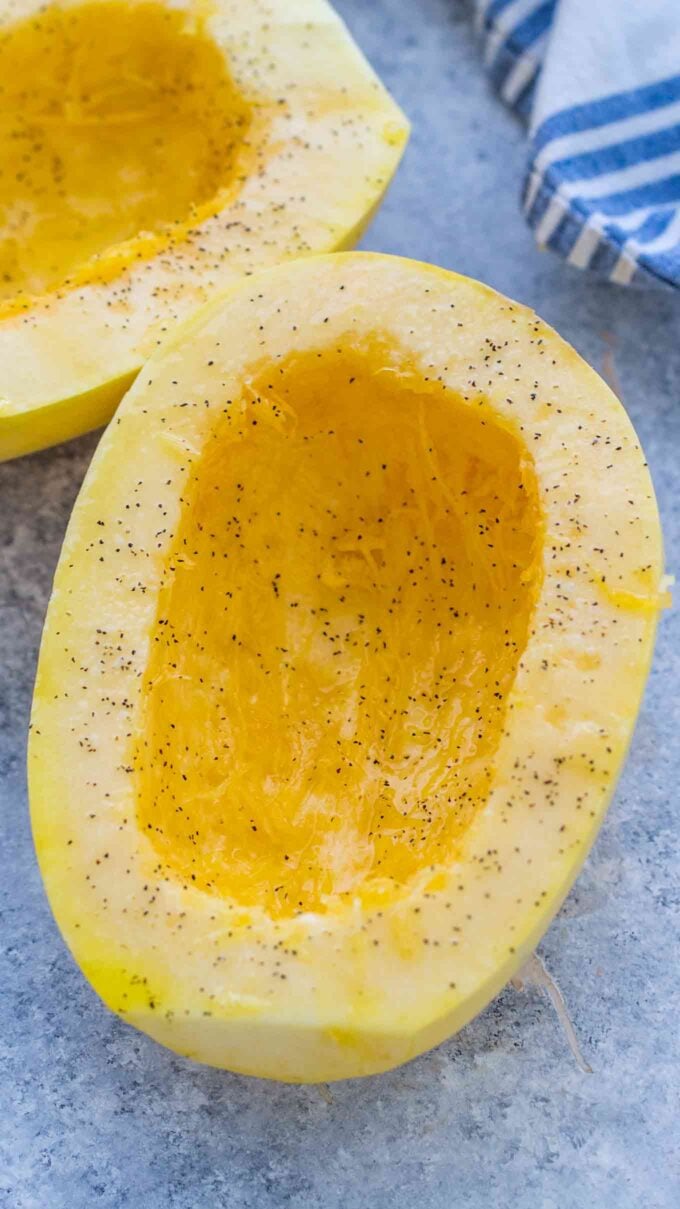 What is the best way to cook spaghetti squash?
Personally, we think the best way is to cook it in the oven. It tastes delicious and is nicely roasted, the caramelized edges are especially delicious. Also, it comes out with better consistency in the oven rather than in the microwave.
However, you can cook it in many different ways. Check other cooking methods below:
Microwave Method:
This is a quicker method if you are in a hurry it is definitely worth trying it.
First, wash and dry the outside of the squash. As always, cut it in half and scoop out the seeds.

Now, p

rick the outside with a fork, 8 to 10 times per side. Place the squash cut side down on a microwave-safe plate and cover it with a wet towel.

Next, place in the microwave for 6-8 minutes on high, depends on how large the squash is. Then turn and cook an additional 6 minutes, test it with a fork if it's tender enough. If needed, microwave it for a few more minutes.

Remove from the microwave and let it cool for about 10 minutes as it will be very hot.
Slow Cooker Method:
Start by washing and drying the outside of the squash. As always, cut it in half and scoop out the seeds.

Next, p

rick the outside with a fork, 8 to 10 times per side.

Pour 1/2 cup water into an 8qt slow cooker, place the squash skin side down (cut side up) and cook on Low 4 to 6 hours.

Remove it from the slow cooker when ready, it should be tender when you pierce it with a fork.

Let it cool for 15 minutes before serving.
Pressure Cooker Method:
Slice the spaghetti squash in half lengthwise and scoop out the seeds. To make this easier, use a cookie scoop or an ice cream scoop.
Next, place a trivet onto the bottom of the Instant Pot or any other electric pressure cooker. Add a cup of water and arrange the squash halves on top of the trivet.
Secure the lid and point the valve to the sealed position.
Pressure cook on high pressure for 7 minutes (for a 2.5-3lbs squash), followed by a Quick Release.
Next, remove the lid, and use a fork to check if its tender enough. If needed, cook for another 2-3 more minutes.
Once done, transfer the spaghetti squash to a plate and use a fork to fluff it up and shred the flesh into "spaghetti".
Oven-roasted method
:
Make sure the oven is preheated to 400 degrees.
Cut the Spaghetti squash in half and take the seeds out.
Next, rub some olive oil, salt, and pepper onto the inside of it.
Place the cut side down on a lightly greased baking sheet.
Roast the squash until you can easily shred the flesh and tender when poked with a fork.
How long do you cook spaghetti squash at 400?
Usually, you roast it in the oven for about 35 to 40 minutes. Though, it depends on the size of the squash, as it can take longer for a larger one. In order to know if it is cooked all the way through or not take a knife or fork and poke it into the squash.
If it can go through easily then it is ready to come out of the oven.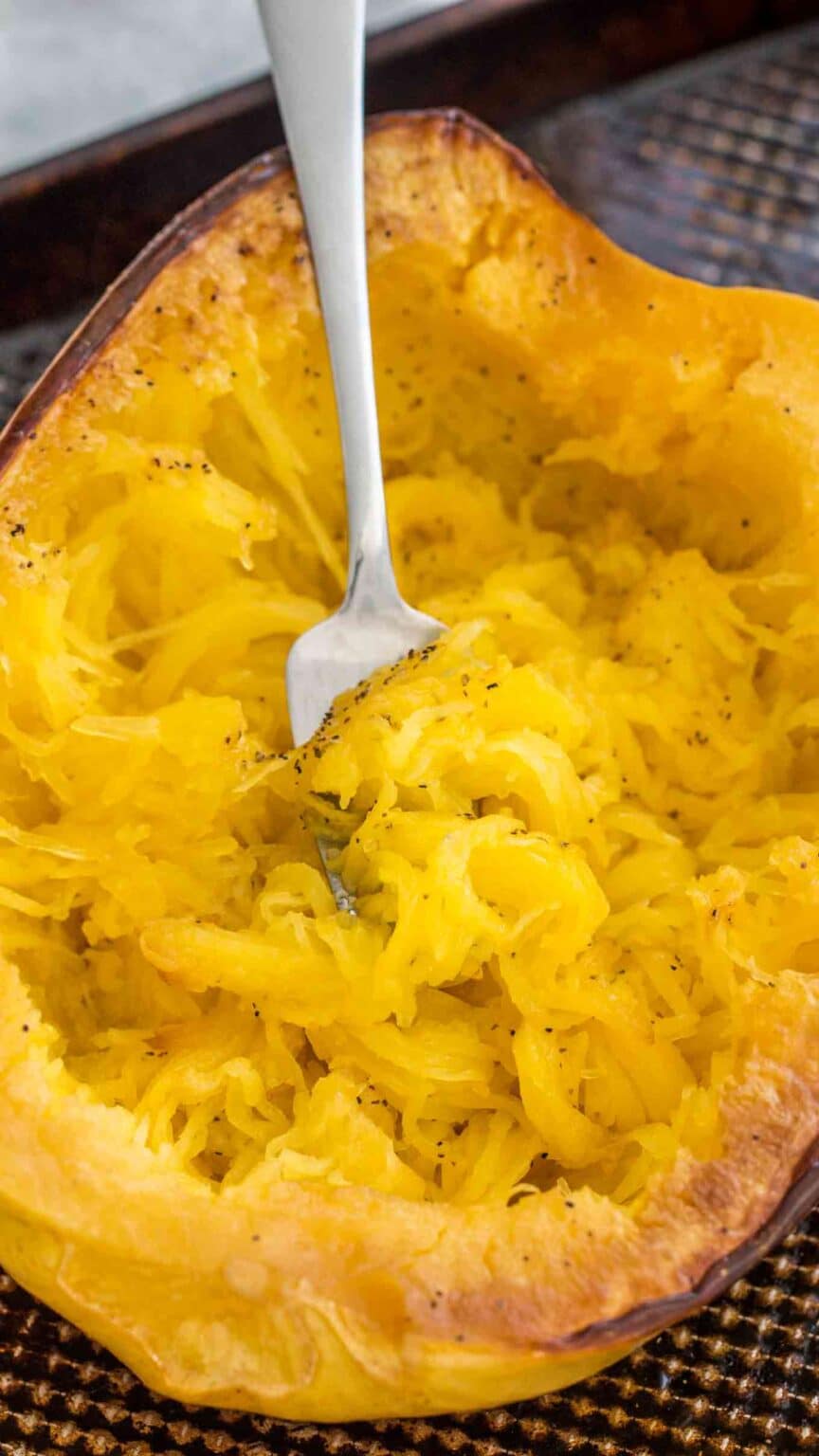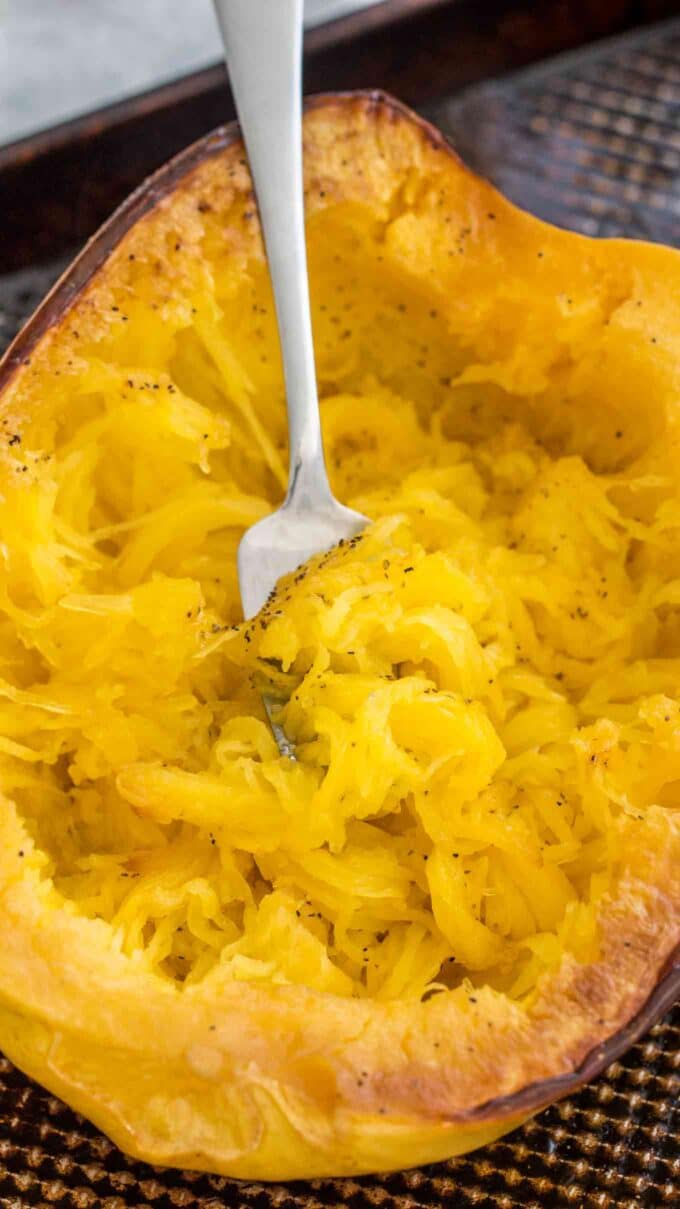 Is spaghetti squash keto?
Roasted Spaghetti Squash is not keto because it contains a higher amount of carbs. If you would like to eat spaghetti squash on keto make sure to be conscious of the portion that you are taking in and what ingredients you are putting in it.
Can you freeze roasted spaghetti squash?
Absolutely! Spaghetti squash is very easy to freeze. Simply put it in a Ziploc bag and place it in the freezer until you would like to take it out and eat it again.
Watch Recipe Video: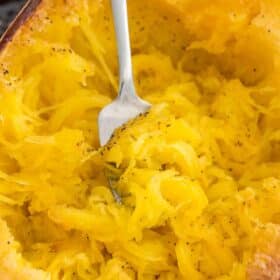 Roasted Spaghetti Squash
Roasted Spaghetti Squash is an easy vegan and healthy meal that takes a little less than an hour to be ready.
Save
Share
Print
Pin
Rate
Ingredients
1

spaghetti squash

(2-3 pounds, halved lengthwise and seeded)

3

tablespoons

extra-virgin olive oil

Coarse salt and freshly ground pepper
Instructions
Preheat oven to 420 degrees F.

Wash the squash well, dry it and slice it lengthwise.

Scoop the seeds.

Drizzle each squash half with olive oil. Rub it on the inside (the flesh) and on the outside. Use one tablespoon of olive oil per halve.

Season the flesh with salt and pepper.

Arrange it cut side down on a parchment-lined rimmed baking sheet.

Roast in the preheated oven until squash is tender when pierced with a knife or fork, about 45 minutes, to one hour, depending on the size of it.

Remove from oven when done, and let it cool onto the baking sheet for about 10-15 minutes, until able to handle.

Turn it cut side up and using a fork, gently scrape to remove flesh in long strands. Transfer "spaghetti" to a bowl, drizzle with the remaining one tablespoon of olive oil and if desired sprinkle with salt, black pepper, and a squeeze of lemon juice.

Garnish with chopped parsley if desired and pepper flakes for a touch of heat.
Nutrition
Calories:
167
kcal
|
Carbohydrates:
16
g
|
Protein:
1
g
|
Fat:
11
g
|
Saturated Fat:
1
g
|
Cholesterol:
0
mg
|
Sodium:
41
mg
|
Potassium:
260
mg
|
Fiber:
3
g
|
Sugar:
6
g
|
Vitamin A:
290
IU
|
Vitamin C:
5
mg
|
Calcium:
56
mg
|
Iron:
0.8
mg
Pin This Healthy Roasted Spaghetti Squash Recipe to your Favorite Board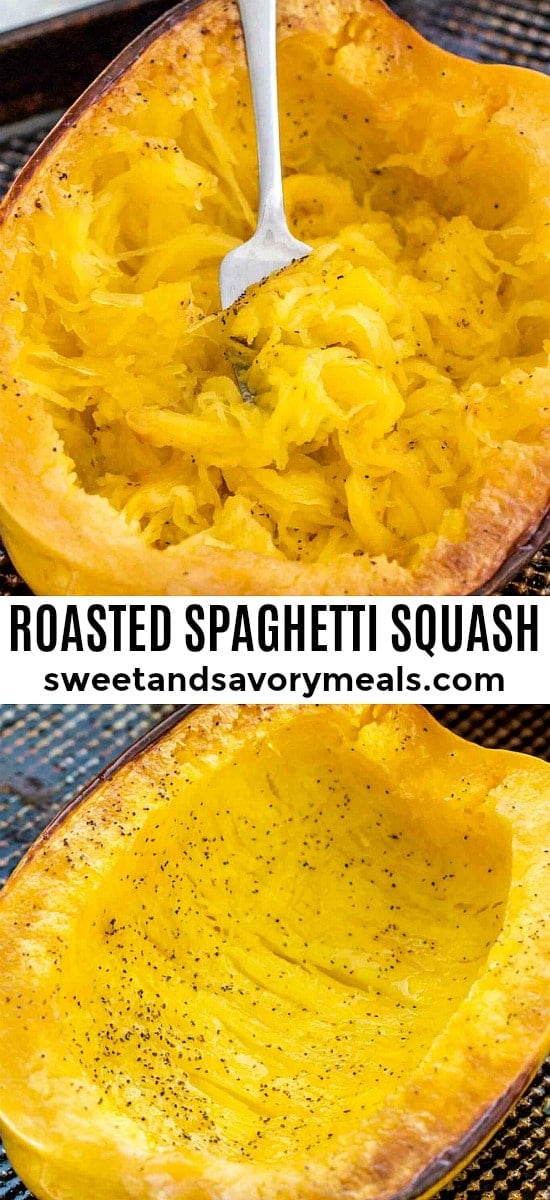 More recipes you might love