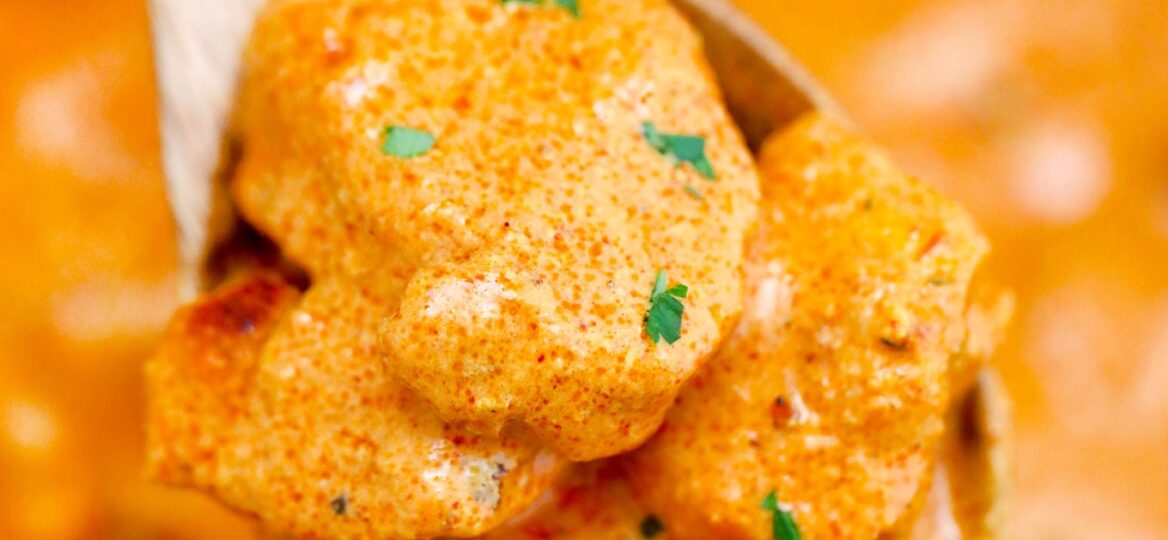 Creamy Butter Chicken [Video]
Butter Chicken is creamy, buttery, and tender! It is full of spices and never short on flavor! A great Indian dish that is possibly the most famous! Also, check out the quick recipe video below and see how easy is it to make!
If you are on the lookout for great Asian dishes like this one, then, you have come to the right place! Try our recipes for Sweet and Sour Shrimp, Instant Pot Mongolian Beef, and Chicken Katsu!
Indian Butter Chicken Recipe
Butter Chicken, well, tastes like butter and we all know that anything that has it tastes good! This is one great example of a chicken dish that turns the rather bland white meat into a flavorful dish with all the spices involved.
And definitely, it is the marinade and the sauce that make the difference. Reminiscent of Tikka Masala, this Indian dish is a great curry dish that may have a long list of ingredients, but the end product is worth it!
There is variety in the flavors that are included in this recipe and everything works together so well. There are aromatics in there, spices, and dairy that makes the sauce delightfully creamy! Just thinking about it makes my mouth watery!
What is Butter Chicken?
It is a dish made with chicken marinated in spices and a curry sauce that goes with it. History has it that it was once accidentally discovered in a restaurant when leftover chicken meat was drenched in a buttery and creamy tomato gravy sauce.
From its humble beginnings from a restaurant in Delhi in the 1950s, it rose to global fame and is now loved all over the world. Its flavorful sauce and tender meat served with rice or naan are now a worldwide hit!
What is Butter Chicken sauce made of?
The ingredient list is not the shortest but definitely, it is packed with flavors that are comforting to taste and not as strong as those in Tikka Masala. You will need the following:
Fat: olive oil and butter
Aromatics: onion, garlic, and ginger
Spices: red chili powder, ground cumin, garam masala, paprika
Base: tomato sauce and heavy cream
Others: salt and sugar
How to Make Butter Chicken
Marinade: The first step is to season the white meat with all the marinade ingredients. Then, let the meat stand for at least 30 minutes.
Fry: In a skillet, put some oil. When the oil turns hot, start frying the marinated chicken in batches, careful not to overcrowd the pan. Note that you need not thoroughly cook the meat, but you only need to brown them for a few minutes.
Cook the sauce: In the same skillet, heat some butter and cook the onions that they caramelize. Add the rest of the aromatics and sauté. Add the spices. When already fragrant, you can add in the rest of the ingredients except for the cream and the sugar. Occasionally stir. Cook until the mixture turns thick and the color turns an earthy shade of red.
Puree: Gather the sauce and blend using a heat-resistant blender to turn it into a puree.
Serve: Put back the sauce and heat some more until it thickens and simmers. Check the meat for doneness. Then, garnish with cilantro and serve!
Can you add other spices?
Yes! There is no strict recipe as to how garam masala is mixed. Hence, you can add other spices freely.
Can I make it in advance?
Yes! The sauce keeps well in the fridge for up to 48 hours upon putting it. If you freeze it, shelf life can be extended for up to 3 months. When ready to use, thaw it overnight.
Recipe Tips
Serve it with rice or naan, to slop the sauce with.
Any part of the chicken will do, so, you can try using the thighs and wings parts.
Add crushed cashew nuts for added texture.