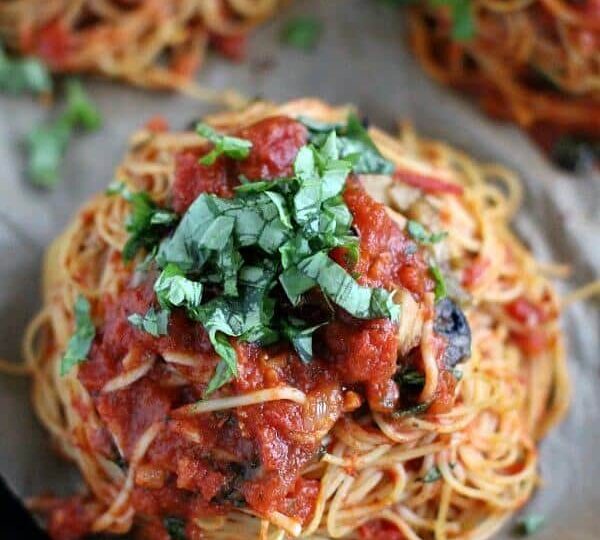 Chicken Mushrooms Spaghetti Nests
Chicken Mushrooms Spaghetti Nests is loaded with chicken, porcini mushroom and caramelized onions.
Pasta dishes are very popular on our blog. In the past we made delicious once like Instant Pot Philly Cheesesteak Pasta, Cheesy Instant Pot Taco Pasta and Instant Pot Jalapeno Popper Pasta.
Chicken Mushrooms Spaghetti Nests
I love a good pasta dish, its always so comforting, and I like the versatility, you can dress it up or down. You can add as many toppings as you want, just like I did in these large and loaded Chicken Mushrooms Spaghetti Nests that turned out delicious. They are stuffed to the brim with a delicious and hearty filling.
Here, I have some chicken breast, porcini mushrooms, fresh mozzarella cheese, basil, marinara sauce and lots of fresh herbs. This dinner was very simple and easy to make and it turned our very good. Also, I loved the simplicity and how all the flavors worked. My husband liked the presentation and requested to have Chicken Mushrooms Spaghetti Nests more often.
Why You'll Love These Chicken Mushrooms Spaghetti Nests Recipe:
Firstly, it's bursting with flavor and coated in the most delicious sauce.
Also, incredibly easy to make, this is the perfect weeknight meal.
Hearty and tasty this meal is a crowd pleaser.
In addition, leftovers are delicious.
Can be made vegetarian.
These Chicken Mushrooms Spaghetti Nests can turn a boring pasta weeknight dinner into something fancy with just minimum effort. It was definitely fun to make and to eat these. You can definitely make them smaller, we were just too hungry to have smaller nests. But next time I plan on making a smaller version with white sauce, will see how that one turns out.
So far we have enjoyed these and definitely plan on making them more often for a quick dinner. They would be nice to serve also for a pasta and wine night with friends. They don't require much work, but taste delicious. You can't go wrong with chicken, caramelized onions and porcini mushrooms.
What kind of wine pairs well with Chicken Mushrooms Spaghetti Nests?
Sauvignon Blanc or Chardonnay would be ideal wines to use for chicken pasta. This is your go-to category. If possible, choose a wine that has a moderate alcohol content, preferably between 10 and 13 percent, and generous acidity.