Chicken Mushrooms Spaghetti Nests
Very easy and delicious, these Chicken Mushrooms Spaghetti Nests are loaded with chicken, porcini mushroom and caramelized onions.
I love a good pasta dish, its always so comforting, and I like the versatility, you can dress it up or down. You can add as many toppings as you want, just like I did in these large and loaded Chicken Mushrooms Spaghetti Nests that turned out delicious. They are stuffed to the brim with a delicious and hearty filling.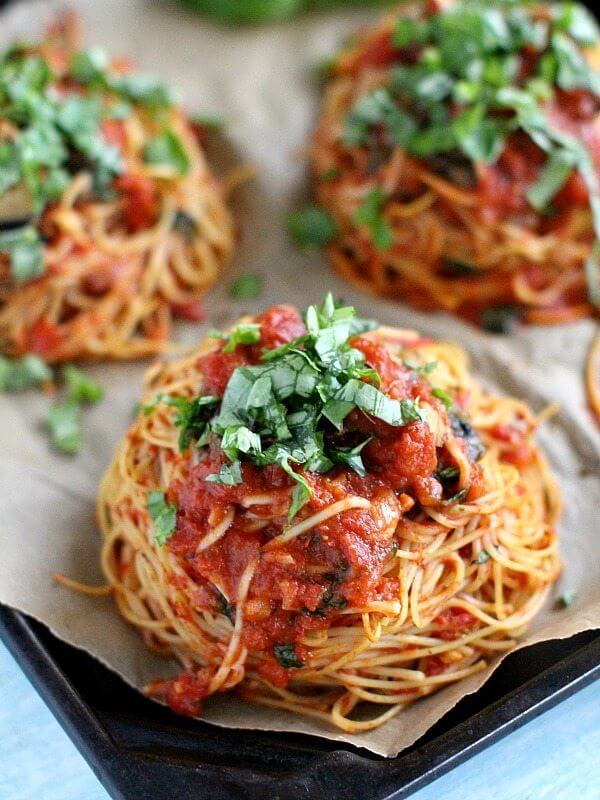 My mom sent me some pictures of some very cute pasta nests, I couldn't get into the kitchen asap to make them for dinner. Obviously, I couldn't keep mine simple, and loaded with good stuff that I fond in the fridge.
Here I have some chicken breast, porcini mushrooms, fresh mozzarella cheese, basil marinara sauce and lots of fresh herbs. This dinner was very simple and easy to make and it turned our very good. Loved the simplicity and how all the flavors worked. My husband liked the presentation and requested to have Chicken Mushrooms Spaghetti Nests more often.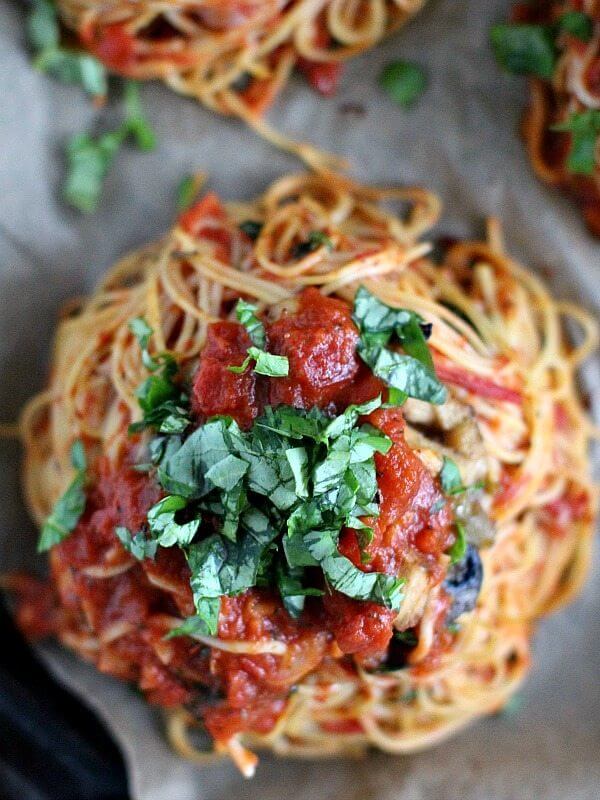 These Chicken Mushrooms Spaghetti Nests can turn a boring pasta weeknight dinner into something fancy with just minimum effort. It was definitely fun to make and to eat these.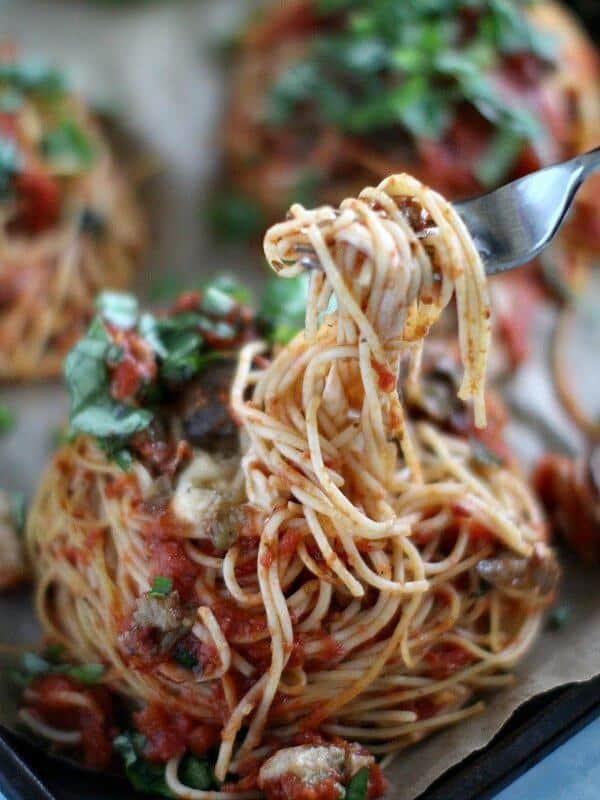 You can definitely make them smaller, we were just too hungry to have smaller nests. But next time I plan on making a smaller version with white sauce, will see how that one turns out. So far we have enjoyed these Chicken Mushrooms Spaghetti Nests and definitely plan on making them more often for a quick dinner.
They would be nice to serve also for a pasta and wine night with friends. They don't require much work, but taste delicious. You can't go wrong with chicken, caramelized onions and porcini mushrooms.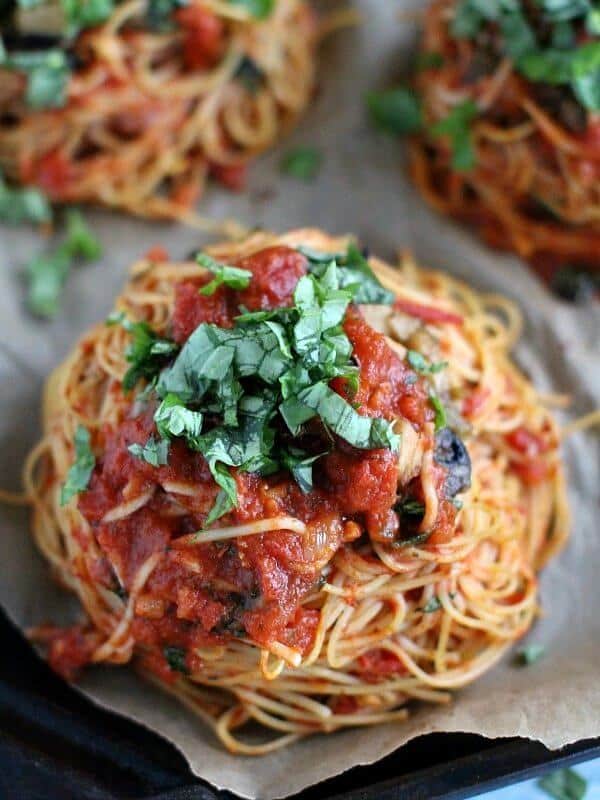 You see what I mean, how can you say no? I am ready to make them again for dinner tonight.
Chicken Mushrooms Spaghetti Nests
Very easy and delicious, these Chicken Mushrooms Spaghetti Nests make a nice fancy weeknight dinner, the perfect pairing for a glass of wine.
Author:
Katalina Kastravet
Ingredients
Pasta:
½ teaspoon kosher salt
1 box spaghetti
2 tablespoons extra-virgin olive oil
1 jar (24 ounces) marinara sauce, warmed
Filling:
1 chicken breast, cubed
5 tablespoons of olive oil
1 onion chopped
6 garlic cloves, minced
3.5 ounces porcini mushrooms
12 small fresh mozzarella balls
bunch of fresh basil
salt and pepper
Instructions
Place an oven rack in the center of the oven and preheat the oven to 350 degrees F. Cover the bottom of a baking pan with parchment paper, or grease with butter.
Pasta:
Bring a large pot of water to a boil over high heat, add olive oil and salt. Add the pasta and cook until tender but still firm to the bite, stirring occasionally, 8 to 10 minutes. Using a colander, drain the pasta and place back into the pot. Add the marinara sauce, gently stir well until combined. Set aside.
Filling:
In a large pan, over medium heat add 5 tablespoons of olive oil and when the oil is hot add the onion. Cook the onion until caramelized, a translucent golden brown color, stir occasionally for about 5 minutes. Add the chopped chicken breast, minced garlic and mushrooms. Cook until the chicken is done, stirring when needed, about 10-15 minutes. Season with salt and pepper as needed. When done remove from heat and set aside.
Assemble:
Twirl ½ cupfuls of the spaghetti mixture around tongs or a large fork and transfer to the prepared pan. Make an indentation in the middle of each nest and fill it with 2 fresh mozzarella balls, a few tablespoons of the chicken mixture and some marinara sauce from the pan. Bake for 15 - 20 minutes.Remove from the oven and top with fresh chopped basil. Using a thin metal spatula, transfer the nests to serving dishes.