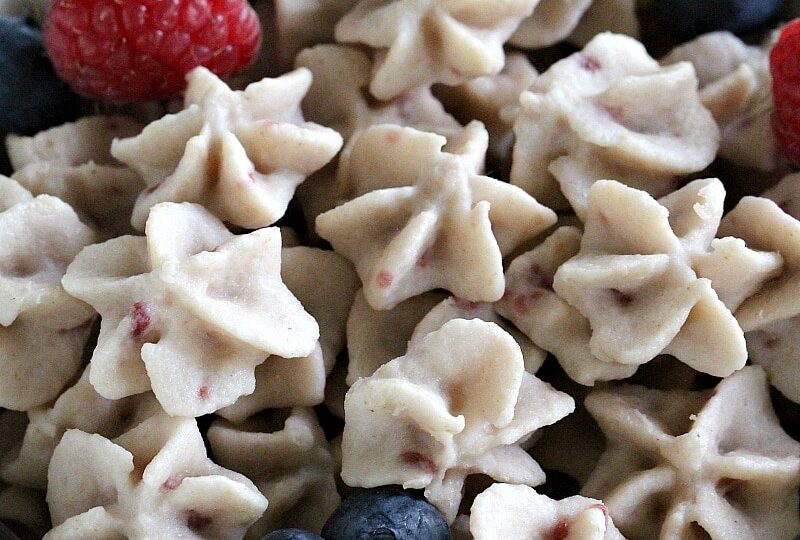 Frozen Yogurt Bites made with mixed berry yogurt and Gerber oatmeal cereal are refreshing, sweet, fun and satisfying, perfect for a summertime snack.
Frozen Yogurt Bites
Hi guys and Happy Friday! I can count the minutes to the weekend and I already can't wait for the fun to start, especially when I have Frozen Yogurt Bites ready to enjoy! Ok, so I totally made these for my toddler, because quiet honestly, I can't keep my fingers of them. They are so good, such a fun treat to share with your little one.
We just recently went on vacation to Mexico and my son had the pleasure to eat ice cream every single day. Therefore, while I am completely fine with that on vacation, I don't encourage that on a daily basis. Hence, Frozen Yogurt Bites come to the rescue since they are a healthier alternative! The bites are absolutely delicious, fun, easy to make and your little bug will be all over them, while still getting a good portion of yogurt and cereal! I used Oatmeal Banana Strawberry, to make them more hearty and satisfying, so the snack actually satisfies his hunger.
Why you will love Frozen Yogurt Bites
These Frozen Yogurt Bites are super fun and easy to whip, and its such a great idea to get your kids involved in the process. The kids can see how fun food is and how mixing different flavors and textures gets you a fun bite!
Pipe and freeze to get a fun snack!
Mix the Frozen Yogurt Bites with some refrigerated berries and let them snack as they please! The Yogurt Bites make such a refreshing and fun summer snack. You can help yourself to a handful, they may be tiny, but adults love them too!
Frozen Yogurt Bite
Ingredients
14

oz

Gerber Mixed Berry Blends Yogurt

1

cup

Oatmeal Banana Strawberry

1

cup

whole milk

1 - 2

tablespoons

maple syrup – optional
Instructions
Top a large cutting board with parchment paper and set aside.

Combine all the ingredients into a large bowl. Using a whisk or spatula, mix until well blended. Maple syrup is optional and must be added only if you would prefer the frozen yogurt bites to be sweeter.

Fit a pipping bag with a large star tip; fill the bag with the yogurt mixture. Pipe tiny bites onto the parchment paper covered board, 1/8 inch from each other.

Place into the freezer for at least 2 hours.

Once frozen, the bites can be served. Leftovers must be stored in the freezer.
Deliciousness to your inbox
Enjoy weekly hand picked recipes and recommendations