White Bean Dip with Caramelized Onions
White Bean Dip is creamy and delicious, with caramelized onions and tomato sauce that is vegan, healthy and incredibly tasty.
I love Dips because they are simple to make, and can be served at about any event. Like Million Dollar Dip, Creamy Chicken Caesar Dip and Roasted Red Pepper Tomato Feta Dip, this dip will be the highlight of any party!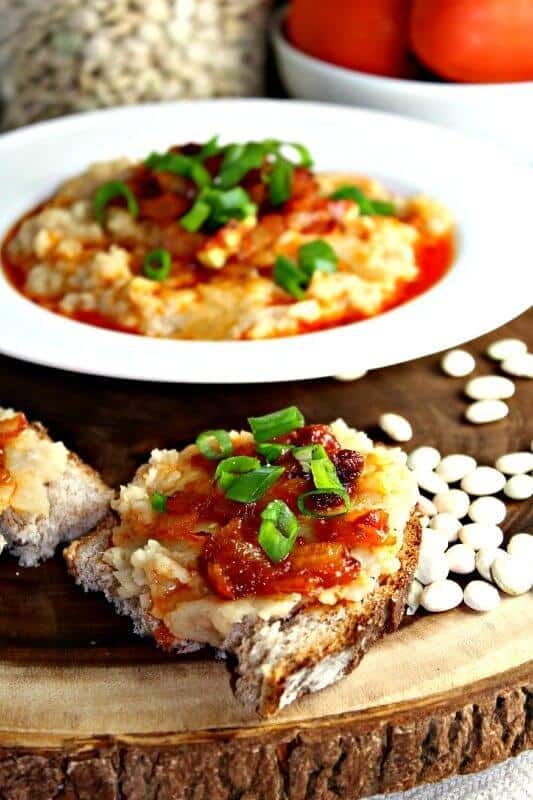 White Bean Dip
This White Bean Dip is tasty, rich I proteins, healthy and vegan. I have a deep respect and appreciation for the vegan lifestyle. Today, I am sharing with you my favorite white bean dip with caramelized onions and tomato sauce. Also, this dish can be both served as a dip, or as a spread.
Seems like since I launched this blog I have been posting only sweets. However, I can assure everyone reading that I actually eat real food. When I take a break from cake that is!
This white bean dip with caramelized onions and tomato sauce one of my all time favorite dishes. My mother in law makes it for me all the time. As a result, I kindly asked her to share her recipe as it is to die for. Imagine a blanket a soft and creamy cannellini beans, that are swimming in the most delicious tomato sauce. Then, all topped with sweet and juicy caramelized onions.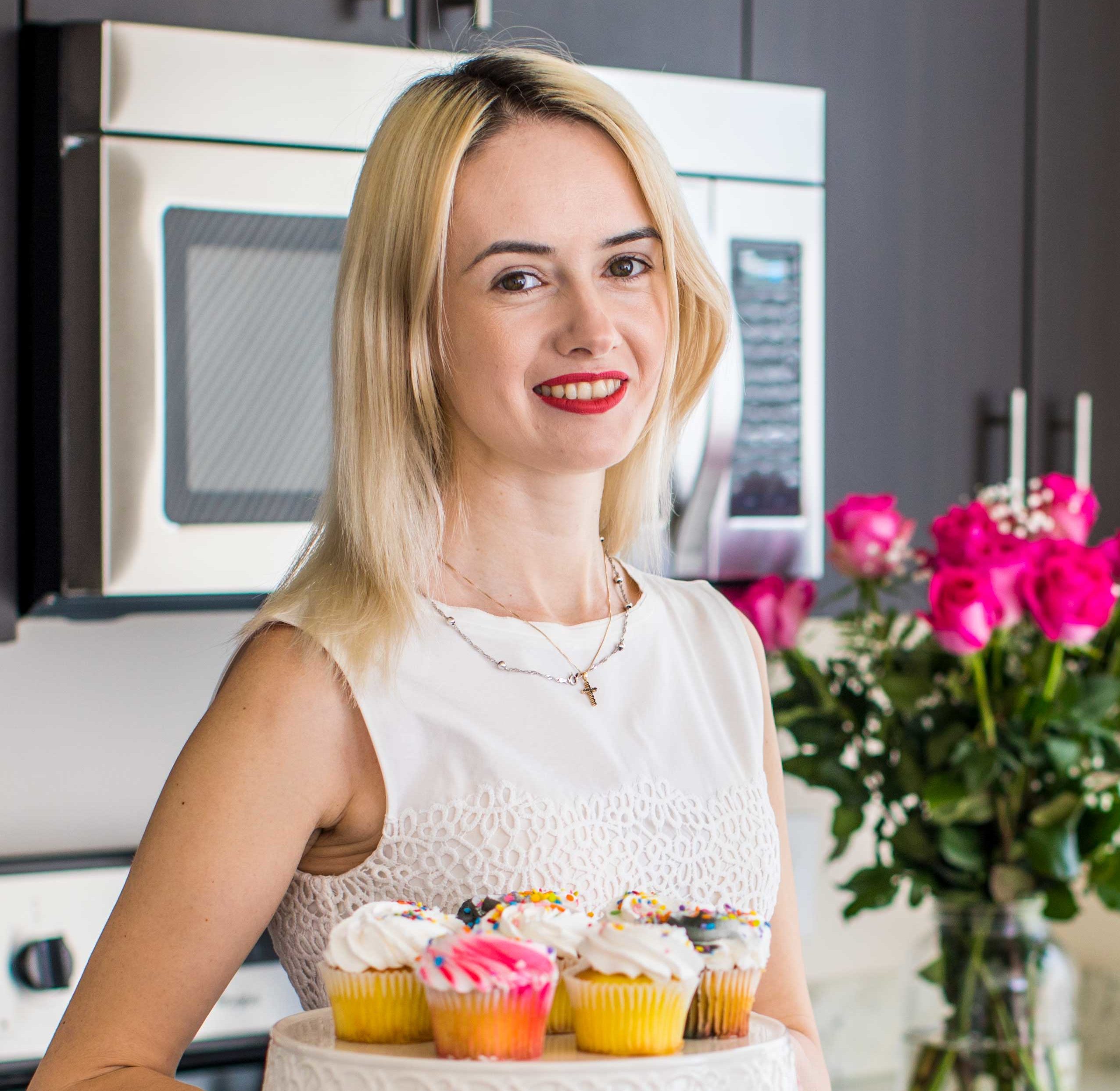 Follow us on Pinterest for more delicious recipes!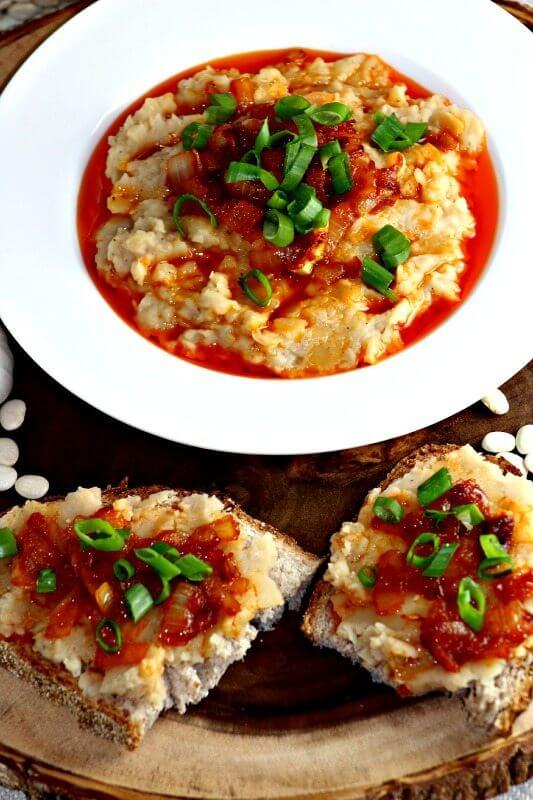 There are so many ways to serve this dish, you can toast some crusty bread and smothered a good amount on top of it, or you can serve it as a dip with corn chips and veggies, it is great either way. I also like how versatile this dish is, it can be easily served as dinner, or as an appetizer.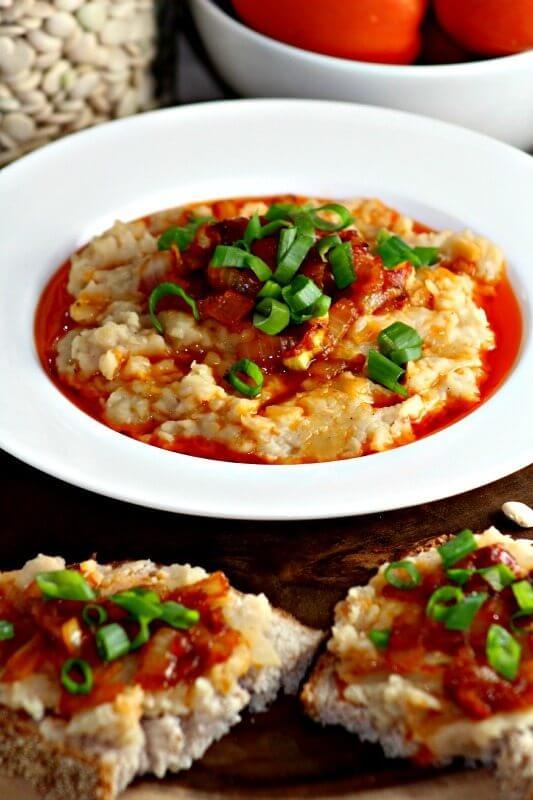 I guess I better be extra nice to my mother in law and ask her to make this one more time for me.
Save Recipe
Author: Catalina Castravet
Serves: 4 servings
Prep time:

20

minutes
Cook time:

2

hours

15

minutes
Total time:

2

hrs

35

mins
Ingredients
½ pound dried cannellini
2 dry bay leaves
2 large sweet onions (thinly sliced lengthwise)
3 cloves garlic (minced)
3 tablespoons tomato paste
Vegetable oil
Kosher salt
Black Pepper
Water
Instructions
In a large pot, place the beans and bay leaves, cover with cold water by at least 2 inches and bring to a boil over high heat. Reduce heat to simmer and cook until beans are very tender, about 1 to 2 hours. Season with salt. Drain beans, saving some of the liquid, roughly 2 cups, discard the bay leaves.
In a large skillet, heat oil until shimmering over medium-high heat. Add in beans and garlic, cook for 2 minutes. Add 1 cup of reserved bean-cooking liquid. Using a potato masher, mash the beans to form a chunky purée. Reduce heat to medium and cook, stirring, until desired consistency is reached; if the beans are too dry, add more bean-cooking liquid. Season with salt and pepper. Transfer beans to a deep dish.
In a medium skillet, heat some oil until shimmering over medium-high heat. Add onion and cook, stirring occasionally, until translucent and light golden color, about 5-7 minutes, add tomato paste and stir until well incorporated.
Top the beans with the onions and tomato sauce.
Serve warm or cold.
Calories: 227 Carbohydrates: 41 Protein: 14 Fat: 1 Saturated Fat: 0 Cholesterol: 0 Sodium: 106 Potassium: 1219 Fiber: 10 Sugar: 4 Vitamin A: 185 Vitamin C: 6.7 Calcium: 153 Iron: 6.4
Save Recipe
More recipes you might love