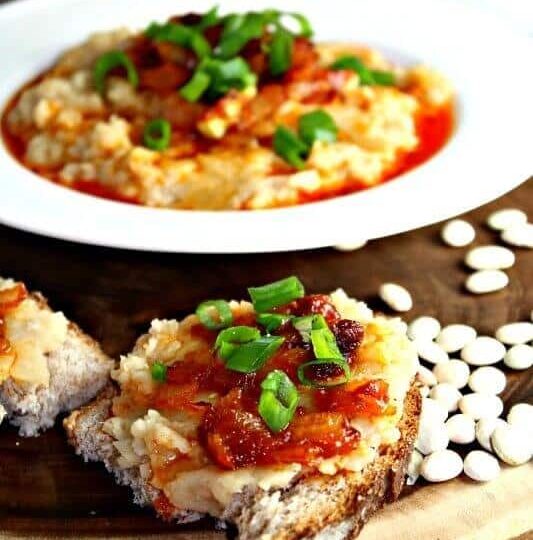 White Bean Dip with Caramelized Onions
White Bean Dip is creamy and delicious, with caramelized onions and tomato sauce that is vegan, healthy and incredibly tasty.
I love Dips because they are simple to make, and can be served at about any event. Like Million Dollar Dip, Creamy Chicken Caesar Dip and Roasted Red Pepper Tomato Feta Dip, this dip will be the highlight of any party!
White Bean Dip
This White Bean Dip is tasty, rich I proteins, healthy and vegan. I have a deep respect and appreciation for the vegan lifestyle. Today, I am sharing with you my favorite white bean dip with caramelized onions and tomato sauce. Also, this dish can be both served as a dip, or as a spread.
Seems like since I launched this blog I have been posting only sweets. However, I can assure everyone reading that I actually eat real food. When I take a break from cake that is!
This white bean dip with caramelized onions and tomato sauce one of my all time favorite dishes. My mother in law makes it for me all the time. As a result, I kindly asked her to share her recipe as it is to die for. Imagine a blanket a soft and creamy cannellini beans, that are swimming in the most delicious tomato sauce. Then, all topped with sweet and juicy caramelized onions.
Deliciousness to your inbox
Enjoy weekly hand picked recipes and recommendations