Weekly Food Highlights – May 10th, 2016
Hello my friends, how is everyone doing? I am back from our Mexican vacation ready to share with you the Weekly Food Highlights you might've missed. We had an amazing time with family and friends on our annual trip to Mexico. Stay tuned for more posts to see what I wore during the trip and how much fun we had. Good weather, great food, and lots of sun bathing, but I am back, ready to create and share with you yummy recipes.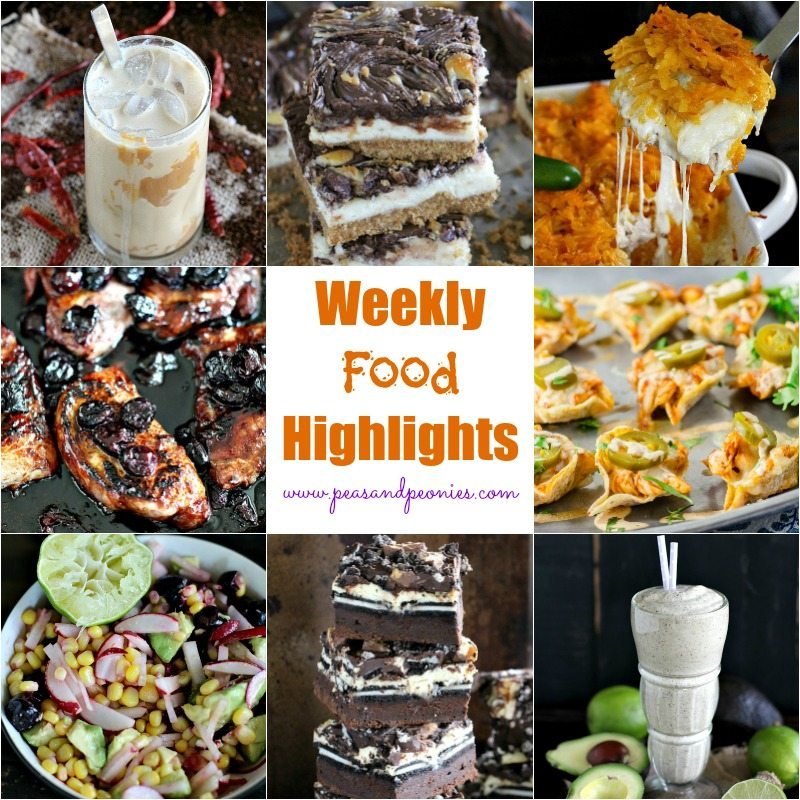 If just like me, you where away last week, or for the past 2 weeks, here is what I have been up on Peas & Peonies.
I made a delicious and Spicy Dulce de Leche Latte – perfect to fight the heat.
Meat the Slutty Cheesecake Brownies that were a hit on Facebook and made the rounds on Buzzfeed. This is one killer dessert!
Still craving something sweet? Check these fabulous Chocolate Hazelnut Cheesecake Bars, so easy to make and absolutely divine.
Looking for something on the healthier side, but still tasty and refreshing? This Lime Avocado Smoothie is what you are missing.
With warm weather finally here, host a brunch party and make these easy Vanilla Hazelnut Scones.
Now into dinner, this Spicy Hash Browns Casserole is loaded with tender chicken and is super cheesy.
Sweet and savory dishes are always a hit in my house, so was this Cherry Sauce Pork Chops with Corn Salsa.
And finally, start your party with these cheesy and spicy Chipotle Chicken Nachos.
Wishing everyone a delicious week!