Vegan Roasted Eggplant Spread
This post may contain affiliate links. Please read my disclosure policy.
A healthy, easy and delicious vegan roasted eggplant spread that is creamy, garlicky and has a nutty flavor is the perfect appetizer for any occasion.
Who is up for a delicious appetizer? I personally can't stop eating this creamy and garlicky vegan roasted eggplant spread. Its so addictive, and with farmers markets bursting with eggplants now and everyone who has a CSA I am sure is getting some too, this is the perfect way to use those purple beauties.

This spread is a crowd pleaser, its hearty and delicious, with a nutty flavor and a rich texture. Adding walnuts is definitely optional, so if you have allergies you can skip them, but they are definitely the secret ingredient, they add a little richness and the texture is more consistent, so please add them if you can.
The spread can be made vegan or vegetarian, depends which one you prefer, the recipe asks for mayo, but you can substitute with veganaise mayo just like I did, the result is creamy, delicious and a fluffy spread. Fresh garlic, that I picked from the Farmer's Market was minced add mixed in for extra flavor. This spread is great on crackers, but you can also serve it as a dip with crunchy veggies and pretzels on the side. The irresistible creaminess and freshness will be a hit with your guests.

MY LATEST VIDEOS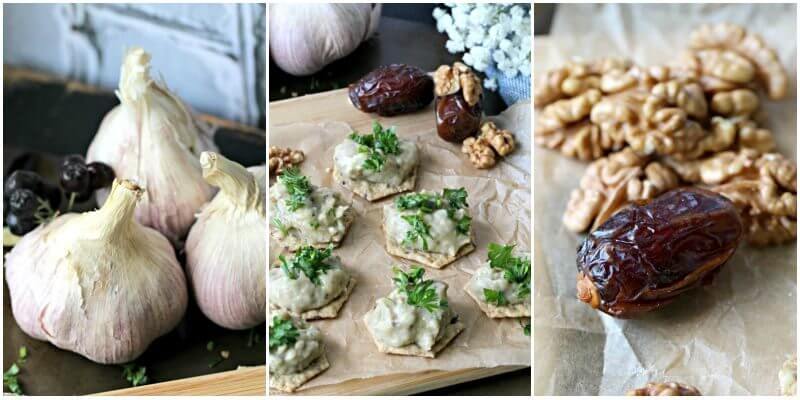 I also love how easy this is to make, its foolproof. All you have to do is roast some eggplants, peel them, add everything to a blender and call it a day, easy peasy! I usually make a big batch of this vegan roasted eggplant spread / dip during the weekend so we have something healthy and delicious to munch on during the week.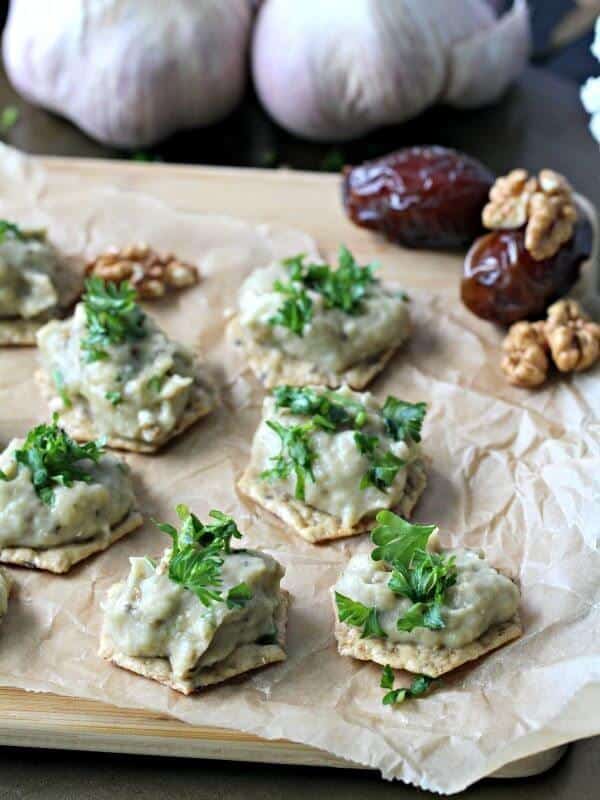 And OMG, you have no idea how good is this on toast with some avocado and sea salt, or with some roasted cherry tomatoes and feta cheese – now thats the type of sandwich I would gladly eat on a daily basis.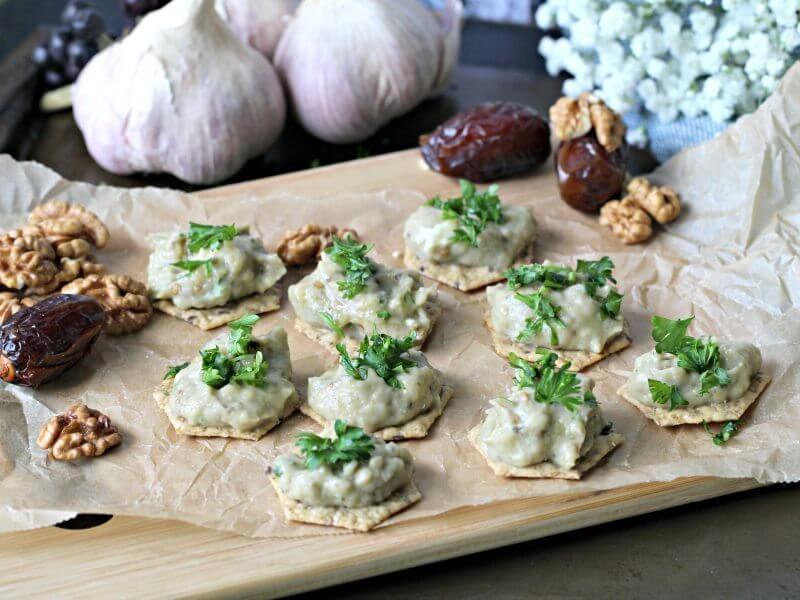 You can spread this eggplant deliciousness on crackers and make it part of a cheese board, serve it with dates and extra walnuts for an effortless, yet thoughtful and yummy appetizer.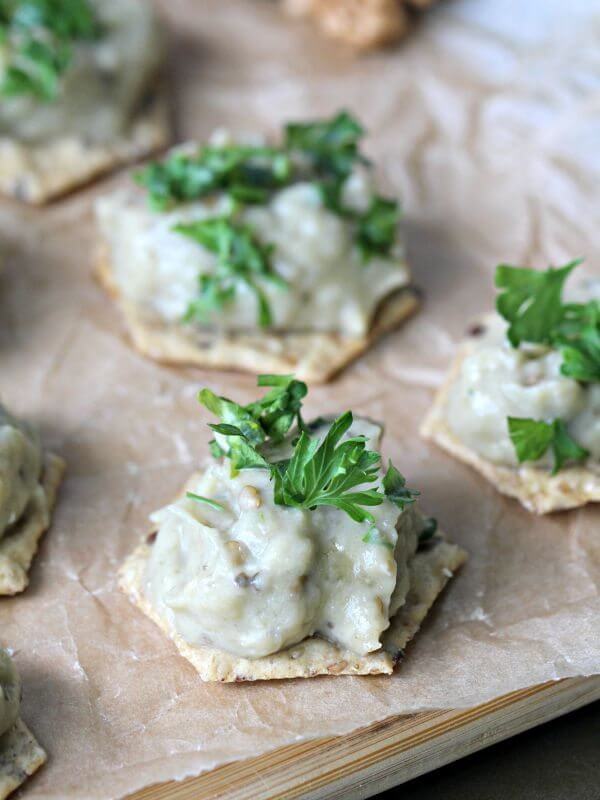 You'll see, your friends will beg you for the recipe!

Vegan Roasted Eggplant Spread with Garlic and Walnuts
A healthy, easy and delicious vegan roasted eggplant spread that is creamy, garlicky and has a nutty flavor is the perfect appetizer for any occasion.
Author:
Katalina Kastravet
Ingredients
2 medium eggplants, washed and dry
½ cup mayo or vaganaise for the vegan version
8 garlic cloves, minced
½ cup ground walnuts
salt
pepper
cilantro
Instructions
Preheat oven to 400F.
Cover a baking pan with parchment paper, place eggplants on it and cook for 20 minutes on each side. Until eggplant is uniformly soft.
In the meantime, mince the garlic and grind the walnuts in a food processor. Place in a large bowl.
When the eggplants are baked, remove from oven and let cool at room temperature enough to be able to handle with your hands. Peel them and add the flesh to a bowl. The eggplant is very tender, so crush the flesh with a fork until fully combined. Add it to the garlic and walnut bowl.
Add the mayo to the bowl and using a spatula mix everything until combined. Add salt and pepper as preferred.
Serve as a dip or as a spread on crackers. Garnish with fresh cilantro.
Peas and Peonies, LLC. owns the copyright on all images and text and does not allow for its original recipes and pictures to be reproduced anywhere other than at this site unless authorization is given. If you enjoyed the recipe and would like to publish it on your own site, please re-write it in your own words, and link back to my site and recipe page. Copying and/or pasting full recipes to social media or personal blogs is strictly prohibited. Sharing this recipe is very much appreciated and encouraged. Read my disclosure and privacy policy. This post may contain affiliate links.