Bundt Cake with Cheesecake Center
Bundt Cake with Cheesecake Center is an elegant vanilla, cherry cake with cheesecake center that combines two classic desserts into a deliciously rich and creamy concoction.
Bundt Cakes are very popular on our blog. We have made quite a few of them, so you have a variety to pick from. Like the Ricotta Bundt Cake and Vanilla French Custard Bundt Cake.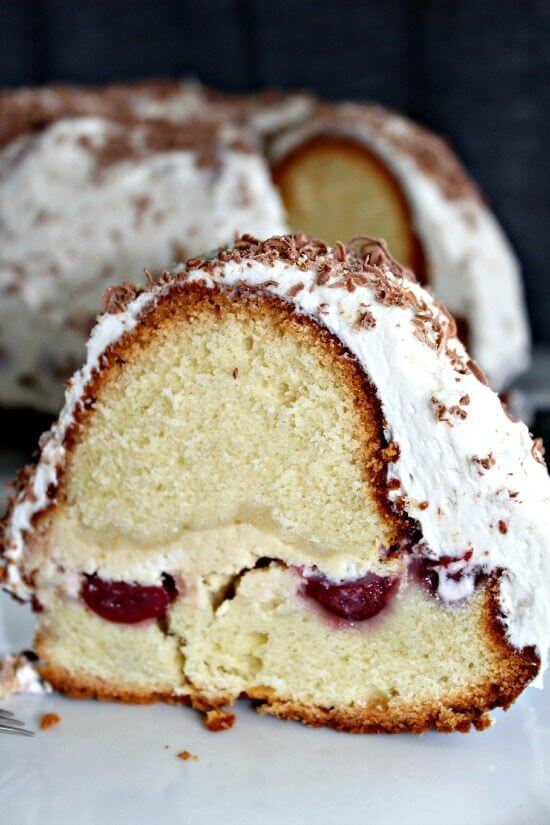 Bundt Cake with Cheesecake Center
Today we are talking about two of my favorite things combined together. And just to clarify, both of those so called things are "cake". A smooth and creamy cherry New York cheesecake sandwiched between layers of dense and buttery bundt cake. Then are combined in this decadent bundt cake with cheesecake center for a scrumptious dessert.
One night I just couldn't decide what to make for our party next day, bundt cake or cheesecake. Then, it hit me that I don't have to compromise, since I can have both. Hence, this Bundt Cake with Cheesecake Center loaded with juicy cherries was born. Also, I whipped some vanilla cream cheese frosting, and covered the cake in it. Then, I decorated with some shaved chocolate and enjoyed a slice right away.
This is one serious desert, that its so easy to make. Because it requires no crazy measuring, no crazy ingredients, just mix, bake, cover in frosting and eat. So many great flavors, I like how aromatic the bundt cake is, the vanilla flavor is elegant, the layers rich and buttery, while the cheesecake is smooth and creamy. Lastly, the frosting is sweet, airy and I like how the chocolate shavings break the vanilla palette here.
Why You'll Love This Bundt Cake with Cheesecake Center
The cake is festive and colorful, and perfect for special occasions or birthday party.
In addition, it has delicious flavor and texture.
So good that kids and adults will love it equally.
Perfect project to do with the kids, everyone will have so much fun.
Bundt Cake with Cheesecake Center Recipe Tips
Firstly, I prefer using a silicone bundt cake pan when baking bundt cakes. It just makes the removal process so much easier and its guaranteed that the cake won't stick to the pan.
Also, if you will be using a silicone bundt cake pan consider that it heats up quicker than a regular pan. Hence, check for doneness a few minutes earlier.
In addition, make sure you sift the flour, otherwise the cake may be not as smooth.
Similarly, make sure you use room temperature eggs, you will be whisking them with warm-hot cream. If the eggs are very cold, they will curd and cook.
When mixing in the cream mixture into the eggs, do it very slowly, as the egg mixture needs to warm up. Otherwise, you may end up "cooking" some of the eggs, and the batter will become unusable.
In addition, vanilla extract can be expensive. So, please use 1-2 teaspoons of vanilla extract. Based on how much vanilla flavor you prefer in your desserts.
Tools/Ingredients I used to make this Vanilla French Custard Bundt Cake Recipe:
Silicone Bundt Cake – I love using this one, makes cake removal a breeze!
Vanilla Beans – these are the ones more reasonably priced, if you decide to splurge and get some for the holidays.
Vanilla Extract – if you decide to use the extract instead.
Save Recipe
Bundt Cake with Cheesecake Center
Author: Catalina Castravet
Serves: 12 servings
Prep time:

30

minutes
Cook time:

50

minutes
Total time:

1

hr

20

mins
Ingredients
For the Bundt Cake:
1/2 cup butter (softened)
1 cup granulated sugar
2 eggs
1 tbsp. vanilla extract
3/4 cup milk
2 cups all-purpose flour
2 tsp. baking powder
For the Cheesecake Filling:
12 ounces cream cheese (room temperature)
2 eggs (room temperature)
1 cup sugar
1/2 cup cherries (pitted)
For the Cream Cheese Frosting:
8 ounces cream cheese (softened)
1/4 cup butter (softened)
3 cups powdered sugar
chocolate bar
Instructions
For the Bundt Cake:
Preheat oven to 350°F. Using some butter grease and flour a Bundt cake pan.
In a stand mixed with the paddle attachment, beat granulated sugar, butter, and eggs at medium speed until well blended. Lower the speed and add milk and vanilla and mix well. Add flour, baking powder and beat for about 2 minutes or until the batter is smooth. Set aside.
For the Cheesecake Filling:
Mix the cream cheese and sugar in a mixer on low speed. Add the eggs 1 at a time; then add the vanilla.
Prepare for Baking:
Pour half of the bundt cake batter into prepared pan, top with the cheesecake filling and distribute the cherries evenly, pour the remaining bundt cake butter on top.
Bake 40-50 minutes or until toothpick inserted into center comes out clean.
Let the cake cool at room temperature.
Using a knife, gently loosen the cake from the pan and turn out onto wire rack.
Cool completely before applying the frosting.
For the Cream Cheese Frosting:
Beat cream cheese and butter in a medium bowl until blended.
Add sugar gradually, beating after each addition until well blended.
Using a spatula apply to the cake and decorate with shaved chocolate.
Calories: 550 Carbohydrates: 84 Protein: 7 Fat: 21 Saturated Fat: 7 Cholesterol: 81 Sodium: 385 Potassium: 306 Fiber: 1 Sugar: 67 Vitamin A: 915 Vitamin C: 0.4 Calcium: 161 Iron: 1.9
Save Recipe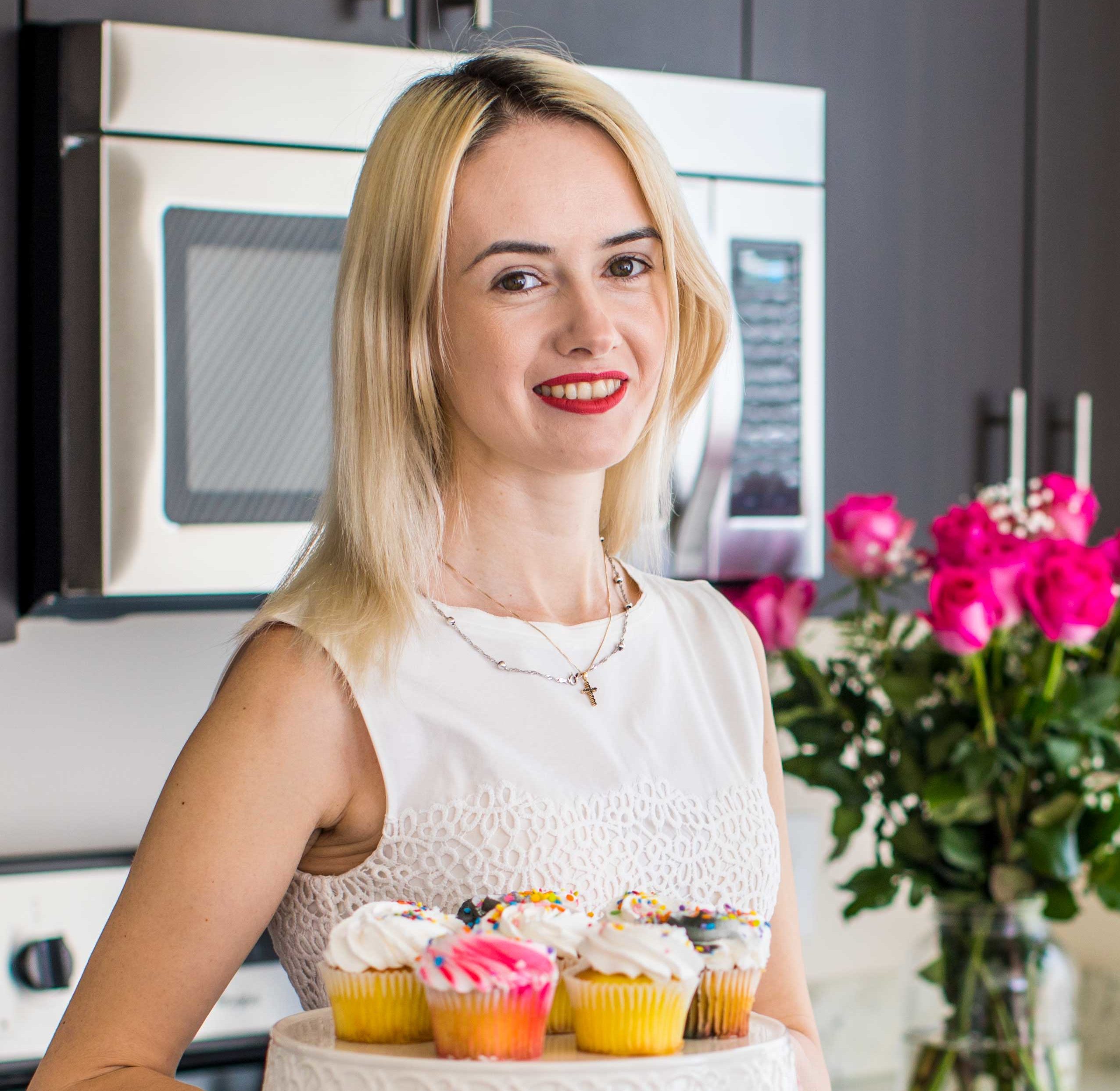 Follow us on Pinterest for more delicious recipes!
More recipes you might love