Sun Dried Tomato Mozzarella Bread
This post may contain affiliate links. Please read my disclosure policy.
Easy homemade Sun Dried Tomato Mozzarella Bread is soft and fluffy and stuffed with sun dried tomato pesto and fresh mozzarella cheese.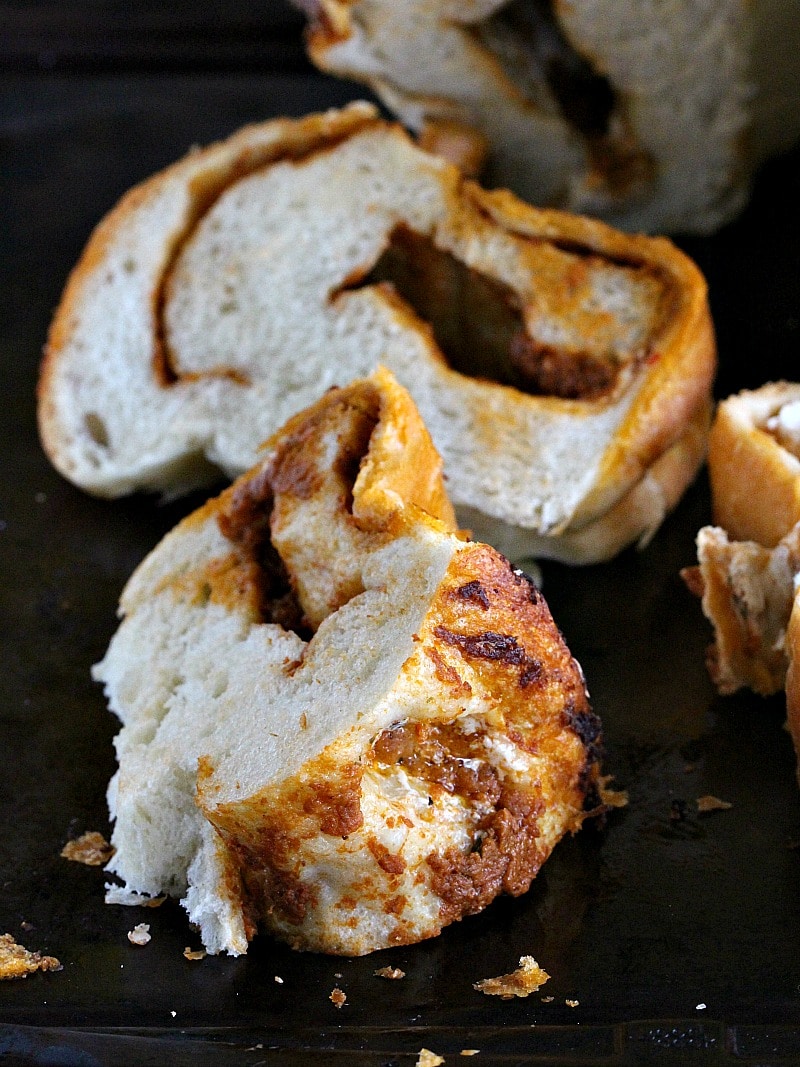 This week is up for a great start with this sun dried tomato mozzarella bread that is loaded with fresh mozzarella cheese and a delicious sun-dried tomato pesto. There is really nothing better than having a warm slice of fresh cheesy bread. This bread is so fluffy and soft, the mozzarella cheese melts and gets into the sun dried tomato pesto creating an irresistible cheesy swirl.

This Sun Dried Tomato Mozzarella Bread is very easy to make, I used again my mother in law's fool proof recipe. What is great about it, is that it's a base recipe, and you can play with the flavors how you want. Last time I made a black olive and cheddar cheese bread, and I plan on making a pesto bread this week and I still have a few more flavor combos that I can't wait to try. One combo that I can't wait to try is sautéed porcini mushrooms, fontina cheese and caramelized onions. You can also make sweeter version, or even play with colors, just like I did with this Rainbow Bread.
Making homemade bread is so easy, I absolutely love that I can control the ingredients and the flavors. This Sun Dried Tomato Mozzarella Bread is amazing for sandwiches, my favorite is an open sandwich of mashed avocado and hard boiled eggs with sea salt and pepper. You have to try it.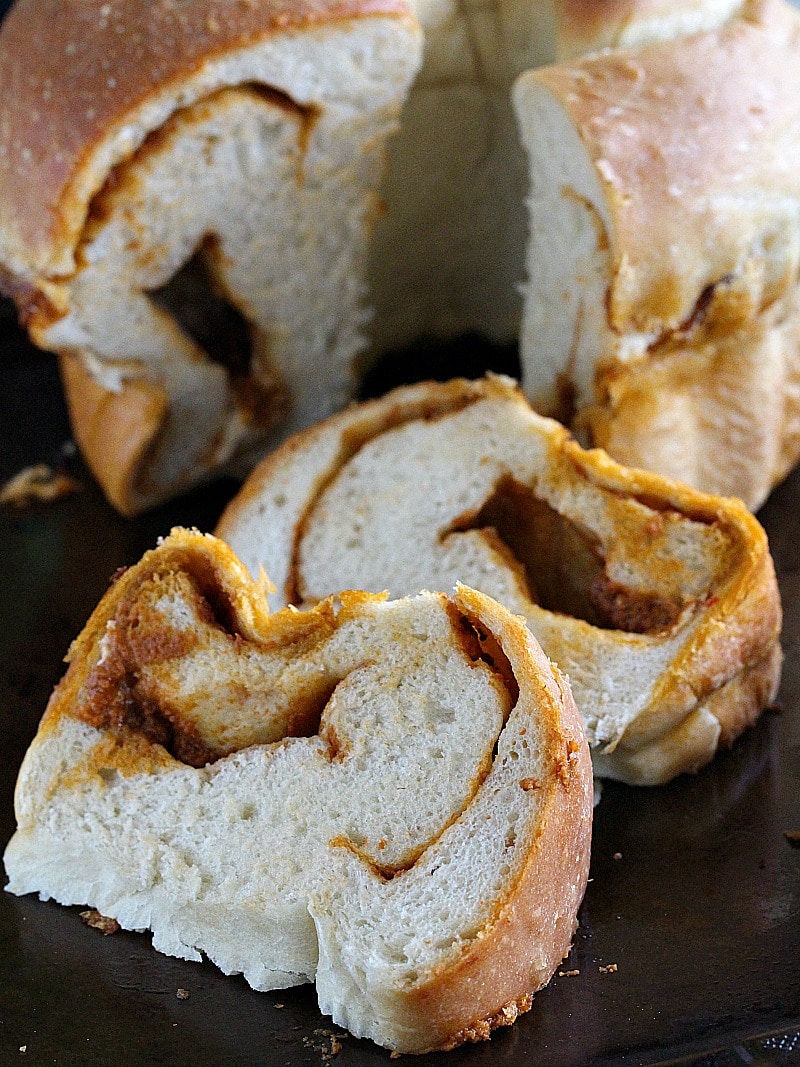 I had a little more fun and baked this Sun Dried Tomato Mozzarella Bread in a bundt pan, but you can totally use a loaf pan, and for extra fun top it with some shredded mozzarella cheese and leave it under the broiler for 3 minutes! You can thank me later.

Sun Dried Tomato Mozzarella Bread
Easy homemade Sun Dried Tomato Mozzarella Bread is soft and fluffy and stuffed with sun dried tomato pesto and fresh mozzarella cheese.
Author:
Katalina Kastravet
Ingredients
Bread:
½ tablespoon Dry Active Yeast
1¾ cups warm water
4 cups flour
1 tablespoon sugar
½ tablespoons salt
2 tablespoons butter, melted
Filling:
8 ounces fresh mozzarella cheese, sliced
8 ounces Sun Dried Tomato Pesto
Instructions
In a large bowl mix salt and flour and set aside.
Add water to a medium bowl, stir in sugar until dissolved and add yeast, let the mixture sit for 5-7 minutes for the yeast to bloom. The water should be tap warm, not hot.
Give the yeast mixture a stir and add it to the flour mixture, knead by hand or using a mixer. The dough will be a little sticky, but it should come off the walls of the bowl. If its still very, very sticky add ½ cup of flour. Knead until all flour is well combined, about 7-10 minutes. Cover the dough with a dry, clean kitchen towel, put it in a warm place and let it rise for 1-2 hours.
To speed this process, I usually turn the oven to 300F and place the bowl on top of the stove or close to the stove, since its warmer.
Once the dough tripled in size, sprinkle some flour on a flat surface and knead it for 1 minutes. Let it rest on the working surface for 10-15 minutes and using a rolling pin dusted with flour roll it into a circle or oval shape. The dough must be ½ inch thick.
Spray a loaf pan with baking spray and set aside.
Top the dough disc with the Sun Dried Tomato Pesto, spread 2 inches from the sides, followed by slices of cheese. Roll the dough into a loaf and transfer to the loaf pan.
Let it rest for another hour or 1½ hours. The loaf will double in size.
Preheat oven to 350F.
Using a kitchen brush, spread the melted butter on top of the loaf and bake for 50 - 55 minutes, until a toothpick inserted in the middle of the bread comes out clean.
Optional: Top with the melted mozzarella cheese and broil for 1-2 minutes, until cheese is golden brown and bubbly. Watch it closely not to burn the cheese.
Remove bread from oven and let it cool in the pan for one hour.
Remove from pan, slice and enjoy.
Peas and Peonies, LLC. owns the copyright on all images and text and does not allow for its original recipes and pictures to be reproduced anywhere other than at this site unless authorization is given. If you enjoyed the recipe and would like to publish it on your own site, please re-write it in your own words, and link back to my site and recipe page. Copying and/or pasting full recipes to social media or personal blogs is strictly prohibited. Sharing this recipe is very much appreciated and encouraged. Read my disclosure and privacy policy. This post may contain affiliate links.