Sugar Cookie Creme Brûlée – Gluten Free
This post may contain affiliate links. Please read my disclosure policy.
A seasonal, flavorful and festive Sugar Cookie Creme Brûlée that only requires 5 ingredients, its sweet and delicious and very easy to make.
Happy Monday and may I say 'Tis the season? Because we have passed Thanksgiving and now I can blast the Christmas music and start the holiday baking! The air is chilly and I start my mornings with a warm cup of coffee and one of my favorite coffee creamers: International Delight Sugar Cookie coffee creamer. OMG this stuff is so addicting! This delicious holiday flavor, puts me in a baking mood! To satisfy my craving I decided to make a Sugar Cookie Creme Brûlée using the creamer.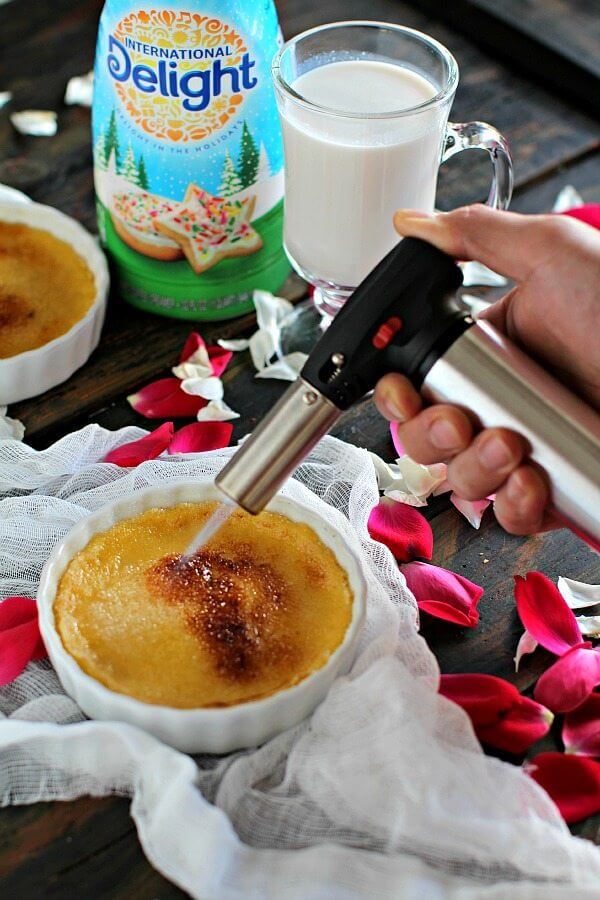 That flavor is so comforting, and nothing screams more "HOLIDAYS" to me, than the smell of fresh frosted sugar cookies! Since the creamer is, well obviously, very creamy and very flavorful I wanted to use it in my favorite dessert, so this easy Sugar Cookie Creme Brûlée happened next.

WOW! The Sugar Cookie Creme Brûlée turned out so festive, so flavorful, creamy, with a crunchy top and a delicious and fabulous inside. The frosted sugar cookie flavor is prominent and it turned this classic dessert into an indulgent holiday treat!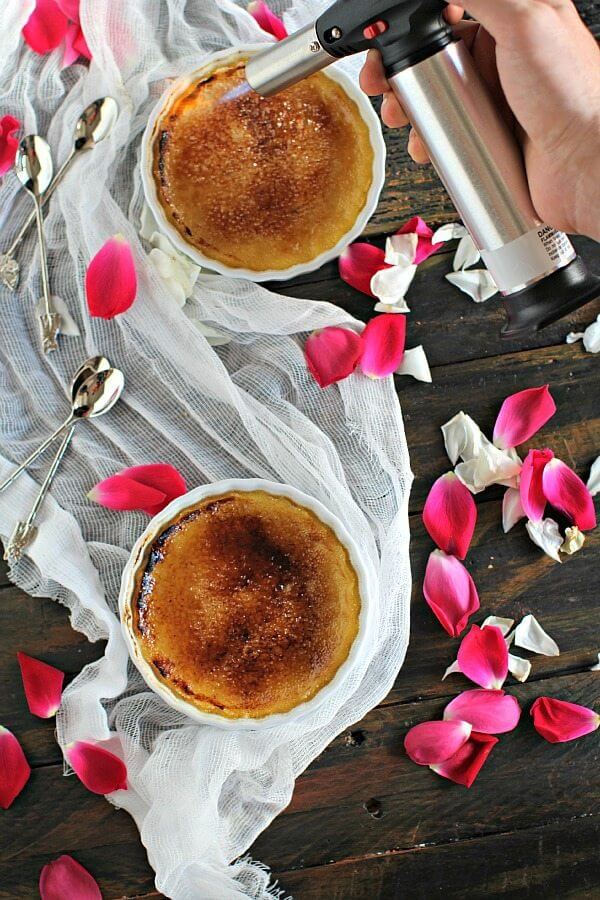 Sweet, creamy and so tasty, you only need 5 ingredients to make this for yourself. The recipe is very easy, you just need to grab your favorite flavor of International Delight creamers and give it a try. My frosted sugar cookie creme brûlée will definitely make more appearances in my kitchen! Like I said, 5 ingredients is all you need, and some easy steps that you will find in the recipe card of this post.

MY LATEST VIDEOS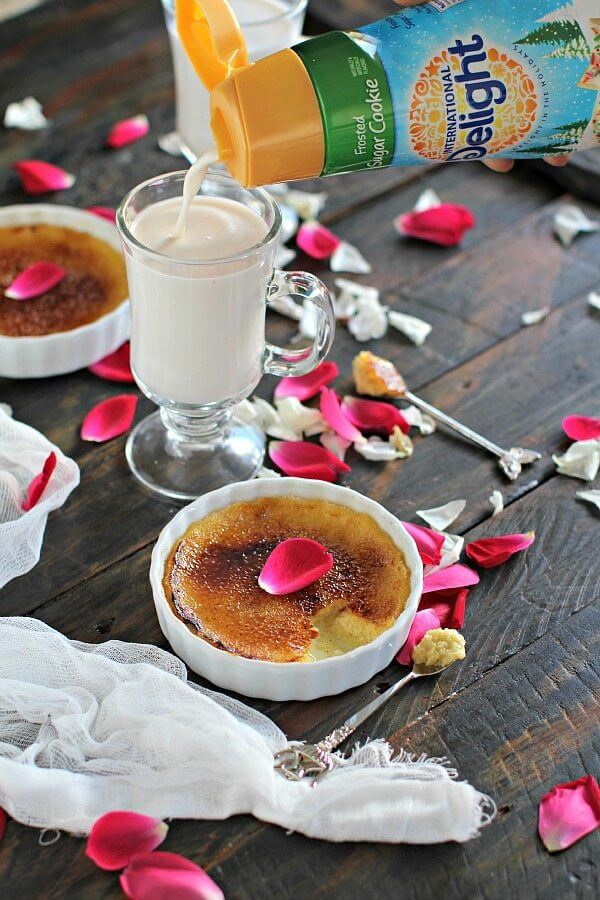 Now, I can drink my favorite holiday flavor and I can eat it too! Its a win-win situation here! This dessert became a family favorite, and its so nice that me and my mother in law shared some during our morning coffee, making plans for the holidays and stocking stuffers wish lists. I actually already know what I will include into hers, more Frosted Sugar Cookie creamers, so we can enjoy together our cups of java during cold winter mornings.
I just love how comforting baking can be, how it can bring people together, create fun memories and even long lasting relationships. The morning coffee is a ritual that I have with my mother in law, its "our thing' , that time of the day that we share together. She takes care of my baby boy, so we usually discuss all the upcoming activities in the morning. Baking a dessert that is reminiscent of our special time of the day, just made our bond stronger. We laughed, we ate, we had fun and made plans to try it with other flavors as well.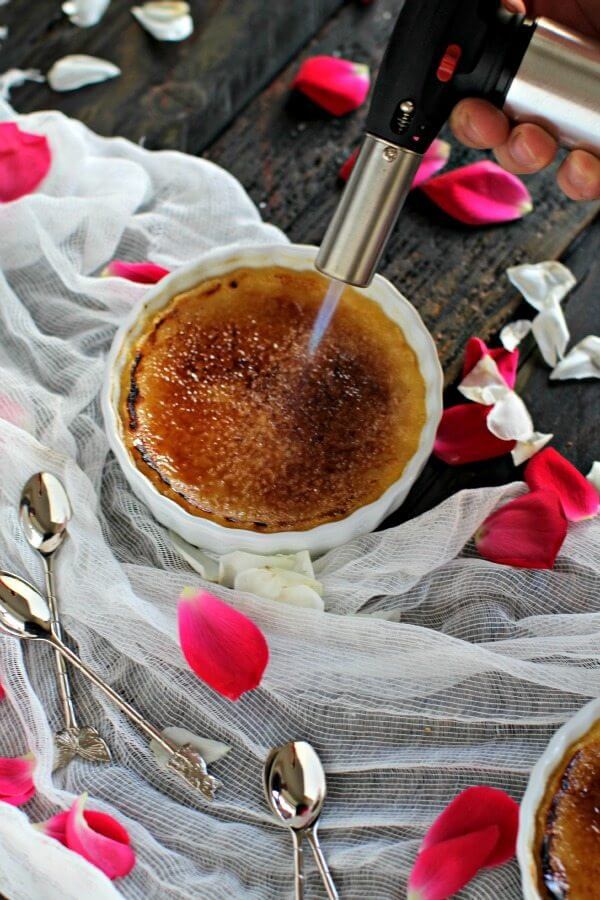 Crunchy, creamy, sweet and full of flavor, my holiday season is up for a good start!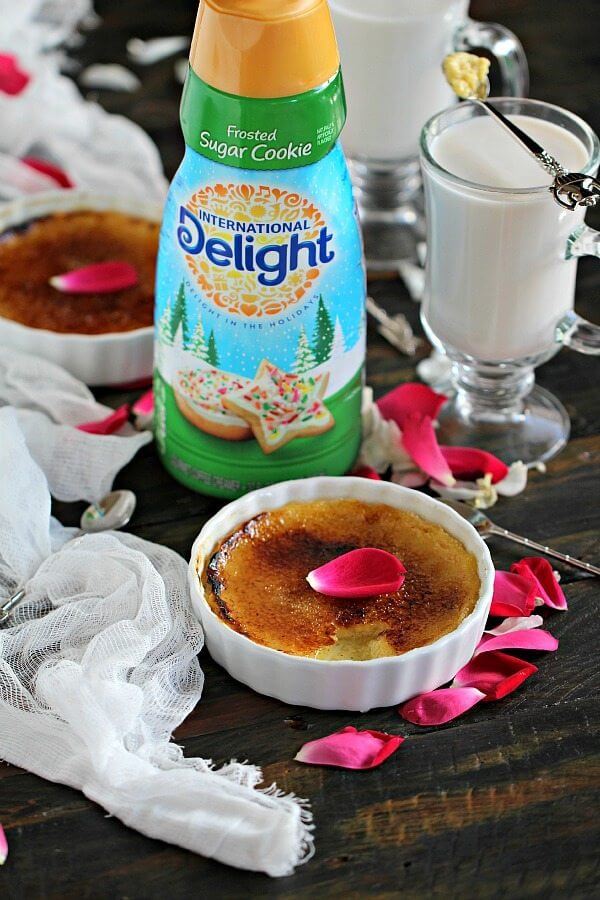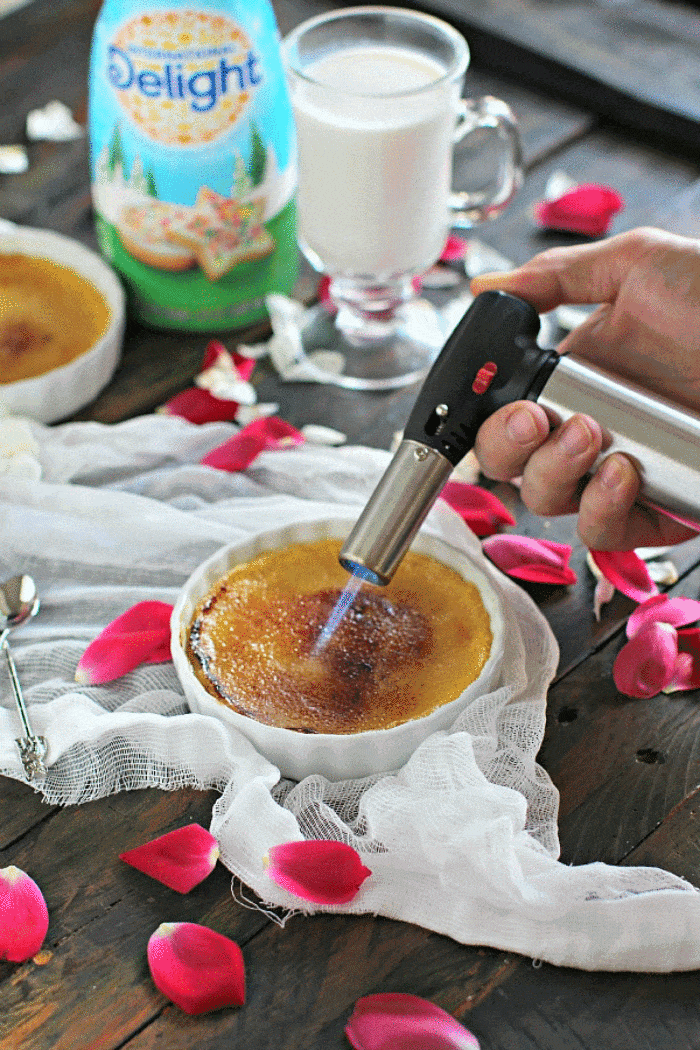 Sugar Cookie Creme Brûlée
A seasonal, flavorful and festive Sugar Cookie Creme Brûlée that only requires 5 ingredients, its sweet and delicious and very easy to make.
Author:
Katalina Kastravet
Ingredients
1 cup heavy cream
1 cup Frosted Sugar Cookie International Delight Coffee Creamer
1 vanilla bean, split and scraped
1 tablespoon granulated sugar + more for garnish
4 egg yolks
hot water
Instructions
Preheat the oven to 325 degrees F.
Add the cream, coffee creamer, vanilla bean and its seeds to a medium saucepan that is set over medium heat and bring to a boil, stirring occasionally. Once the mixture is boiling, remove the saucepan from heat, cover with a lid and allow to sit for 15 minutes. Remove the vanilla bean and discard.
In a medium bowl or in the bowl of an electric mixer fitted with the wire attachment, whisk together on medium-high speed 1 tablespoon of sugar and the egg yolks until well combined, the mixture must start to lighten in color and become fluffy.
Whisk in the cream, adding it slowly, a little at a time, whisking and stirring continually. Stop the mixer, scrape the sides of the bowl and mix again on medium-low speed for a few seconds to make sure that the mixture is well blended.
Pour the liquid into 4-5 ramekins.
Place the ramekins into a large roasting pan and pour enough hot water into the pan to come halfway up the sides of the ramekins.
Bake just until the creme brulee is set, but still trembling in the center, about 40 to 45 minutes. Remove the ramekins from the roasting pan, let them come to room temperature after that refrigerate for at least 2 hours and up to 3 days.
The creme brulee must be removed from the refrigerator 30 minutes prior to browning the sugar on top. Sprinkle the tops with 1 tablespoon of sugar and using a torch, melt the sugar and form a crispy top. Let it sit for at least 5 minutes before serving.
Peas and Peonies, LLC. owns the copyright on all images and text and does not allow for its original recipes and pictures to be reproduced anywhere other than at this site unless authorization is given. If you enjoyed the recipe and would like to publish it on your own site, please re-write it in your own words, and link back to my site and recipe page. Copying and/or pasting full recipes to social media or personal blogs is strictly prohibited. Sharing this recipe is very much appreciated and encouraged. Read my disclosure and privacy policy. This post may contain affiliate links.