Strawberry Cupcakes [Video]
Last updated on June 18th, 2021 at 11:51 pm
Strawberry Cupcakes are fluffy and buttery, packed with juicy strawberries, and topped with the creamiest strawberry buttercream. Light and fresh-tasting, these are always a crowd favorite!
Cupcakes are perfect for any occasion! For instance, kids always go crazy for these cute Unicorn Cupcakes, while THE BEST German Chocolate Cupcakes are perfect for grown-ups. Finally, impress everyone with these gorgeous Galaxy Cupcakes (check out our neat trick for that one)!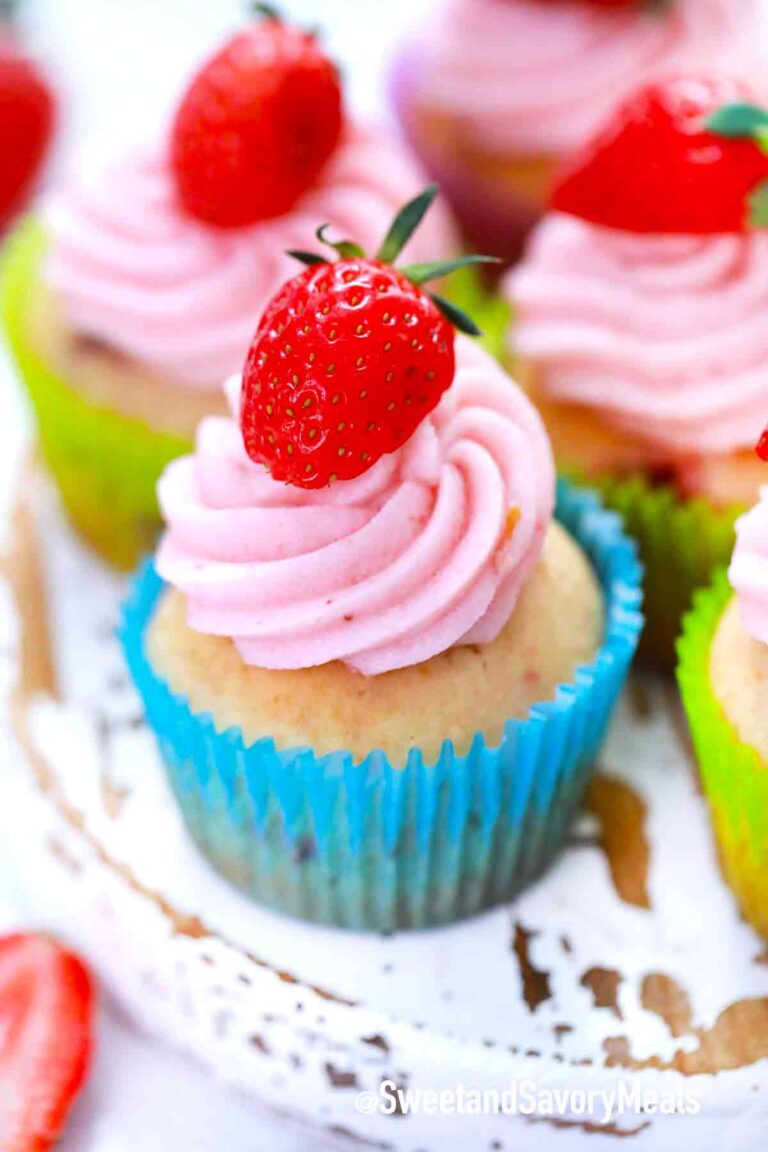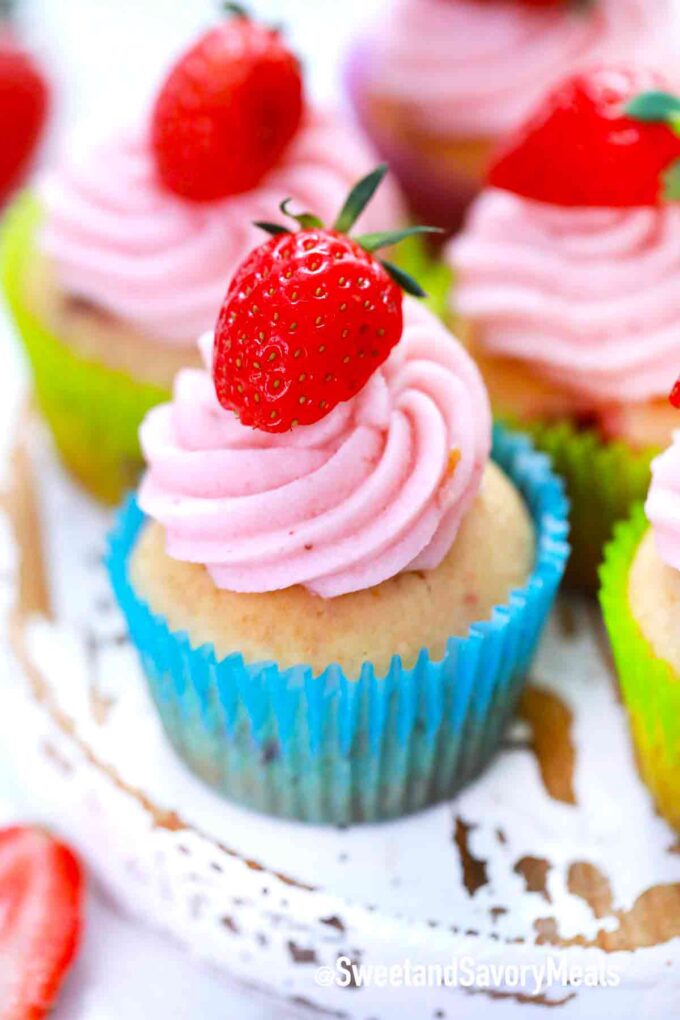 Strawberry Cupcakes with Strawberry Frosting
Strawberry Cupcakes are one of our all-time favorite cupcake flavors! The cake part is very tender and buttery, and it stays moist for days. As for the strawberries, you'll find them in every part of this dessert. The cake itself is loaded with strawberry chunks, and the buttercream is flavored with homemade strawberry puree!
In addition, these cupcakes taste so fresh and light thanks to the addition of lemon. Aside from strawberries, you can also add other delicious fruits like blueberries, raspberries, and blackberries. You can also add chocolate chips, raisins, and other mix-ins to make it your own!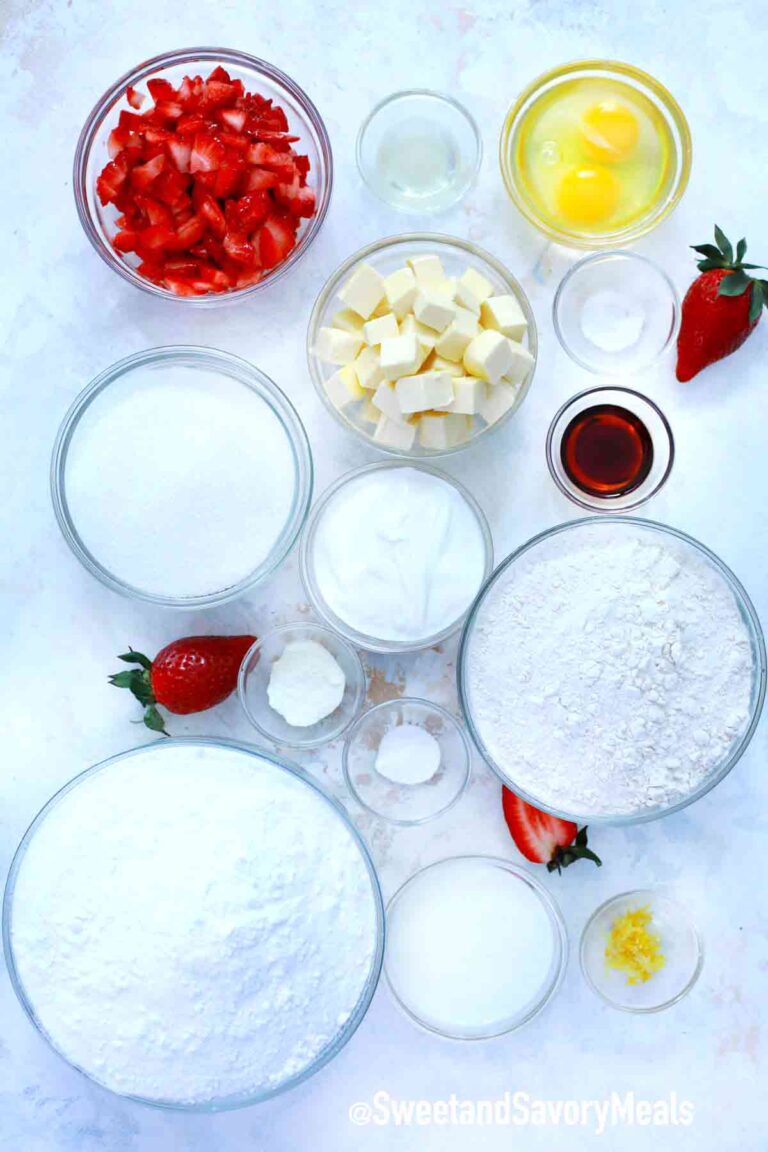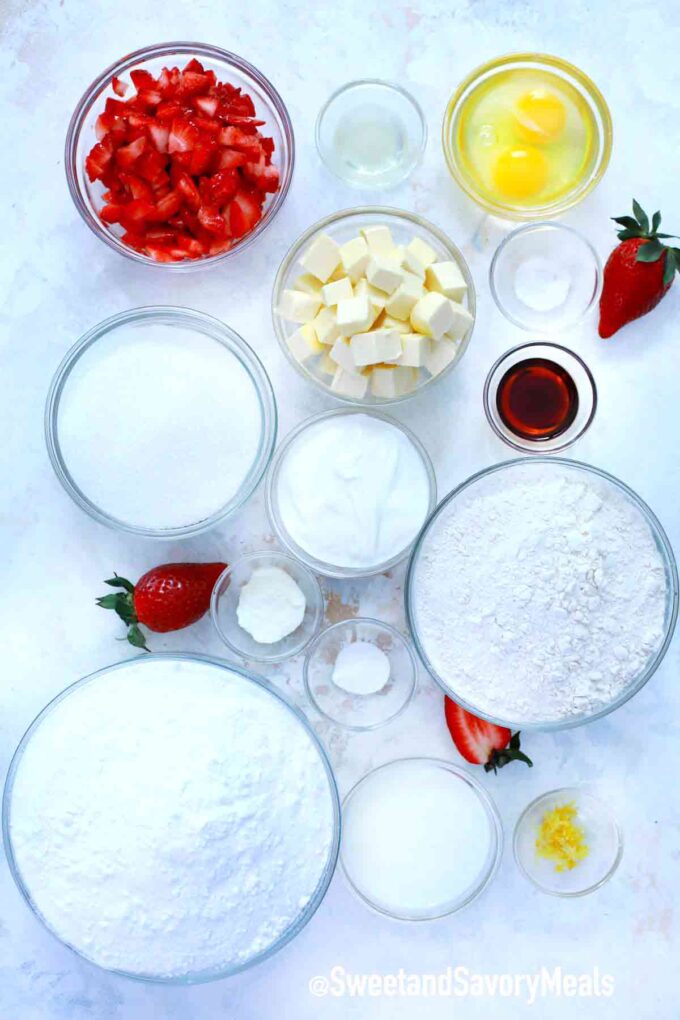 What goes into homemade strawberry cupcakes
For the cupcake:
Dry: For the most delicious batter, we're using flour, baking powder, and a little baking soda (makes these super fluffy!), plus salt to bring out the flavors.
Wet: To create a moist and tender crumb, we're mixing the dry with buttermilk and pure sour cream. Butter adds a delicious flavor, while eggs hold the batter together. Finally, white sugar makes these perfectly sweet. Feel free to adjust the amount for sweetness.
Flavorings: We're combing lemon juice and zest with vanilla to give these cakes a refreshing flavor.
Fruits: To finish the batter, we're mixing in chopped, juicy strawberries!
Frosting:
Fruit puree: We're cooking down more chopped strawberries for our base frosting flavor.
Buttercream: To our butter, we're adding powdered sugar, lemon zest, a bit of salt, and vanilla to make a creamy and light buttercream.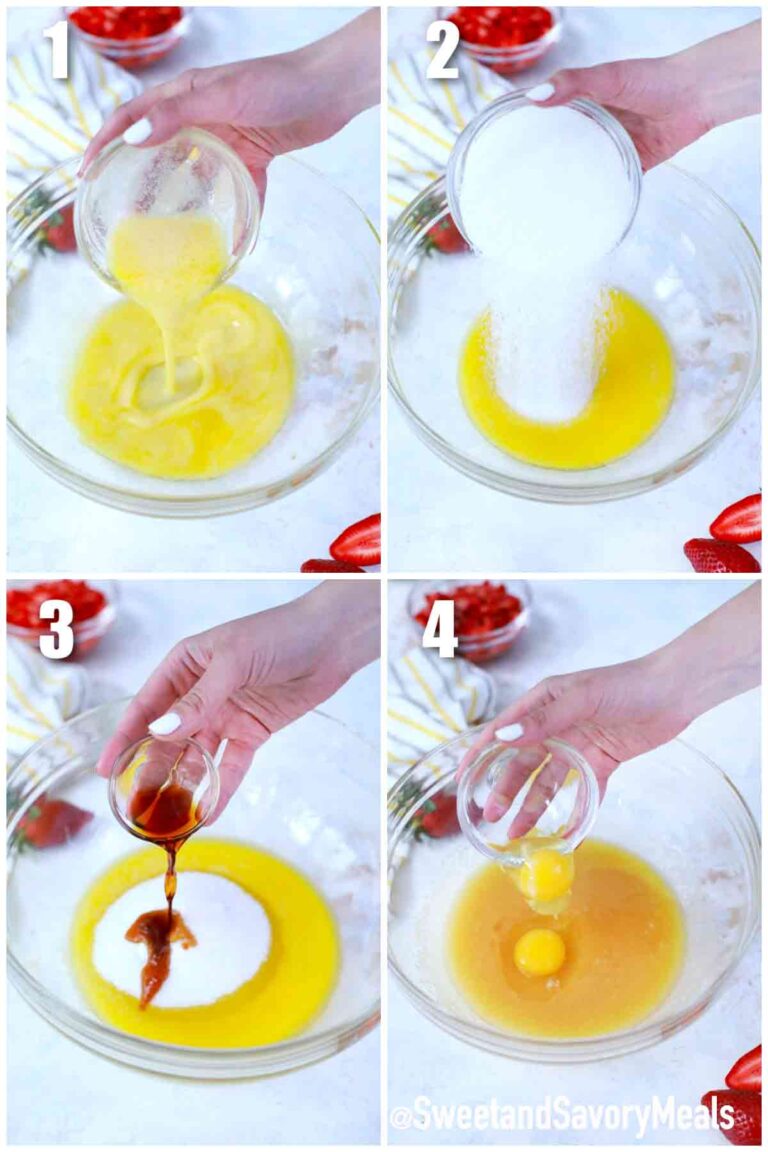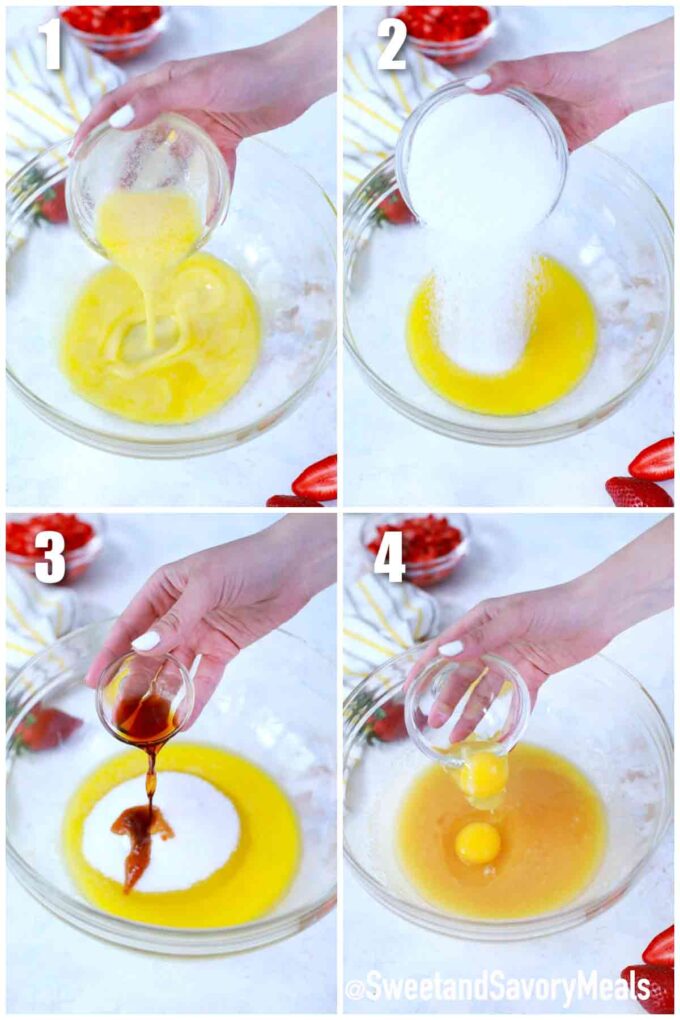 How to make strawberry cupcakes from scratch
Whip up the batter. First, whisk the flour with the rest of the dry. In a new bowl, whisk the melted butter with the flavorings, followed by the eggs. Next, the sour cream and buttermilk are whisked in. Finish the batter by mixing in the dry. Finally, fold in the chopped fruits.
Bake. Fill your liners halfway up and bake at 350F for about 18-20 mins.

Cool. Place on wire racks and leave to fully cool down.

Frost. Pipe or spread the frosting on top (instructions below) and decorate with more fruits.
Serve. Enjoy as delicious snack or dessert!
Strawberry buttercream instructions:
Start with the homemade puree. First, puree the fruits until fully smooth. After that, cook it down by heating it up to a slow boil until thick. Cool.
Finish the buttercream. Begin by beating your butter until lump-free and smooth. Mix in just HALF of the sugar, and once it's smooth, add your puree and flavorings. Finally, add the last half of the icing sugar and mix.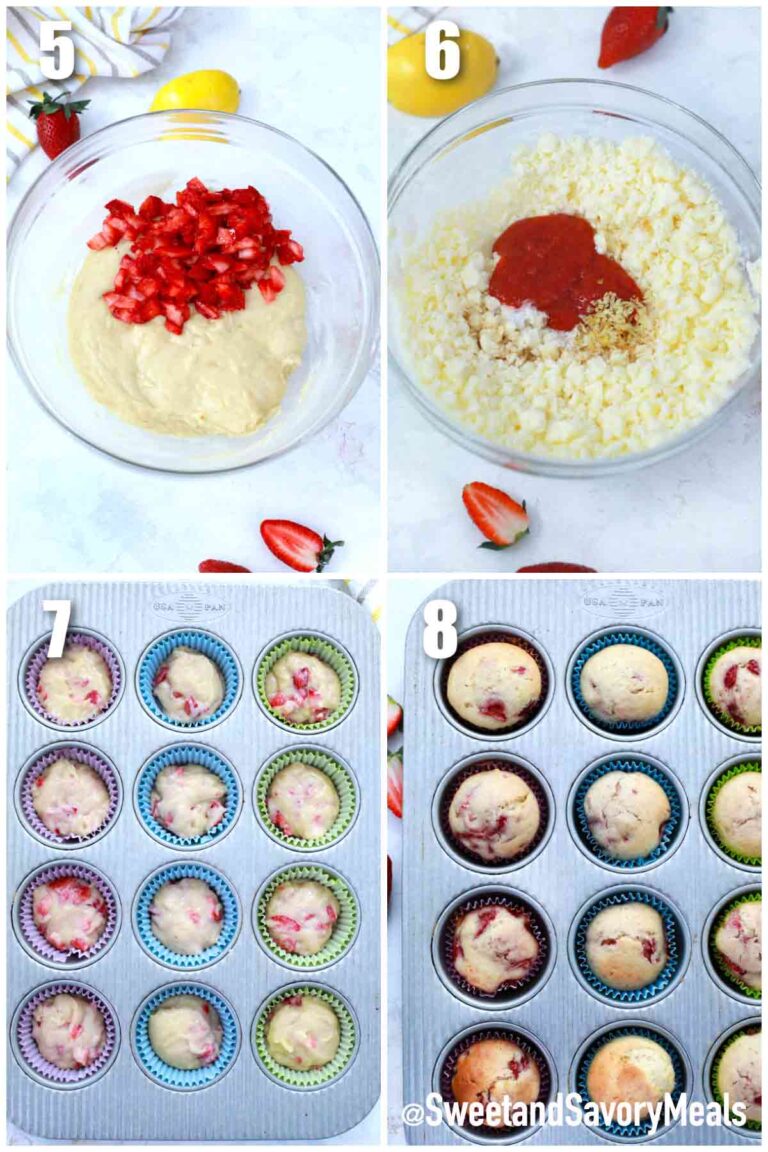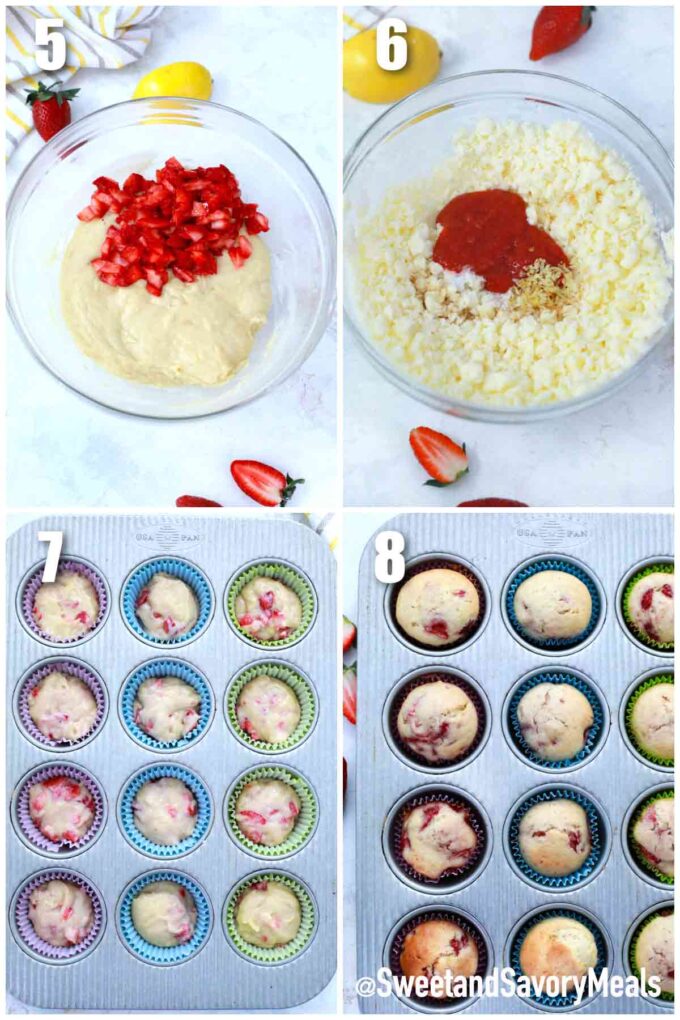 Frequently Asked Questions
Can you make these with canned strawberries?
As much as possible, we don't recommend it. Because canned fruits are usually packed in sugar syrup, they can add excess sugar to the recipe. If you can, use fresh as much as possible.
However, if you can't find fresh, we do have a couple of tips for using canned:
First, look for canned strawberries packed in water or just very light syrup.
Then, rinse the syrup away and drain the fruits. You can also reduce the sugar in the recipe itself.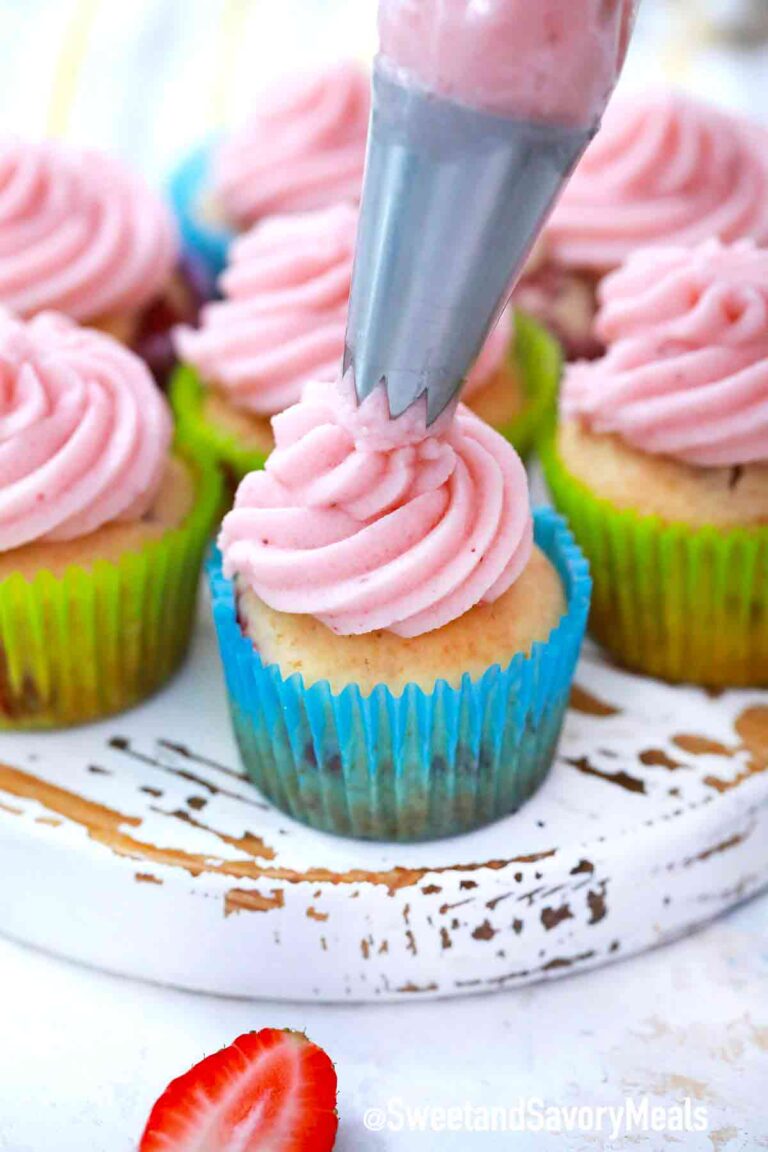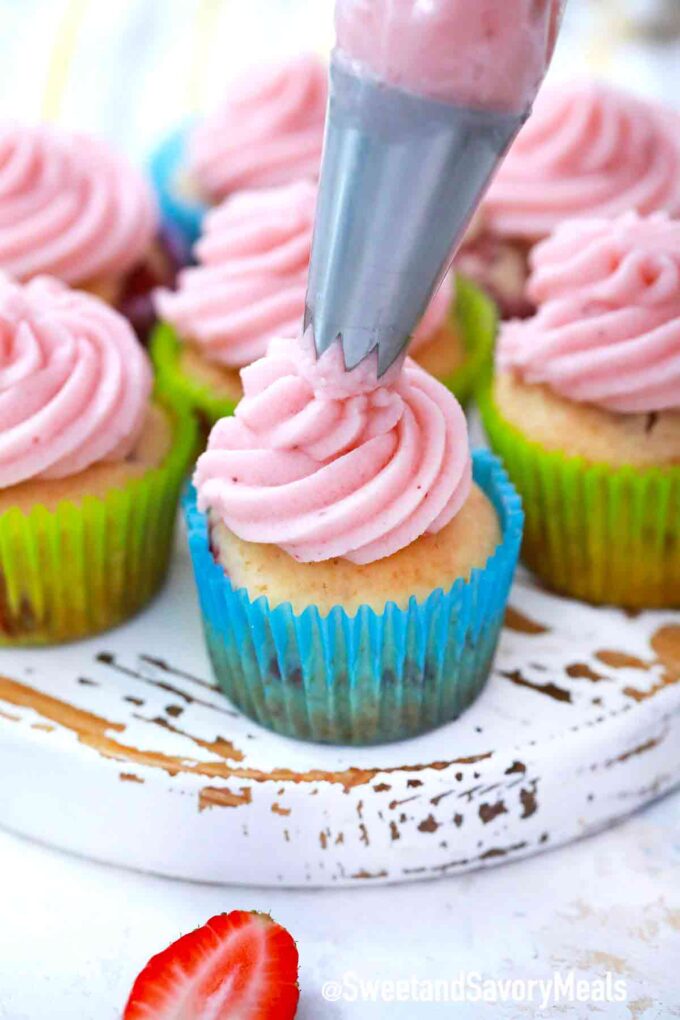 What is the secret to moist cupcakes?
Adding sour cream and/or buttermilk to cakes is one of the best ways to create a soft, super moist, and tender crumb. If you don't have one, you can easily make your own buttermilk or sub with plain yogurt.
Also, this is very important: Do not overmix! Stop mixing once the dry and wet are just incorporated. Overmixing will activate the gluten and produce a tough texture.
More strawberry desserts to try:
Storing instructions:
These have fresh fruit, so we highly recommend refrigerating them so they don't spoil. Place them in an air-tight container, then chill for up to 3 days.
Let it cool down to room temp before eating, so the buttercream has time to soften up.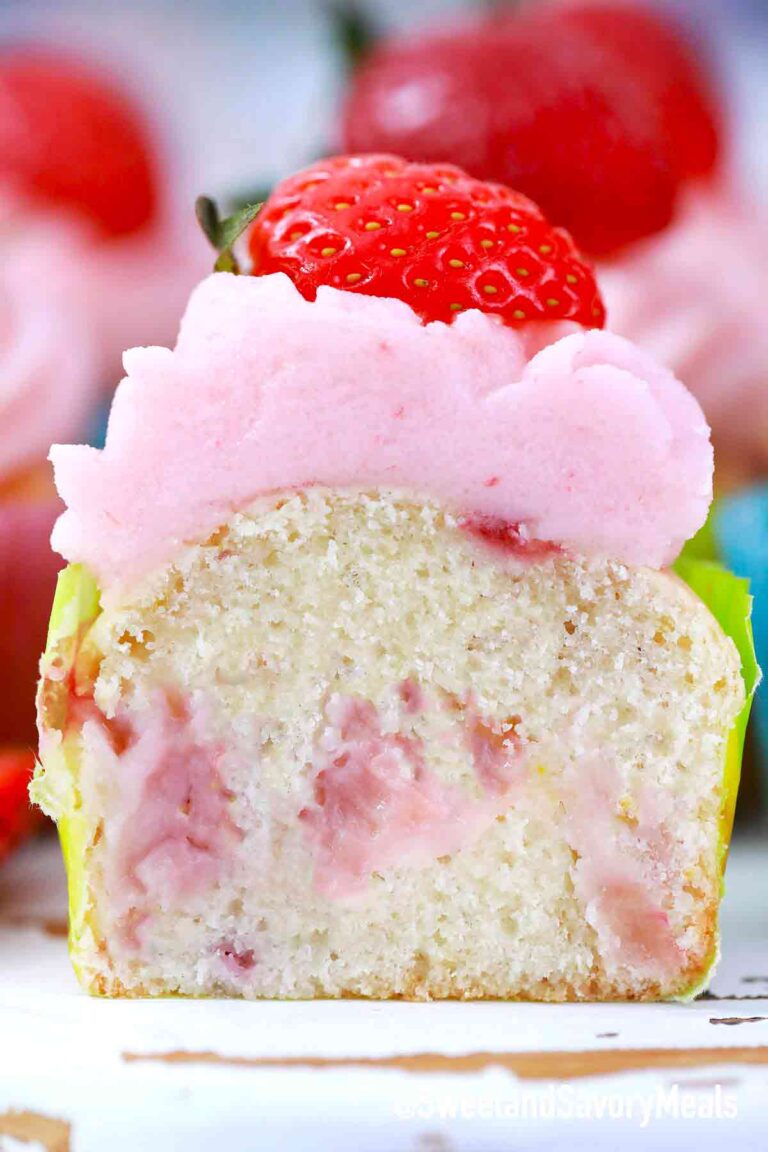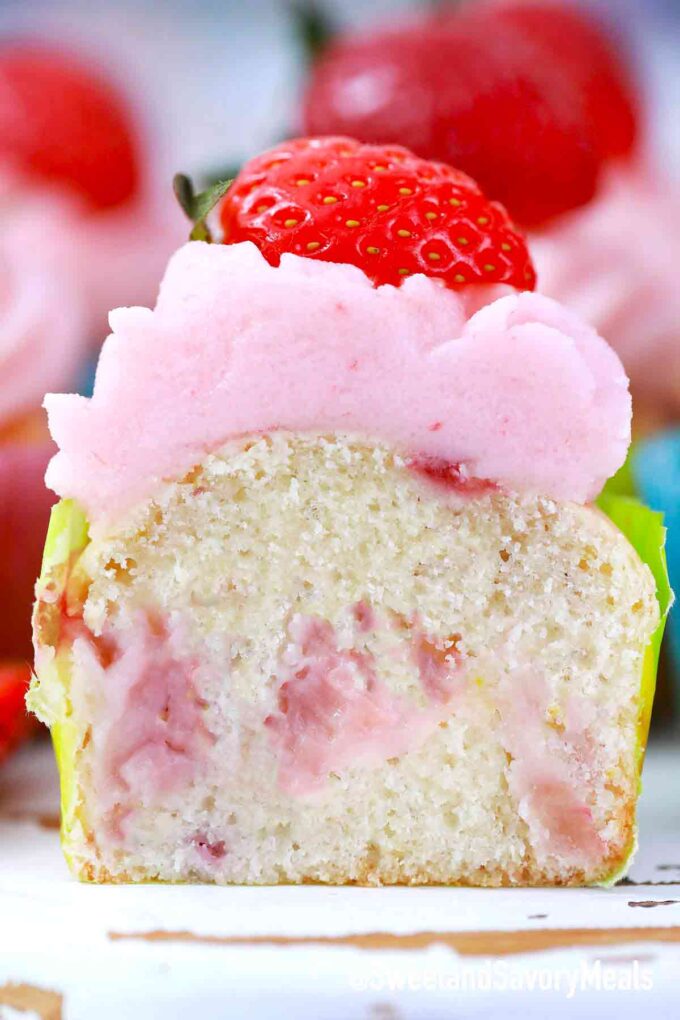 Can you freeze cupcakes?
Yes, freezing them is an excellent way to make them last longer without losing freshness. Once your cupcakes have cooled down, flash freeze them for a couple of hours on a cookie sheet. Then, place into a Ziplock and keep for 3 months.
Before serving, defrost overnight in the fridge, then bring it back to room temp on the counter.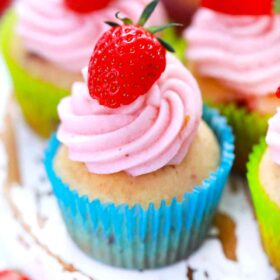 Strawberry Cupcakes Recipe
Strawberry Cupcakes are fluffy and buttery, packed with juicy strawberries, and topped with the creamiest strawberry buttercream.
Save
Share
Print
Pin
Rate
Ingredients
Cupcakes:
2

cups

all-purpose flour

1

teaspoon

baking powder

1/4

teaspoon

baking soda

1/2

teaspoon

salt

1

cup

unsalted butter

(melted)

1

cup

white granulated sugar

1

tablespoon

lemon zest

2

teaspoons

vanilla extract

1

tablespoon

lemon juice

2

large eggs

1/2

cup

sour cream

1/3

cup

buttermilk

1 1/2

cups

chopped strawberries
Frosting:
2

cups

chopped strawberries

1 1/4

cups

unsalted butter

(room temperature)

6

cups

powdered sugar

1

teaspoon

vanilla extract

1

teaspoon

lemon zest

Pinch

of salt

Strawberries

(for decorating)
Instructions
Preheat oven to 350 degrees.

Line a cupcake pan with cupcake liners and set it aside.
Cupcakes:
In a large bowl, whist together the flour, baking powder, baking soda, and salt. Set aside.

In a large bowl, with a hand mixer whisk the melted butter, sugar, vanilla extract, lemon juice, and lemon zest, until well combined.

Add the eggs and whisk together until well combined.

Add the sour cream and whisk together until well combined.

Add the buttermilk and whisk just until well combined.

Add the dry ingredients to the wet ingredients and whisk together just until combined, do not over mix.

Fold in the chopped strawberries with a spatula.

Fill the cupcake liners a little more than half full and bake for 18-20 minutes or until a toothpick inserted into the center comes out clean or with just a few crumbs attached.

Remove cupcakes from the oven and place them on a cooling rack to cool.
Strawberry Buttercream:
Add the fresh strawberries to a food processor and puree until smooth, you need 1 cup of strawberry puree.

Add the puree to a small saucepan and cook it over medium heat until it comes to a slow boil, stirring consistently, until it has thickened and reduced to about 8 tablespoons. This process will take about 10-15 minutes.

When the puree has thickened and reduced, transfer it to a measuring cup and allow it to fully cool before using it.

Add the butter to a large bowl and beat it until smooth.

Add half of the powdered sugar and mix until well combined, stop to scrape the sides and bottom of the bowl.

Add half of the strawberry reduction, and the vanilla extract, lemon zest, and salt whisk until well combined.

Add the remaining powdered sugar, beat until combined, and add the strawberry reduction as needed to get the right consistency.

Add frosting to a piping bag fitted with a star tip and pipe onto the cupcakes. Garnish with a fresh strawberry.

Chill for 1-2 hours before serving.

Serve at room temperature.
Notes
You can make the puree ahead, and use the leftovers for other desserts like mousse, cheesecake, curd, and more.
You can also use another citrus-like lime or orange instead of lemon.
While making the frosting, add the last half of the sugar a little at a time. Once it's sweet enough for you, no need to add more.
Nutrition
Calories:
618
kcal
|
Carbohydrates:
96
g
|
Protein:
4
g
|
Fat:
37
g
|
Saturated Fat:
23
g
|
Trans Fat:
1
g
|
Cholesterol:
123
mg
|
Sodium:
451
mg
|
Potassium:
203
mg
|
Fiber:
2
g
|
Sugar:
78
g
|
Vitamin A:
1192
IU
|
Vitamin C:
26
mg
|
Calcium:
84
mg
|
Iron:
2
mg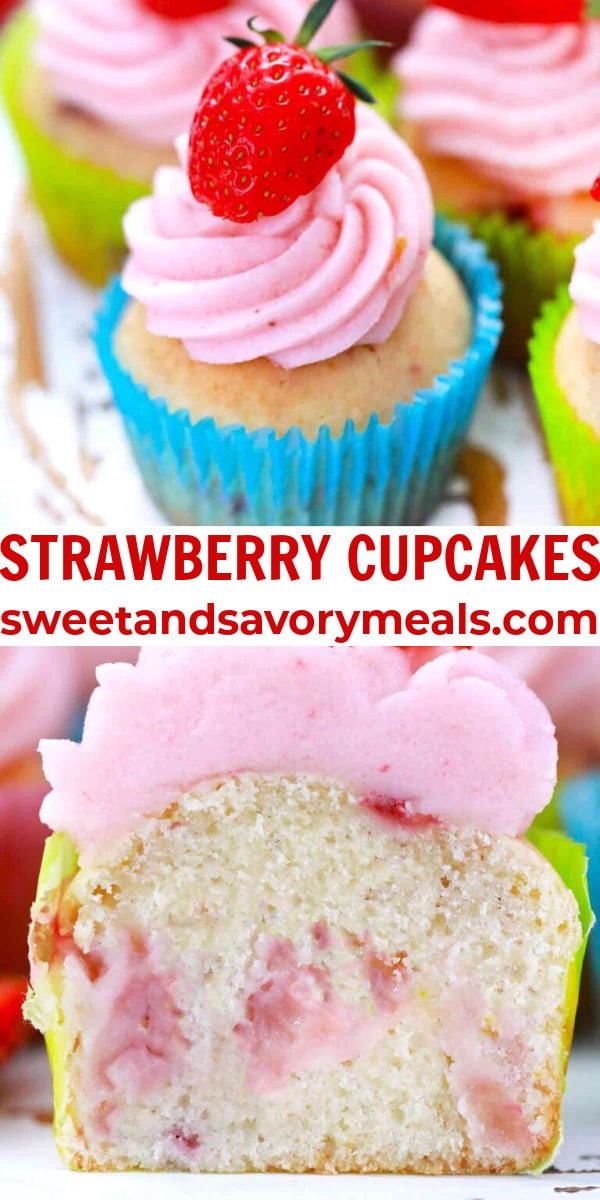 More recipes you might love