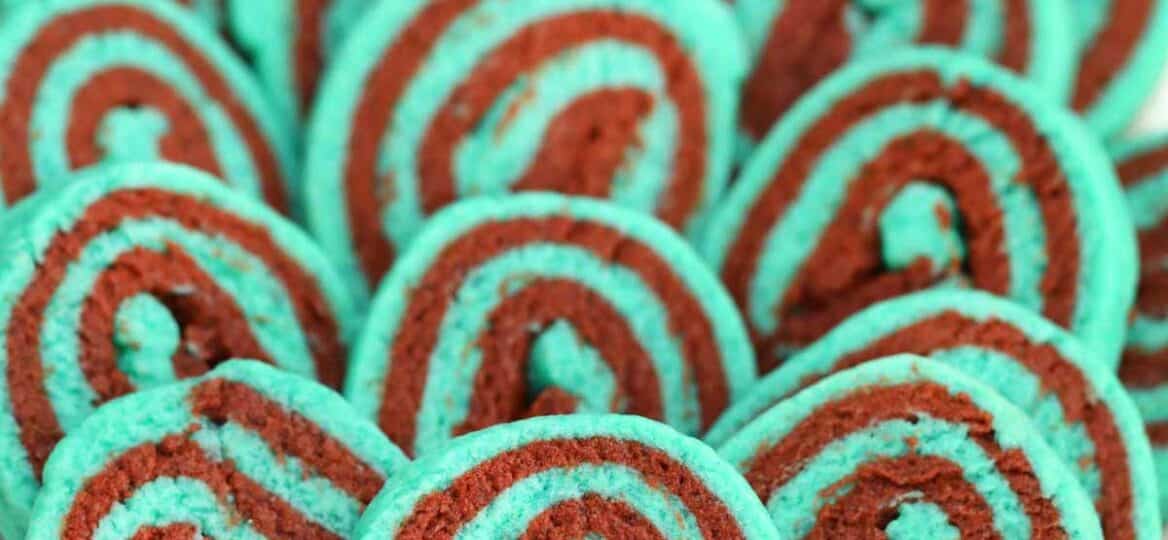 Mint Chocolate Cookies [Video]
Mint Chocolate Cookies are made in two swirled colorful layers, one mint and one chocolate, perfect for St. Patrick's Day. The cookies melt in your mouth with deliciousness and are full of flavor.
Mint desserts can be very festive, and perfect for special occasions. If you are a fan of mint, I have other delicious desserts you should try, like this Mint Chocolate Chip Fudge, Mint Chocolate Chip Cake, and tasty Mint Chocolate Chip Truffles, that are no-bake!
Mint Chocolate Swirl Cookies
Mint Chocolate Cookies are loaded with chocolate chips and mint flavor. This combo is my all-time favorite! With St. Patrick's Day so close by, I just wanted to share a greenish and minty dessert. We know that chocolate makes everything better, especially when its added to buttery cookies.
The cookies are made with two shortbread layers, a chocolate one and a green mint one, the flavors compliment each other beautifully. You can enjoy them in the morning with a freshly brewed cup of coffee, or for any special occasion. It is a great and festive looking dessert, that can also be made with kids, as a fun project!
Then, the layers are rolled into a cookie log to create a beautiful swirl. The chocolate and mint is always a winning combo, especially when its also looking that good!
These definitely are the perfect dessert for St. Patrick's Day. Before I moved to the US, I didn't even know about this holiday. But now I can't wait for it to eat some more Beer Bread and make this amazing Guinness Beef Stew.
How to Make Mint Chocolate Cookies for St. Patrick's Day:
First, you start by beating butter and whisking in sugar, salt, baking powder, and mint extract.
Next, the egg is added to the mixture. After this, with the paddle attachment gently beat in flour. If the dough is too soft, add a bit more flour.
The formed dough is divided into two large bowls and using a spatula, the food coloring is kneaded into one.
Cocoa powder is gently beat in into the other half until fully combined.
Next, the dough is rolled into balls, covered with plastic wrap and chilled.
When ready to roll, cover your working area with one layer of plastic wrap, that us 15 – 16 inches long.
Staring with the green dough ball, place it onto the plastic wrap on the counter, and roll it into a rectangle, about 10X9.
Repeat with the chocolate dough ball, but make the rectangular one inch smaller.
Transfer the chocolate rectangle onto the green one and using the plastic wrap from the underneath, roll the dough into a tight log. Refrigerate for at least 6 hours.
When ready to bake, preheat oven to 350F. Slice the cookie roll into ½ or ¼ inch rounds.
Line two cookie sheets with parchment paper and arrange the cookies about 2 inches apart from each other. Bake for 10 minutes.
Can You Make St. Patrick's Day Cookies In Advance?
You can prepare the dough, roll it into a log and cover with plastic wrap. This way, it can be kept in the fridge for up to 2-3 days, until ready to bake.
Also, you can place it in the freezer to store for 1 month. Do not defrost prior to baking, just watch closely and increase the baking time by a few minutes.
How to freeze Swirl Cookies:
Unbaked: Slice the cookies, arrange on the bottom of a freezer-safe airtight container, place parchment paper in between the cookie layers. This is to ensure that they will not stick to each other. When ready to bake, skip thawing and directly put in the oven. Bake for a few more minutes.
Baked: If you have leftovers, you can definitely freeze them for later. Put parchment paper in between layers and arrange them in an airtight container or add them to freezer-safe bags. Thaw before serving.
How long will Mint Chocolate Cookies will stay fresh?
They can be stored wrapped in plastic wrap or in an airtight container at room temperature for about 4-5 days. Also, you could freeze them. Just ensure to use a freezer-safe container. Then, freeze them for up to 3 months.