Slow Cooker Beer Ribs Tacos
This post may contain affiliate links. Please read my disclosure policy.
Juicy and flavorful slow cooker beer ribs tacos are served with homemade creamy jalapeño tzatziki sauce and mayo-free radish cole slaw.
Happy Monday my blog friends, and lets make this week great, for that lets plan a really easy and delicious dinner of juicy, spicy and smoked slow cooker beer ribs tacos with the most delicious, creamy and fresh homemade tzatziki sauce and a crunchy cole slaw. This is the type of dinner that you put in the slow cooker before going to work, and when you come back your house smells amazing, and the neighbors try to come up with reasons to visit you.

You see, no one can resist juicy beer ribs, crunchy fresh cole slow, a warm flour tortilla, and a spicy tzatziki sauce!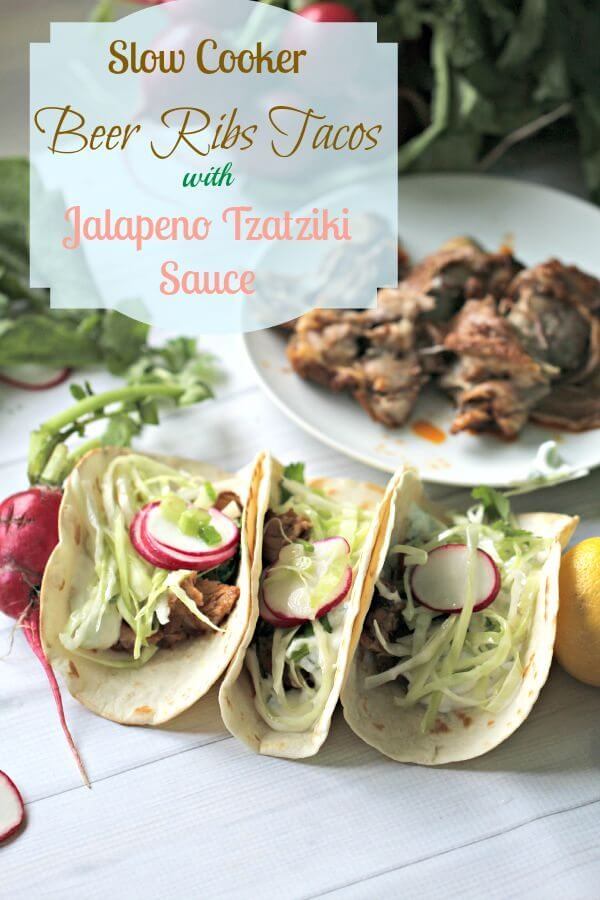 How was your weekend, mine was pretty good and productive, but I would say short. We ate good food with friends by the pool, I baked a cake, spent time with my baby and managed to workout twice so I will call it a success!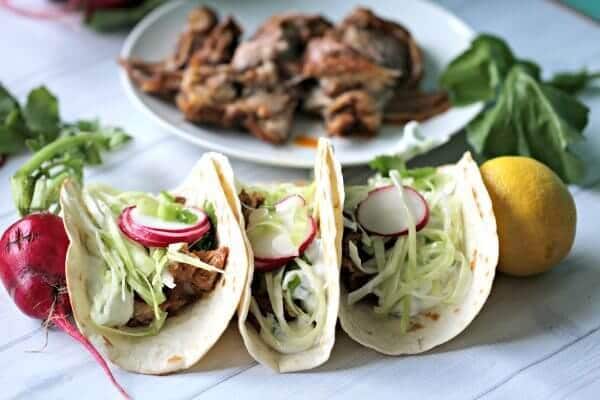 This Saturday was actually my grandfather's birthday, he would've been 74, it hasn't passed even one month since he passed away and it still feels surreal, but we decided that we will celebrate his birthday and cherish the beautiful memories we have of him. He was definitely a man who appreciated good food, so in his honor we made some fabulous beer rib tacos that we shared with friends, honoring his memory, and being thankful that he was in our lives and that he touched our hearts with his kind words and advices.

MY LATEST VIDEOS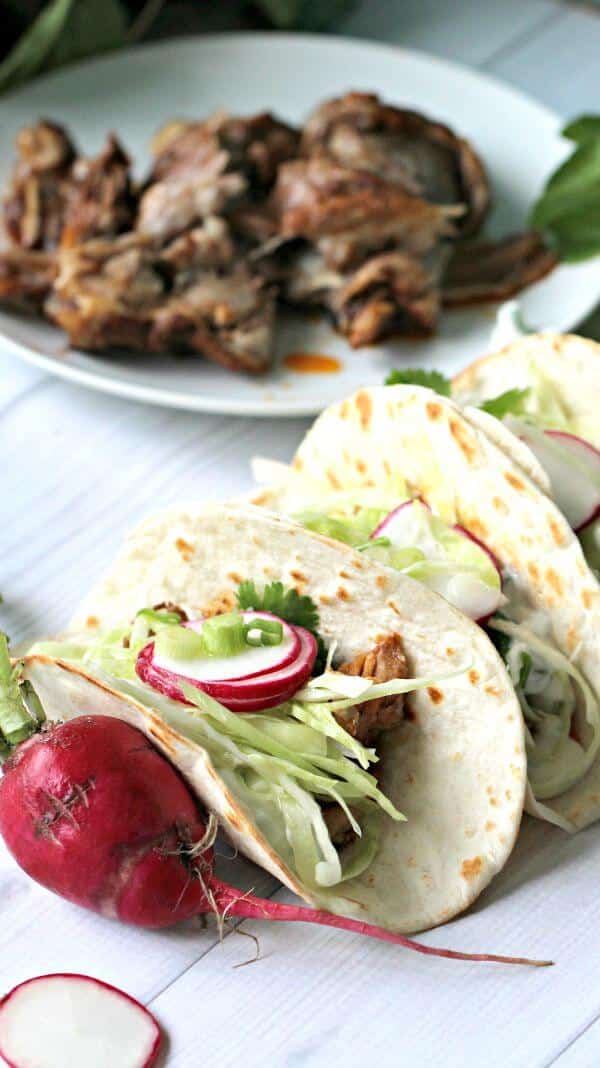 These tacos are so delicious, and they are a breeze to make, you put the ribs in the slow cooker for almost 5 hours and you go mind your business, or like I did, take a very long nap and when you wake up whip the homemade tzatziki sauce and cole slaw and go ahead impress your guests. The meat is the softest and most flavorful I have ever had, it falls off the bone and it has a very nice smoky flavor, a little spiciness and a lot of juiciness.
The tzatziki sauce is very fresh and with a kick since I used one whole jalapeño to spice it up, you can feel tiny crunchy pieces of cucumber in it, and a bright and fresh lemon flavor. This is the tastiest and healthiest sauce I have ever made, and its tart, fresh, creamy and spicy flavors compliment the meat very nicely.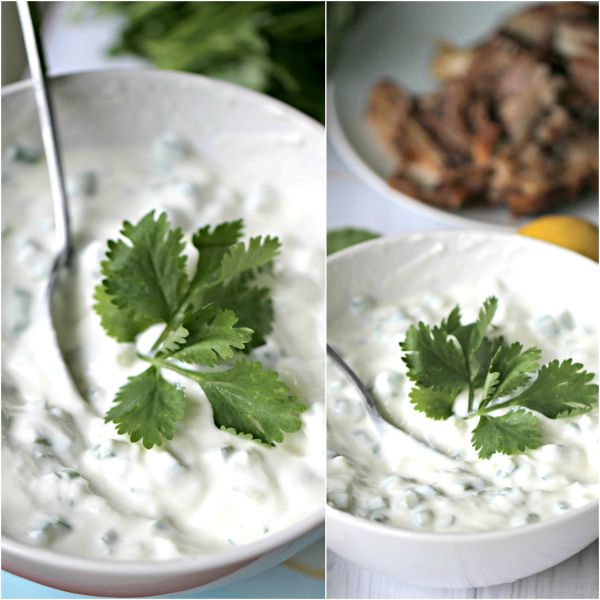 The slow cooker beer ribs tacos are obviously cooked in beer and just a little water, which adds so much more flavor, I love it. They are also topped with a radish cole slaw that is crunchy and not overpowering, also without any mayo, it just adds the right amount of texture and summer flavors to brighten up these tacos.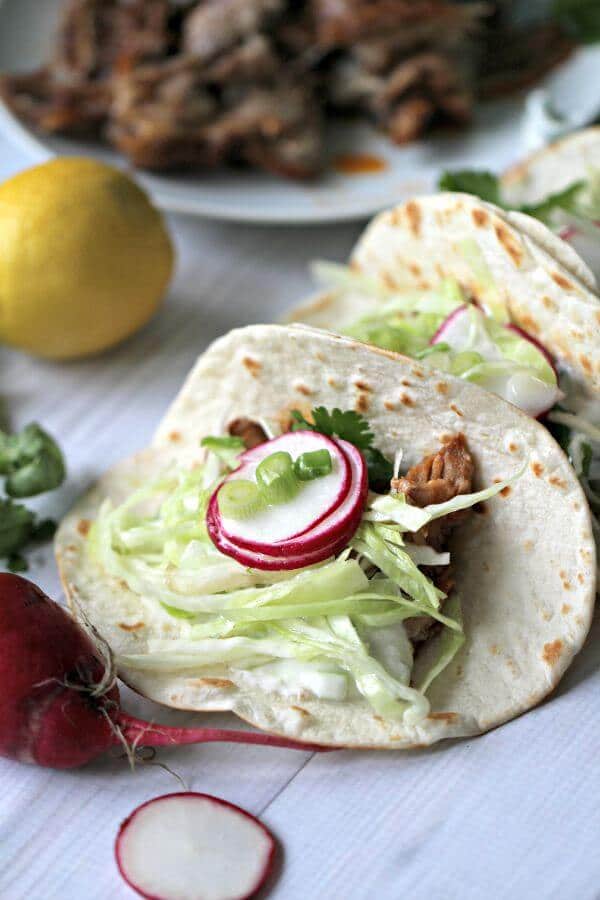 Slow Cooker Beer Ribs Tacos with Jalapeño Tzatziki Sauce
Juicy and flavorful slow cooker beer ribs tacos are served with homemade creamy jalapeño tzatziki sauce and mayo-free radish cole slaw.
Author:
Katalina Kastravet
Ingredients
For the Ribs:
1 full rack of pork ribs
1 bottle of beer Budweiser (12oz)
3 tablespoons smoked paprika
2 tablespoons salt
1 tablespoon black pepper
1 cup canola oil
¾ cup water
3 tablespoons garlic powder
flour tortillas
For the Cole Slaw:
½ green cabbage
6 red radishes
5 green onions
3 tablespoons canola oil
salt
For the Tzatziki Sauce:
1 cup plain greek yogurt
1 jalapeno pepper
1 cucumber
3 green onions
juice of 1 lemon
dash of salt
Instructions
Cooking the Ribs
On the stovetop on medium heat, add ½ cup of oil to a frying pan and when the oil is hot add the ribs. Brown them on both sides, just until a golden brown color starts to appear.
Add ½ cup of oil to the slow cooker, and add the ribs. Pour beer over the ribs. In a bowl combine water, paprika, salt, pepper and garlic powder, mix a little and add the mixture to the slow cooker. Close the slow cooker and cook for 4:30hours.
Once the ribs are done, remove from the slow cooker and separate the meat from the bones. Place meat in a deep dish and add a few tablespoons of the sauce from the slow cooker to keep it warm and juicy.
For the Cole Slaw:
Using a very shard knife cut the cabbage lengthwise, the radishes rondelles and chop the green onions. Add the ingredients to a salad bowl, add oil and salt and mix.
For the Tzatziki Sauce:
Dice cucumbers in tiny cubed pieces and place in a medium bowl. Cut jalapeño in half, remove seeds, dice and add to the bowl. Chop green onions and add to the bowl. Add the greek yogurt, lemon juice and salt to the other ingredients, mix well until combined.
Serving:
Grill the tortillas on the grill or on a pan on medium heat for a few seconds on each side, until it starts to turn golden brown.
On a flour tortilla add the rib meat, top with tzatziki sauce and cole slaw.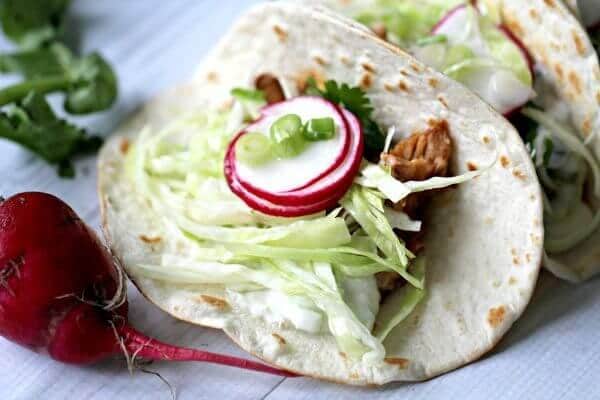 The juicy meat, the crunchy cole slaw, the creamy sauce…you won't be able to stop!
Peas and Peonies, LLC. owns the copyright on all images and text and does not allow for its original recipes and pictures to be reproduced anywhere other than at this site unless authorization is given. If you enjoyed the recipe and would like to publish it on your own site, please re-write it in your own words, and link back to my site and recipe page. Copying and/or pasting full recipes to social media or personal blogs is strictly prohibited. Sharing this recipe is very much appreciated and encouraged. Read my disclosure and privacy policy. This post may contain affiliate links.