Skinny Carrot Souffle with Protein Powder
A high protein, silky smooth, skinny carrot souffle that will remind you of carrot cake, is waist friendly and incredibly delicious.
Sometimes, after a killer workout all I crave is dessert, tell me please that this doesn't happen only to me? Sometimes, all I want is carbs, but we all know that a high calorie dessert as good as it taste is not the best post workout recovery meal, how sad…. That's why I made it my goal to create a "hybrid"; as of now one of the desserts that I constantly crave is the carrot souffle. And by all means carrot souffle still sounds healthy to me, it has carrots, no? But to actually be able to enjoy it after a nice workout, guilt free and to get some benefits out of it, sounds even better for me. Here come the Skinny Carrot Souffle to save the world, with a total of 16 grams of protein per serving, now how is that for a post – workout recovery dessert?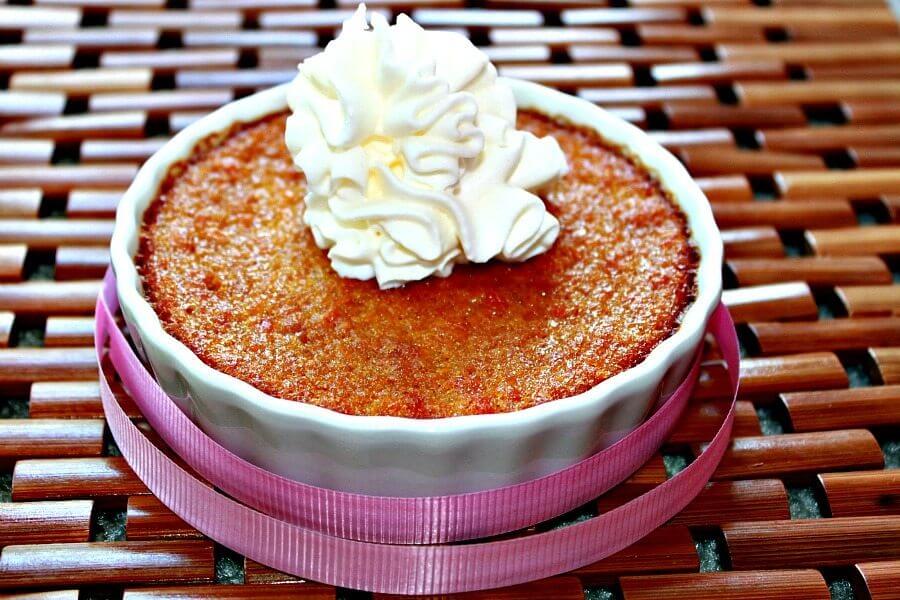 Now, I am not saying that this is the most healthy dessert, it still has some sugar but if you look at the amount per serving its not that much, and there is less than one tablespoon of flour per serving. You can't detect the protein in the souffle, it tastes amazing, very smooth and silky, and there are so many flavors that compliment each other so nice, the vanilla and the cinnamon, the natural sweetness of the carrots with the whipped cream, and all these packed with 16 grams of protein. Definitely a winner dessert that can be enjoyed as a snack, or served after a dinner party, your guest won't even suspect that they are eating a healthier version that is very waist friendly. Try it for yourself, but be aware it is addictive, once you taste it you will find yourself buying carrots in bulk!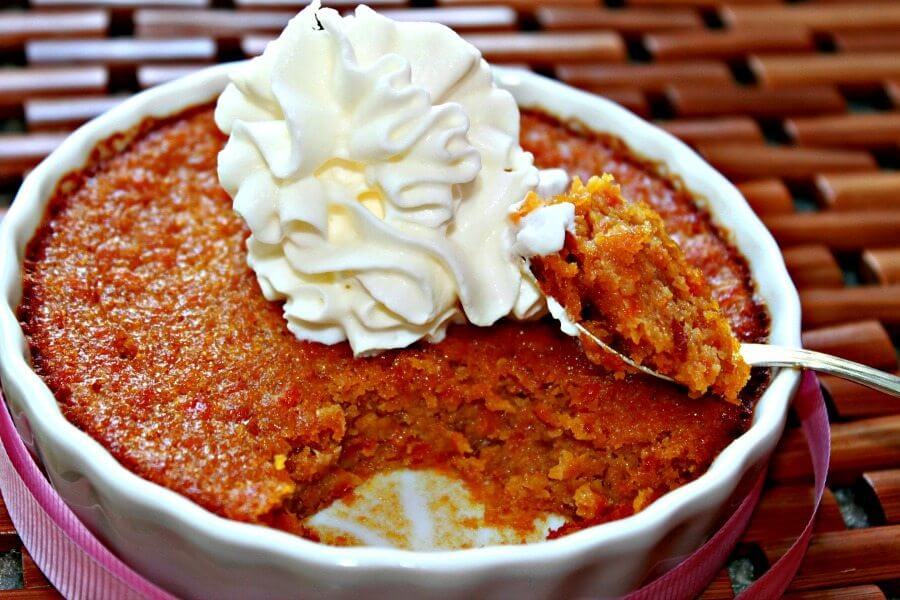 And you get your veggie serving while eating dessert, who can complain? Not me!
Skinny Carrot Souffle
A high protein, silky smooth, skinny carrot soufflé, that is waist friendly and incredibly delicious.
Author:
Katalina Kastravet
Ingredients
5 medium carrots, peeled
½ cup sugar
½ teaspoon vanilla extract
pinch of cinnamon
1½ tbsp. flour
4 tbsp. coconut oil
2 eggs
3 tbsp. vanilla protein powder (I used Sun Warrior)
1 tsp. baking powder
Instructions
Preheat oven to 350 F.
Wash the carrots under cool running water. Remove the green tops, slice off the stem end and tip and discard them.
Peel the carrots with a sharp vegetable peeler or sharp kitchen knife, cut in ½ inch rounds.
In a medium sauce pan, bring water to boil, add the carrots and cook until very tender. Drain and transfer to a mixing bowl.
While the carrots are still warm, using an electric mixer with the paddle attachment, beat them with sugar, followed by vanilla extract, baking powder and cinnamon. Add the eggs one at a time, the flour, protein powder and coconut oil.
Transfer the mixture into four ramekins. Bake for 30 – 35 minutes. Remove the ramekins from the oven and let the souffle cool completely before serving.
Serve with whipped cream.