Russian Sharlotka with Walnuts and Raisins
This post may contain affiliate links. Please read my disclosure policy.
A traditional sponge cake called Russian Sharlotka has been taken to a new level of deliciousness with walnuts and raisins. Easy, quick, delicious!
Hello my friends, finally the rainy days in New York City have passed and the summer is here. I can't wait for the weekend, we plan on taking our son to a farm for pony rides and hit the pool on Sunday. Fun adventures are planned, lets just hope that the forecast stays the same. In preparation for that pool day I just mentioned I wanted to share a cold summer soup today, but after realizing that its almost Wednesday, after 2 days of work we all probably need some cake, and we can talk about the soup after. The good news is that this Russian Sharlotka with Walnuts and Raisins won't ruin your bikini body, the bad news is that probably you won't be able to stop eating it.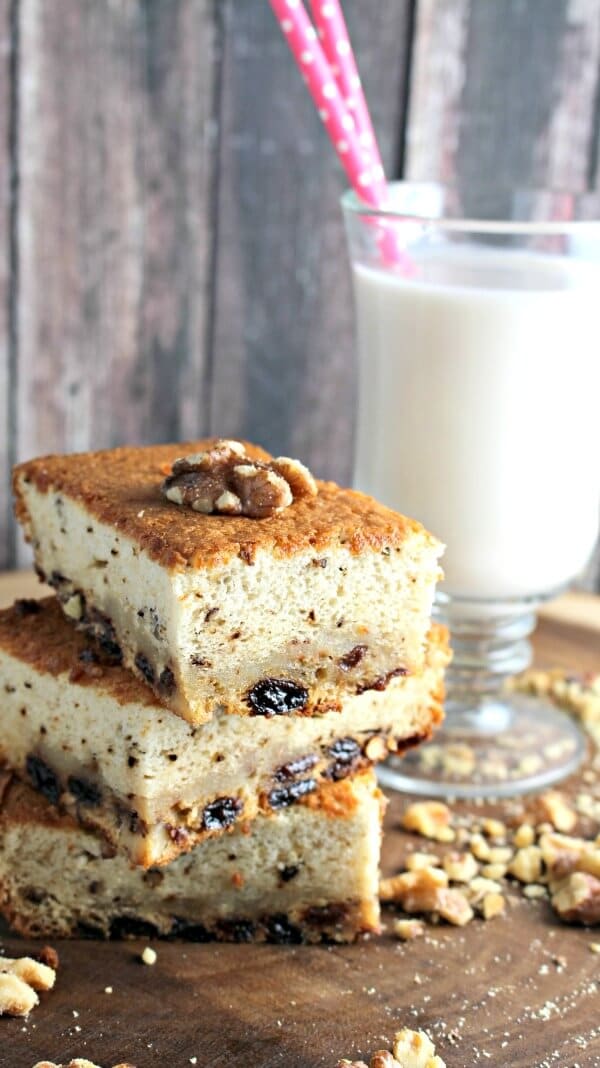 I am bringing to you today russian sharlotka, well, technically I ate it all, its gone, even the crumbs, I have nothing to bring, but you know what I mean, check your pantry, cause most likely you have all the ingredients on hand and make it. I would also appreciate if anyone can send me a piece right now.
Russian sharlotka is a sponge cake, made with very few ingredients, airy, soft and usually made with apples or cherries. This is a desert that my grandmother, my mom always make for me when I used to live home, and now when I visit. It takes minutes to whip it and probably seconds to eat it. I like how this cake is still a treat, but not a waist killer, I feel good eating it, its not heavy, and not overly sweet.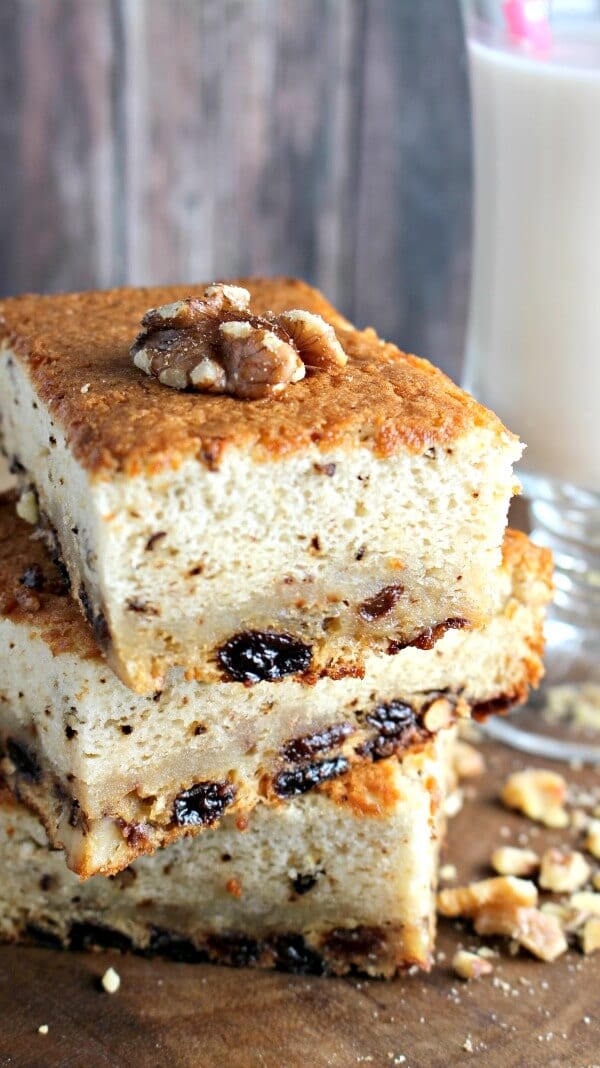 This time I asked my mom if we can change it around, and she had a great idea of adding walnuts and raisins to the cake. Since the batter is so light, the raisins will sink to the bottom and almost form a sweet crust that is insanely delicious, chewy and decadent. We also decided to finely grind the walnuts and they added a nice texture, body and flavor to the vanilla cake.

MY LATEST VIDEOS
A dust of powdered sugar is optional, I didn't find it necessary as the cake was awesome the way it is. I cut it in bars, and enjoyed it with vanilla almond milk.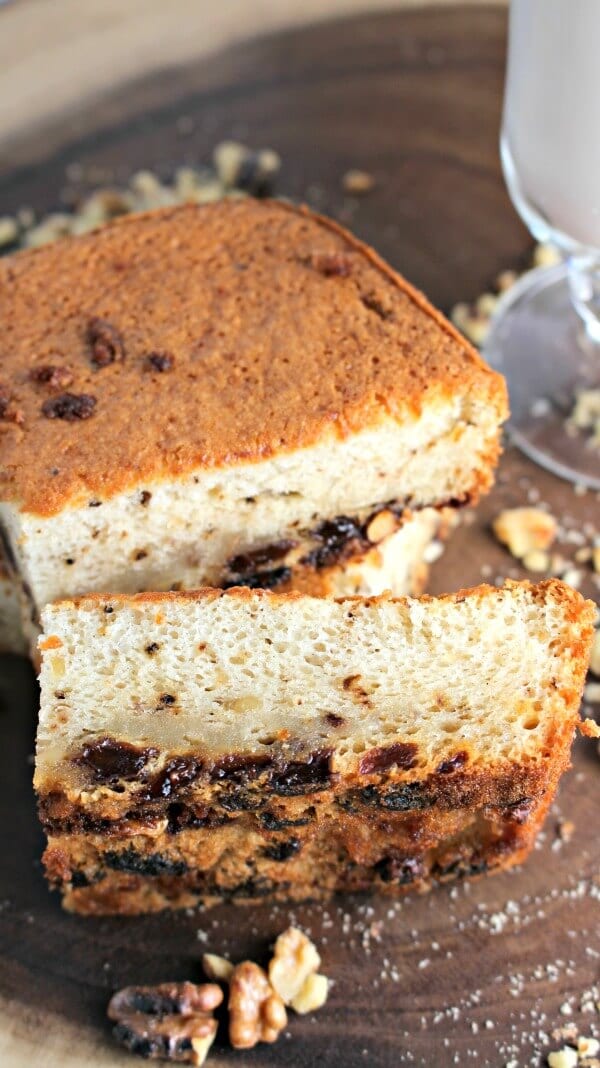 If you are looking for a light, airy, soft and delicious cake, that is no hassle to make, please give this one a try as you won't regret it. The beauty of this cake is that you can change the add ins to what you prefer, also if you want to keep it low calorie just serve it plain, you can also dress it up with some powdered sugar, or even frosting if thats what you are into. The cake is very versatile, fool proof, a recipe that has been tested for generations and was always a crowd pleaser.

Russian sharlotka with walnuts and raisins
A traditional sponge cake called Russian Sharlotka has been taken to a new level of deliciousness with walnuts and raisins. Easy, quick, delicious!
Author:
Katalina Kastravet
Ingredients
6 eggs
1 cup of sugar
1 cup of flour
1 tsp vanilla extract
¾ tsp baking soda mix with ¼ tsp vinegar (can substitute for 1 tbsp baking powder)
1 tbsp butter (for greasing)
½ cup raisins
½ cup walnuts
Instructions
Soak raisins in a cup of hot (boiled water) and drain, this will make them tender.
In a food processor grind the walnuts until they resemble crumbs. Set aside.
Preheat the oven to 350 and grease a 9x13 baking pan.
In the bowl of a stand-up electric mixer fitted with the whisk attachment, beat eggs and sugar on high, for 2-3 minutes, until almost triple in size.
Lower the speed to low and beat in vanilla and flour. Separately in a small glass (shot glass would work) combine baking soda and vinegar and add it to the batter.
Detach the bowl from the mixer and using a rubber spatula carefully fold in raisins and walnuts.
Bake for 20-25 minutes or until the top of the cake is golden brown, also it settled and toothpick inserted in the middle of the cake comes clean with just a few crumbs attached.
Remove the cake from oven, let it cool, after 30 minutes transfer to a cooling rack.
Serve and enjoy!
Peas and Peonies, LLC. owns the copyright on all images and text and does not allow for its original recipes and pictures to be reproduced anywhere other than at this site unless authorization is given. If you enjoyed the recipe and would like to publish it on your own site, please re-write it in your own words, and link back to my site and recipe page. Copying and/or pasting full recipes to social media or personal blogs is strictly prohibited. Sharing this recipe is very much appreciated and encouraged. Read my disclosure and privacy policy. This post may contain affiliate links.