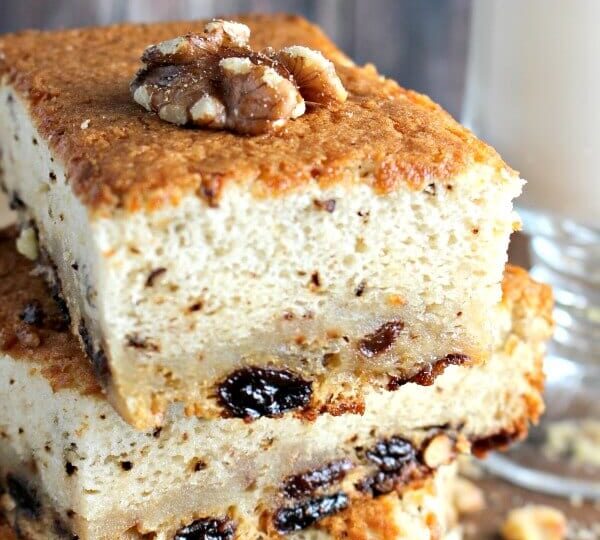 Russian Sharlotka is a traditional sponge cake taken to a new level of deliciousness with walnuts and raisins. Easy, quick, and delicious!
I love making rich and creamy chocolate desserts like my famous Best Chocolate Banana Bread, German Chocolate Cupcake and Chocolate Baileys Poke Cake.
Russian Sharlotka
This Russian Sharlotka with Walnuts and Raisins won't ruin your bikini body. However, the bad news is that you probably won't be able to stop eating it. I am bringing to you today Russian Sharlotka, which is easily made with ingredients on hand.
Russian sharlotka is a sponge cake, made with very few ingredients. In addition, it is airy, soft and usually made with apples or cherries. This is a desert that my grandmother and my mom always made for me when I used to live home. Also, it takes minutes to whip it and probably seconds to eat it. I like how this cake is still a treat, but not a waist killer. Similarly, I feel good eating it, its not heavy, and not overly sweet.
Why You'll Love Russian Sharlotka
Firstly, it rich and puffy, and is a show stopper dessert.
Also, easy to find ingredients and minimum prep work and dishes to clean.
Perfect for brunch parties and for bigger crowds.
In addition, it's easy to transport if you have to take them to a brunch party.
Can be made 1 or 2 days in advance so you don't have to worry about a last minute dessert.
How Long Will the cake Stay Fresh
The cake can be stored wrapped in plastic wrap at room temperature for about 4-5 days.
Can you freeze the Russian Sharlotka
First, cool the cake completely and do not glaze it. Then, fully wrap the cake in plastic wrap, tightly. After that, wrap in aluminum foil or place in freezer bags. Freeze for up to 3 months. Defrost before serving.