Roasted Red Beet Bean Soup – Red Borscht
Last updated on June 18th, 2021 at 04:12 pm
Roasted Red Beet Bean Soup is one pot, easy and healthy. Also, it's hearty, delicious, full of vitamins and can be made vegan or vegetarian.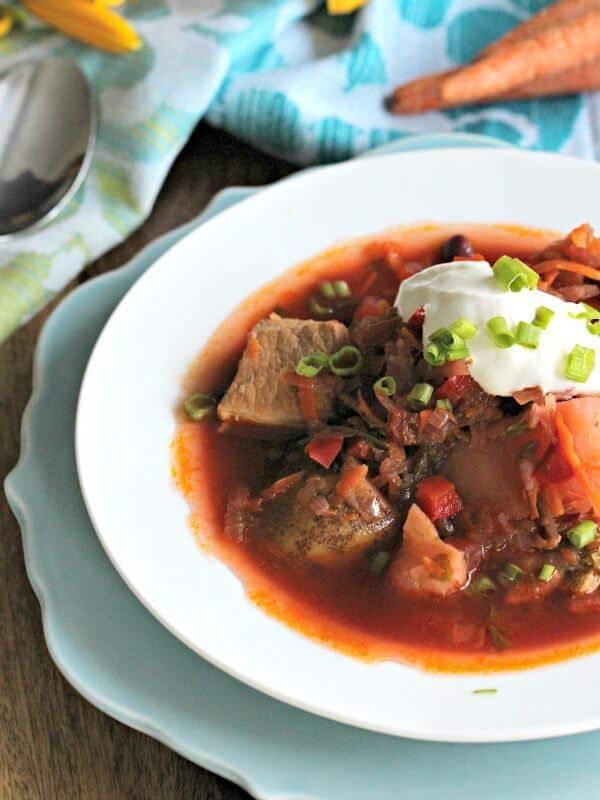 Roasted Red Beet Bean Soup
The Roasted Red Beet Bean Soup has a very nice red color that comes from the beets. Actually you can't even taste the beets, they get soft and tender, so the soup will acquire their beautiful color and their sweet flavor. This healthy and full of vitamins roasted red beet soup aka red borscht is not only delicious, but good for you waist too! The traditional version is made with cabbage not beans. However, I wanted to increase the protein in mine so I used cannelini beans here.
The soup is also very easy to make, its that "One Pot" type of meal. Also, for a shortcut, now some stores like BJ, or Trader Joe's sell pre-packaged roasted red beets, which is such a time saver. However, make sure they don't have any vinegar. If you are using store bought roasted red beets you are cutting the cooking time in half. Also, the soup will be ready in under one hour.
What is "Red Borscht" aka Red Beet Soup?
Borsch is a famous soup in many Eastern European and Central European countries. The recipes for red borsch vary, but it is always made with beetroot. That is how it gets its trademark deep reddish-purple color. The red borscht is usually served topped with sour cream.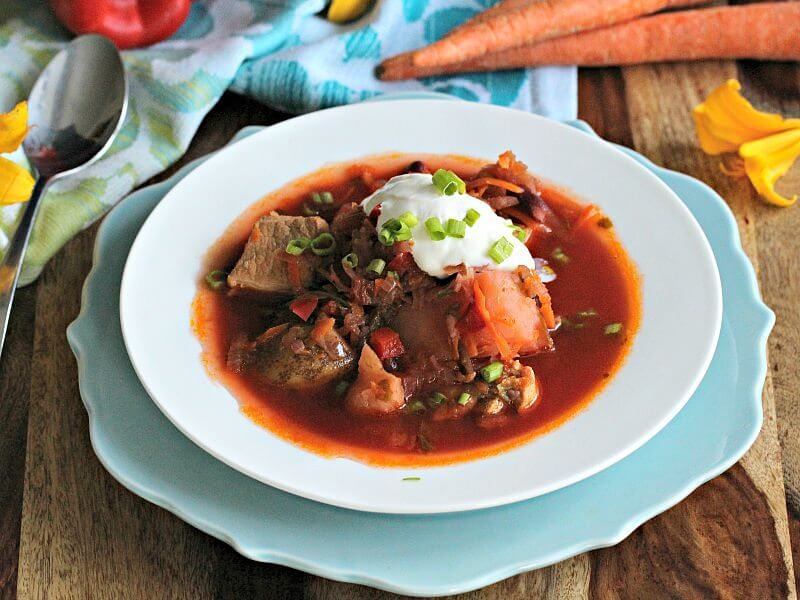 Can you make Vegetarian "Red Borscht"?
This soup can be made vegetarian or actually vegan. I used pork in mine, because that's how I prefer. For a vegetarian version, just skip the meat and double the bean portion. Similarly, you can add some chickpeas. Also, for a vegan/vegetarian version substitute the chicken broth for vegetable broth. For the vegetarian version I recommend using extra beans and cabbage. It adds so much texture, and it's also very filling.
Is Red Borscht good for you?
The soup is traditionally packed with veggies, so its hearty, filling and packed with protein and fiber. If you don't serve it with too much sour cream and use lean meat in the cooking, this soup will be considered a very healthy meal.
Can you taste the beets in beetroot soup?
No, you can't. The beets usually are grated and cooked, they end up flavoring the soup, adding sweetness and tenderness, but you can't taste the beets.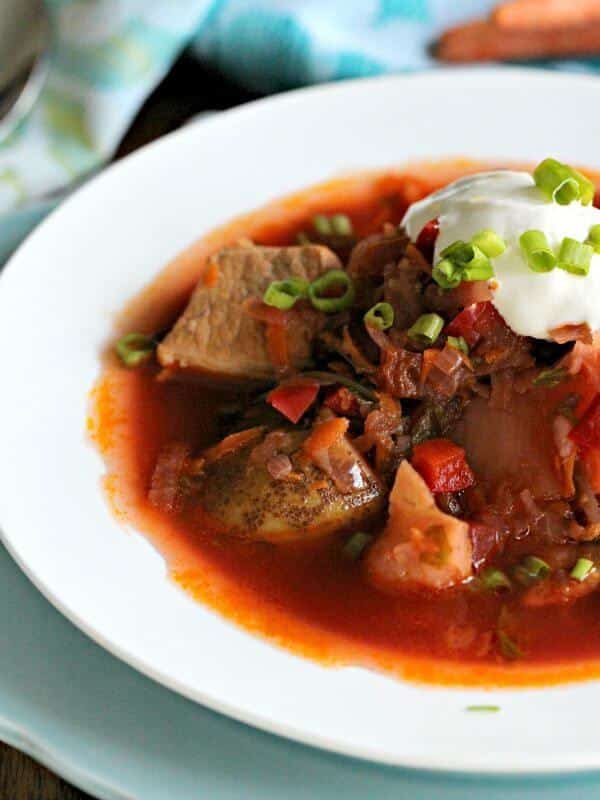 This roasted red beet bean soup is a nice way to make your children eat their veggies. Also, they will love the beautiful color, and one of my friends tells her children that this is strawberry soup and they love it!
Looking for more Soup Recipes? Check these out: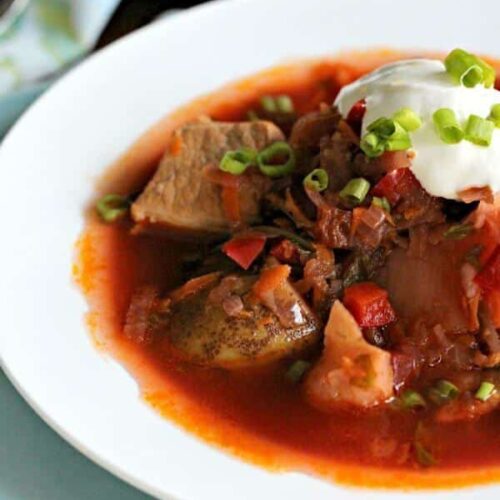 Roasted Red Beet Bean Soup with Pork
One pot, easy and heathy red beet bean soup otherwise called Red Borscht, is hearty, delicious, full of vitamins and can be made vegan or vegetarian.
Save
Share
Print
Pin
Rate
Ingredients
1

lb

pork loin

(cubed in 2x2 inch pieces)

6

red beets

3

medium potatoes

(peeled and cubed)

4

carrots

(peeled and shredded)

1

cup

cooked cannellini beans

(can be substituted with chickpeas)

3

small onions

(peeled and finely chopped)

1

large tomato

(chopped)

1

red bell pepper

(chopped)

4

bay leaves

5

cloves

garlic

(minced)

6

ounces

tomato paste

8

cups

chicken broth

(vegetable broth for vegan or vegetarian version)

1/2

cup

canola oil

juice of one lemon

salt and pepper to taste

sour cream - to serve

parsley - for garnish
Instructions
If using raw beets, wash them and roast them in the oven at 375F for 40 minutes, turning once mid cooking. Once the beets are tender, remove from oven, peel and grate.

If using store bought roasted or boiled beets, grate them and set aside.

In a large soup pot, over medium heat add the canola oil, once the oil is hot add the meat and brown it. Once the meat started to brown, add the chopped onions and garlic, cook until onions start to soften and get golden brown.

Add the shredded beets and carrots and cook for 10 minutes, until carrots start to get tender.

Add the tomato paste, chopped tomato, and chopped bell peppers, salt and pepper to taste and the lemon juice, stir and add the chicken stock, cook for another 10 minutes.

Add 6 cups of chicken broth, bay leaves and potatoes, cook on low heat until potatoes are tender, but not crumbly. Once the potatoes are cooked, rinse the beans under cold water and add to the soup. Stir everything gently, taste and adjust for salt and pepper.

To make the soup more tangy, add a little more lemon juice. If the soup is too thick add more broth.

Let the soup boil for 3 minutes on low heat and remove from heat.

Serve with sour cream and fresh chopped parsley.
Notes
For vegan / vegetarian version skip the meat, add beans of choice (make sure you rinse canned beans under cols water, before adding to the soup). Use vegetable broth instead of chicken broth.
Nutrition
Serving:
0
g
|
Calories:
346
kcal
|
Carbohydrates:
29
g
|
Protein:
19
g
|
Fat:
17
g
|
Saturated Fat:
1
g
|
Cholesterol:
35
mg
|
Sodium:
1136
mg
|
Potassium:
1390
mg
|
Fiber:
6
g
|
Sugar:
11
g
|
Vitamin A:
6035
IU
|
Vitamin C:
60.9
mg
|
Calcium:
81
mg
|
Iron:
4.9
mg
More recipes you might love