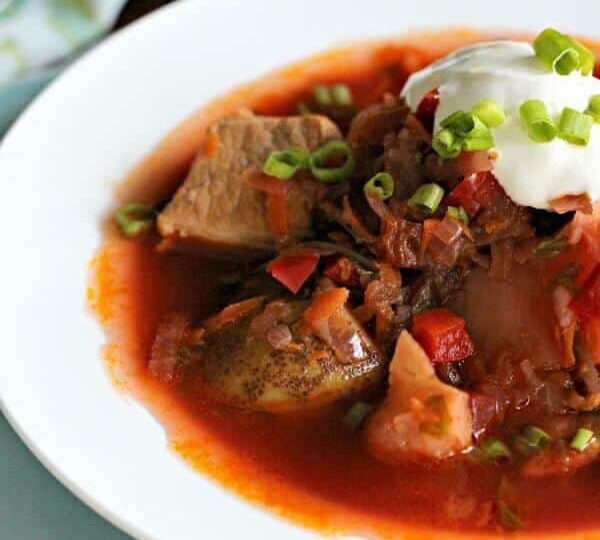 Roasted Red Beet Bean Soup – Red Borscht
Roasted Red Beet Bean Soup is one pot, easy and healthy. Also, it's hearty, delicious, full of vitamins and can be made vegan or vegetarian.
Roasted Red Beet Bean Soup
The Roasted Red Beet Bean Soup has a very nice red color that comes from the beets. Actually you can't even taste the beets, they get soft and tender, so the soup will acquire their beautiful color and their sweet flavor. This healthy and full of vitamins roasted red beet soup aka red borscht is not only delicious, but good for you waist too! The traditional version is made with cabbage not beans. However, I wanted to increase the protein in mine so I used cannelini beans here.
The soup is also very easy to make, its that "One Pot" type of meal. Also, for a shortcut, now some stores like BJ, or Trader Joe's sell pre-packaged roasted red beets, which is such a time saver. However, make sure they don't have any vinegar. If you are using store bought roasted red beets you are cutting the cooking time in half. Also, the soup will be ready in under one hour.
What is "Red Borscht" aka Red Beet Soup?
Borsch is a famous soup in many Eastern European and Central European countries. The recipes for red borsch vary, but it is always made with beetroot. That is how it gets its trademark deep reddish-purple color. The red borscht is usually served topped with sour cream.
Can you make Vegetarian "Red Borscht"?
This soup can be made vegetarian or actually vegan. I used pork in mine, because that's how I prefer. For a vegetarian version, just skip the meat and double the bean portion. Similarly, you can add some chickpeas. Also, for a vegan/vegetarian version substitute the chicken broth for vegetable broth. For the vegetarian version I recommend using extra beans and cabbage. It adds so much texture, and it's also very filling.
Is Red Borscht good for you?
The soup is traditionally packed with veggies, so its hearty, filling and packed with protein and fiber. If you don't serve it with too much sour cream and use lean meat in the cooking, this soup will be considered a very healthy meal.
Can you taste the beets in beetroot soup?
No, you can't. The beets usually are grated and cooked, they end up flavoring the soup, adding sweetness and tenderness, but you can't taste the beets.
Looking for more Soup Recipes? Check these out: