Raspberry Marshmallow Cookies
Gluten free raspberry marshmallow cookies are made with raspberry sauce, with a crispy outside and soft marshmallowy middle.
We love it here, its so amazing to wake up in this city with beautiful architecture and so much history. Just finished my baguette with ham and cheese for breakfast and I am ready to move to that chocolate filled fresh croissant. For you, I also have something sweet today, raspberry marshmallow cookies that are crips on the outside and soft on the inside.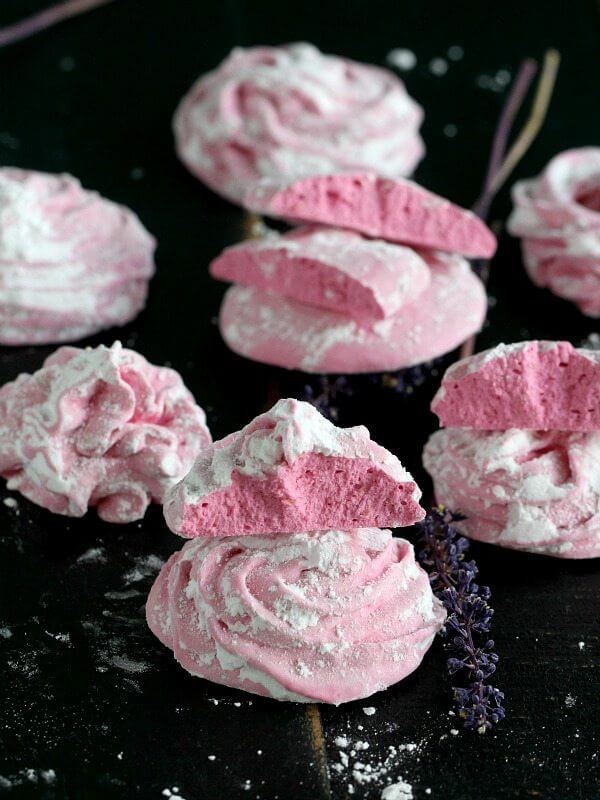 These raspberry marshmallow cookies are gluten free and vegetarian since I used agar agar instead of gelatin. Their beautiful pink color is from the fresh raspberry sauce and a few drops of pink food color gel.

I would be the first one to say that these raspberry marshmallow cookies are a little on the sweet side, but that is expected since they are mostly made with sugar and raspberry sauce. They are the perfect pick me up for a cup of bitter coffee. I loved their texture and I think they will be a very nice addition to any Christmas cookie tray. Yes, I just suggested you make these for Christmas while we are in October, but hear me out, there is never too early to start working on your Christmas baking list and these cookies would be a nice change from the regular and more traditional ones.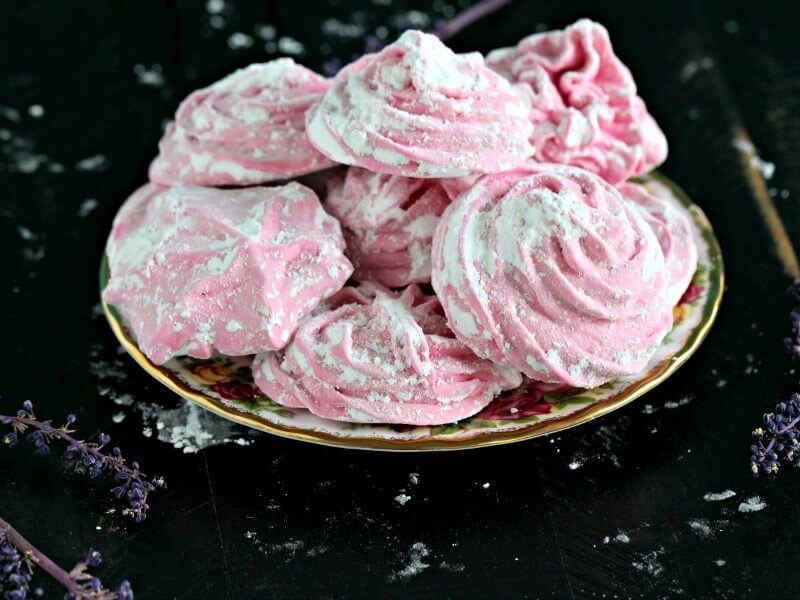 Sweet, crispy and with a soft center, these raspberry marshmallow cookies are the perfect cross between a soft marshmallow and a crispy cookie! The pink color is a bonus too!
raspberry marshmallow cookies
Gluten free and vegetarian raspberry marshmallow cookies are made with raspberry sauce, with a crispy outside and soft marshmallowy middle.
Author:
Katalina Kastravet
Ingredients
1 cup raspberry sauce
1 teaspoon cream of tartar
1 teaspoon agar agar
1 egg white
150 ml water
2 cups sugar
5 drops pink food color gel
Instructions
Add raspberry sauce to a medium sauce pan and place over medium heat, when the sauce starts bubbling add cream of tartar and cook for 5-7 minutes, stirring constantly. Remove from heat and set aside. Wait for the mixture to cool to room temperature.
Add water and agar agar to a sauce pan and let it sit for 10 minutes.
Place agar agar mixture on the stove on medium heat, when it starts boiling add the sugar and boil for 7-10 minutes. The mixture must resemble a syrup at this point. Remove from heat and set aside.
In the bowl of an electric mixer beat the egg white and the raspberry sauce until fluffy. When the mixture is light and fluffy, with the mixer on low-medium speed start adding the agar agar syrup very slowly. It should take you about 7 minutes to add all the syrup. Increase the mixer speed to high and beat for 15-20 minutes. Add the pink food color gel. Stop and scrape the sides of the bowl a few times during this process. You must beat the mixture until its temperature drops to 100F. It must be just a little warm to he touch.
Lay parchment paper on a cookie pan.
Let the mixture sit for 10 minutes, and after that transfer it to a piping bag. The mixture at this point must start to solidify, so it will be a little hard to pipe, thats why you have to work fast.
Let the cookies stay at room temperature for at least 3 hours or overnight before serving.