Garlic Shrimp Pasta – Easy Dinner
This post may contain affiliate links. Please read my disclosure policy.
Classic Garlic Shrimp Pasta – paired together to create a quick, easy and comforting dish, full of depth, flavor and that is incredibly tasty.
Happy Tuesday everyone! Who is in for a delicious dinner ? Or if you are at home now, you still have time to hit the grocery store to make this for lunch. A pasta dish can never get old, its a classic, and usually very versatile. This pasta and garlic shrimp is no exception, quick and easy to make on a week night, it's comforting, fancy and delicious. This Classic Garlic Shrimp Pasta will please your family, and can be totally made for a date night served with some delicious white wine.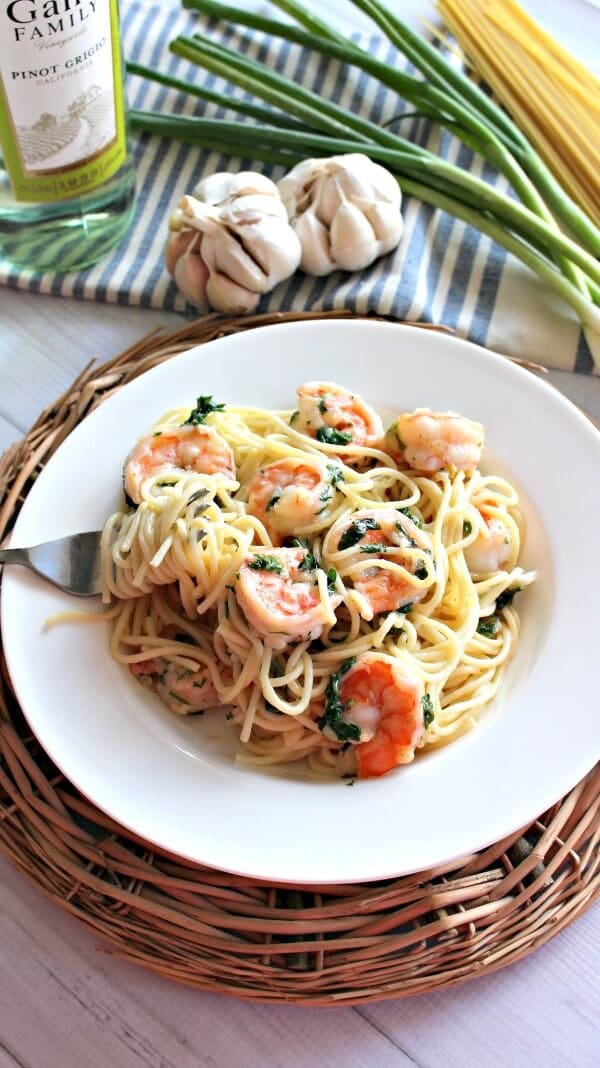 I usually peel my shrimp for this, but if you want to save time, go ahead and just buy the shrimp peeled, this will make you throw this recipe together in a matter of minutes.
I like how flavorful the sauce turned, its especially good when you dip some toasted bread into it. You have to soak all that goodness. The sauce is made with simple ingredients, but it tastes very rich and full of depth and flavor.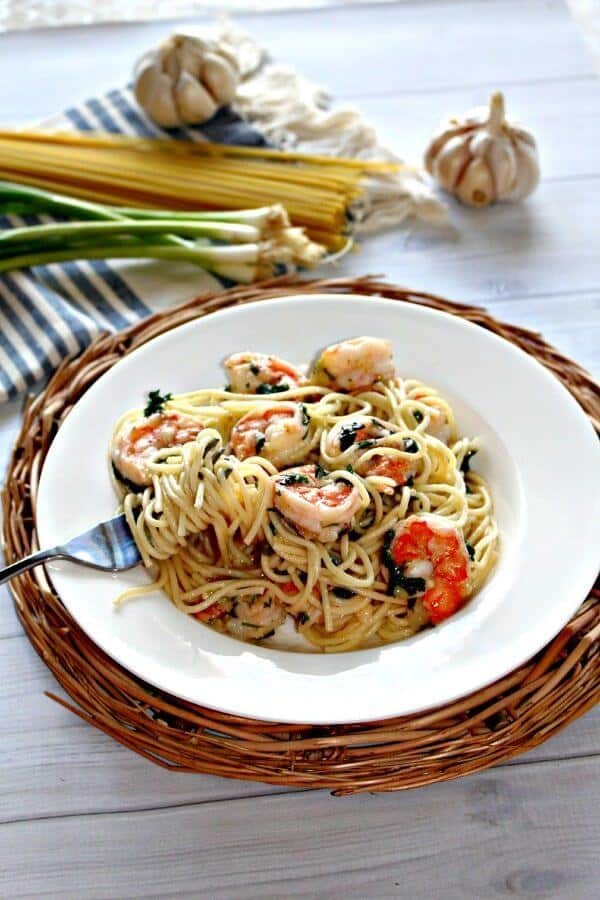 Never skip the white wine in this Garlic Shrimp Pasta dish, just save a little to add to the sauce, and the rest sip it while cooking. Its almost mandatory on a Tuesday night, when Friday and the weekend seem like an eternity away.

MY LATEST VIDEOS
In our house my husband specializes in shrimp dishes, so I was lucky enough to just observe him cooking this pasta and garlic shrimp dish and enjoy it afterwards. I swear, every time he makes this Garlic Shrimp Pasta dish, it tastes a hundred times better than mine. I can't complain, more for him to cook.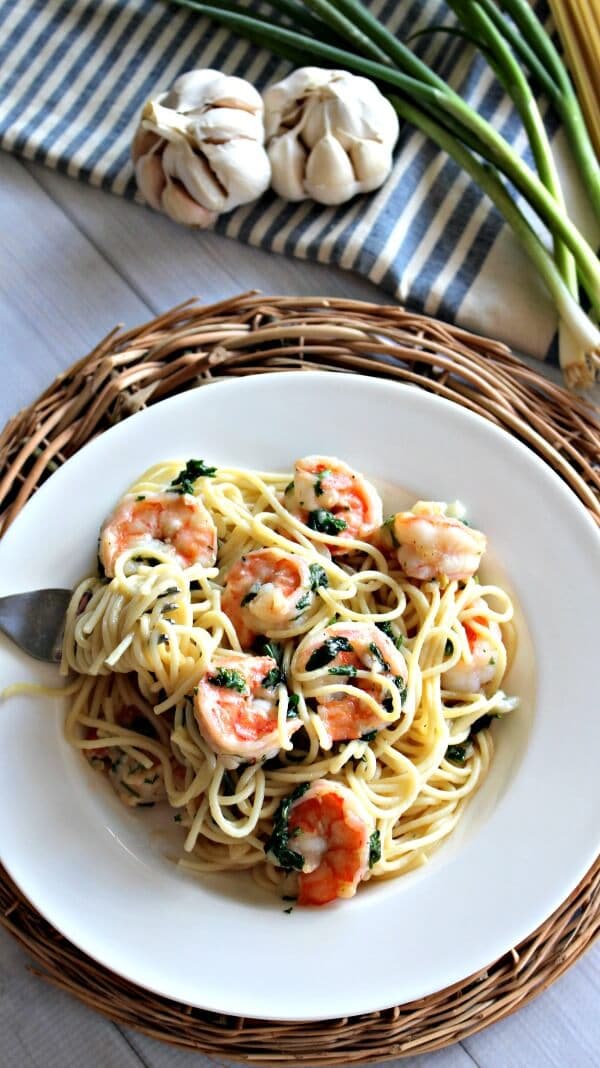 We kept it simple and used spaghetti for this recipe, you can totally go ahead and swap for any pasta you have on hand, angel hair or linguine would be a good choice. Some fresh basil to brighten and add some color is always a good idea too.
Garlic Shrimp Pasta for dinner! Enjoy!

Quick and Easy Dinner: Pasta and Garlic Shrimp
Classic pasta and garlic shrimp get paired together to create a quick, easy and comforting dish, full of depth, flavor and that is incredibly tasty.
Author:
Katalina Kastravet
Ingredients
½ cup chopped garlic (2 garlic heads)
1 cup extra-virgin olive oil
1 cup white wine
Salt and Pepper
Juice of 1 lemon
5 dried chili peppers
2 pounds medium-large shrimp, peeled
5 tablespoons chopped fresh basil (optional)
½ lb. pasta, spaghetti
2 tbsps. salt
Instructions
To a small sauce pan over medium-low heat add the oil and ½ teaspoon salt. Stir occasionally as the mixture comes barely to a simmer. Adjust the heat to the lowest setting to keep the mixture at that gentle simmer add the garlic and cook, stirring occasionally, until the garlic achieves a pale golden color, about 10 minutes.
Add the lemon juice and simmer until most of the juice has been absorbed into the garlic, about 5 minutes. Stir in the chili peppers and add the wine, taste the mixture and add a little more salt if needed. Keep the pan over very low heat.
Set a large nonstick heavy skillet over medium-high heat and spoon in 2 tablespoons of the oil mixture, but NO garlic. Add the shrimp to the skillet, sprinkle generously with salt plus pepper and stir gently and continuously until the shrimp are just cooked, 8 minutes.
Add the garlic sauce to the shrimp and set aside.
Pasta
In a large pot bring 3 quarts of water to a rolling boil. Once water is boiling, add the salt and pasta. Stir occasionally to keep pasta from sticking.
Place the lid on the pot to help bring the water back to a boil.
Once the water is boiling again, remove the lid for the remaining cooking time to prevent the pasta from boiling over.
Follow the package directions for cook times. Perfectly cooked pasta has to be a little firm to the bite and not mushy so taste test it.
Once your pasta is ready, turn off the heat and scoop out 1 cup of pasta cooking water.
Drain the pasta into a colander in the sink. Do no rinse the pasta. You don't want to drain the pasta all that well, it should still retaining some pasta water.
If you are looking for a more liquid sauce or want the dish to have more sauce, add ½ a cup of the pasta water, or more, based on your preference to the garlic mixture.
Scoop the pasta onto a deep serving platter and top with the garlicky shrimp mixture.
Decorate with fresh basil and serve.
Peas and Peonies, LLC. owns the copyright on all images and text and does not allow for its original recipes and pictures to be reproduced anywhere other than at this site unless authorization is given. If you enjoyed the recipe and would like to publish it on your own site, please re-write it in your own words, and link back to my site and recipe page. Copying and/or pasting full recipes to social media or personal blogs is strictly prohibited. Sharing this recipe is very much appreciated and encouraged. Read my disclosure and privacy policy. This post may contain affiliate links.