Pretty Pink Summer Refreshments
Pink summer refreshments are the perfect snacks these summer. Raspberry chocolate ice cream bars, chocolate stuffed raspberries and raspberry water.
This post has been sponsored by Weight Watchers. All opinions are my own.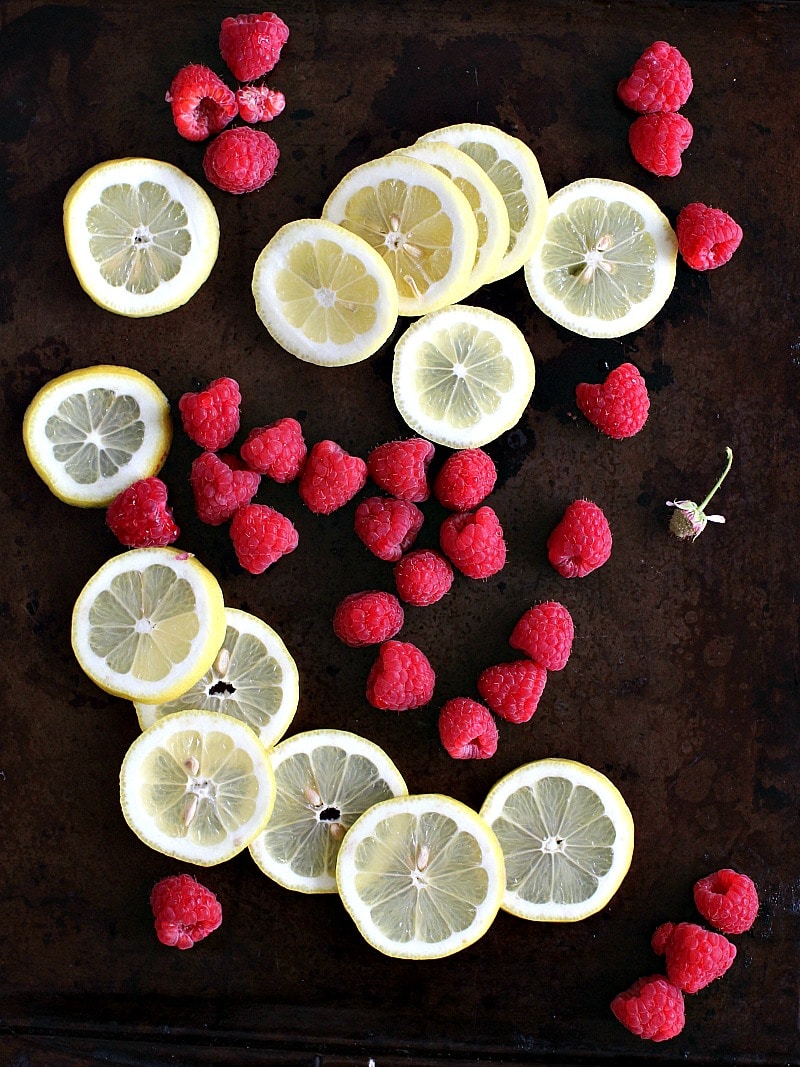 Hi guys, are you ready for summer? Well, we have been hit with the most amazing heat wave here on the East Coast and for me the summer officially started. Summer is by far my most favorite season, I am looking forward to summer refreshments and light clothes all year around. You all know how much I love pink, and if you didn't know, now I told you. This beautiful, colorful arrangement inspires me and I am in love with pink food. With that said, I am kicking the heat season in style with some beautiful, sweet, pink summer refreshments as they always put a smile on my face.

Raspberries are so gorgeous and stunning! I love snacking on them and adding them to different recipes. I am going to share with you today three pink summer refreshments that are a staple in my house. These bright and delicious snacks will inspire you to have a colorful summer.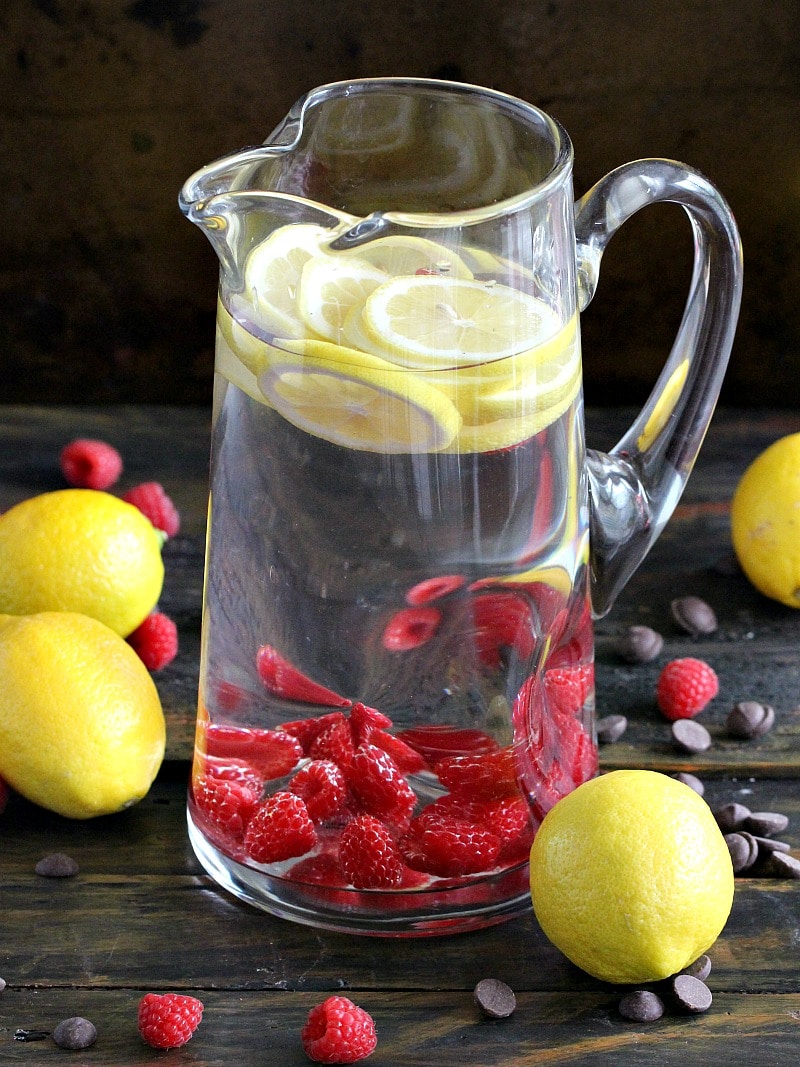 Cold water with fresh raspberries, lots of lemon and an optional touch of honey is my drink of choice. The bright berries look so appealing, it always reminds me to stay hydrated. A touch of honey adds just the right amount of sweetness, and the tart lemons make this pitcher so refreshing.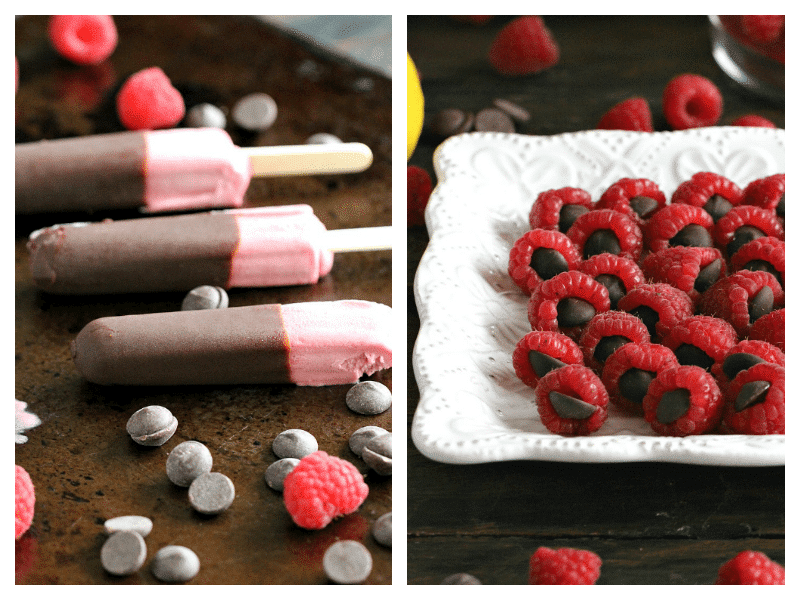 I remember visiting my grandparents as a child, and they have a huge orchard, with so many amazing berries, to this day I think that their raspberries are the best. This beautiful berry is so delicious, it's gorgeous color and gentle texture, with the sweet and sour taste inspires so many recipes of mine and also make such a great and versatile snack. Cold from the fridge, combined with dark chocolate they are unbelievable. I was asked by Weight Watchers® Ice Cream to try their new summer flavors! As an ice cream obsessed person, I am so in love with the Weight Watchers Dark Chocolate Raspberry Ice Cream Bars (3 SmartPoints™ value; 60 calories per bar) – Raspberry flavored low fat ice cream dipped in a dark chocolate flavored coating.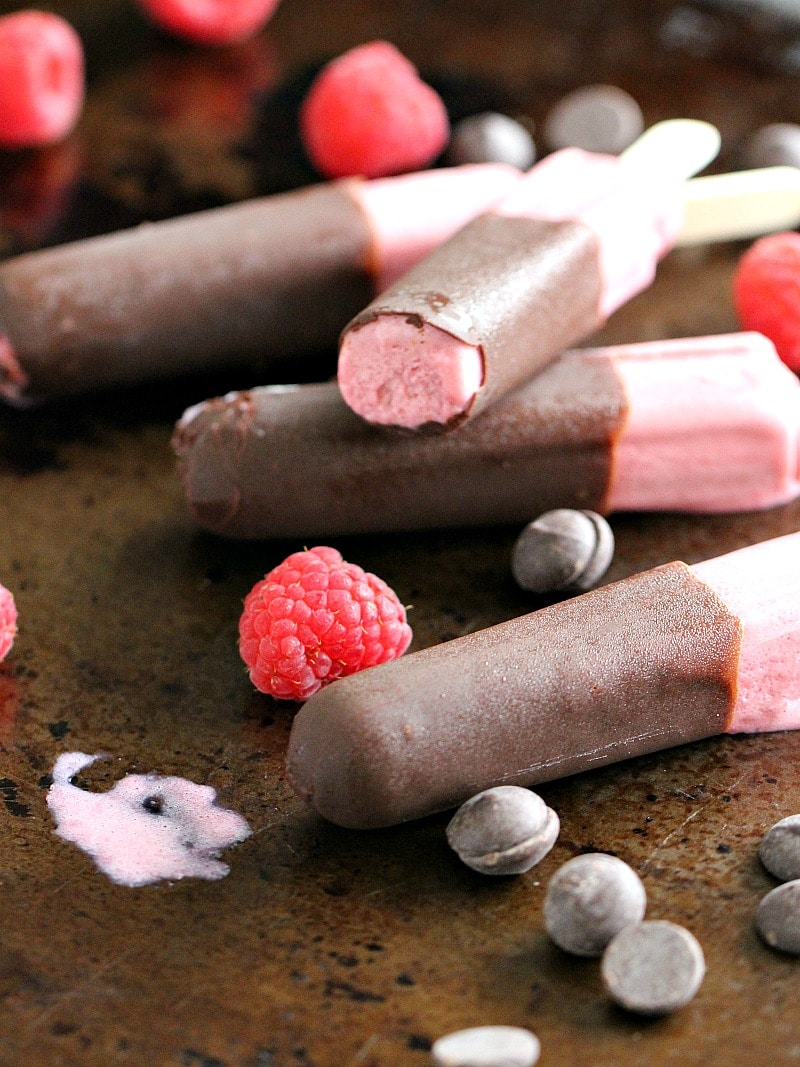 When I spotted them at my local Shoprite, I knew that they will become a staple summer refreshment in our house. The raspberry chocolate combo is a classic one, I like that this ice cream is a smarter choice than full fat ice cream. I feel that I can totally rock a bikini and enjoy one of these. Sweet, refreshing, and PINK!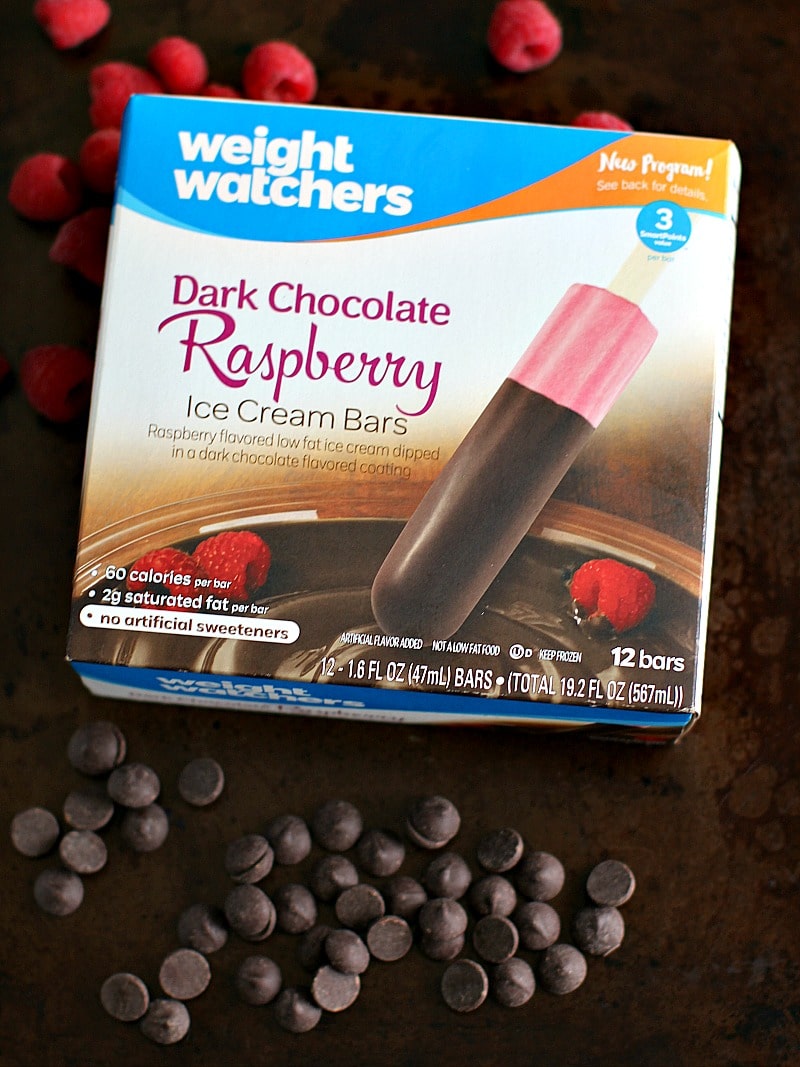 I like that the ice cream bars have no artificial sweeteners and the size is enough to tame my craving.
And since we are on a raspberry roll, check these raspberries stuffed with dark chocolate chips.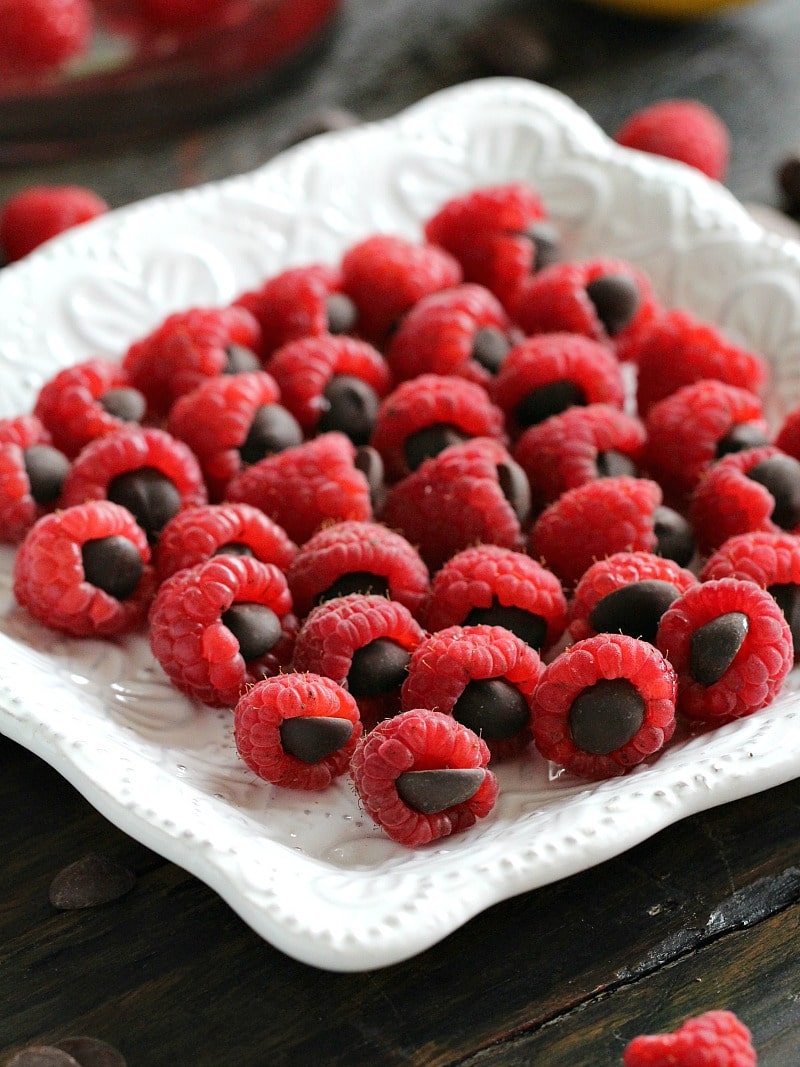 Told ya that raspberries and chocolate make the perfect combo!
The ice cream is so good that I am going to share a secret with you, by the time I finished this photoshoot, it was all gone, my mom, toddler and husband helped themselves pretty quickly.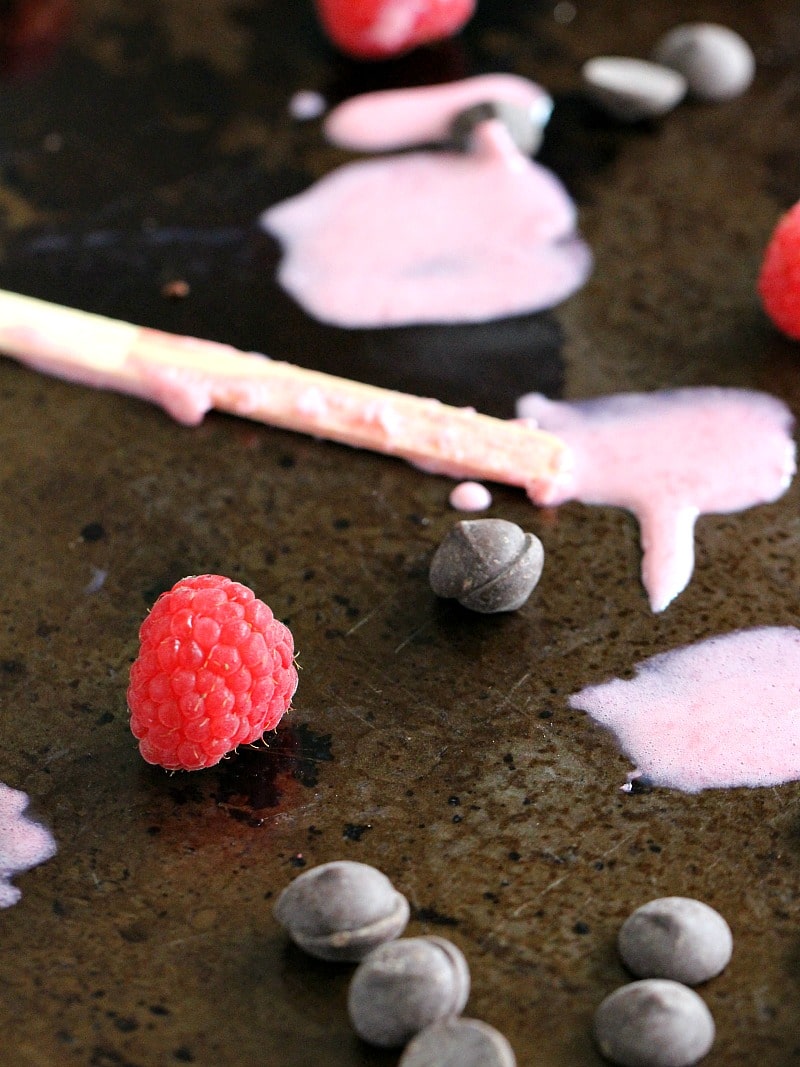 Pretty Pink Summer Refreshments
Pink summer refreshments are the perfect snacks these summer. Raspberry chocolate ice cream bars, chocolate stuffed raspberries and raspberry water.
Author:
Katalina Kastravet
Recipe type:
Refreshments
Ingredients
Raspberry Flavored Water:
1 pitcher of cold water
2 lemons, washed and sliced
6 oz raspberries, washed
1 tablespoon honey - optional
Chocolate Stuffed Raspberries:
6 ounces raspberries
dark chocolate chips
Instructions
Raspberry Flavored Water:
Add the honey to the cold water, mix until dissolved and the fresh raspberries and sliced lemons. Keep refrigerated.
Chocolate Stuffed Raspberries:
Wash raspberries and let them dry on a paper towel, make sure all water is removed. Refrigerate, after the raspberries have been cleaned and refrigerated, gently stuff them with chocolate chips, one per raspberry. Arrange on a serving plate and keep refrigerated for best flavor.