Poppy Seed and Walnut Roll Bread
Poppy Seed and Walnut Roll Bread is soft and sweet, that is filled with a delicious walnut paste and vanilla infused poppy seeds.
Making easy, puffy and delicious breads is our specialty. We enjoy making them rich and tender like our popular Chocolate Banana Bread, Skinny Blueberry Banana Bread and Pumpkin Bread.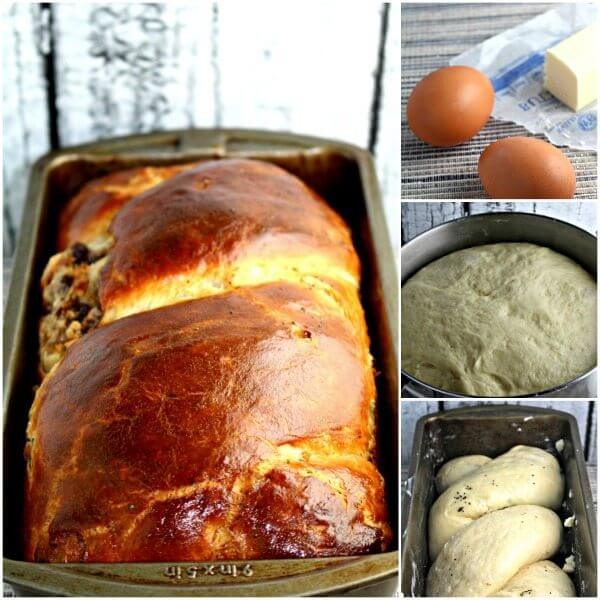 Poppy Seed and Walnut Roll Bread
This Poppy Seed and Walnut Roll Bread is sweet, doughy and packs a lot of flavor. I guess its safe to say that I have a poppy seed obsession. In addition, I love the texture, the softness, sweetness and nuttiness they bring to any dessert and they are perfect. The bread is one of my favorite baked concoctions. Its one of my mom's signature recipes, that we always ask for. The bread is very soft, and loaded with traces of walnuts and poppy seeds. If you love flaky crescent dough, you will love this bread.
While making this Poppy Seed and Walnut Roll Bread requires some labor and dedication, it is totally worth it. Because you will get a bread that is soft like a cloud, rich, nutty with a slight vanilla flavor. Also, you will want to eat for breakfast and dinner and as a snack in between.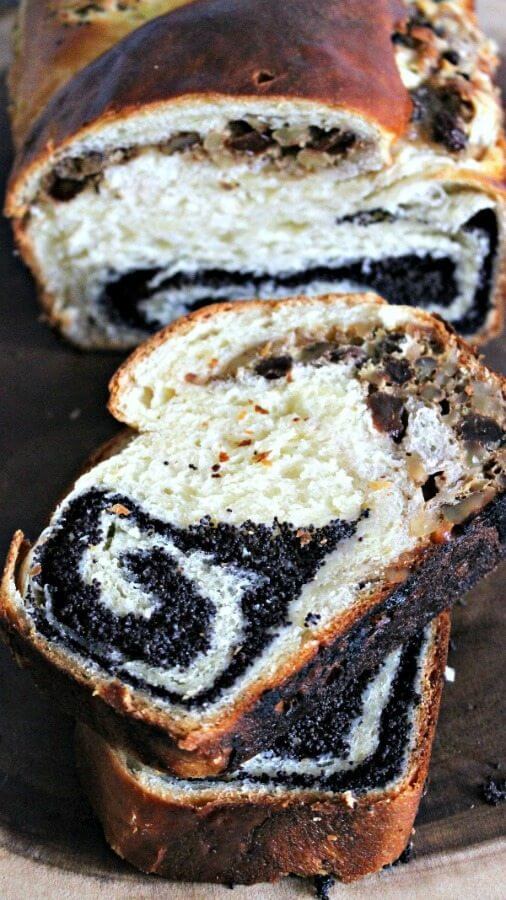 This poppy seed and walnut roll bread is a staple in our house, and I usually make 2 batches to last a week. You can store it at room temperature, covered with a kitchen towel to avoid dryness.
Many people fear the popopy seeds, and I notice in the western cuisine they are mostly used for visual aspects in combination with some citrus, like lemon bread, but they are so delicious, and they can totally carry a dessert on their own, taking center stage. The poppy seeds are cooked in milk with vanilla beans which makes them full of flavor and they pair nicely with the soft and sweet bread and walnut paste.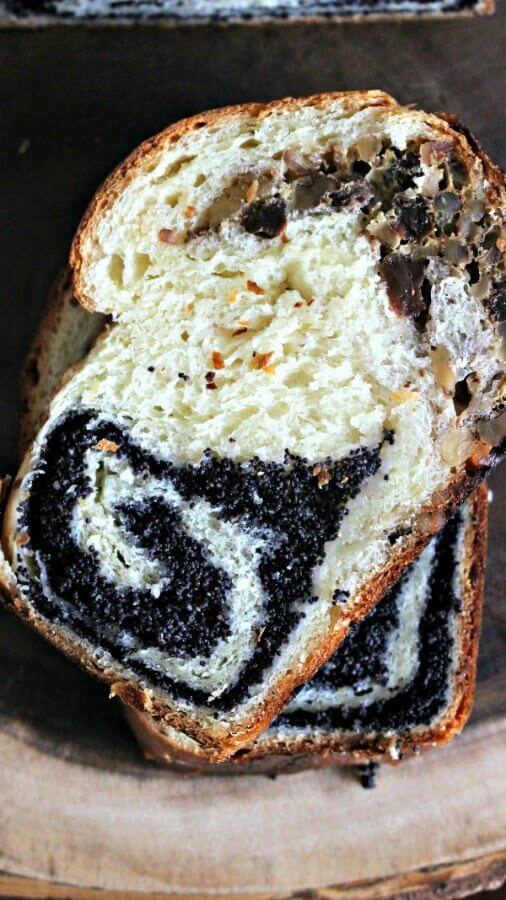 How should I store the Poppy Seed and Walnut Roll Bread?
The bread can be stored wrapped in plastic wrap at room temperature for 4-5 days.
Can you freeze the Poppy Seed and Walnut Roll Bread?
This bread also freezes well. First, cool the bread completely and do not glaze it, if you intend to freeze it. Then, fully wrap it in plastic wrap, tightly. After that, wrap in aluminum foil or place it in freezer bags. Freeze for up to 3 months. Defrost before slicing.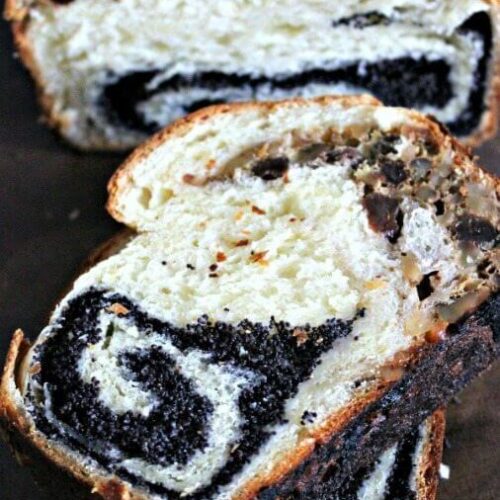 Poppy Seed and Walnut Roll Bread
Poppy Seed and Walnut Roll Bread is soft and sweet, that is filled with a delicious walnut paste and vanilla infused poppy seeds.
Save
Share
Print
Pin
Rate
Ingredients
Sweet Dough:
1

tsp.

sugar

0.25

oz.

active dry yeast

1/2

cup

warm water

1/2

cup

milk

1/3

cup

sugar

1/4

cup

butter

1

tsp.

salt

2

eggs

(beaten)

4

cups

all-purpose flour

1

egg
Walnut Filling:
2

cups

walnuts

1

vanilla bean

1/2

cup

sugar

1/2

cup

milk
Poppy Seed Filling:
11

oz.

poppy seed

3/4

cup

milk

3

tbsp.

sugar

2

vanilla beans
Instructions
Sweet Dough
In a small bowl, mix 1 tsp. sugar, yeast and warm water. Allow the mixture to stand at room temperature for about 10 minutes; the mixture should form a foam, indication that the yeast is active and working.

In a medium sauce pan, place milk over medium heat until it starts to bubble, remove it from the stove, and mix in salt, 1/4 cup sugar, and 1/4 cup butter until melted. Allow to cool until just slightly warm.

In a large mixing bowl, combine the yeast slurry and milk mixture. Fit the electric mixer with the hook attachment, and mix on low while adding the eggs and flour. Mix until the ingredients are well combined and the dough becomes elastic, about 7-8 minutes.

Remove the dough from the bowl, and place on a slightly floured surface. Evenly divide it into 4 balls.

Return the divided dough balls to the bowl, cover with a slightly damp kitchen towel and let it raise for 30 minutes.
Walnut Filling
Using a food processor, finely grind the walnuts to the desired consistency.

Place in a medium sauce pan and cover with milk, insides of the vanilla bean and sugar. Place over medium heat and mix until the sugar is dissolved and the mixture achieves a paste like texture.

Set aside to cool.
Poppy Seed Filling
In a medium sauce pan, combine all the filling ingredients and cook on low heat for about 20 minutes. Set aside to cool.
Baking & Assembling:
Grease two 8 inch loaf pans with butter and set aside.

Roll out dough into a rectangular sheet (1/8 inch thin, approximately 15 inches x 7 inches), and spread out an even layer of half of the walnut filling. Carefully roll the dough as you would do for a cinnamon roll.

Repeat this step for the 3 remaining dough balls: 1 with the remaining half of the walnut filling, 2 with the poppy seed filling.

Take one poppy seed filled dough roll and one walnut, gently pinch them together (glue together) on one end, and carefully "braid" them together. Pinch the other end, and tuck the seams underneath the dough. Carefully transfer roll to a prepared pan.

Repeat with remaining walnut and poppy seed dough rolls.

Cover with a kitchen towel and let sit for an hour at room temperature or until doubled in volume.

Preheat oven to 350F.

Brush proofed rolls with the egg wash and bake in for 50 minutes or until golden brown.

Remove from the oven, and allow to cool for 20-30 minutes before invert onto cooling rack and serving.
Nutrition
Calories:
421
kcal
|
Carbohydrates:
56
g
|
Protein:
10
g
|
Fat:
18
g
|
Saturated Fat:
3
g
|
Cholesterol:
44
mg
|
Sodium:
246
mg
|
Potassium:
354
mg
|
Fiber:
7
g
|
Sugar:
20
g
|
Vitamin A:
370
IU
|
Vitamin C:
0.2
mg
|
Calcium:
474
mg
|
Iron:
5.6
mg
More recipes you might love