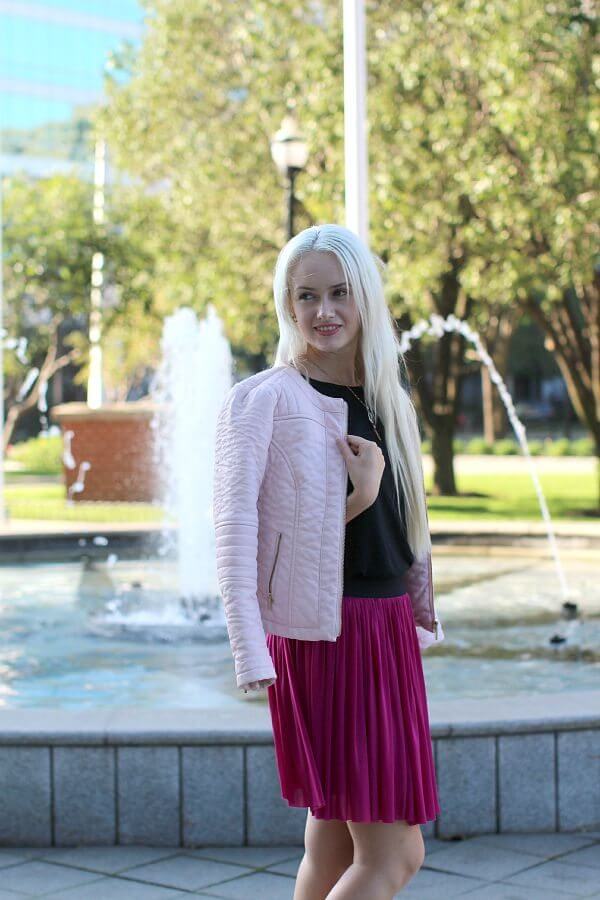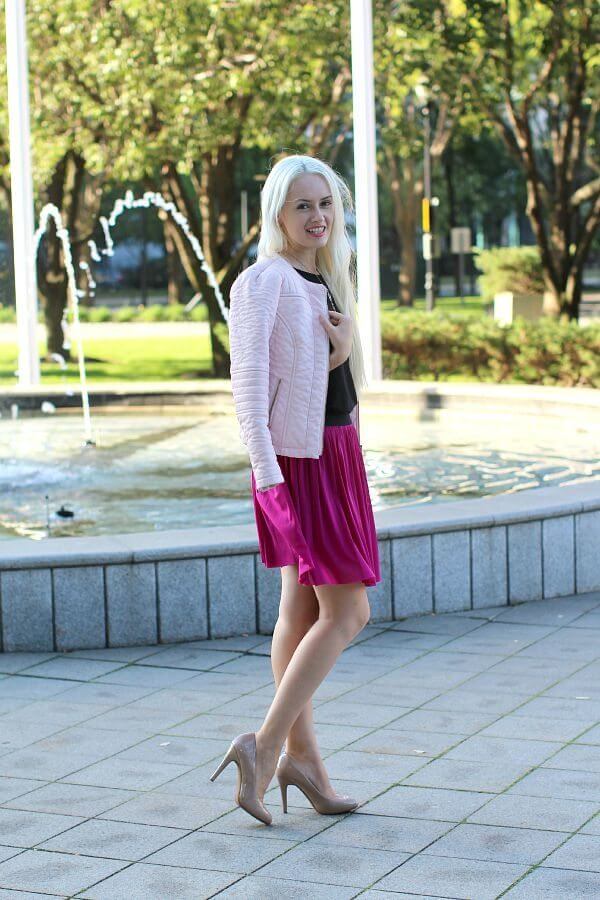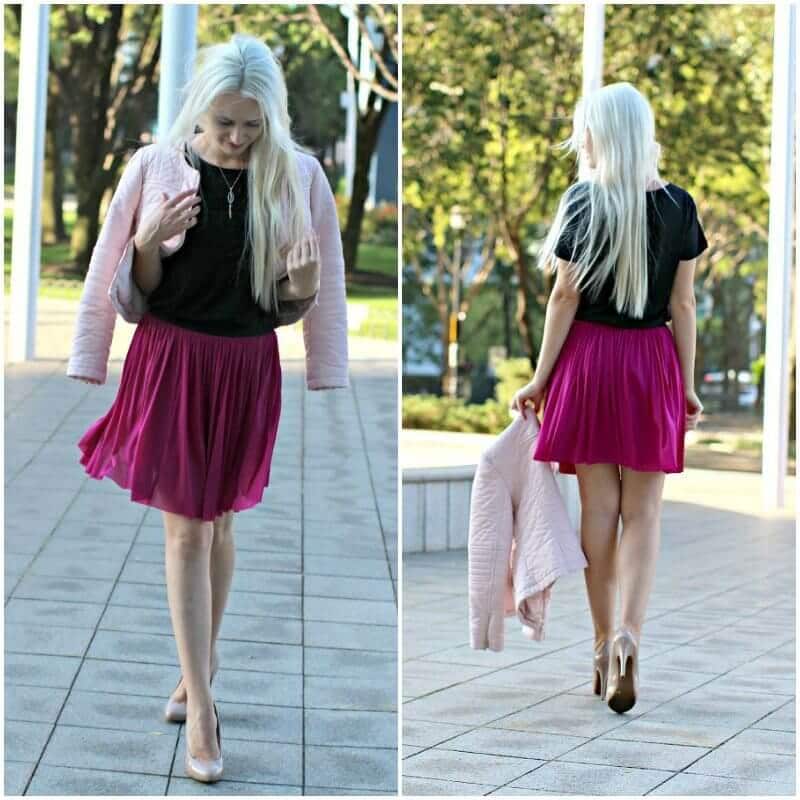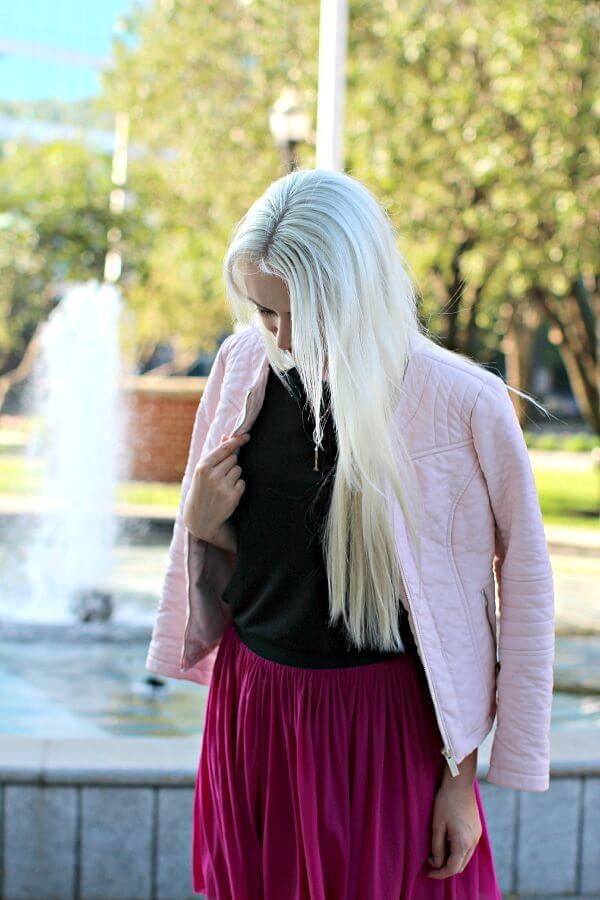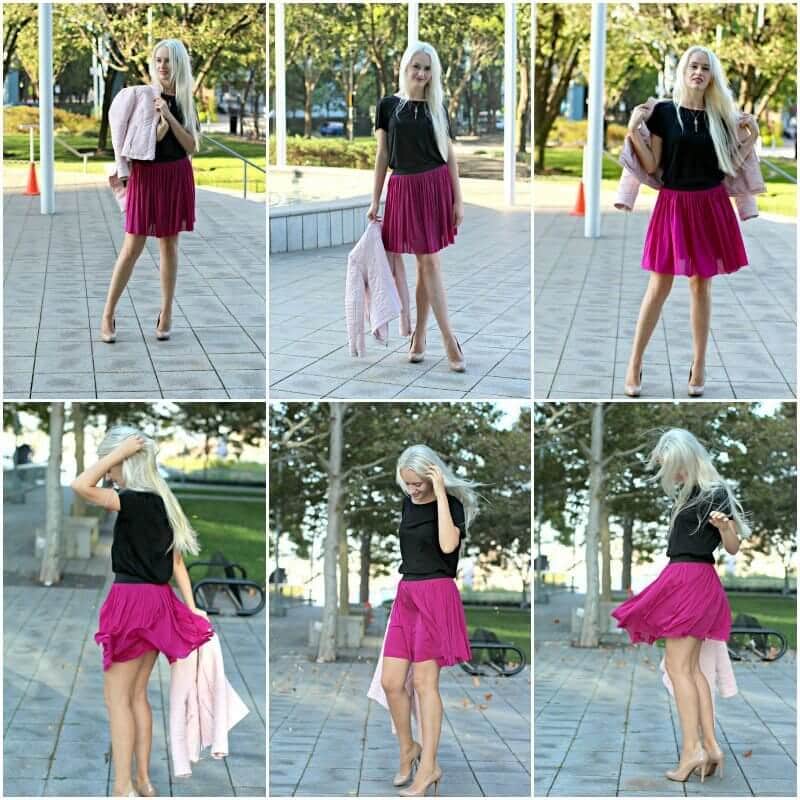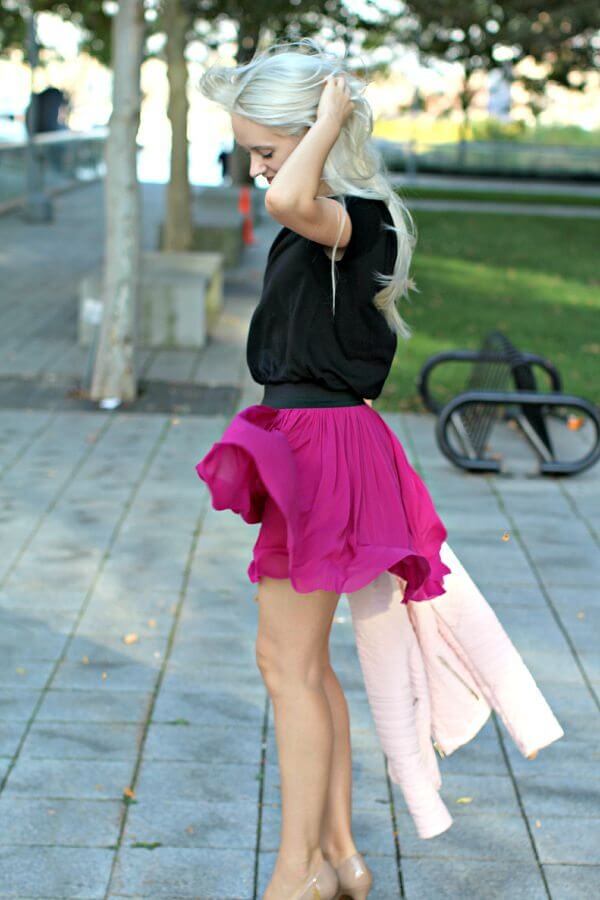 Skirt: Express | T-Shirt: Halogen | Pumps: Jessica Simpson| Jacket: Vince Camuto |Makeup: BB Cream Tarte | Lips: Marc Jacobs Pow, Eyes: DIORSHOW Black Out mascara | Jewelry: Movado Yellow Diamon Earrings & custom made white & yellow gold necklace | 
Happy Monday my friends, how was your weekend? Ours was fully packed, I spent most of the Saturday baking! I made some mouth watering popovers that I served with homemade caramel sauce and blackberry butter. I can't wait to share it with all of you tomorrow. I also made an amazing pumpkin pound cake, I am actually enjoying a slice while typing this. After so much baking, I was more than ready to get out of my house, as our warm days here in Jersey City are almost gone. We promised Sebastian that we will take him out for ice cream, so I joined the fun, I can't skip an ice cream outing 🙂
Since it was already after 5PM and we live right on the boardwalk, the fall wind made an appearance. I decided to go for a sleek pink look while it's still kind off sunny. To fight the wind I wore my beloved pink leather jacket from Vince Camuto. This pink leather jacket it's a favorite, well, first its faux leather, but its still soft, comfortable and very pretty. I like the baby pink hue and the gold zippers. It's a very feminine motto jacket, that adds just the right amount of toughness to a girly outfit.
My best friend was my muse for this outfit. When we went out a couple off days ago she paired a black tee with a colorful skirt, and the combo was perfect. It looked chic, fashionable and effortless, exactly the type of look that I love. I got this skirt from Express probably 3-4 years ago, its bold color makes it the perfect item in a color block type of outfit. The fabric is light and airy, and I almost had a Marilyn Monroe moment because of the wind.
Since I already used colors for my skirt and pink leather jacket, I decided to go for nude pumps and not distract from the color block combo. This Jessica Simpson pumps are very comfortable and affordable. I love wearing them to the office, as my feet never get tired in them.
This was my Saturday in a nutshell, Sunday was even more fun, we went with our friends at a Pick Your Own farm (Alstede in Chester, NJ) and had a great time. Sebastian loved the mini tractor ride and feeding the sheeps. We came home with so much fresh produce: tomatoes, peppers, eggplant, beans, apples, peaches and raspberry that I spend the other half of the day cooking most of it. Well, I hope everyone had a great weekend and I wish you all a great and productive week ahead of you!