No Bake Twix Roll with Caramel
Use that Halloween candy in this fun, no bake Twix roll with homemade caramel and a chocolaty cookie layer to create a decadent dessert.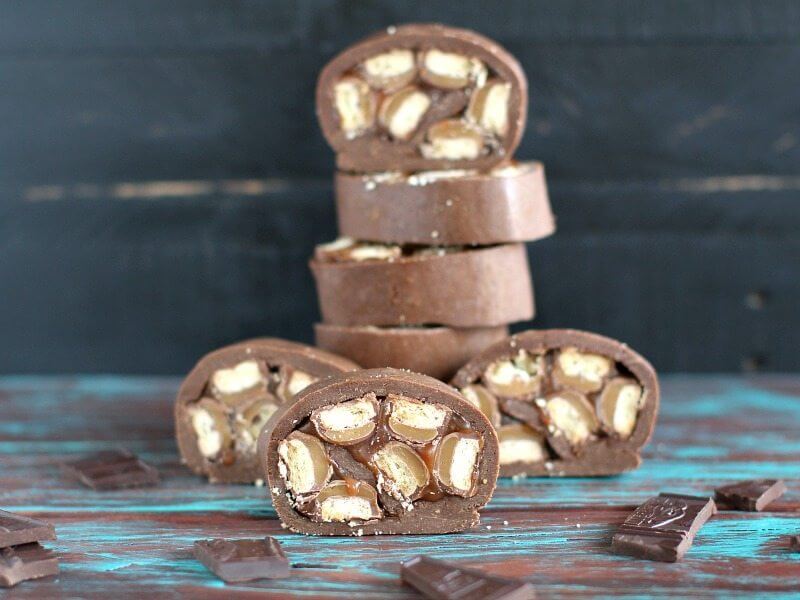 Let's roll with it, I made a no bake Twix roll and my auto correct keeps changing it to twin roll! Ok, ok, I think we all can use some sweets on a Tuesday, but it must be something easy. If you ask me whats my least favorite day of the week, I will quickly say Tuesday. I just find it…bland? I don't want to upset the universe, because I really had some great Tuesdays in my life, but usually you know, Tuesday is still beginning of the week, it gives you that feeling "its ONLY Tuesday". While Wednesday, on the other side, is so much more exciting, it's the MIDDLE of the week. On Tuesdays the weekend seems so much more far away, that I think we all can use some chocolate to get us through this day.

OK, so enough discussions about the calendar days, let's get to business, and by business I mean dessert! Just look at this no bake Twix roll – it is loaded with chocolate, and caramel and real mini twix bars. Its basically a shortbread chocolate caramel dream come true! Two weeks ago I have posted this No Bake Almond Joy roll, and it had such a huge success, it's currently #1 most viewed recipe on my blog, that I decided to make another no bake roll, but this time with my other chocolate obsession: twix bars
First, I love how incredibly easy this no bake Twix roll is to make. The twin bars are drenched in homemade caramel sauce and covered in the most amazing, soft and chocolaty layered made of crushed cookies and cacao. You can totally use store bought caramel as well.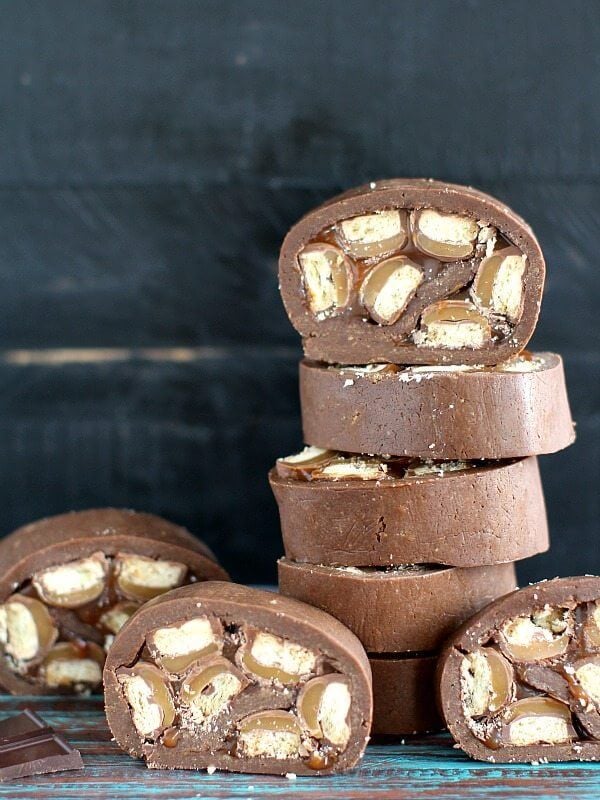 I like all the textures going on in this no bake Twix roll especially the combination of the crunchy twix bars, with the creamy caramel sauce and the soft chocolaty cookie layer. This no bake Twix roll would be such a fun kitchen project to do with kids, especially now, with all that Halloween candies hidden in your house, or better after Halloween, it will be such a fun way to use the candies they got.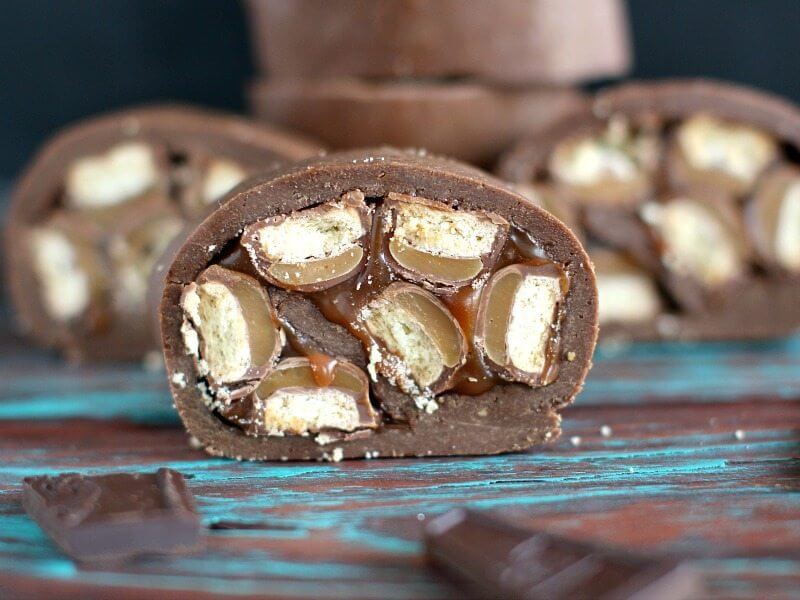 If you are up for some chocolaty, caramel and shortbread action, do yourself a favor and make this no bake Twix roll I can guarantee you that you will love how decadent it is!
No Bake Twix Roll
Use that Halloween candy in this fun, no bake Twix roll with homemade caramel and a chocolaty cookie layer to create a decadent dessert.
Author:
Katalina Kastravet
Ingredients
Twix Roll:
9 ounces cookies, I used Galena Tipo Leche or any shortbread cookies
1 tablespoon sugar
3 tablespoons unsweetened cocoa powder
3.5 ounces water, warm
24 mini Twix bars
1 cup caramel sauce (store bought or homemade)
Homemade Caramel Sauce: use store bought for No Bake version.
1 cup granulated sugar
6 tbsps. unsalted butter, at room temperature and cut up into pieces
½ cup heavy cream
1 tsp. salt
Instructions
Crush cookies by hand and place in a food processor and grind until they resemble flour.
Transfer cookie crumbs to a large mixing bowl, add the cocoa powder and mix.
In a small bowl mix water and sugar and microwave for 1 minute. Add the syrup to the cookie crumbs and cocoa mix and using a fork start mixing. Using your hands combine all the ingredients until they form a non-sticky, easy to work dough. Roll it into a ball.
Lay plastic wrap on the counter, it should be roughly 16 inches long, place the cookie dough ball in the middle and using a rolling pin, roll in into a thin rectangle. Mine was 9x11. Don't worry if the rectangle breaks into some spots, just take the broken pieces and press them into place with your fingers. The dough will have a play dough texture, so it's really easy to work with. Using a knife trim the edges.
Arrange the Twix bars in 6 lines, each line will have 4 bars. The distance between lines must be roughly ½ inch.
Pour the caramel sauce between the lines spacing. Starting from the edge that is facing you, using the plastic wrap, start rolling the roll. Press well to form a nice semicircle, cover in plastic wrap and refrigerate for at least 1 hour before serving.
Do not remove the plastic wrap, store the roll in it, unwrap and slice as much as you need only.
Homemade Caramel Sauce:
In a medium sauce pan over medium heat melt sugar while stirring constantly until a brownish liquid forms.
When sugar has completely melted, add the butter and stir until well combined.
Carefully while still stirring add the heavy cream, once all the cream has been added let the mixture boil without stirring for one minute.
Remove from heat, stir in salt, transfer to a mason jar (or any other container) and let it cool.
Please see the below photos for some step by step guidance. I took them in my kitchen with poor lighting, but I hope they help you visualize the process of making the no bake Twix roll better.