No Bake Peanut Butter Roll Recipe
No Bake Peanut Butter Roll that tastes just like a gigantic Reese's is very easy to make and packs a ton of peanut butter flavor.
This post contains affiliate links at NO extra cost to you, I just like sharing the stuff I love and works for me.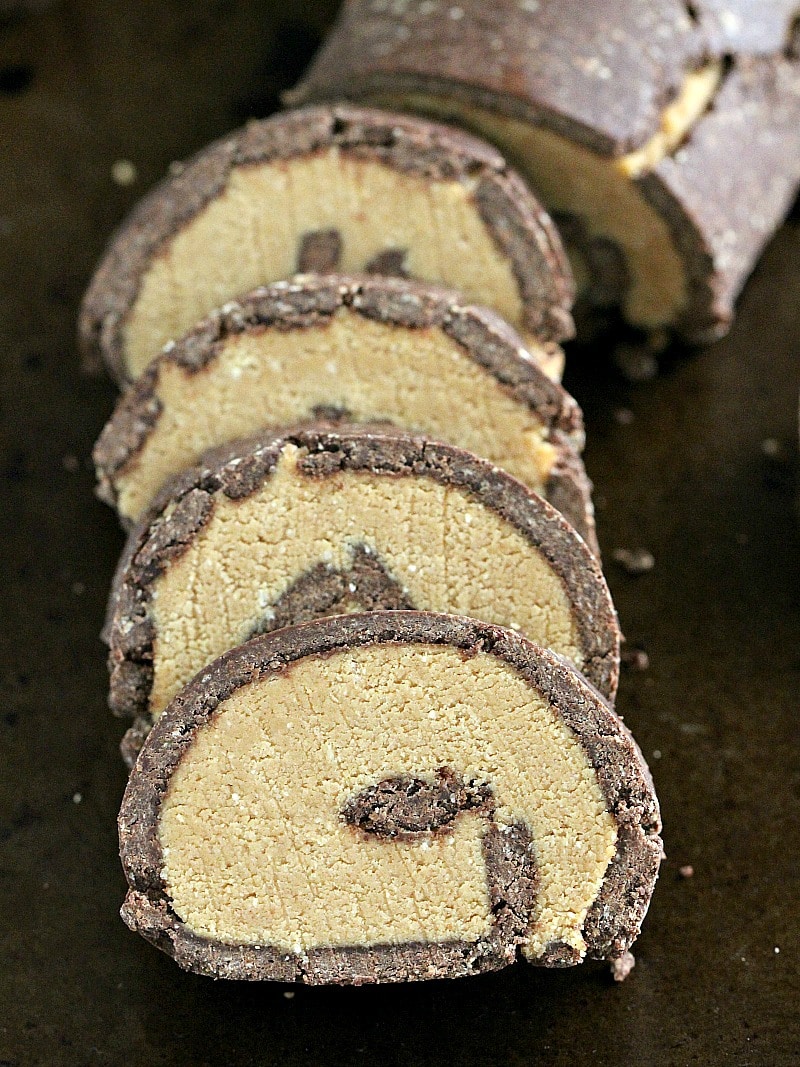 No Bake Peanut Butter Roll is one of those recipes that I make when a major peanut butter and chocolate craving strikes. This recipe is incredibly easy, and if you use no sugar added creamy peanut butter, it's definitely on the healthier side. It packs a lot of chocolate and peanut butter flavor, without inducing you into a sugar coma!

Tips and Tricks to make the perfect No Bake Peanut Butter Roll:
Use creamy peanut butter, it works much better than the chunky version in this recipe, if you want a little crunchy,  you can chop some roasted salted peanuts and mix in into the peanut butter mixture
The chocolate part is made just from a mix of graham cracker crumbs, cacao and warm water – if you don't have graham cracker crumbs available, you can use any other hard cookies, and make them into crumbs in your food processor
Using high quality cocoa is also key, as that is what will give the Peanut Butter Roll the chocolate flavor
While the roll can be enjoyed right away, it is best served refrigerated, this way it will hold it's shape when slicing
If you want to go the extra mile and make the Peanut Butter Roll even more decadent, top it with chocolate ganache and chopped salted peanuts, it is an irresistible combo
If using unsweetened peanut butter add a little more maple syrup, 1/4 cup at a time, if the filling becomes too liquid add a little more coconut flour, also 1/4 cup at a time
Tools/Ingredients I used to make the No Bake Peanut Butter Roll:
No Bake Peanut Butter Roll Recipe
No Bake Peanut Butter Roll that tastes just like a gigantic Reese's is very easy to make and packs a ton of peanut butter flavor.
Author:
Katalina Kastravet
Ingredients
3 cups graham crumbs
3 tablespoons sugar
1 cup warm water plus more if needed
½ cup cocoa, unsweetened
3 cups natural, unsalted, creamy peanut butter
⅔ cup pure maple syrup
2 cups coconut flour
Instructions
Add graham cracker crumbs to a large mixing bowl, add the cocoa powder and mix.
In a small bowl, mix water and sugar and microwave for 1 minute to create a syrup. Stir until the sugar is completely dissolved.
Add the syrup to the crumb mixture and using a fork start mixing until combined. Using your hands combine all the ingredients until they form a non-sticky easy to work dough, if needed add more warm water little by little, the texture of the dough should resemble play dough. Roll it into a ball.
Lay plastic wrap on the kitchen counter, it should be roughly 16 inches long, place the cookie dough ball in the middle and using a rolling pin, roll in into a thin rectangle. Mine was 10x12. Don't worry if the rectangle breaks in some spots, just take the broken pieces and press them into place with your fingers. The dough will have a play dough texture, so it's really easy to work with. Using a knife trim the edges.
Make the peanut butter filling: In a large bowl add peanut butter, maple syrup and coconut flour. Whisk until thickened and difficult to stir. Switch to folding with a rubber spatula until well-incorporated.
Transfer the peanut butter filling onto the chocolate cookie dough sheet, distribute in an even layer, ½ inch from the edges.
Starting from the edge that is closer/facing you, using the plastic wrap, start rolling the cookie dough sheet into a roll. Press well to form a nice semicircle, cover in plastic wrap and refrigerate for at least 1 hour before serving.
Do not remove the plastic wrap, store the roll in it in the refrigerator, unwrap and slice only as much as you need.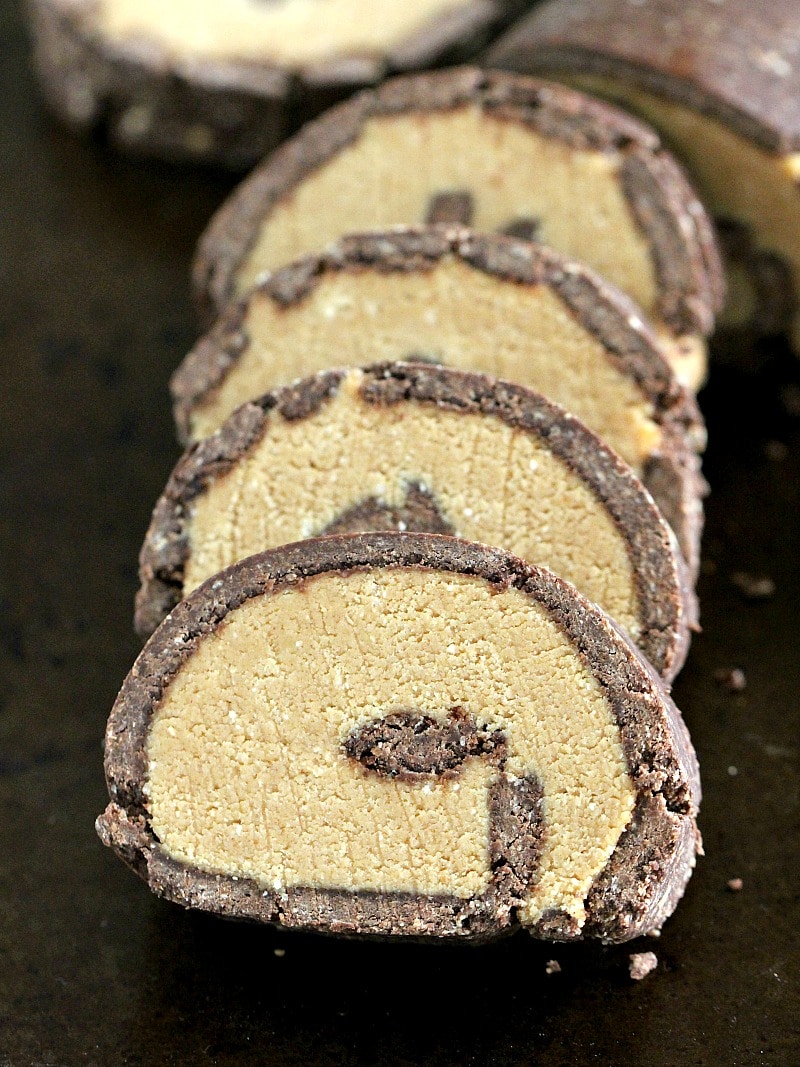 More of a coconut person? Check this NO BAKE ALMOND JOY ROLL: