Mini Russian Pancakes "Oladii"
A beloved and sweet breakfast of mini russian pancakes "oladii" that are dense, chewy, fluffy and delicious. Served with your favorite jam or sauce.
When I was in high school and even through college I used to skip breakfast. As strange as it may sound, eating or drinking something that early in the day used to make me feel sick. But even during those times, I could never turn down a batch of homemade mini russian pancakes with homemade jam. These fluffy clouds of dough are very popular in Eastern Europe. We usually serve them with sour cream, jam or preserves.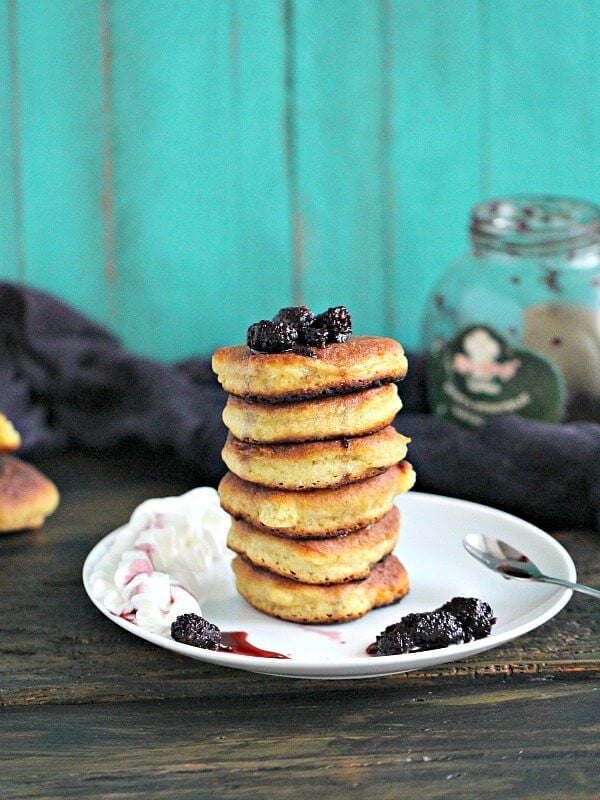 My grandmother and mom used to make these for me every weekend. It felt great to wake up to the smell of mini russian pancakes coming from the kitchen. They are a little different from the usual western pancake. As you can see they are smaller in size, usually eaten by hand and the texture is denser and fluffier. The western pancakes have a more cake like texture, while these are denser, chewier and they don't crumble.
You can serve them with your favorite toppings: peanut butter and jelly, whipped cream, maple syrup, or just keep it simple with a good jam that you will smoother on top of the mini russian pancakes.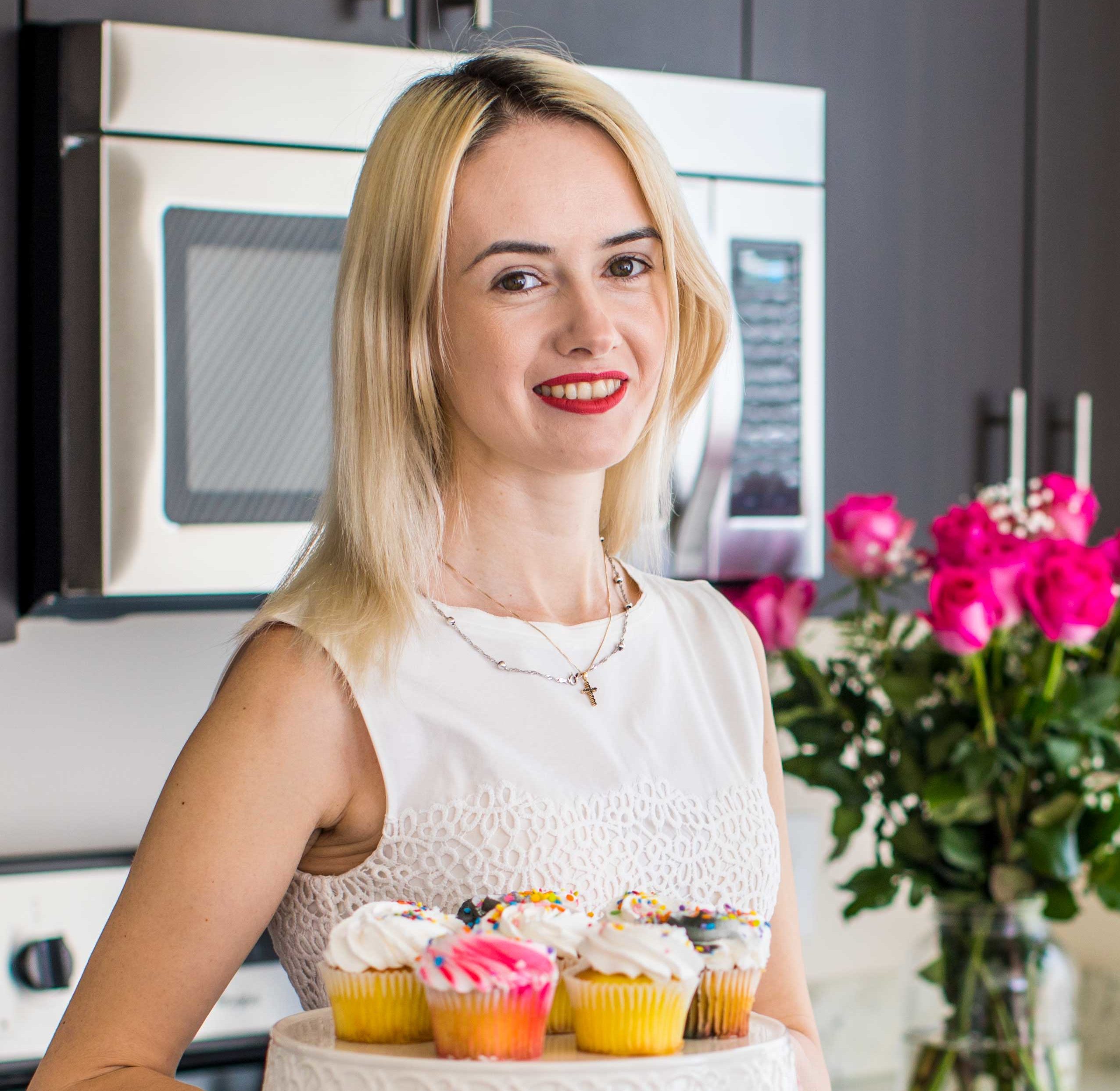 Follow us on Pinterest for more delicious recipes!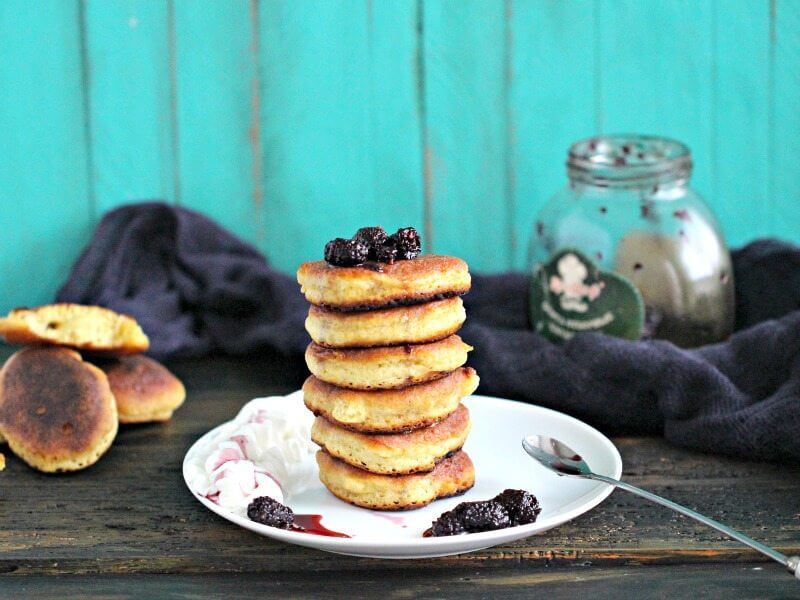 My mother in law stays with us, since she takes care of the baby, and she makes some amazing mini russian pancakes just the way we love them. Usually a big batch is waiting for us on the counter when we wake up on Saturdays and I am always looking forward to that. My son also developed a taste for them and loves his plain as well as they are a tad sweet.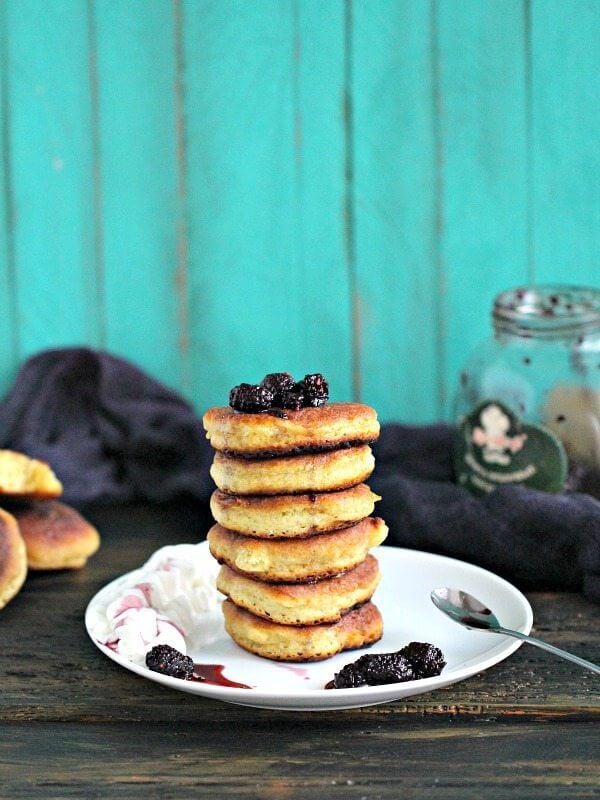 If you are looking to change your breakfast routine and to try something new, these mini russian pancakes must be on your must try list.
Save Recipe
Mini Russian Pancakes "Oladii"
Author: Catalina Castravet
Serves: 20 servings
Prep time:

10

minutes
Cook time:

20

minutes
Total time:

30

mins
Nutrition information
Calories: 123
Carbohydrates: 13
Protein: 2
Fat: 6
Saturated Fat: 0
Cholesterol: 25
Sodium: 14
Potassium: 42
Fiber: 0
Sugar: 3
Vitamin A: 50
Calcium: 24
Iron: 0.7
Save Recipe
More recipes you might love