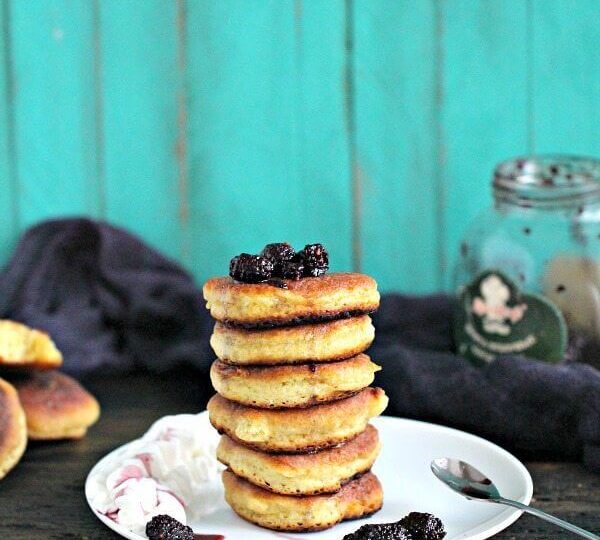 Mini Russian Pancakes "Oladii"
A beloved and sweet breakfast of mini russian pancakes "oladii" that are dense, chewy, fluffy and delicious. Served with your favorite jam or sauce.
When I was in high school and even through college I used to skip breakfast. As strange as it may sound, eating or drinking something that early in the day used to make me feel sick. But even during those times, I could never turn down a batch of homemade mini russian pancakes with homemade jam. These fluffy clouds of dough are very popular in Eastern Europe. We usually serve them with sour cream, jam or preserves.
My grandmother and mom used to make these for me every weekend. It felt great to wake up to the smell of mini russian pancakes coming from the kitchen. They are a little different from the usual western pancake. As you can see they are smaller in size, usually eaten by hand and the texture is denser and fluffier. The western pancakes have a more cake like texture, while these are denser, chewier and they don't crumble.
You can serve them with your favorite toppings: peanut butter and jelly, whipped cream, maple syrup, or just keep it simple with a good jam that you will smoother on top of the mini russian pancakes.
My mother in law stays with us, since she takes care of the baby, and she makes some amazing mini russian pancakes just the way we love them. Usually a big batch is waiting for us on the counter when we wake up on Saturdays and I am always looking forward to that. My son also developed a taste for them and loves his plain as well as they are a tad sweet.
If you are looking to change your breakfast routine and to try something new, these mini russian pancakes must be on your must try list.
Mini Russian Pancakes "Oladii"
Ingredients
2

cups

white all purpose flour

⅓

cup

granulated sugar

1

teaspoon

baking powder

3

eggs

⅔

cups

kefir

or whole fat milk

1

teaspoon

vanilla extract

½

cup

canola oil

jam

to serve
Instructions
In a large bowl mix the dry ingredients: flour, baking powder and sugar.

Add the eggs and mix until combined, slowly add the kefir or milk while mixing. Whisk until the mixture is combined and without any lumps. The mixture must be a little thinner than sour cream.

Stir in the vanilla extract.

Place a large skillet on the stove at medium heat. When the skillet is hot add the oil and wait for the oil to heat up, about 30 seconds. When the oil is hot, using a soup spoon scoop the pancake batter into the skillet, 1 soup spoon per pancake. After you filled the skillet, cover with a lead and cook until golden brown, about 1½ minutes. Remove the lid, flip pancakes on the other side, cover again and cook for about 1 minute or until golden brown.

Place on a serving plate and repeat the steps with the remaining batter.

If you want the pancakes flatter and softer add a little more milk, 25-50 ml at a time.

If the pancakes absorbed the oil from the skillet, add more oil as needed.

Serve the pancakes warm with jam.