Lobster and Shrimp Dinner Extravaganza
This quick, easy and delicious lobster and shrimp dinner with fresh corn feels like a seafood extravaganza and is the perfect spring summer meal.
One of the many perks living on the East Coast is having access to fresh lobster. While it still has to be shipped from New England or Maine, it tastes fresh, buttery and flavorful all the time. With spring almost making an appearance this week in NY, bringing warm winds and brighter sun, I can't stop dreaming about summer and all the seafood I like to enjoy, especially a light Lobster & Shrimp Dinner that is quick and easy to make.
This lobster and shrimp dinner felt like a royal seafood extravaganza, and while the corn is not "fresh", it still tasted sweet, juicy and bursting with flavor, it made me looking forward to summer and lobster on sale even more.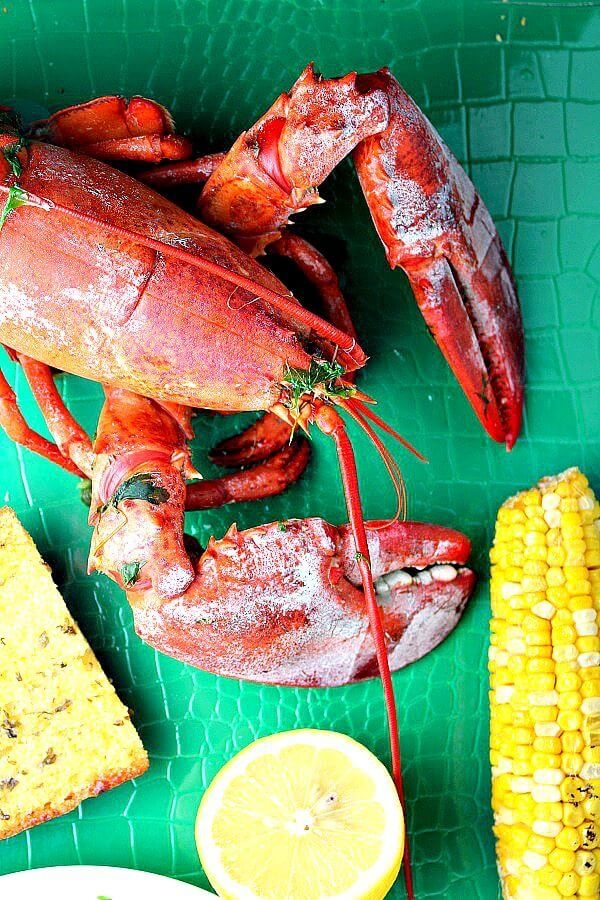 While this dinner will make you dirty a few pots, and it may look time consuming it actually isn't. Most of it happens by boiling the lobster and the corn and broiling a French baguette to later dip in butter, most of the time will be spend cooking the shrimp which is really easy and actually quick.
As you can see from pictures, I am not peeling the shrimp, the shrimp that I buy comes mostly peeled and already has a nice devein cut, I like to keep the peel, as it locks garlic juice and therefore is more flavorful and fun to eat even if you have to use your hands. But who cares? For a meal like this I am ready to dirty my hands and use as many napkins as needed.
The shrimp is topped and infused with a delicious spicy garlic mixture that will make bread dipping even more fun, squeeze some fresh lemon wedges on top to brightened and freshen the palette.
Now grab a nut cracker to crack those lobster shells, dip that sweet meat in butter, eat some spicy garlicky shrimp and don't forget to dip the toasted garlic bread into the oil mixture, now if you still have room, and I think you must have room, eat some sweet, milky corn that completely brightens this meal and takes the edge of all that butter goodness you just had.
Lobster and Shrimp Dinner
This quick, easy and delicious lobster and shrimp dinner with fresh corn feels like a seafood extravaganza and is the perfect spring summer meal.
Author:
Katalina Kastravet
Ingredients
3 live lobsters
30 teaspoons of salt (around 2 teaspoons per quart of water)
½ stick of butter, melted
6 fresh ears of corn
For Spicy Garlic Shrimp:
½ cup chopped garlic (2 garlic heads)
1 cup extra-virgin olive oil
Salt and Pepper
Juice of 1 lemon
5 dried chilli peppers
2 pounds medium-large shrimp, peeled
5 tablespoons chopped fresh basil (optional)
2 whole lemons or limes
For Garlic Bread:
1 French baguette
3 tablespoons butter, microwave until melted
garlicky mixture for the shrimp
Instructions
For the lobster:
Fill a large 16 quart pot ¾ full of water. Add 2 teaspoons of salt for every quart of water. Bring the water to a rapid boil.
Add the lobsters to the boiling water, one by one, by grasping their body and head first into the water. Cover the pot.
Wait for the water to come to a boil again and from that moment, boil the lobsters for 12-20 minutes or longer, depending on the size. Usually 12-15 minutes for 1 lb. lobster, 15-20 minutes for a 1½ pound lobster, 20-25 minutes for a 2-3 pound lobster. The lobsters should be a bright vivid red color when done.
Using tongs, remove the lobsters from the pot and place on a plate to drain and cool.
When ready to cook the corn, pull all the husks off and remove all the silk of the corn and discard.
For the Corn:
Choose a large pot to hold the amount of corn you want to cook, with room for water to cover the corn. Bring cold unsalted water just to a boil on high heat. Never add salt as it will toughen the corn.
Add husked corn ears, cover the pot and bring the water back to a boil on high heat. Once water comes back to a boil (3-4minutes), immediately remove the corn ears from the water. If you prefer softer kernels boil corn for 10-12 minutes.
Remove the cooked corn ears from the hot water with tongs.
For Spicy Garlic Shrimp:
To a small sauce pan over medium-low heat add the oil and ½ teaspoon salt. Stir occasionally as the mixture comes barely to a simmer. Adjust the heat to the lowest setting to keep the mixture at that gentle simmer add the garlic and cook, stirring occasionally, until the garlic achieves a pale golden color, about 20-30 minutes.
Add the lemon juice and simmer until most of the juice has been absorbed into the garlic, about 5 minutes. Stir in the chilli peppers, taste the mixture and add a little more salt if needed. Keep the pan over very low heat.
Set a large nonstick heavy skillet over medium-high heat and spoon in 2 tablespoons of the oil mixture, but NO garlic. Add the shrimp to the skillet, sprinkle generously with salt plus pepper and stir gently and continuously until the shrimp are just cooked, 8 minutes.
Scoop the shrimp onto a deep serving platter and top with the garlicky mixture leaving just a little behind to brush the toasted bread.
Decorate with fresh basil. Cut the lemons in wedges and serve along with the shrimp.
For Garlic Bread:
Cut the bread in half, brush with butter, broil until golden brown, brush with garlicky mixture.