Lemon Dill Spicy Salmon Burger
This post may contain affiliate links. Please read my disclosure policy.
Delicious and irresistible Spicy Salmon Burger made with fresh lemon zest and dill, also Antipasto Bar Hot Dogs for the perfect summer BBQ get together.
This post has been sponsored by True Made Foods, all opinions are as always my own. Thank you for reading!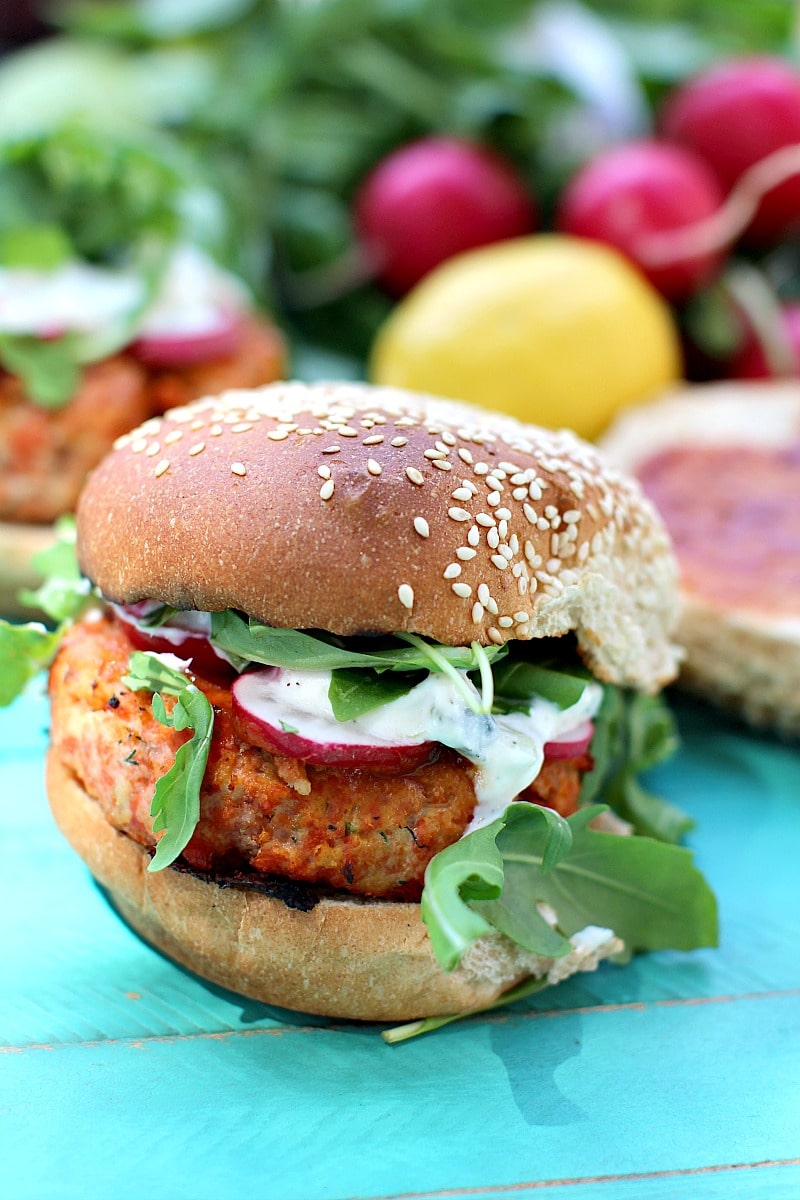 Hi guys, how is your weekend going? Ours is pretty awesome and as always filled with good food! This time we had our friends over for the most delicious Spicy Salmon Burger and Gourmet Antipasto Hot Dogs! We also grilled some corn, cut some cold watermelon and called it a fabulous day! I love BBQ parties, where you can just relax and enjoy good food!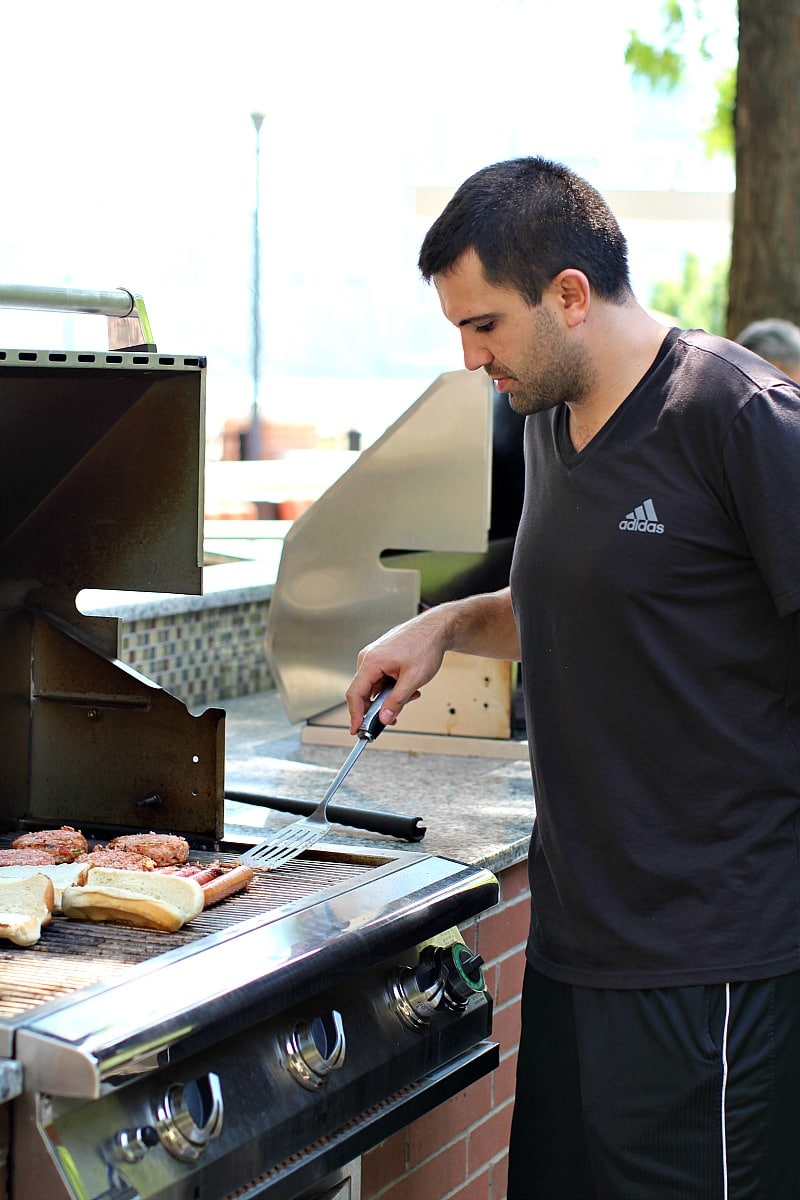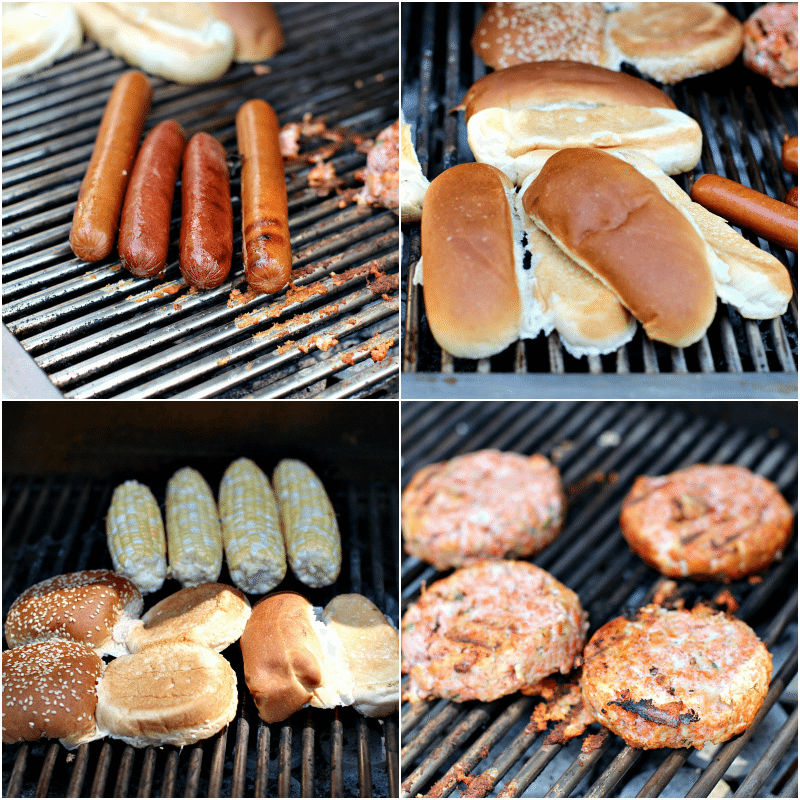 So where do I start? Well, first let me tell you that we had a great time! I also want to tell you about some amazing sauces that you absolutely need in your life and that we used them for our cookout! These sauces from True Made Foods are unbelievable! They are delicious, healthy and actually packed with veggies!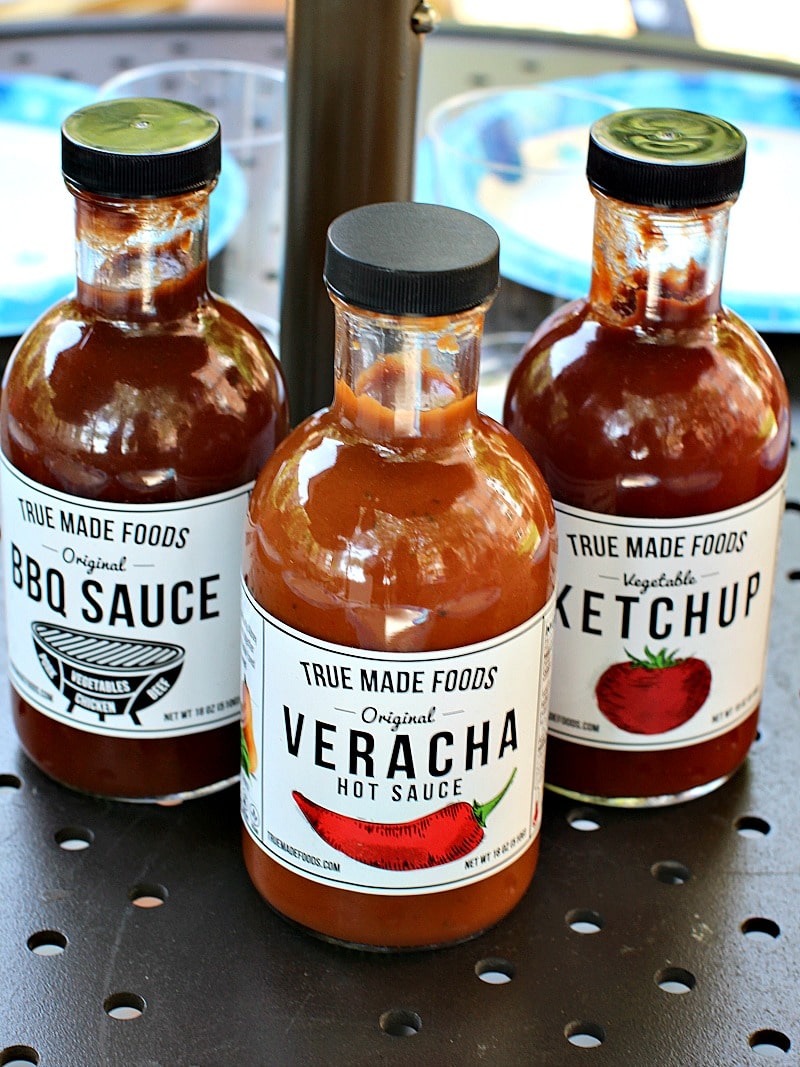 True Made Foods is making American food nutritious again. They use fresh vegetables to naturally sweeten their products and drastically cut back on added sugar, providing a tasty healthy alternative. Their spicy Veracha Sauce is paleo friendly and the Ketchup has half the sugar of any other brand and both contain vegetables: spinach, carrots and butternut squash. The BBQ Sauce is so yummy and so perfect on some grilled wings!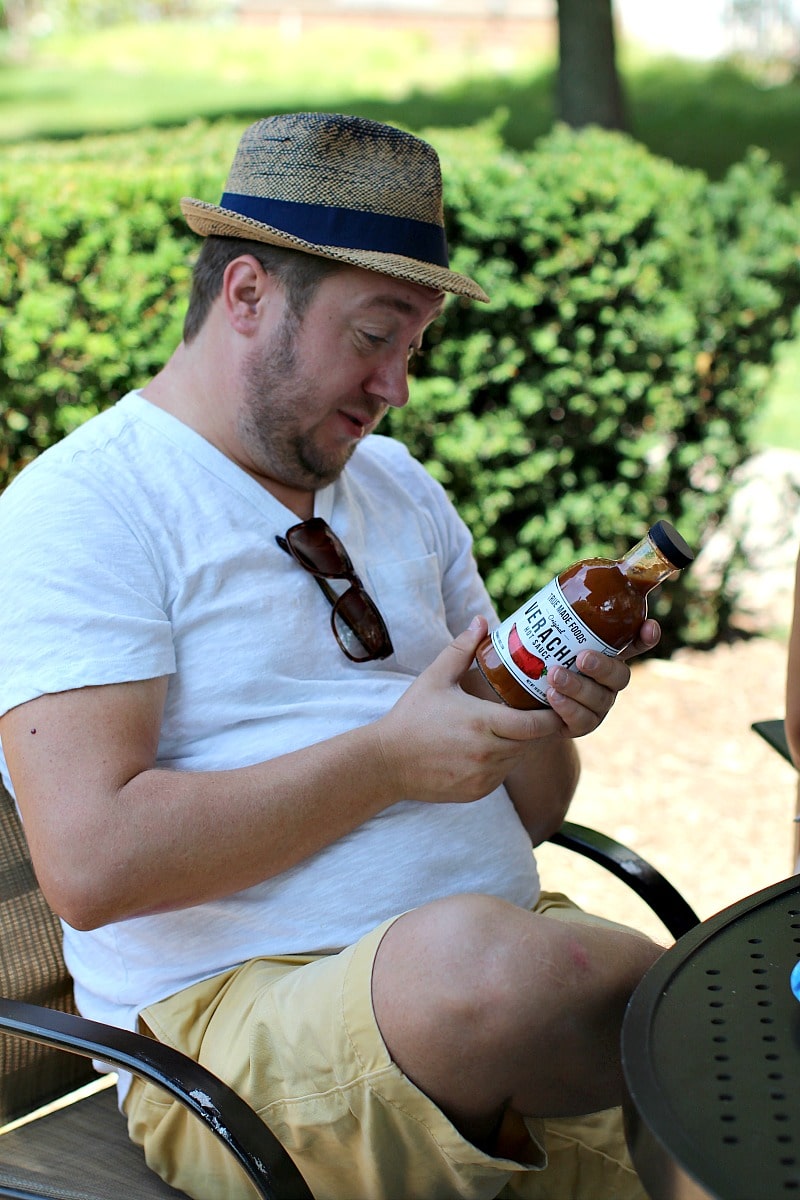 Now for the Salmon Burger I used the Veracha Sauce to add a nice, hot kick. The Salmon Burger is also packed with fresh lemon zest for a refreshing touch and dill for a gorgeous summer flavor.

MY LATEST VIDEOS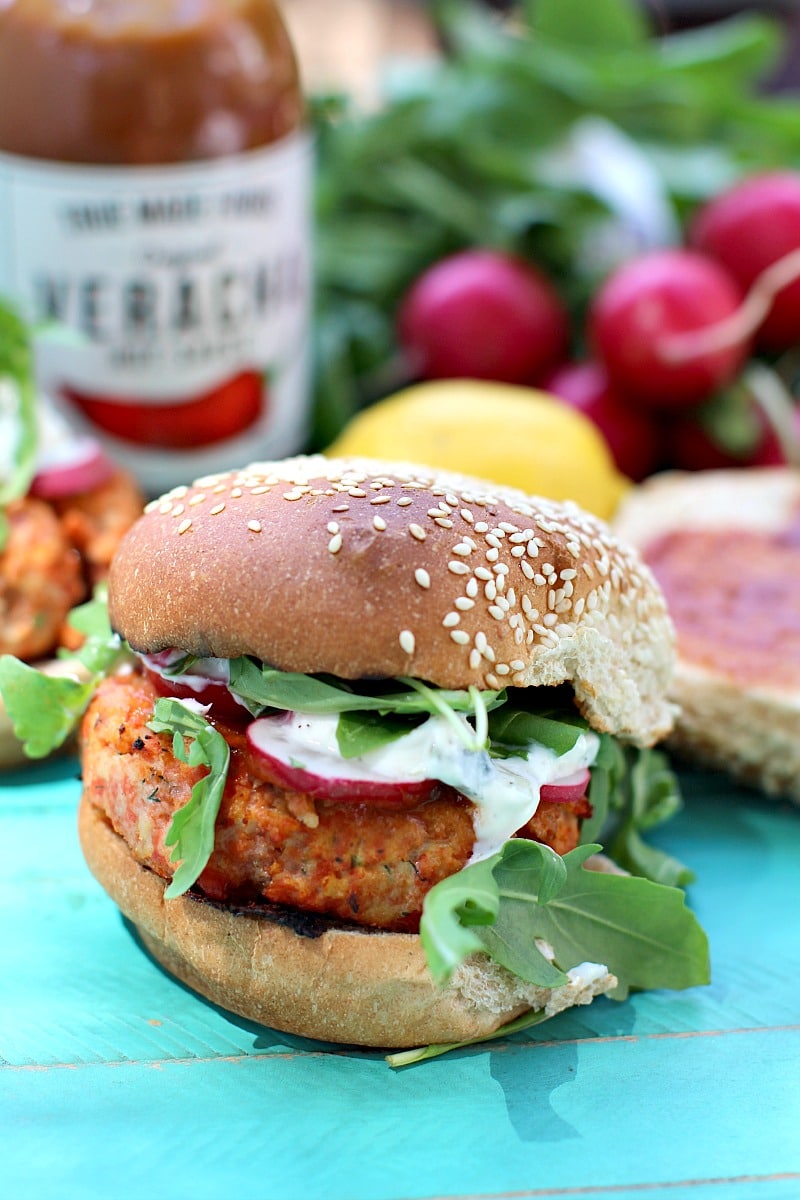 The Salmon Burger was also topped with extra Veracha Sauce, since we love our food spicy!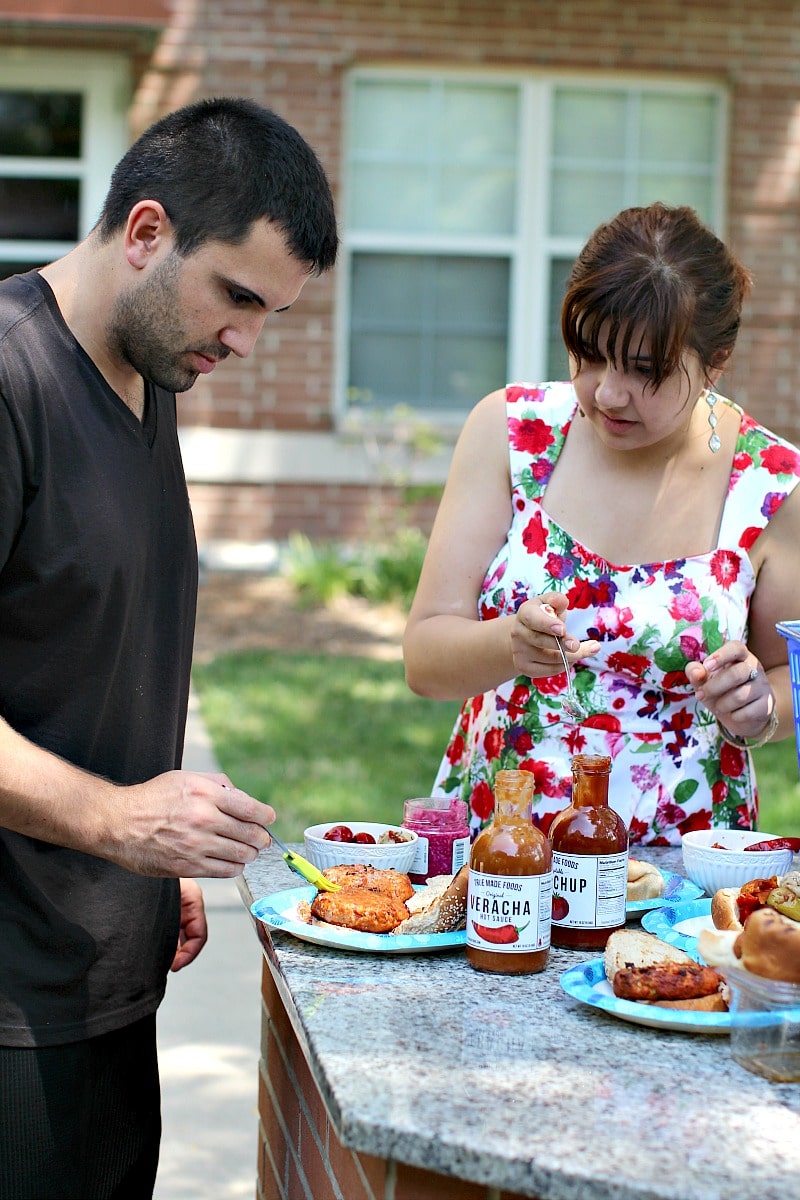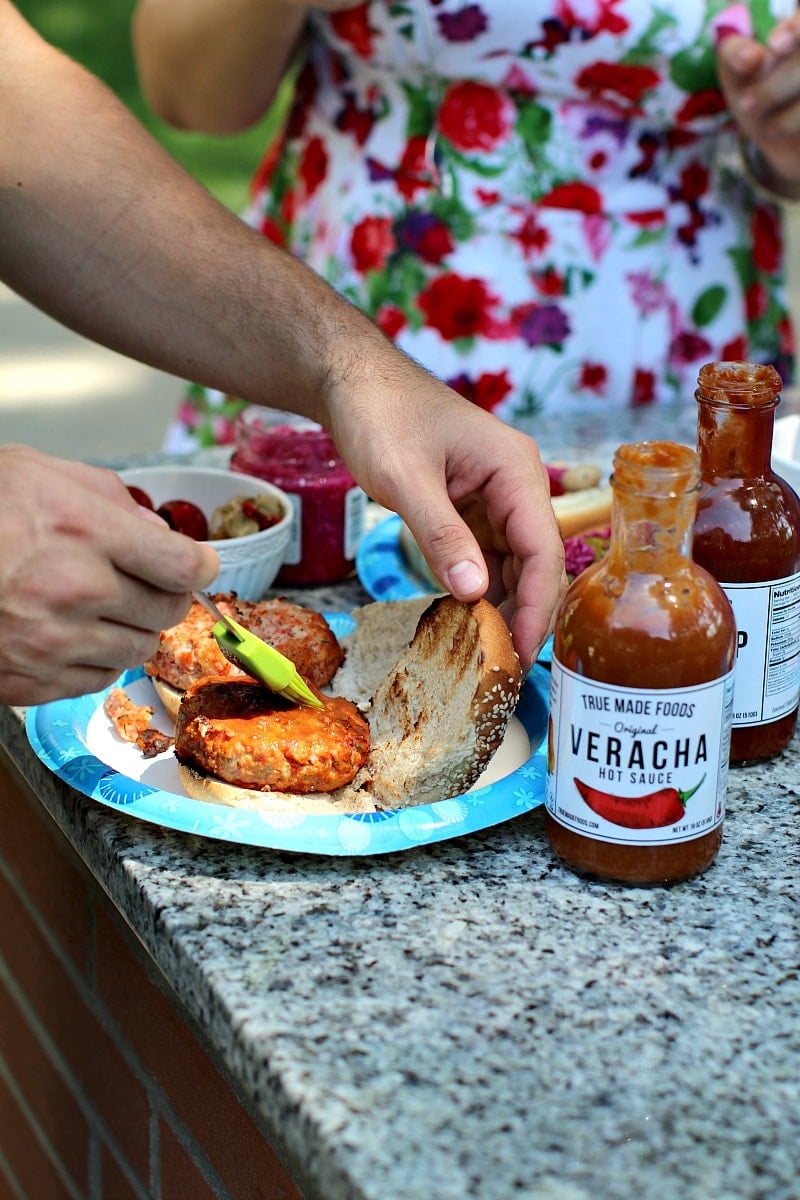 For extra textures we have topped the burgers with fresh, crunchy radishes, creamy tzatziki sauce and peppery arugula! Such a perfect summery combination! I can tell you that this version of Salmon Burger is just perfect!

Yum!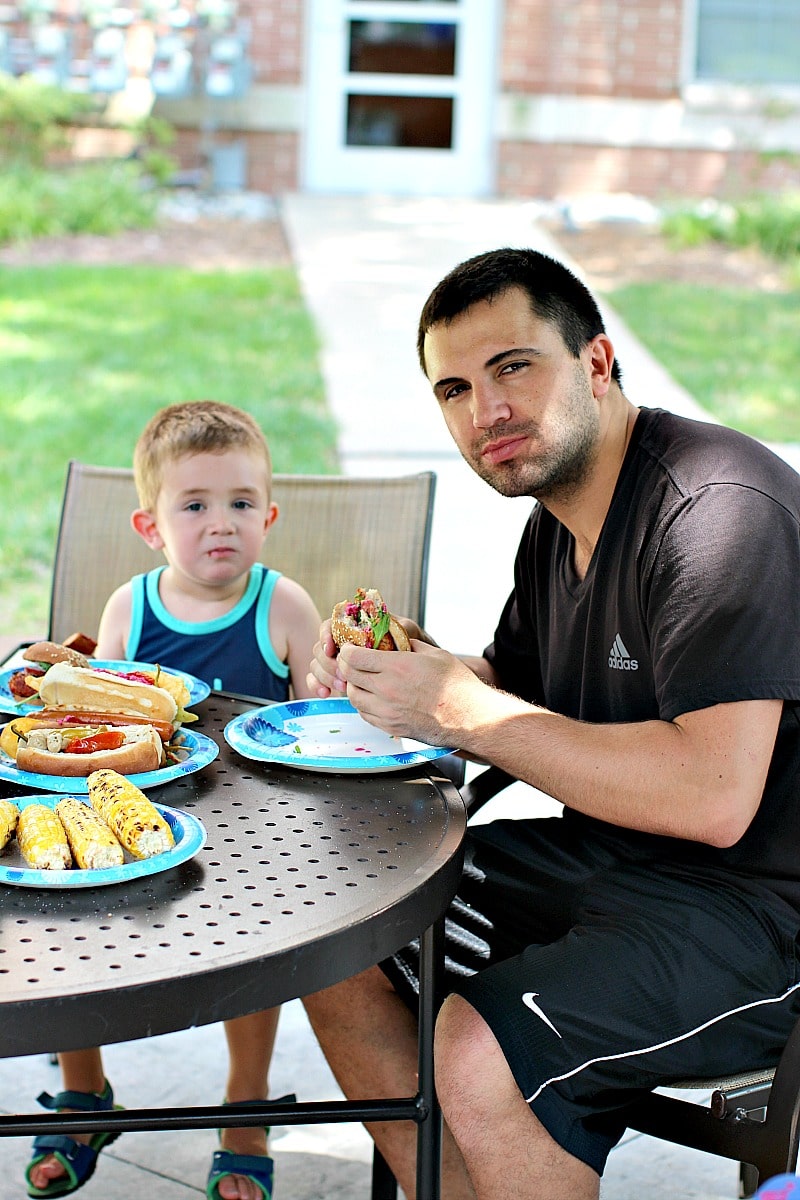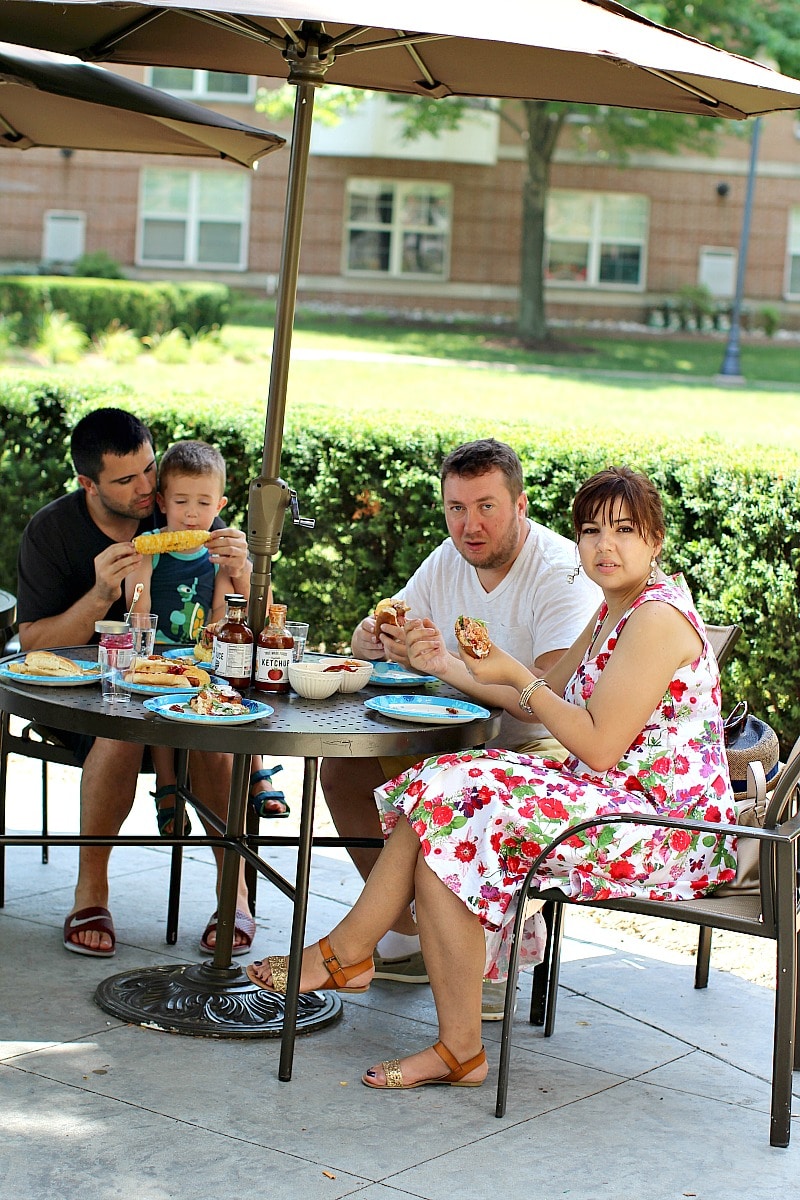 But what a party without hot dogs? I can tell you that my kid is completely obsessed with them, and since True Made Foods Ketchup contains vegetables, tastes great and has half the sugar of any other brand on the market, I feel so much better letting my baby dip his favorite food into loads of ketchup!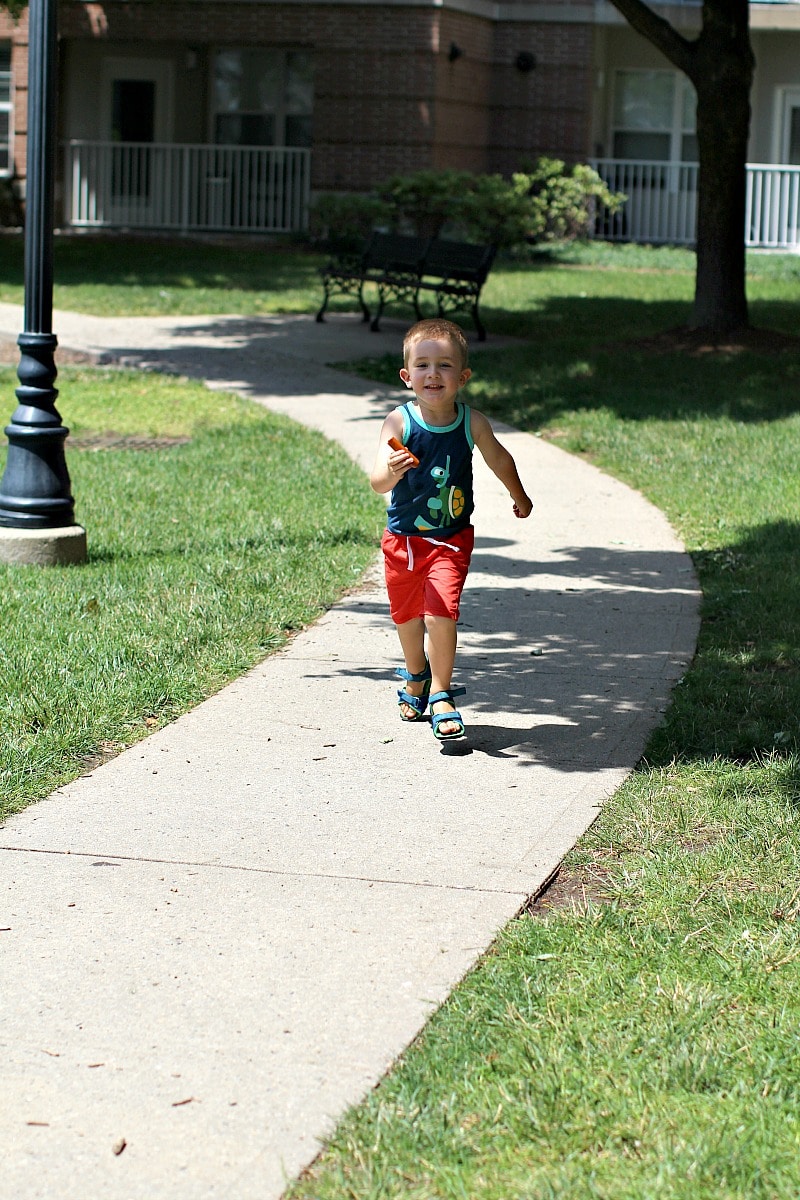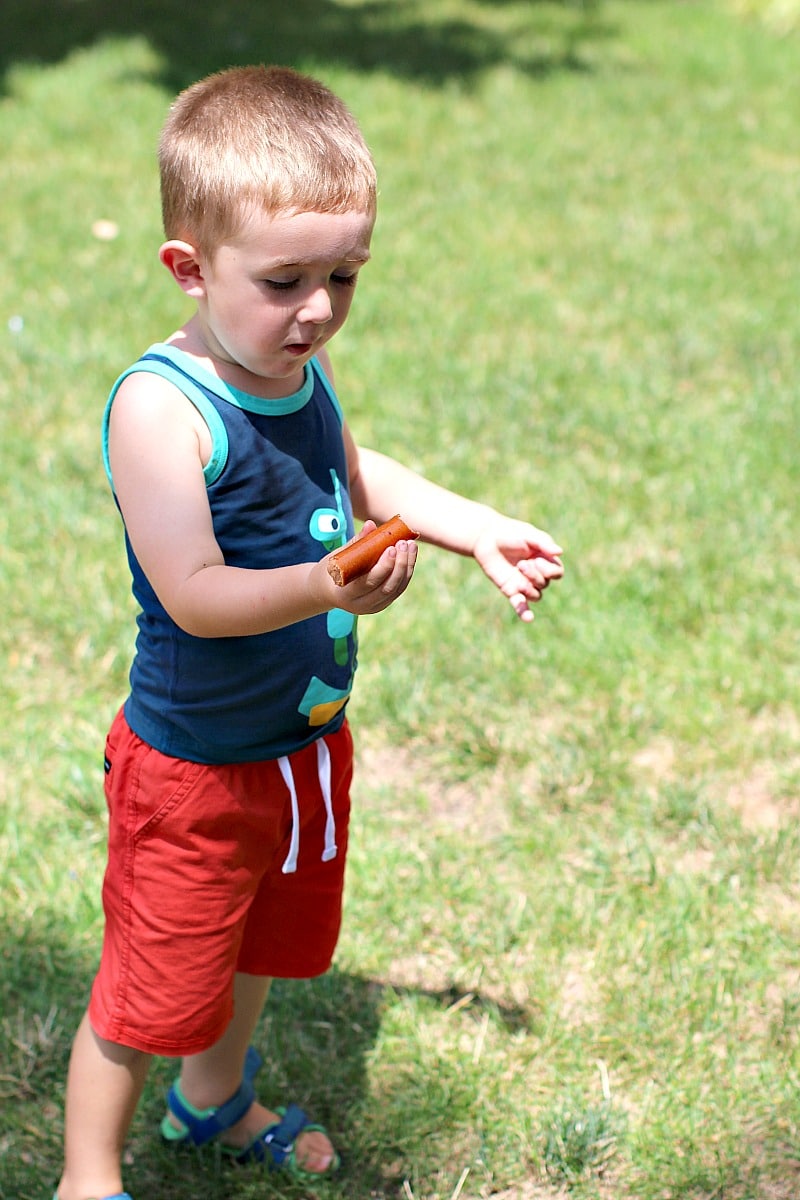 You can see that he had a blast! I also love hot dogs and I decided to impress my friends with a gourmet version.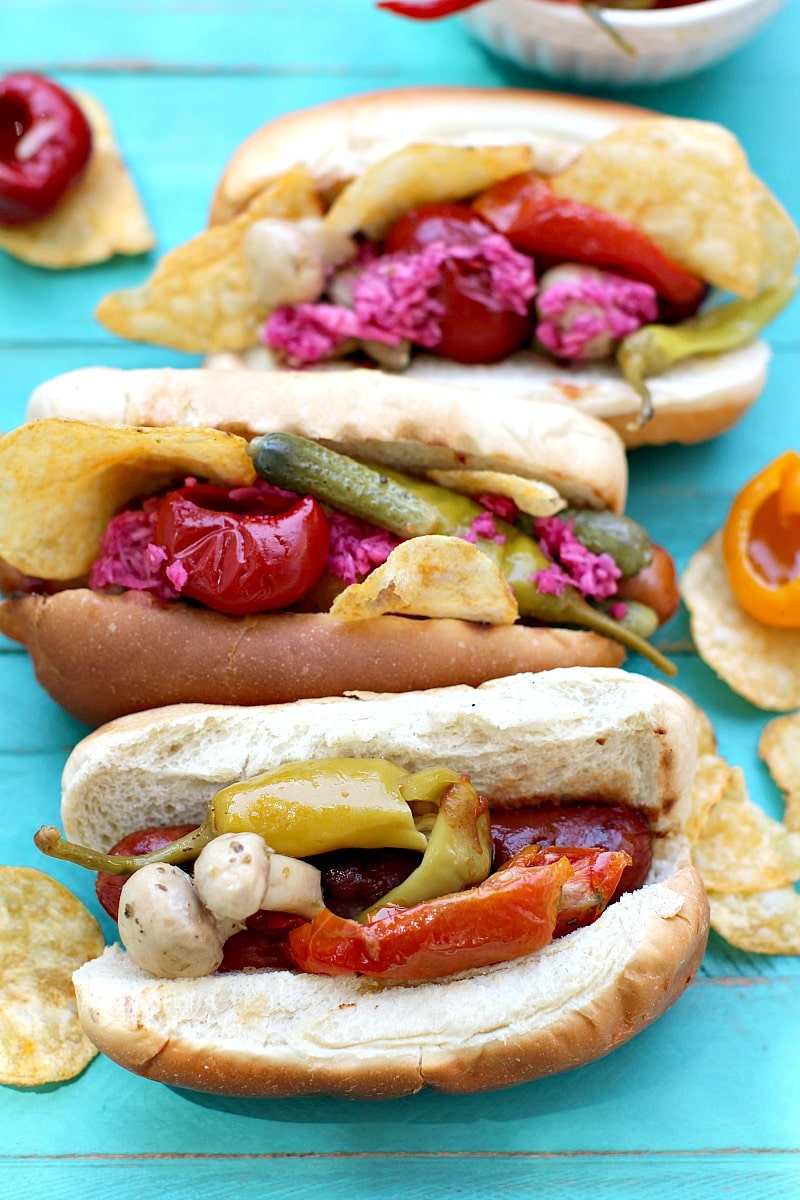 We purchased organic beef franks and I made an Antipasto bar with: pickled beets, picked sweet red and yellow peppers, picked mini cucumbers and marinated mushrooms, also spicy hot peppers and oil roasted tomatoes.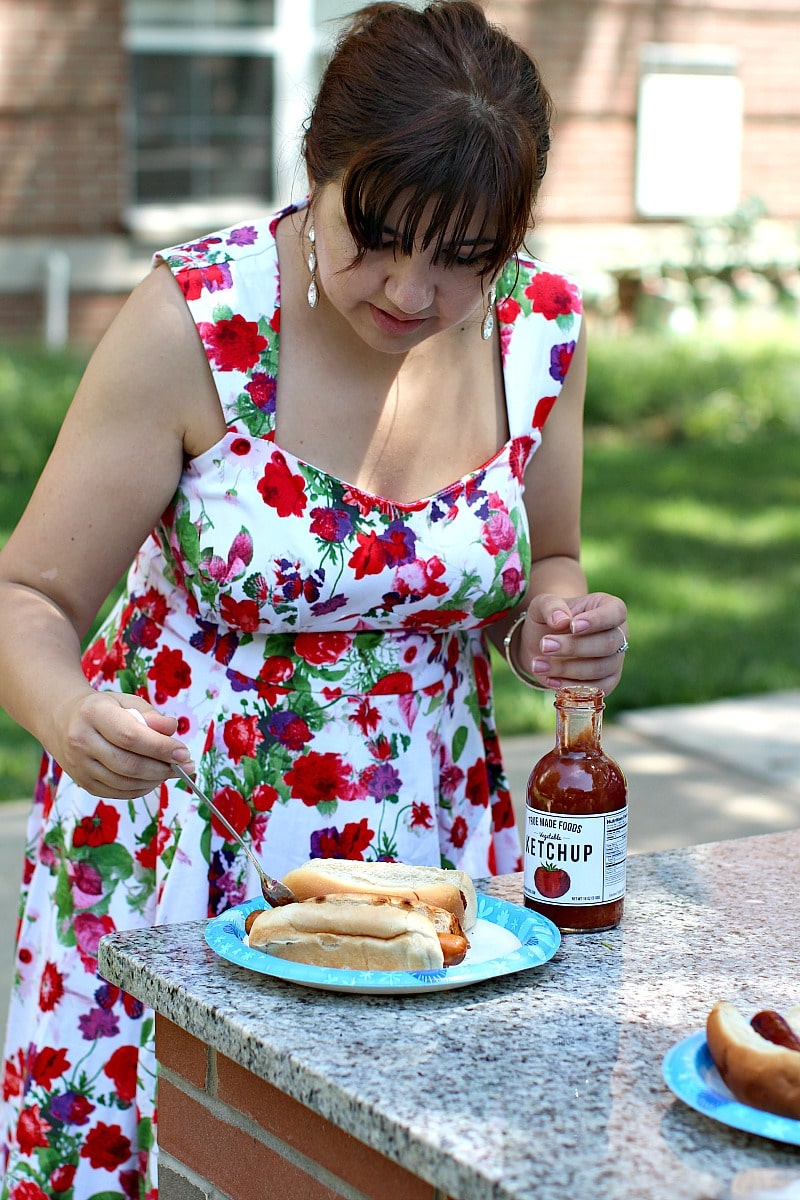 We topped them with the delicious True Made Foods Ketchup and spicy kettle cooked chips for some extra crunch.

The Hot Dogs were a success, and also so easy to put together, highly recommend them for your next get together. Kids and adults can have so much fun with the toppings!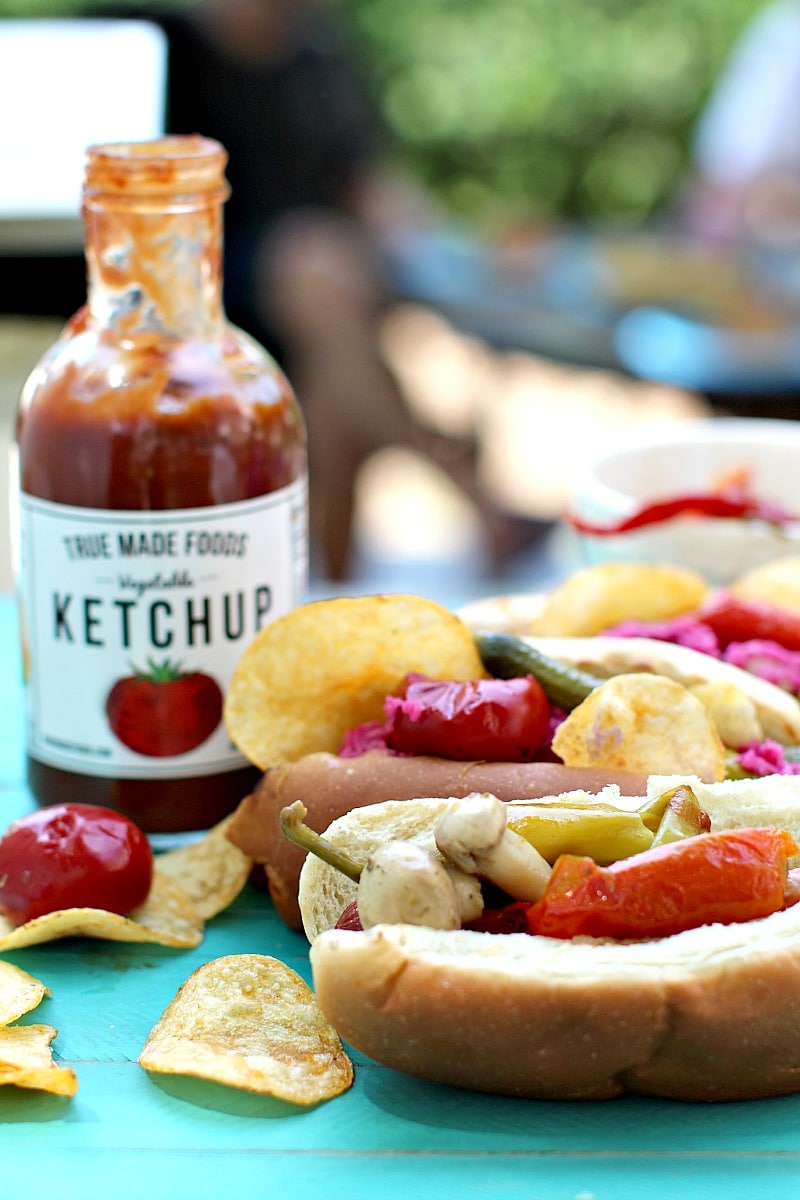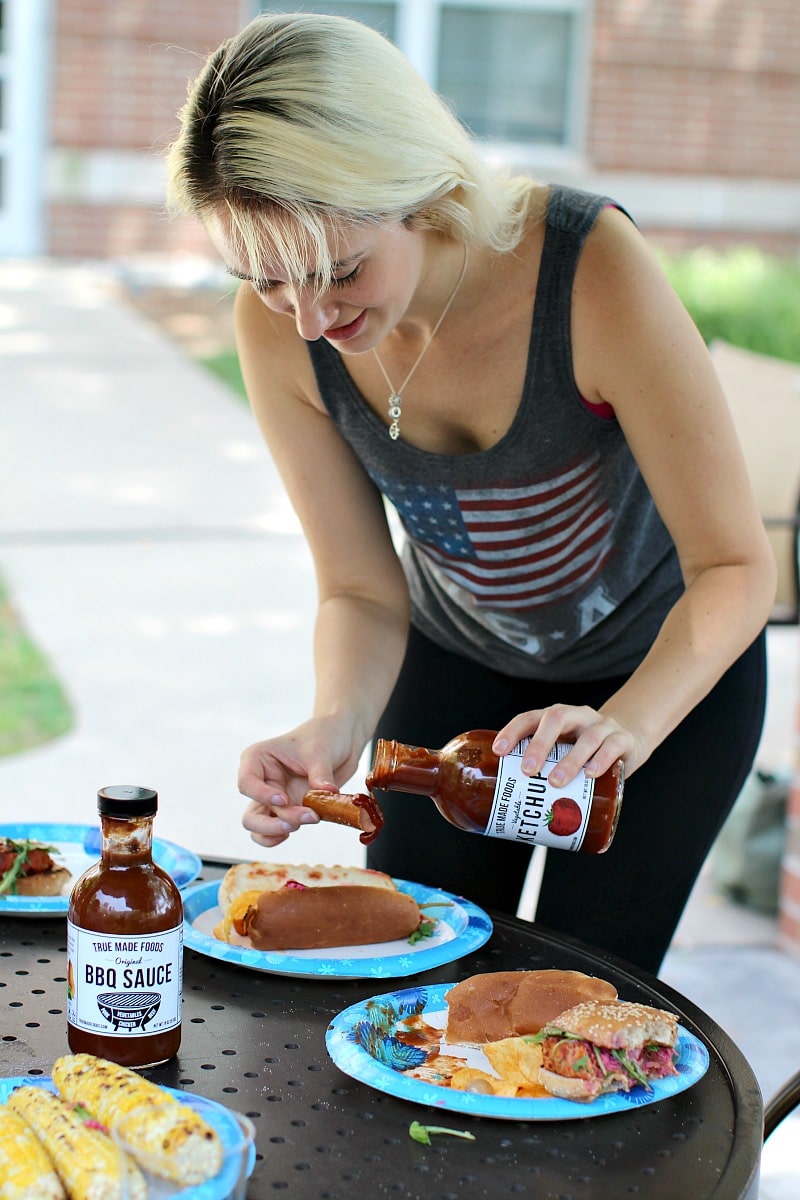 Well, I can't wait to recreate these recipes again! This is why I love summer! Perfect weather and delicious great food that can be enjoyed outdoors with friends!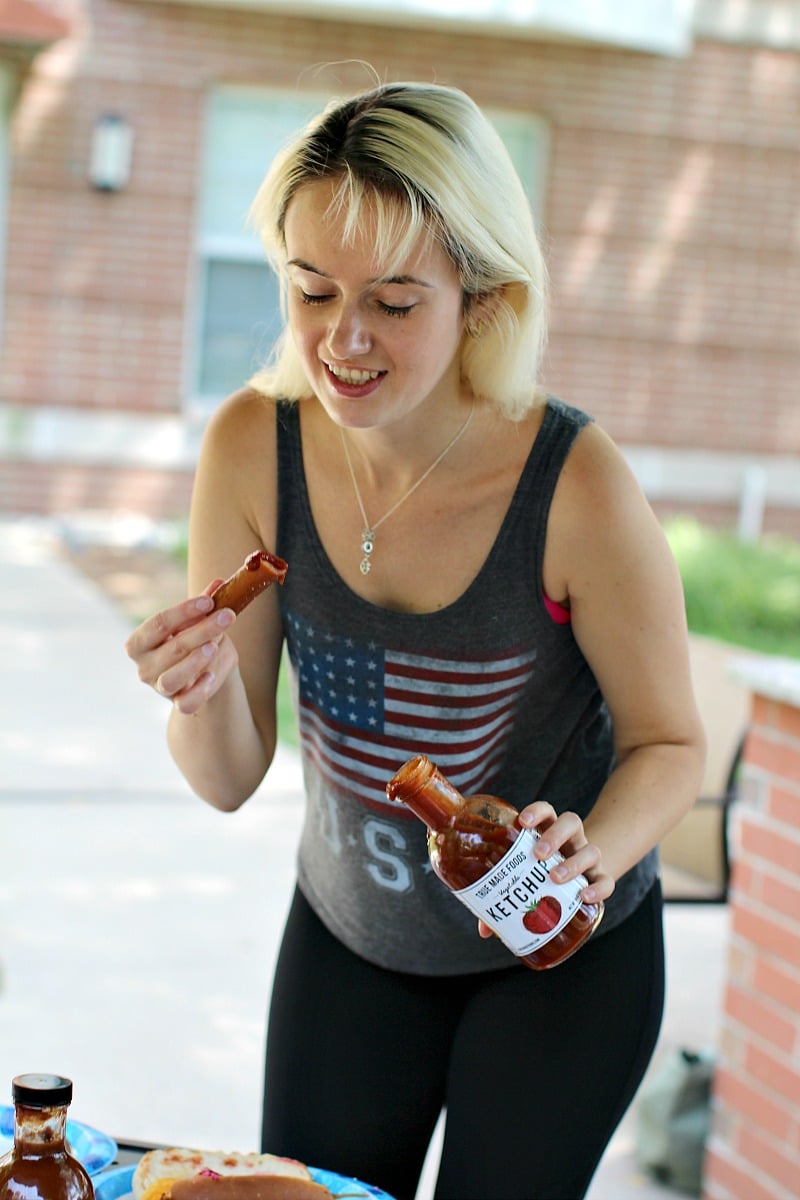 You can follow True Made Foods on Facebook, Twitter, Instagram and Youtube for extra inspiration and deliciousness!
Lemon Dill Spicy Salmon Burger
Author:
Prep time:
Cook time:
Total time:
Delicious and irresistible Spicy Salmon Burger made with fresh lemon zest and dill, also Antipasto Bar Hot Dogs for the perfect summer BBQ get together.
Ingredients
2 pounds fresh salmon, skin removed
2 egg whites
1 tablespoon Dijon mustard
1/2 cup fresh bread crumbs
1/2 teaspoon kosher salt
1 tablespoon fresh lemon zest
2 tablespoons fresh dill, chopped
2 tablespoons Veracha sauce
4 sesame buns, toasted
Toppings:
4 radishes, sliced rondelle
tzatziki sauce
arugula
Instructions
Mince all the salmon, place in a large bowl and using a fork mash it. Add the egg whites, mustard, bread crumbs, salt, fresh lemon zest, Veracha sauce and dill. Mix until well combined.
Form 4 patties, each 3/4 inch thick. Place on a medium-hot grill and cook 4 to 5 minutes per side.
To cook on a stovetop, place a grill pan on medium heat, add 3 tablespoons of olive oil and cook the patties 5 minutes per side.
Grill the sesame buns for a few minutes and place the patties on the buns.
Brush the cooked patties with extra Veracha Sauce, top with sliced radishes, tzatziki sauce and arugula.
Serve immediately.
Antipasto Gourmet Hot Dogs
Author:
Prep time:
Cook time:
Total time:
A different take on the classic hot dog, made with organic beef franks and garnished with toppings from a gourmet Antipasto bar.
Ingredients
4 organic beef franks
4 organic hot dog buns
Antipasto Bar:
Picked yellow and red peppers
Pickled cucumbers
Marinated mushrooms
Roasted tomatoes
Hot pickled peppers
Pickled red beets
Kettle cooked chips
True Made Foods Ketchup
Instructions
Grill hot dogs on a medium heat girl for 5-7 minutes. Grill the hot dog buns for 1-2 minutes.
Arrange the topping in different bowl, place beef franks on the bans.
Garnish with toppings from the Antipasto bar.
Serve!
Peas and Peonies, LLC. owns the copyright on all images and text and does not allow for its original recipes and pictures to be reproduced anywhere other than at this site unless authorization is given. If you enjoyed the recipe and would like to publish it on your own site, please re-write it in your own words, and link back to my site and recipe page. Copying and/or pasting full recipes to social media or personal blogs is strictly prohibited. Sharing this recipe is very much appreciated and encouraged. Read my disclosure and privacy policy. This post may contain affiliate links.