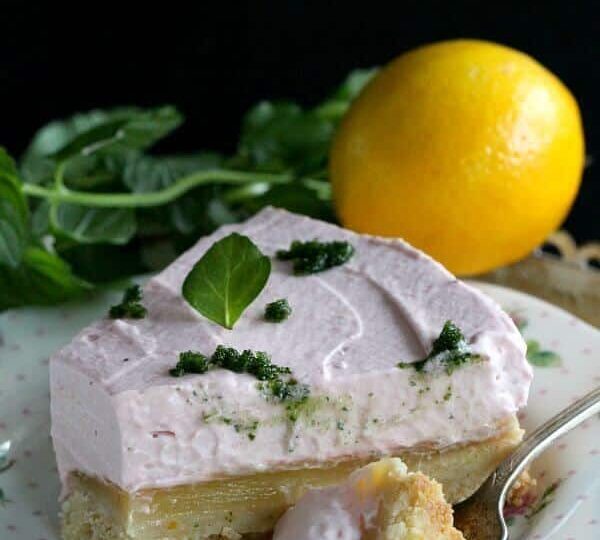 Raspberry Mousse Cake is creamy with layers of buttery shortbread, lemon curd, raspberry mousse and topped with sweet mint sugar.
Raspberry Mousse Cake
This Raspberry Mousse Cake is very easy to make, yet it looks elegant and fancy. The bright colors will add a pop of color to any dessert table, and while this is a brighter-citrusy recipe, it can be made and enjoyed year around. The flavor combo is a classic that will be enjoyed by everyone. Let's skip the chocolate for today and give this scrumptious lemon raspberry mousse cake a chance, since its glorious!Let me walk you thru all the layers of deliciousness in this lemon bar raspberry mousse cake.
First, the bottom layer melts in your mouth because it's buttery shortbread, topped with a citrusy and fragrant meyer lemon curd. The top layer is a soft, light and creamy raspberry mousse. The cake is garnished with crumbs of mint sugar that add such a nice finishing touch. My only recommendation for this lemon bar raspberry mousse cake is that you better double the lemon layer. I tried to have a nice balance between flavors, but if you love lemon you can make that layer so much thicker, it will be delicious.
Why You'll Love This Raspberry Mousse Cake:
Firstly, it is puffy, pretty and delicious, and is a show stopper dessert.
Also, the color combination make this cake stand out.
In addition, it's easy to find ingredients and minimum prep work is needed.
It's fruity and refreshing dessert, and can be topped with various fruits or flavors.
Perfect for special events or occasions, like Valentine's Day.
Lastly, it can be made 1 day in advance, so you don't have to worry about a last minute dessert.
Do you need gelatin for Mousse?
Traditionally, mousse and mousse cakes are made with gelatin. If you want to substitute the gelatin, you can use agar agar, and it should be handled in the same way.
How to make lemon zest
Follow the easy steps below:
Rinse the lemon.
Set your tool over a cutting board. A microplane produces a very fine zest, perfect for baking and cooking. If you don't have a microplane, use the smallest holes on an ordinary grater.
Grate the yellow skin of the lemon only. Grate just enough to get through the yellow skin, this way you can avoid the bitter white pith underneath.
Rotate the lemon and repeat. Once the white pith is exposed, rotate the lemon and zest the next strip of peel. Repeat until most of the peel is removed, or until you have enough zest for your recipe.
How Long Will Raspberry Mousse Cake Stay Fresh?
The Raspberry Mousse cake can be stored wrapped in plastic wrap at room temperature for about 3-4 days.
CAN YOU FREEZE Raspberry MOUSSE CAKE?
Freezing is possible for up to 2 months. Since the mousse contains gelatin and some sugar it will not freeze completely solid.
To thaw the mousses cake, overnight in the fridge and consume within 24 hours. You may also be able to serve the mousse almost frozen, as an iced fruit mousse.