Lemon Bar Raspberry Mousse Cake with Mint Sugar
This post may contain affiliate links. Please read my disclosure policy.
A creamy and easy Lemon Bar Raspberry Mousse Cake with layers of buttery shortbread, lemon curd, raspberry mousse and topped with sweet mint sugar.
Who doesn't love a foolproof dessert, that looks beautiful and tastes delicious? This lemon bar raspberry mousse cake is a nice take on the classic lemon bars, that in this recipe are baked in a springform cake pan, topped with light and airy raspberry mousse and garnished with aromatic mint sugar.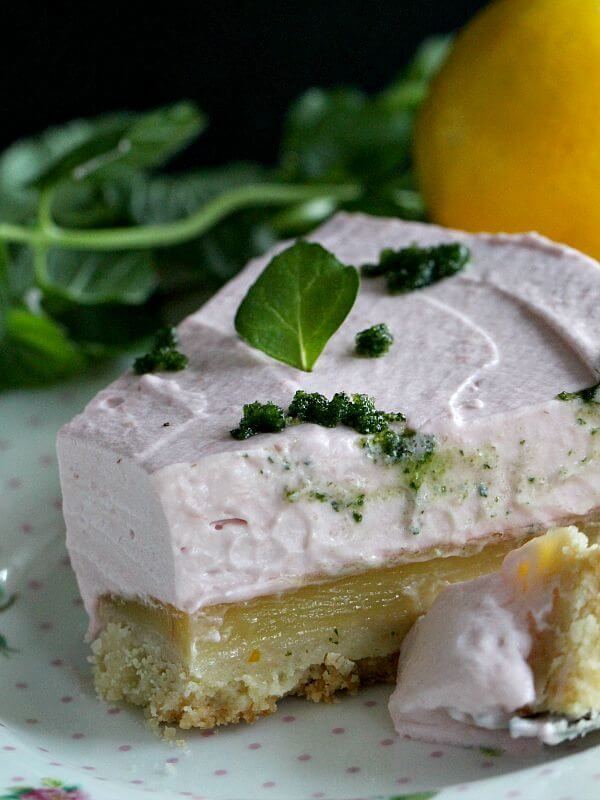 This lemon bar raspberry mousse cake is so easy to make, yet it looks elegant and fancy. The bright colors will add a pop of color to any dessert table, and while this is a brighter-citrusy recipe, it can be made and enjoyed year around. The flavor combo is a classic that will be enjoyed by everyone. Let's skip the chocolate for today and give this scrumptious lemon raspberry mousse cake a chance, since its glorious!

Let me walk you thru all the layers of deliciousness in this lemon bar raspberry mousse cake. The first layer is a melt in your mouth buttery shortbread, topped with a citrusy and fragrant meyer lemon curd. The top layer is a soft, light and creamy raspberry mousse. The cake is garnished with crumbs of mint sugar that add such a nice finishing touch.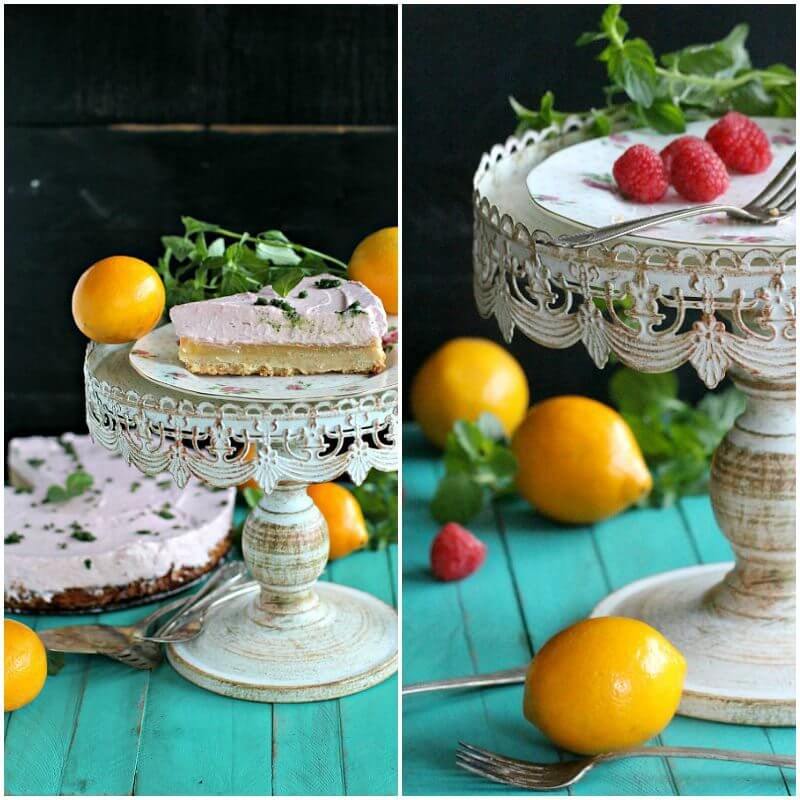 Making this lemon bar raspberry mousse cake was so much fun, now that my baby boy is not a baby anymore he wants to know and observe everything I do in the kitchen. I can understand the little guy, I love food as well.
Yesterday Sebastian started pre-school and we had this lemon bar raspberry mousse cake to celebrate such a big milestone. I had so many mixed feelings, almost like a rollercoaster, it went like this: "OMG OMG pre-schools starts, I am so proud of my boy" , followed by doubt "will he be ok? we speak to him only Romanian, he doesn't know ONE word in english!" and tears start rolling "this is my baby's first step to independence, he is starting to learn the world on his own, next on the agenda he will come home with a girlfriend and soon its his wedding!"

MY LATEST VIDEOS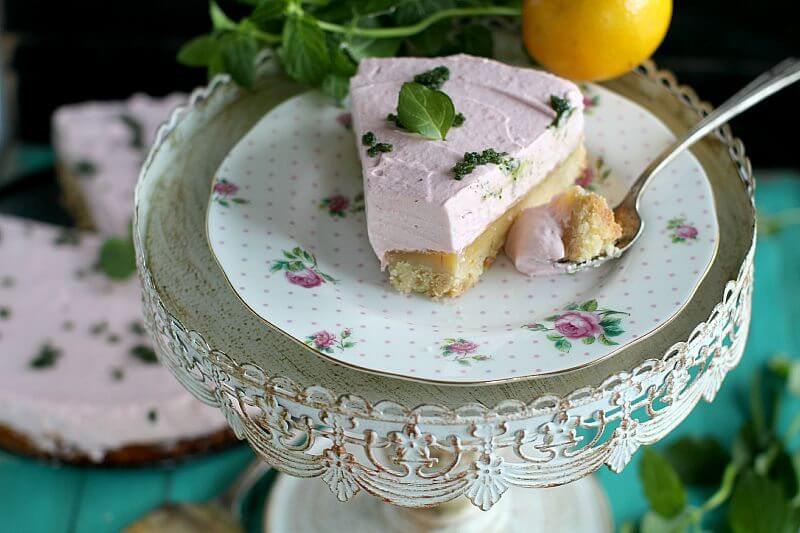 I honestly don't know many stress coping techniques, so I did the one that works best for me, make cake, eat your feelings and call it a day! Don't blame me!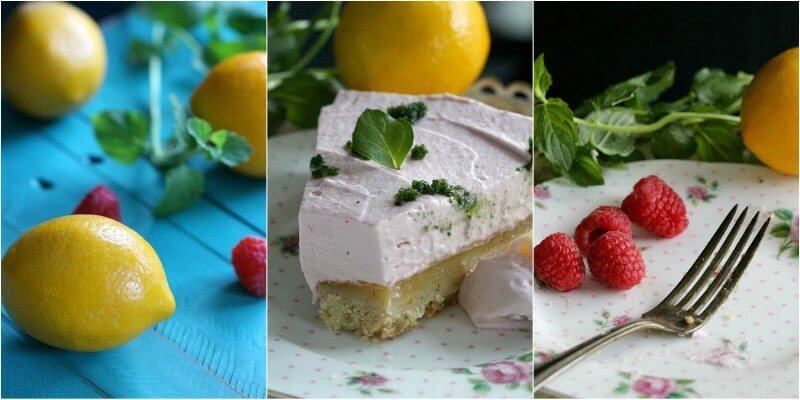 Sebastian even helped with the cake, he licked the spatula when I was done, which technically means that he test tasted the mousse. I assume it passed the test as he kept saying "MORE, MORE, MOREEEE". I used an eggless mousse in this lemon bar raspberry mousse cake, so you don't have to worry about anything, just eat as much as you can 🙂
My only recommendation for this lemon bar raspberry mousse cake is that you better double the lemon layer, I tried to have a nice balance between flavors, but if you love lemon you can make that layer so much thicker, it will be delicious.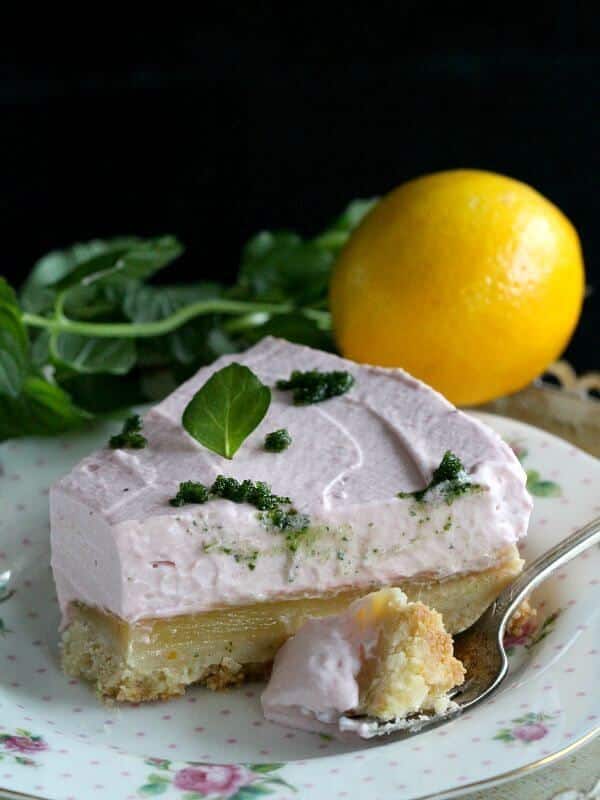 I am telling you this lemon bar raspberry mousse cake is pure bliss, the combo is amazing and all the flavors and textures work so nicely together. The shortbread layer is so buttery and just a little crumbly, the lemon and raspberry flavor work so nicely together and are not too sweet, the mint sugar is optional, but I love mint so much and I think it adds such a nice touch in this cake, by completely taking the flavors into a different direction.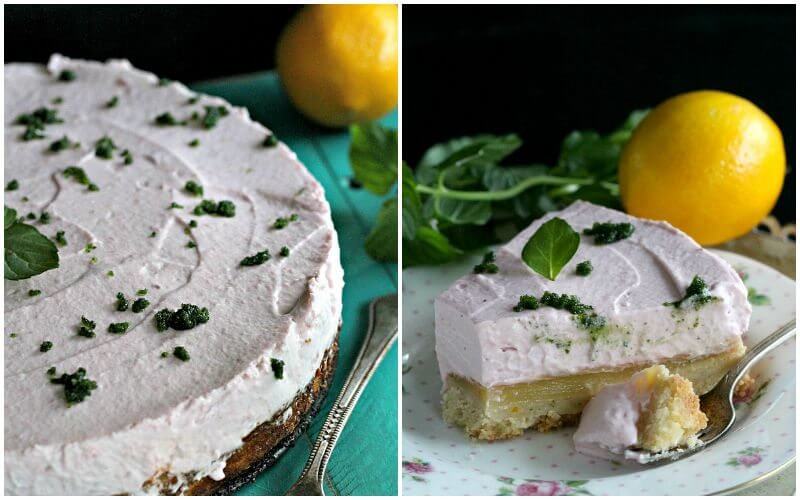 Each bite of this lemon bar raspberry mousse cake is sweet, a tad tart, citrusy, light, creamy and refreshing!

Lemon Bar Raspberry Mousse Cake with Mint Sugar
A creamy and easy Lemon Bar Raspberry Mousse Cake with layers of buttery shortbread, lemon curd, raspberry mousse and topped with sweet mint sugar.
Author:
Katalina Kastravet
Ingredients
Shortbread Crust:
2 cups all purpose flour
½ cup confectioners sugar
2 sticks cold butter
½ teaspoon sea salt
nonstick baking spray, for greasing the pan
Lemon Filling:
1¼ cups granulated sugar
¼ cup all purpose flour
4 eggs
lemon zest from one lemon
⅔ cup freshly squeezed lemon juice, I used 4 Meyer lemons
Raspberry Mousse:
3 tablespoons fresh lemon juice
2¼ teaspoons powdered gelatin
2 cups fresh raspberries
½ cup plus 3 tablespoons sugar
2 cups cold heavy cream
Mint Sugar:
¼ cup fresh mint leaves
1 tablespoon sugar
Instructions
Shortbread Crust:
Preheat oven to 350.
In a large bowl combine the confectioners sugar, flour and sea salt. Cut the cold butter into cubes and add it to the flour mixture. Using your fingers work the mixture until it resembles cornmeal and the butter is completely combined with the flour. Press into a greased springform cake pan and bake for 20 minutes, or until golden.
Lemon Filling:
In the bowl of an electric mixer fitted with the wire attachment add sugar, flour and the eggs one at a time. Whisk on low speed until just combined. Add the zest and the lemon juice, mix until everything is combined.
Pour the lemon filling over the hot crust and return to oven. Bake for another 20-25 minutes. The lemon filling must be settled and it shouldn't jiggle.
When done, remove from oven and cool completely at room temperature IN THE PAN (do not remove the lemon bars from the pan) before topping with the mousse.
Raspberry Mousse:
In a small bowl, place lemon juice and sprinkle with gelatin, let sit until gelatin softens about 2 - 3 minutes. Using a food processor or blender, puree the raspberries until smooth. Pour the raspberry puree through a fine-mesh sieve, pressing on solids and discarding the solids. You should have approximately 1 cup of raspberry puree.
In a small sauce pan, over medium heat add the raspberry puree and ½ cup of sugar, stir and cook just until you see bubbles forming at the edge.
Add gelatin mixture to the raspberry sauce and continue cooking, stirring constantly until the gelatin dissolves, about 1 - 2 minutes. Whisk if needed, to ensure gelatin dissolved. Remove the mixture from heat and let cool to room temperature, about 30-40 minutes.
Add cream and remaining 2 tablespoons of sugar to the bowl of an electric mixer fitted with the wire attachment, beat on medium-high speed until firm peaks form, about 3 minutes.
Using a rubber spatula, gently fold in the raspberry puree mixture and gently stir until all combined. Pour over the lemon bar cake, smooth the top and refrigerate for at least 3-4 hours (better overnight) before serving.
Mint Sugar:
Combine mint leaves and sugar in a food processor and pulse until the leaves are finely chopped. Sprinkle over the cake.
Serving:
Before removing the cake from the pan, run a sharp knife thru cold water and run it over the edges of the cake.
Peas and Peonies, LLC. owns the copyright on all images and text and does not allow for its original recipes and pictures to be reproduced anywhere other than at this site unless authorization is given. If you enjoyed the recipe and would like to publish it on your own site, please re-write it in your own words, and link back to my site and recipe page. Copying and/or pasting full recipes to social media or personal blogs is strictly prohibited. Sharing this recipe is very much appreciated and encouraged. Read my disclosure and privacy policy. This post may contain affiliate links.